« First-World Problems...Part Quarante-Quatre
|
Main
|
Gun Thread: Day After Saturday Edition! [Weasel] »
March 07, 2021
Food Thread: You Can't Judge A Whiskey By Its Cover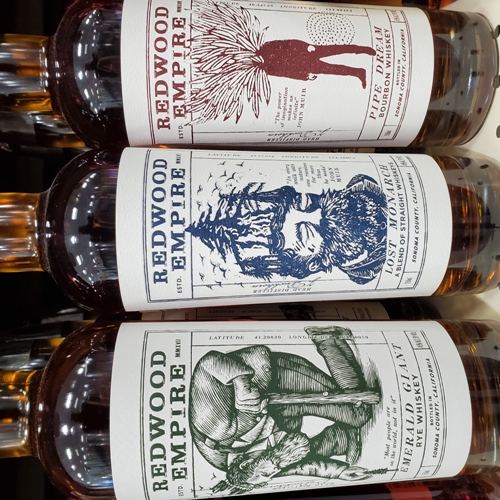 Marketing American whisky in an age in which it seems a new distillery opens every day must be hugely difficult. There are so many on the shelves that I usually ignore the new ones and go directly to my old standards, but this trio caught my eye, since the Reddwood Empire was my stomping grounds for a very long time. And I'll admit it, I was sorely tempted to buy these just for the remembrance of auld lang syne!
But I resisted, because I learned not to be wowed by booze labels with bitter experience. There are dozens of serious reviewers working overtime to give us some sort of baseline so we don't just rush around, buying whisky willy-nilly! We should approach the issue soberly, temperately, with thought and careful pondering. The problem is that those reviewers are mostly full of shit.
Anyone find a good whisky review site that isn't as bad as the wine review sites?
[Whisky...Whiskey...Whisky...Whiskey...]
******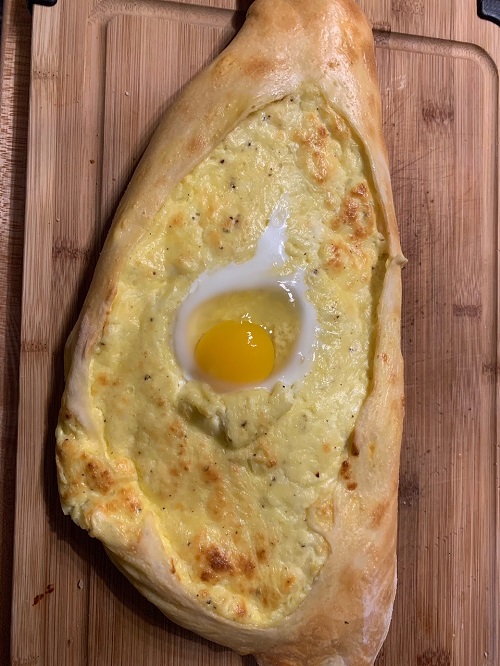 I don't know what the hell this is, but I want one! It comes from a fairly new reader (of Ukraine tomato fame) who tells me that it is Georgian Khachapurri bread, and that you mix the egg into the hot cheese before serving.
What a great idea!

******
Last week's entrant into the never-ending cheapo holiday dinner sweepstakes took me to task for correctly pointing out that raisins do not belong in civilized food, except in oatmeal cookies.
Dude...open your mind, raisins are amazing in many savory dishes. Biryani? You ever have some? When I was in Qatar a Persian friend would bring us some every so often, always laced with golden raisins. You ever try putting dried cherries or cranberries in stuffing? Golden raisins are great too...

Next thing you will be dissing A-1 sauce.
You're damned right I will be dissing A-1. It's a crime against steak and all that is right and true and good in the world!
******
I have embraced the low-carb life, but I am not a lunatic about it. I just reserve my carbohydrate consumption for good ones.
Like Paella!

That was last night's dinner, and it was my best effort yet. And unfortunately I didn't discover a simple trick or a great shortcut. On the contrary, I spent a lot of time with the damned thing. I decided to work each step carefully, and I was rewarded with a fine example of Paella, but not without cost. About an hour in front of the stove, while our guests were prancing and gallivanting and making merry and drinking my booze!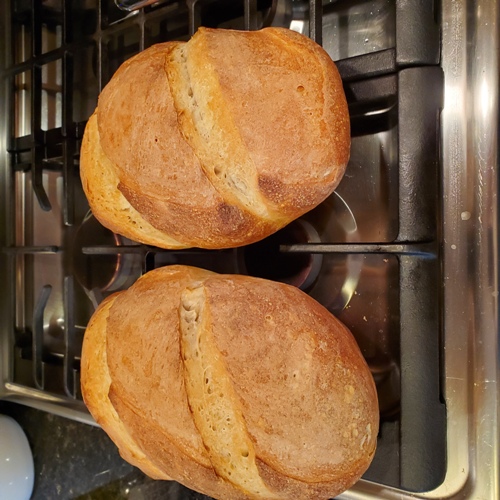 And what better way to accompany a high-carb main dish with...um...more carbs! This is a very sour sourdough bread from a King Arthur Flour recipe that longtime commenter and Yankees fan Bluebell sent me last week. It's more like a soft sandwich bread than my usual crusty boule, but it was quite flavorful and pretty easy to make.
It went marvelously with the Manchego! Yes, there was a Spanish theme last night.

******
d'Arenberg is one of the giants of Australian wine-making, and they have been around since 1912. And for many years I could count on their label for some good, solid Aussie wine. But recently...perhaps the last two years, I have been disappointed far more often than I have been pleased with their low-end wines. I don't know what is going on down under, I have long since become bored with the minutia of the wine-making world, preferring simply to drink the stuff, not read about it. But the proof is in the pudding, or in the bottle, and I will be much more suspicious from now on.
******
Misanthropic Humanitarian is a fan of cabbage. Which is sort of weird, but at least he doesn't put maple syrup on it (that I know of). But this dish really does sound good.
Pasta Carbonara with Cabbage and Mushrooms
It won't replace real Carbonara, but as something different I'll bet it is fun and satisfying.

******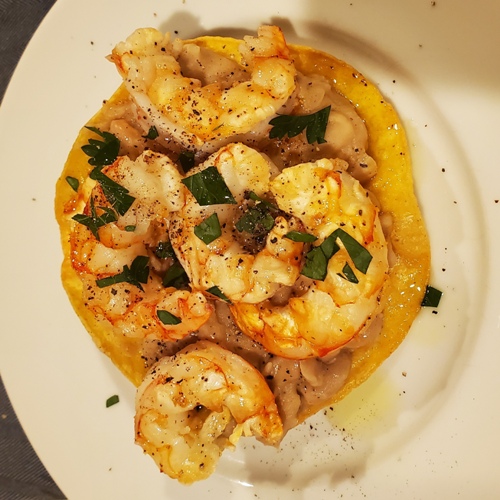 This was a quick dinner recently, and it came from no recipe, rather it was 30 seconds of thinking about textures. The base is a corn tortilla fried until crispy while pushing down on its middle to create a sort of pocket, because rarely are foods made worse with the addition of a crispy tortilla pocket.
Then I grabbed a couple of cans of cannellini beans and tuned them up with some garlic and oregano and onion and several glugs of olive oil. I let them simmer and thicken for awhile, then tossed some good American shrimp under the broiler for a few minutes, and dinner was served!
The crunchy tortilla was a great match with the creamy beans, and the sweet shrimp went perfectly with the two. This meal took about five minutes to prepare and was absolutely delicious.
Good cooking doesn't have to be complicated or take half the day.

******
Food and cooking tips, Large-breasted Muscovy ducks, young wild pigs, bartenders who use vermouth in Martinis (but not too much), pork belly that doesn't have 5-spice, an herb garden that actually grows herbs, beef short ribs that have meat on them (not the stupid little sliver of bone they sneak into the packages) and good tomatoes that aren't square, pale pink and covered with Mestizo E.coli:
cbd dot aoshq at gmail dot com
. Any advocacy of French Toast with syrup will result in disciplinary action up to and including being
nuked from orbit.
And yes, shaking a Manhattan is blasphemy...it's in the Bible!

posted by CBD at
04:05 PM
|
Access Comments