« Gun Thread: Day After Saturday Edition! [Weasel]
|
Main
|
The Morning Report - 3/8/21 [J.J. Sefton] »
March 07, 2021
Sunday Overnight Open Thread (3/7/21)
(H/T Muad'dib - dendritic ice crystal)
***
The Quotes of The Day
Quote I

"To me, it's something you have to rely on God to do. Obviously, there's a message that somebody in the family, or in that community, needs to hear, and God needs me to be the messenger," Muskogee Police Chief Johnny Teehee
Quote II

"The recent increase of shootings in our city is cause for great concern, but it demands that we lean-in as a community rather than shy away. "The No Shots Fired program represents an important collaboration between the city, law enforcement and community that seeks to stop gun violence, promote peace and create safer neighborhoods for all of us." San Diego Mayor Todd Gloria
Quote III

"All of us knew it was coming. Whenever we go in there, they always have problems with shoplifters, " Customer, Sebastian Luke
Quote IV

"There are not a whole lot of Floridians who are itching to move from Florida to lockdown states, but there are thousands and thousands of people who are seeking to leave the lockdowns behind for the greener pastures in Florida," Gov. Ron DeSantis (R-FL)
***

Every trouble in the world including the deaths of shelter animals can be attributed to white supremacy and patriarchy. Good fucking grief.

A gender studies professor wrote a 312-page book about race and gender applied to shelter pets.

Katja Guenther — who teaches at the University of California-Riverside — argued that inequalities in the treatment of shelter animals are "powerfully linked to human ideas about race, class, gender, ability, and species" in her book The Lives and Deaths of Shelter Animals.

"Monster is an adult pit bull, muscular and grey, who is impounded in a large animal shelter in Los Angeles," reads the book's description. "Like many other dogs at the shelter, Monster is associated with marginalized humans and assumed to embody certain behaviors because of his breed. And like approximately one million shelter animals each year, Monster will be killed."
***

Living in the Kung Flu era, "Power tends to corrupt, and absolute power corrupts absolutely. Great men are almost always bad men."
Or are ordinary men who have "Moral Authority are the bad men?

Did you think this was possible a year ago? Women brawl at Bath & Body Works over social distancing.
Greyhound is pushing back on transportation of illegal aliens. Will the Department of Homeland Security cave in? Nah, not a chance in hell.

Greyhound's President and CEO David Leach wrote to Homeland Security Secretary Alejandro Mayorkas. He told the secretary that when the Department of Homeland Security goes to put an illegal migrant on a Greyhound bus, he expects the agency to have proof of a COVID-19 negative test result. The letter was a request for assistance from DHS as the bus line deals with the surge of illegal migrants at the U.S – Mexico border.

This is not an unreasonable demand. When illegal migrants are detained by border patrol agents, they become the responsibility of DHS. There is a surge of activity at the border now, thanks to Joe Biden's executive actions since taking office. Mexicans and Central Americans take him at his word that he will open America's borders and those entering illegally will receive no more than a slap on the wrist, if that. Migrants are released into border towns, dropped off at bus stops, and sent on their merry way further into the country. Resources at the border are not without limits. There are simply not enough non-profits or volunteer organizations to accommodate the flood of illegal migrants.
It really is time to open everything up, including court hearings.

"Mr. Harris, my advice is, don't say anything else," Middleton said to Harris. "The hearing is adjourned. Your bond is canceled. If you have $10 million, you can't bond out. In addition, the prosecutor's probably also going to charge you with obstruction of justice."
***

A friend of ours came over for the day yesterday. Great food was shared and we said blow it out your ass Tony Evers.

Of course the topic of politics came up. It was our consensus that the GOP is the stupid party and is always completely out maneuvered by the Democrats. We then turned to discuss the Swamp and President Trump. We've both pledged no more money and/or votes for Swamp critters.
I would never donate to the Swamp critter from Alaska. And I'm happy to see Trump go after Murkowski's seat.

Former President Donald Trump said he would campaign against Sen. Lisa Murkowski, R-Alaska, and blasted her as a "disloyal and very bad Senator" in a statement this weekend.

"I will not be endorsing, under any circumstances, the failed candidate from the great State of Alaska, Lisa Murkowski," Trump said in a statement. "She represents her state badly and her country even worse. I do not know where other people will be next year, but I know where I will be – in Alaska campaigning against a disloyal and very bad Senator."

Of course this has upset The Turtle, his lap dogs and sycophants but not so much that they won't use President Trump's name for fund raising purposes. Now Trump says "Hold on."

President Trump is remaining selective of how his name and brand are showcased, as he condemned Republican organizations for using his likeness to raise money.

On Saturday, lawyers representing President Trump sent out cease-and-desist letters to the three largest fundraising organizations for the GOP. The Republican National Committee, the National Republican Congressional Committee and the National Republican Senate Committee were all informed of President Trump's disapproval, and were asked to halt future marketing.

On Friday, the RNC sent out an email asking for supporters to add their name to a "thank you" card for President Trump. That same day, the organization sent another email warning supporters they had less than 10-hours to sign.

President Trump has shown reluctance to continue working with establishment GOP organizations, after 10 Republicans broke party lines and voted to impeach him. These same organizations have continued to support these so-called RINOS, or "Republicans in name only."
***

Holy Moly, I never saw this coming. Did you? Evangelicals For Biden 'Feel Used And Betrayed' By Biden Fulfilling His Radical Abortion Promises

In an open letter released Sunday, Pro-Life Evangelicals for Biden urged him to "honor his commitment" and include the Hyde Amendment in Democrats' $1.9 trillion COVID-19 spending package, writing "we feel used and betrayed." The letter states:

We are very disappointed about the COVID-19 relief package's exclusion of the Hyde Amendment, a longstanding bipartisan policy that prevents taxpayer funding for abortion. We're even more upset that the Biden administration is supporting this bill. As pro-life leaders in the evangelical community, we publicly supported President Biden's candidacy with the understanding that there would be engagement [with] us on the issue of abortion and particularly the Hyde Amendment …We feel used and betrayed and have no intention of simply watching these kinds of efforts happen from the sidelines.
Feel used? Give me a break. He celebrates abortion. And you feel betrayed. You're too stupid to vote.
***

I never knew 1%ers had it so bad. CNN's Chris Cuomo is black on the inside.

CNN's anchor Chris Cuomo said, "I'm black on the inside," during the handover segment with his colleague Don Lemon on Friday, as he cited the words of the theme song from the 1970s program "Good Times."

Partial transcript as follows:

CUOMO: I had somebody hit me with something today that hurt. She said to me, you know, I don't have to tell you about how I'm living with my family and how setback we are by this because there was a TV show that was all about it in the 70s and it is the reality for too many people of color all over the country. And I said, what? And she said, I'll give you a hint. She said that this was the end. Just looking out of the window watching the ash fall grow. And again, how it all looks handy down.

LEMON: How do you know the words "Good Times?"

CUOMO: You know I'm black on the inside.
***

Instead of worrying about a cartoon character by the name of Pepe Le Pew You should go after the credibly accused Gov. of New York state and the *Resident of the White House.

New York Times liberal columnist Charles Blow recently argued in an op-ed and in a series of tweets how Pepé Le Pew "normalized rape culture." He tweeted Saturday a scene from the cartoon: "Let's see, he grabs/kisses a girl/stranger repeatedly, without consent and against her will. She struggles mightily to get away from him, but he won't release her. He locks a door to prevent her from escaping
Speaking of Gov. Cuomo, He is facing mounting pressure from his own party to step down.

It's Now Five: Two More Cuomo Accusers Step Forward, Calls for His Resignation Intensify
CommentsPermalink

"For the good of the state, Governor Cuomo must resign," New York State Senate Majority Leader Andrea Stewart-Cousins (D) said in a statement Sunday just hours after Cuomo again insisted he would not step down.
***

A very interesting find. And an excellent question, Have ocean levels been rising for 18,000 years?

This is a travel story of sorts of travel through time, to an extent. Be patient.

Directly to the west of Marseille, the second largest city in France are a series of beautiful, narrow coves, like fjords, situated in a sort of desert. They are called "calanques" in French. They are accessible only by sea or through a long walk on hot rocky ground. Although they constitute a separate world, the calanques are close to Marseille, as the crow flies. They used to be a major fishing resource for the city. You can be sure they were never forgotten during the 2600 years of the city's existence. Also, the city was founded by Greeks and thus, it always had a literate population, one that kept records.

Marseille and its environs are where SCUBA was invented, the first practical solution to the problem of men breathing underwater. Accordingly, the calanques were always and thoroughly explored after 1950. In 1985, one of the co-inventors of SCUBA discovered a deep cave in one of the calanques. He couldn't resist temptation and swam into it until he reached a large room emerging above the water level. I mean a cave where he could stand and breathe regular air. The explorer's name was Cosquer.
***
The ONT Musical Interlude
&&&
***

On the bright side he will never reproduce. Genius Award Winner.

Spanish rapper Aaron Beltran is in some serious hot water after allegedly cutting off a man's penis.

According to The Independent, Beltran is on trial for allegedly cutting off Oxford University graduate Andrew Breach's penis for a YouTube video in 2019. Beltran told officers that he tossed the penis in the trash!
***

Once again, Gary Sinise and his philanthropy is Tonight's Feel Good Story of The Day.

A wounded veteran in Temecula, California, has been gifted a mortgage-free specially adapted smart home, courtesy of the Gary Sinise Foundation.


Josue Barron joined the Marine Corps at age 17. Raised by a single mother, Barron said the Marine Corps itself was like a father figure to him.

I didn't have a dad, so the Marine Corps became my father. There was discipline, so I feel like it became that role model that I needed to become who I wanted to become," he said.

Barron lost his left leg and left eye while serving in Afghanistan in 2010. He's been fitted with a prosthetic leg, but says it's very painful.
***
Weekly commenter stats for week of 3-7-2021
Top 10 commenters:
1 [514 comments] 'TheJamesMadison, paying for my sins on the Scorsese streets' [72.12 posts/day]
2 [474 comments] 'Axeman'
3 [402 comments] 'rickb223'
4 [379 comments] 'Alexandria Ocasio-Mugabe-Pizarro-Nike-Cortez'
5 [379 comments] 'Skip'
6 [366 comments] 'Sponge - Saying Ashli Babbitt'
7 [342 comments] 'Quint'
8 [323 comments] 'Tonypete'
9 [282 comments] 'Sebastian Melmoth'
10 [282 comments] 'JT'
Top 10 sockpuppeteers:
1 [375 names] 'Alexandria Ocasio-Mugabe-Pizarro-Nike-Cortez' [52.62 unique names/day]
2 [147 names] 'BifBewalski - '
3 [71 names] '18-1'
4 [61 names] 'Old School RuneScape'
5 [52 names] 'Duncanthrax'
6 [50 names] 'Axeman'
7 [45 names] 'fluffy'
8 [28 names] 'Romeo13'
9 [25 names] 'Jak Sucio'
10 [23 names] 'Huck Follywood, registered Independent'
***
Tonight's ONT has been brought to you by Ill Advised Fun & Games.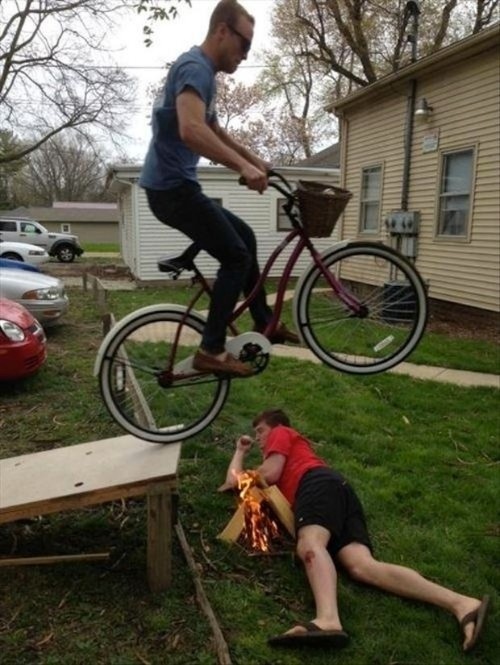 Notice: Posted with permission by the Ace Media Empire and AceCorp, LLC. Do not taunt. Do not complain. Clothing optional. Please ONT responsibly.


posted by Misanthropic Humanitarian at
09:53 PM
|
Access Comments