« The Morning Rant
|
Main
|
They Have Enough Signatures to Force a Recall Election Against Newsom »
March 01, 2021
Second Female Staffer Accuses Andrew Cuomo of Sexual Harassment

A second former aide to Gov. Andrew M. Cuomo is accusing him of sexual harassment, saying that he asked her questions about her sex life, whether she was monogamous in her relationships and if she had ever had sex with older men.

The aide, Charlotte Bennett, who was an executive assistant and health policy adviser in the Cuomo administration until she left in November, told The New York Times that the governor had harassed her late last spring, during the height of the state's fight against the coronavirus.

Ms. Bennett, 25, said the most unsettling episode occurred on June 5, when she was alone with Mr. Cuomo in his State Capitol office. In a series of interviews this week, she said the governor had asked her numerous questions about her personal life, including whether she thought age made a difference in romantic relationships, and had said that he was open to relationships with women in their 20s -- comments she interpreted as clear overtures to a sexual relationship.

Mr. Cuomo said in a statement to The Times on Saturday that he believed he had been acting as a mentor and had "never made advances toward Ms. Bennett, nor did I ever intend to act in any way that was inappropriate." He said he had requested an independent review of the matter and asked that New Yorkers await the findings "before making any judgments."
Cuomo, she says, also used the pandemic he was supposedly fighting as a romantic gambit.
Ms. Bennett said that during the June encounter, the governor, 63, also complained to her about being lonely during the pandemic, mentioning that he "can't even hug anyone," before turning the focus to Ms. Bennett. She said that Mr. Cuomo asked her, "Who did I last hug?"

Ms. Bennett said she had tried to dodge the question by responding that she missed hugging her parents. "And he was, like, 'No, I mean like really hugged somebody?'" she said.


...

Ms. Bennett said she had disclosed the interaction with Mr. Cuomo to his chief of staff, Jill DesRosiers, less than a week later and was transferred to another job, as a health policy adviser, with an office on the opposite side of the Capitol, soon after that.

...

The governor did not deny that he asked Ms. Bennett personal questions; he said in the statement that he would have no further comment until the review concluded.

This is pretty creepy:
Ms. Bennett said she had mentioned a speech she was scheduled to give to Hamilton students about her experience as a survivor of sexual assault. She said she had been taken aback by Mr. Cuomo's seeming fixation on that element of her life experience.

"The way he was repeating, 'You were raped and abused and attacked and assaulted and betrayed,' over and over again while looking me directly in the eyes was something out of a horror movie," she wrote in a second text to her friend. "It was like he was testing me."
Cuomo issued a statement claiming that his perfectly innocent questions about dating older men and, uh, rape were "misinterpreted."
"I acknowledge some of the things I have said have been misinterpreted as an unwanted flirtation. To the extent anyone felt that way, I am truly sorry about that."

...

"I now understand that my interactions may have been insensitive or too personal and that some of my comments, given my position, made others feel in ways I never intended."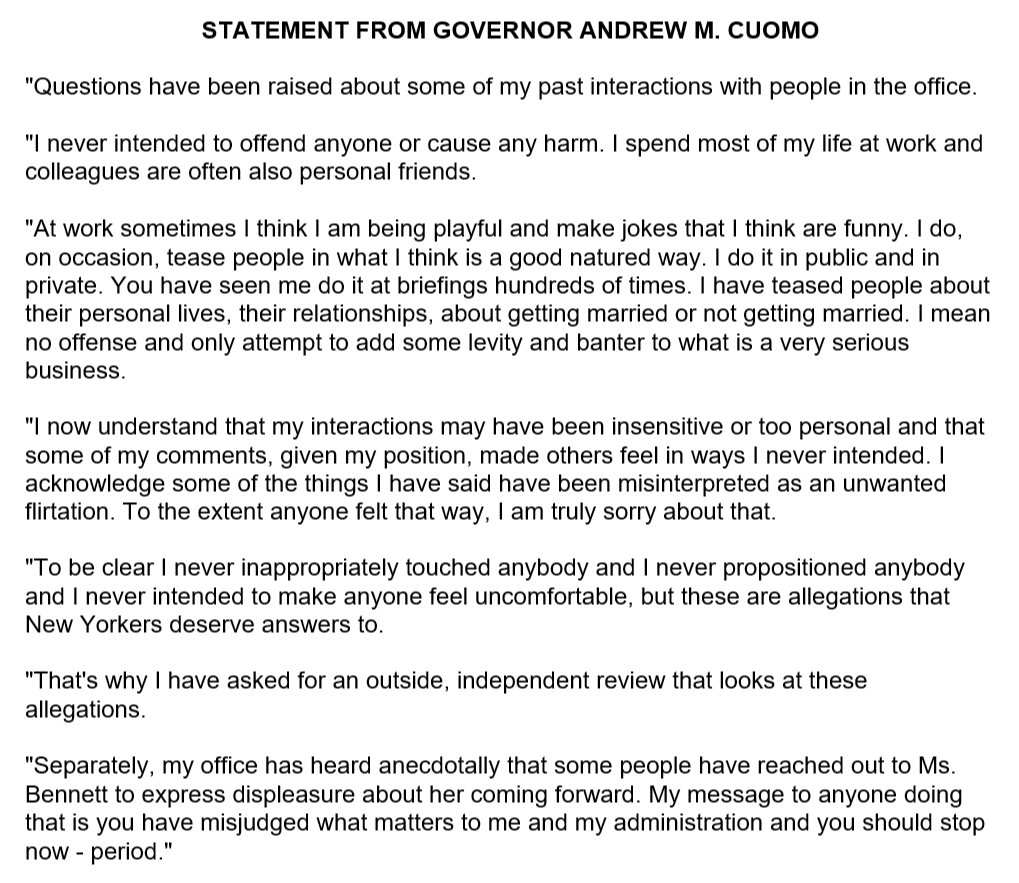 By the way, the previous accuser also revealed that Cuomo kept telling her she resembled another staffer named, if I remember right, "Lisa."
She then revealed that Lisa was known to be Cuomo's "girlfriend."
The media must know about this but it seems it's a state secret.
Jake Tapper immediately dismissed the two very similar claims as Russian Disinformation, probably.
Cuomo has another bitter-end defender: Jonah Goldberg. Of course.

Update:

posted by Ace at
12:15 PM
|
Access Comments