« Food Thread: If Bacon Is A Rut, It Is A Fine Rut To Be In!
|
Main
|
Sunday Overnight Open Thread (2/28/21) »
February 28, 2021
Gun Thread: Sunday 7PM Edition! [Weasel]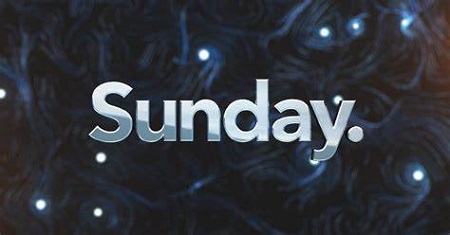 Howdy y'all! It's Sunday and it's 7pm Eastern and we know what that means, don't we? Don't we?? Sure we do! It's Gun Thread time! For the next three hours we'll laugh, we'll cry, and generally have a good 'ol time as we talk about guns, gun stuff and shooting. So settle in to the Lay-Z Boy, pop open a sarsaparilla, and let's see what we have below, shall we?
I made it to the farm-o for a quick little trip this week. It was a quick trip to check on things so I wasn't able to shoot any video, but I did manage to do a wee tad of shooting with my trusty .22 caliber Colt Colteer single-shot bolt rifle.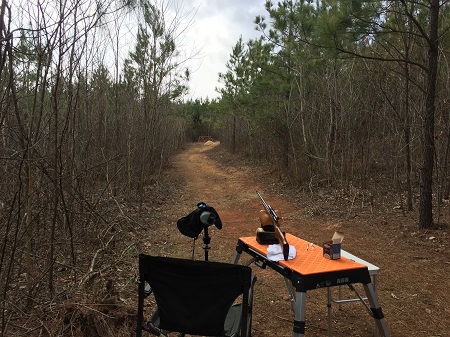 It's a great little rifle and a lot of fun to shoot. What is even better is plinking away to your heart's content and not feeling guilty about going thru too much ammunition. This rifle has a vintage Weaver K4 scope, and with steel at 100 yards allows me to practice many of the elements of general marksmanship; set-up on the gun, eye relief behind the scope, trigger discipline, breathing techniques, and others.

I think I paid a little over $200 for this rifle, and from what I have heard, .22LR ammunition can still be found. If the ammo shortage has shut down your range time, consider a small caliber alternative, either rifle or handgun. They really are a lot of fun!
******
First up or pal Blake shares some thoughts on concealed carry.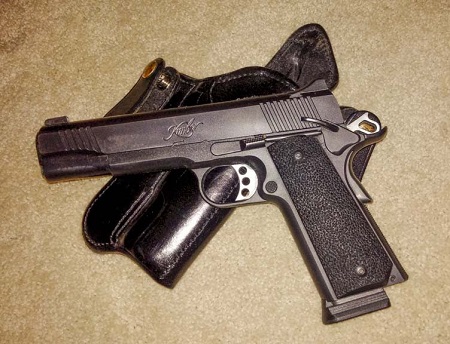 The original version of this was written, by me, and posted to a thread at Free Republic, in response to a bunch of people arguing about CCW, who were trying to convince people they were carrying the wrong weapon, and their weapon of choice was obviously superior. I thought it foolishness that was detracting from what I thought were pretty basic principals of CCW.

A while later, the subject came up at The Truth About Guns and, once again, I thought the discussion was going the wrong direction. I pulled the post from FR, and edited it to what you see below.

I carry and don't give a crap about the specs of what I or anyone else is carrying*. The only questions that matter are:

Is your carry gun reliable?
I shoot my carry gun, using my carry holster, in competition (IDPA). I don't shoot for score, I shoot to maintain proficiency. I don't clean my carry gun before a competition, because it needs to work, even after a month or two of carrying concealed.

Are you proficient with your carry gun?
It's all well and good to talk about the weight of your firearm and the ballistics of the round being shot, but in the end, the ability to put rounds on target is what matters. If you can put six in the 10-ring with a .22 and miss six out of six shooting a 9mm, which is the better carry option?

Do you carry all the time?
One can't choose when one will run into trouble. Either you take the responsibility seriously and carry at all times, except as proscribed by law, or you don't. There is no "swagger" factor for conceal carry. Carrying is deadly serious business and the assumed responsibility and consequences should be given serious thought.

*If anyone is interested, I carry a full-size Kimber 1911, with a single white dot front site, loaded with 230 grain +P hollow points. I shoot the 230 grain +P in competition once in a while, just so I know how they shoot and to make sure they feed reliably.
I think Blake makes some very good points. How about the rest of you?
******
Next up we have an interesting product from our pal Deplorable SOB Van Owen
Last night's Gun Thread touched a bit on the subject of cleaning, so I thought I'd pass on some thoughts about a product I used yesterday for the first time. It's called BarrelBuddy, and is basically a replacement for the venerable old cloth cleaning patch. It is a foam composite cylinder with a coarse forward portion and a smooth absorbent rear portion. You soak the forward portion with cleaner (I used Hoppe's #9) and push through the barrel with a jag.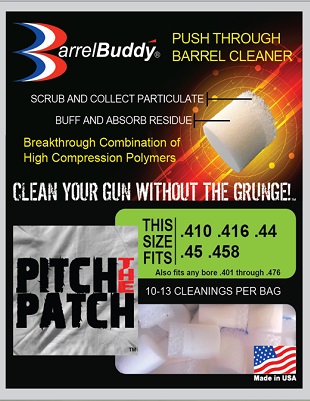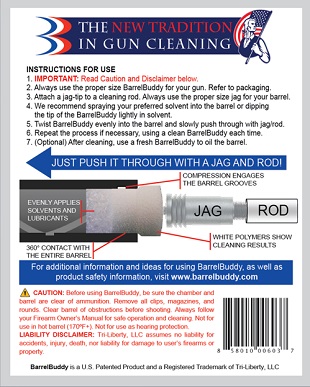 Supposedly the cylinder shape conforms better to the bore and rifling, resulting in more efficient cleaning. It worked pretty well on my (moderately dirty) pistol and I definitely used fewer cylinders than I would have patches. It is also much less messy. Honestly, I also think it works better than a Bore Snake, but YMMV.

However, considering the price, a bag of 50 for $11.98, I think buying bulk patches is much more economical if you do a lot of cleaning. The ad copy says a bag of 50 will last you for 10 to 13 cleanings. Obviously if your firearm is really dirty, you'll use more of the things in one session. Since I normally clean after every shooting trip, that's not a whole bunch of cleanings. Even so, I plan to keep some of these on hand in different caliber sizes and stick them in the range bag for a quick cleaning session.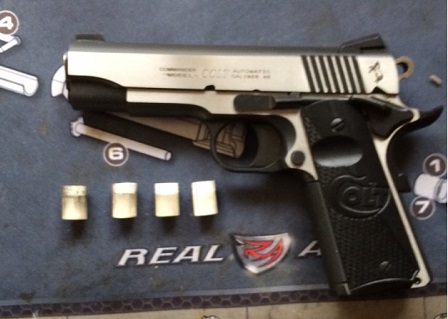 Anyhow, I thought some of the Gun Morons might be interested in it, since it's kind of innovative, and if we can't find ammo, we have to have SOMETHING to spend our money on.
Interesting looking product! Anyone else using these?
******
Next up our pal and delightful and talented 'ette Jewells shares a report on a recent trip to the range. I have to say I am very happy to see so many 'ette's becoming gun owners and practicing their marksmanship skills.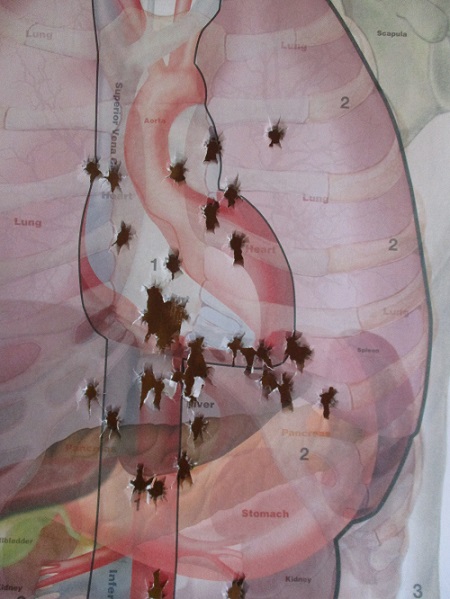 The first picture I was aiming for the heart.. obviously off a little but got my mojo going and did pretty fair I think.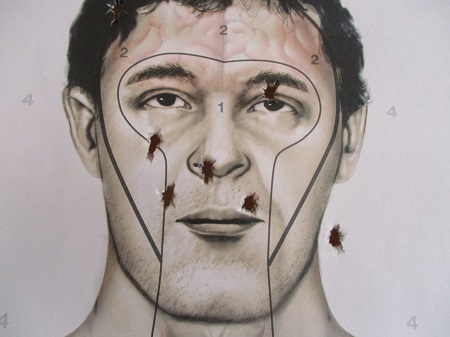 My last eight bullets I tried for the head shot. I was aiming for his left eye in the first shot and bingo! Second shot I tried for the other eye.. eh.. I ended up way too high and too far left. The rest I just wanted to hit the middle of the face. I'm not sure where the 8th shot went lmao! Anyhoo.. I thought it was a decent day. This is at 15 feet and I'm much improved from just 2 months ago. I think I can go for 20 feet now. I don't go as much as I should but I try for at least once a week.
I'm thinking anybody with this many holes in their chest and face are going to decide to find another victim. Or perhaps find another occupation altogether. Very nicely done, Jewells! Keep up the great work!
******
Next up we have a note from our pal "John", which I suspect is not his real name, regarding ammo sales in his area.
This may not be news to you but was to me. I was finding it near impossible to buy 5.7x28mm online at a decent price. None of my local gun stores had any in stock or at a price I was willing to pay.

Or so they said.

I then went to the GunBroker auction site and found lots of 5.7 to bid on. Digging into one of the auctions a little bit further, I found that the lot was being offered by one of my local gun stores. Looks like they can make more money selling by auction than in the store. So that's what they are doing in lieu of retail in-store sales, except if you buy a gun, but that's a different matter.

I was able to win the bid at what I consider to be a "reasonable" price for these times. And I was able to go to the store to pick up the ammo to save on the shipping charges.

Don't know if anyone else is seeing this, but I think it's probably more common than most people realize.
Well, as I mentioned to "John" that's not really surprising now that I think about it. Unfortunate, but not surprising. I will say I would be pretty irritated if it happened with a shop I had patronized regularly over a period of time. Great catch and thank you for sending this in! Anyone else seeing anything like it?
******
Lastly our pal A.H. Lloyd sends in a tip on a new YouTube channel he has found.
A couple of days ago I discovered a fairly new YouTube channel for Historical Investments. It's got about a dozen videos on it and they seem to be adding more regularly.

The outfit is a vendor on Gun Broker but it's a great resource for collectors. They have a piece on Chinese Broomhandles and actually go into what the authentic characters mean. Really good stuff and fun to watch. Unlike Forgotten Weapons this guy gets into market value considerations.

To put it another way, it's like Antiques Road Show for guns. The guy sits there with the pointer and talks about traits and what adds value. Check it out!
Looks very interesting, thanks A.H. Lloyd!!
******
Homework
Last week we had a look at a YouTube video from a guy posting on YouTube as GunBlue490, who has made a bunch of lengthy videos on a variety of gun and shooting topics. The video from last week was on oil and lubrication, and is posted again here for reference.
Anyone have a chance to watch it? Anyone make it through the whole thing? What did you think? Agree, disagree, or did you just give up?
This week we have another from the same guy on the 1911 and which is much shorter at 24 minutes.
Anyone who is new to the world of 1911's, and frankly those who have had one for years, should find this interesting. We'll take a look at another next week.
******
Link-O-Rama
I'm really very seriously not kidding around anymore. Buy Ammo
AmmoSeek - online ammo search tool
GunBot - online ammo search tool
SG Ammo
Palmetto State Armory
Georgia Arms
AmmoMan
Target Sports USA
***Mail Bag***
Our entry this week come from our pal Geoff. Man, ain't it the truth!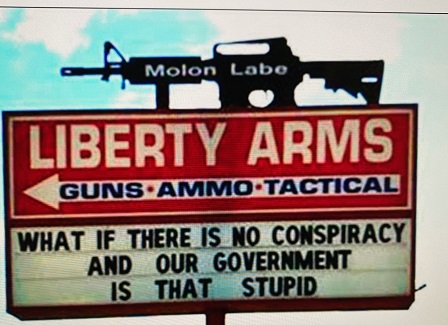 ******
Please note the new and improved protonmail account gunthread at protonmail dot com. An informal Gun Thread archive can be found HERE. Future expansion plans are in the works for the site Weasel Gun Thread. If you have a question you would like to ask Gun Thread Staff offline, just send us a note and we'll do our best to answer. If you care to share the story of your favorite firearm, send a picture with your nic and tell us what you sadly lost in the tragic canoe accident. If you would like to remain completely anonymous, just say so. Lurkers are always welcome!
That's it for this week - have you been to the range?


posted by Open Blogger at
07:00 PM
|
Access Comments