« Trump at CPAC
|
Main
|
Gun Thread: Sunday 7PM Edition! [Weasel] »
February 28, 2021
Food Thread: If Bacon Is A Rut, It Is A Fine Rut To Be In!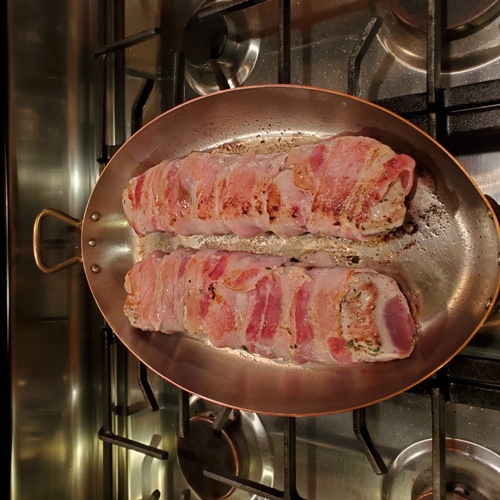 I am nothing if not obsessively repetitive. A few weeks ago I made pork tenderloin with bacon. And because it tasted good, I decided to make it again, but this time with MOR BACON! Yup...bacon-wrapped pork tenderloin, because one can never have enough bacon.
And guess what? it was damned fine eating. Simple and quick. The only slight complication was wrapping the bacon around the tenderloin. It separated a bit after cooking, but in the grand scheme of things it was a resounding success. A bit of salt (be careful because bacon is salty), pepper, some chopped thyme, a tiny drizzle of honey, and a quick sear to crisp the bacon a bit, then into the oven with a temperature probe. And done!
Temperature is one of two challenges with pork tenderloin because it is not particularly thick, and it doesn't have much fat (the other challenge) to cover you if you overcook it. That's why probes are so useful. I put the probe into the thickest part of the pork and pulled it as soon as it hit my target temperature of 139 degrees. You would be amazed...or not...by how quickly it carried over to about 143 degrees. Next time I will take it out of the pan as well as the pan out of the oven. The little bit of residual heat was enough to keep cooking it. But with all of that luscious bacon fat caressing it during the short roast it came out fine.
Extrapolating to all foods...what is not good wrapped in bacon?
******
Anyone around here old enough to remember the first iteration of Mr. Potato Head? I wasn't old enough in 1964 to do much more than drool (much like today!), but I have a vague recollection of putting the pieces into a real potato, though that might have been contrary to the spirit of the play experience.
The Story of Mr. Potato Head's Jewish Roots

In 1952, Polish-Jewish immigrant brothers Henry, Herman and Hillel Hassenfeld saw a good future in the latest creation of Brooklyn-born toy inventor George Lerner, a Jew of Romanian descent.

Hassenfeld Brothers (later renamed Hasbro, and now the world's third largest toy company) sold the first Mr. Potato Head as a kit of facial parts. It came with a Styrofoam head and instructions that suggested using real vegetables and fruits instead. After parents complained about rotting vegetables and new government safety regulations restricted toys with sharp pieces, Hasbro began selling the plastic potato body in 1964.
Fast forward to 2021 and we find that they are rebranding an amazingly long-lived toy to be more in tune with...what? Apparently "Mr." is somehow offensive to a massive 0.01% of the American people, so they will Remove it from the brand. Rest assured however, Mr. and Mrs. Potato Head will still be available, just not branded as such. So conventional ideas of marriage are now taboo? Or is it the shockingly binary concept behind the toys? Maybe they could add an intersex cauliflower cousin and maybe a post-op trans rutabaga for authenticity!
Everything the left touches turns to shit, even kids' toys.

******
From a regular named "Toby" comes a very appealing entry in the World Famous Frugal Festive Dinner Contest. Sort of retro, with a dash of thumb-in-your-eye, although I would have used spray cheese instead of peanut butter for the celery.
Do many people have ceci beans in their pantry? I never even heard of them.

Appetizers:
Celery filled with Kroger brand creamy peanut butter $5

Main:
Shepherds pie...that gets the main AND sides in 1 dish $15 gets you fancy veggies and extra butter in the mashed potatoes with some Kroger cheddar to top it.

Dessert:
Banana pudding $12 with real homemade whipped cream, jello brand vanilla pudding, but still use Kroger brand vanilla wafers.

Wash it all down with a case of PBR and you have one heck of a celebration for about $50. I actually like PBR believe it or not.

Oh, raisins are normal ingredients in empanadas in the Philippines. My wife adds pineapple and raisins to her pasta salad and it is fantastic.
Raisins in anything other than desserts seem more like Satan's dingleberries than food, but to each his own!
******
here's a bit of a tease from a commenter we shall call...um...BakingTease?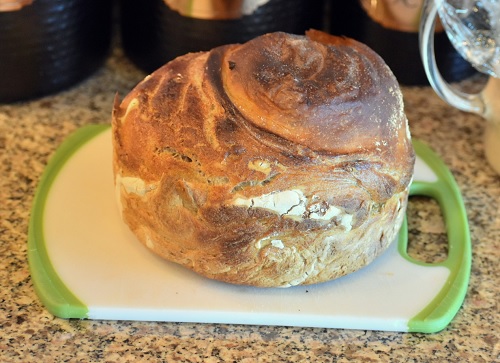 Anyone know what that is? I mean aside from looking good to eat!
He promises more information in the near future, but he is in the midst of a move and has misguided priorities; like unpacking first.

******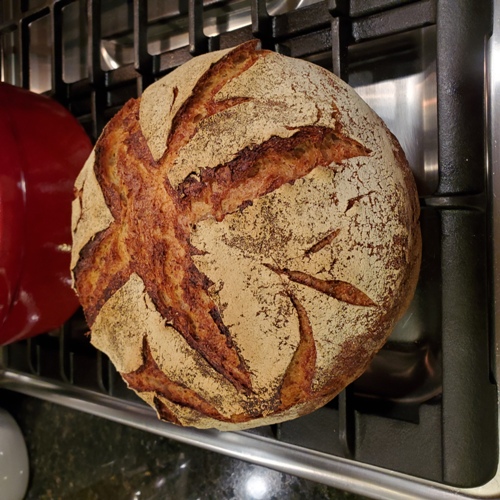 This loaf is the next data point in my continuing investigation of "autolyse," which is pretty much just hydrating the flour very well before one adds leavening and salt. The process I am using is a modification of a sourdough bread recipe that commenter "Bluebell (Yankees Fan)" was kind enough to share with me. It turned out extremely well and wasn't too tough to manipulate, even though it was more hydrated than anything I had ever done before. High hydration makes it more difficult to work with but yields better bread.

******
It's not just red food coloring. It's got cocoa powder and powdered sugar in the batter. These maniacs are actually trying to make a real red velvet cake fried chicken!
Red Velvet Battered Chicken Fingers
. it's not quite as offensive as putting maple syrup on French Toast, but it's pretty revolting sounding.
Which is why I am sort of tempted to try it.
[Hat Tip: Somebody recently whose nic I have forgotten]

******
Ina Garten rarely disappoints (unless we are observing her politics), and here is a classic pot roast recipe that is everything everyone's grandmother knew about cooking. Except for two things: don't you dare use good wine. Use cheap red wine from the remainder bin at your supermarket. The cheaper the better!
Company Pot Roast
The other thing is: make it the day before and chill it. That way it is easy to skim the fat from the top, and that is a step that is counterintuitive to your fat-obsessed host, but which makes a big difference in the final result.
******
Food and cooking tips, Large-breasted Muscovy ducks, young wild pigs, bartenders who use vermouth in Martinis (but not too much), pork belly that doesn't have 5-spice, an herb garden that actually grows herbs, beef short ribs that have meat on them (not the stupid little sliver of bone they sneak into the packages) and good tomatoes that aren't square, pale pink and covered with Mestizo E.coli:
cbd dot aoshq at gmail dot com
. Any advocacy of French Toast with syrup will result in disciplinary action up to and including being
nuked from orbit.
And yes, shaking a Manhattan is blasphemy...it's in the Bible!

posted by CBD at
06:24 PM
|
Access Comments