« Quarantine Cafe: Do Chimpanzees Dream of Electric Turtles? Edition
|
Main
|
The Morning Report - 2/19/21 [J.J. Sefton] »
February 18, 2021
It's Still Cold In Texas ONT
How cold is it? Well, I took this picture yesterday: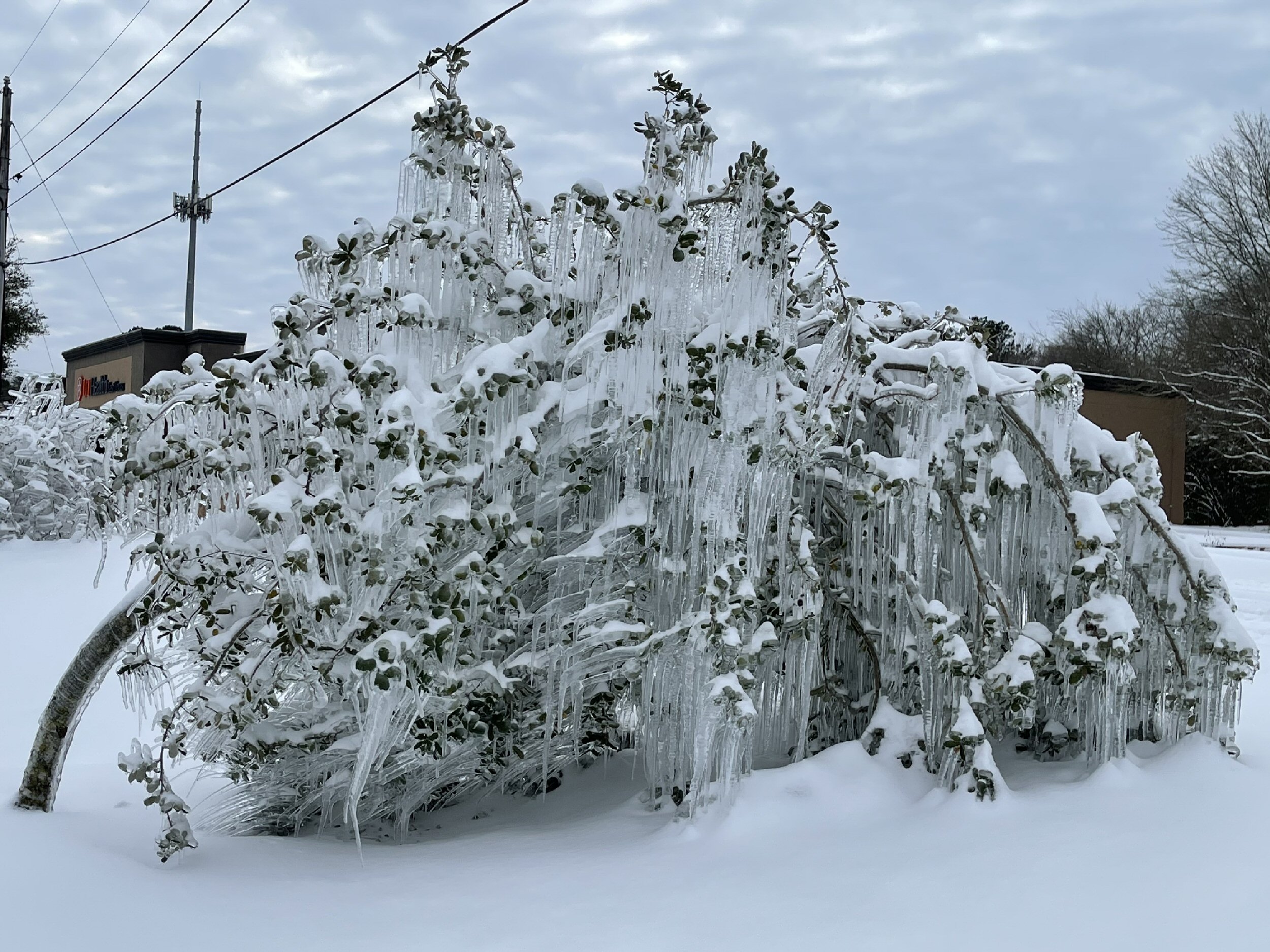 I lived for 50 years in the northeast and I never saw anything like that. People down here are not handling it well.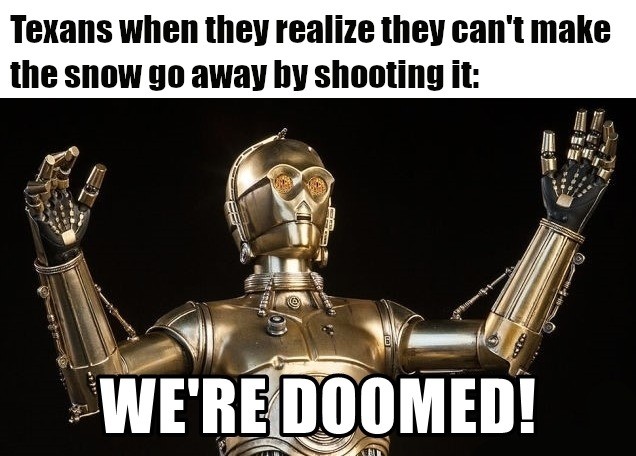 When we moved, we had packers. They packed my snow shovel, and I when I unpacked that box, I confess I actually laughed when I unpacked it, "I guess I won't be needing this". This week, I needed it. I'm almost sorry that I gave my snowblower to a friend, if I had broken that bad boy out the entire neighborhood would have gathered around in wonder, like a tribe of natives around a Coke bottle.
We haven't lost power or water, so we're luckier than a lot of people (warning:Buzzfeed link), but at the end of the day we're well prepared if we do. I laid in a cord of wood when we got here, and we have propane stoves and lanterns from the camping stores. In any event, we should be back above freezing in a day or so.
Remembering Rush
Here's a nice thread by Tammy Bruce:

Cringe
Too Awkward For Words: 35+Painfully Blundering Exchanges

Some of these had me literally laughing out loud.

Related: People Who Just Don't Understand Technology. I like the guy who tried to print out a Youtube video.

Fight Back
You know, you'd think that the so-called GOP "elites" would notice that the one thing that all of the "populists" who gain traction with the base have in common is a willingness to stand up and push back against the left's BS narrative. It's probably a good thing they don't, however, or they might figure out that they could put themselves in a much more secure position by pushing back against SJW invective without changing their squish positions much if at all. I know any number of people who are good, decent people who are willing to let actual communist propaganda be mainstreamed because the folks in the "populist revolt" against it "Are awl a rawther unruly lot, donchakno." Personally, I don't care if video surfaces of someone fucking a dead raccoon, if they're fighting tooth and nail against the Marxists. I'll worry about the raccoons after we save the country.
Related: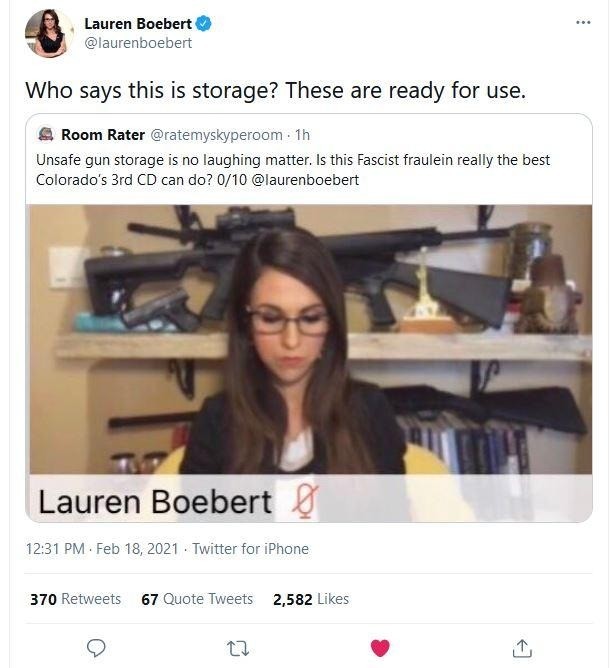 One Small Step
Federal Civil Rights Lawsuit Against Rittenhouse, Mathewson, And Others Dismissed Today
Good news, and I believe it clears the legal obstacles in the way of his new video game release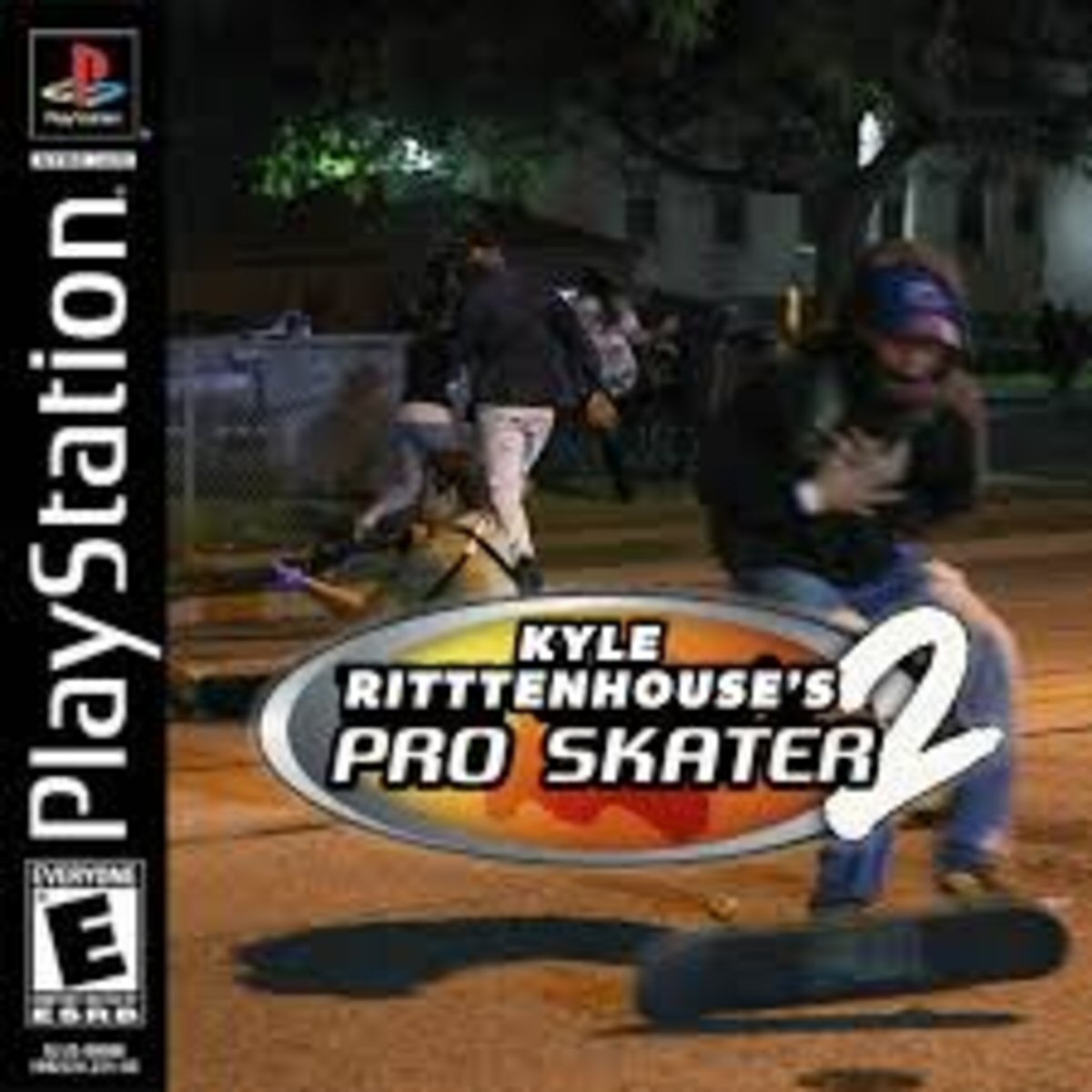 Twins!

A Nation Of Ants Or A Nation Of Grasshoppers?

Texas mayor resigns after telling residents desperate for power and heat "only the strong will survive"

He made what I believe the kiddies call an "epic rant" on Facebook:
No one owes you or your family anything; nor is it the local governments responsibility to support you during trying times like this! Sink or swim, it's your choice! The City and County, along with power providers or any other service owes you NOTHING! I'm sick and tired of people looking for a damn hand out! If you don't have electricity you step up and come up with a game plan to keep your family warm and safe. If you have no water you deal with out and think outside of the box to survive and supply water to your family. If you were sitting at home in the cold because you have no power and are sitting there waiting for someone to come rescue you because your lazy is direct result of your raising! Only the strong will survive and the week will perish. Folks, God Has given us the tools to support ourselves in times like this. This is sadly a product of a socialist government where they feed people to believe that the FEW work and others will become dependent for handouts. Am I sorry that you have been dealing without electricity and water; yes! But I'll be damned if I'm going to provide for anyone that is capable of doing it themselves! We have lost sight of those in need and those that take advantage of the system and mesh them into one group!! Bottom line, quit crying and looking for a handout! Get off your ass and take care of your own family!

His tone was intemperate, his phrasing unnecessarily harsh. Frankly, it reads to me like something someone might say while drunk. That being said, I don't disagree with the sentiment behind it. Government does not exist to take care of you. Government exists to ensure that you are able to live in a country where you can take care of yourself. And yes, that includes taking care of your neighbors who are unable to take care of themselves. This week I have seen literally legions of people around here, including myself, pulling people out of ditches, offering food, water and shelter to neighbors in need, folks with 4X4s taking those without them to the grocery store and to medical appointments...in short, what I have seen is a community reacting to a generational weather event by coming together and helping itself. If you are able and your reaction to a massive cold snap is to sit and whine that the government isn't taking care of you, than you're part of the problem. I said what I said.
In any event, he resigned due to the pushback he got. I wonder what modern folks would do to this guy?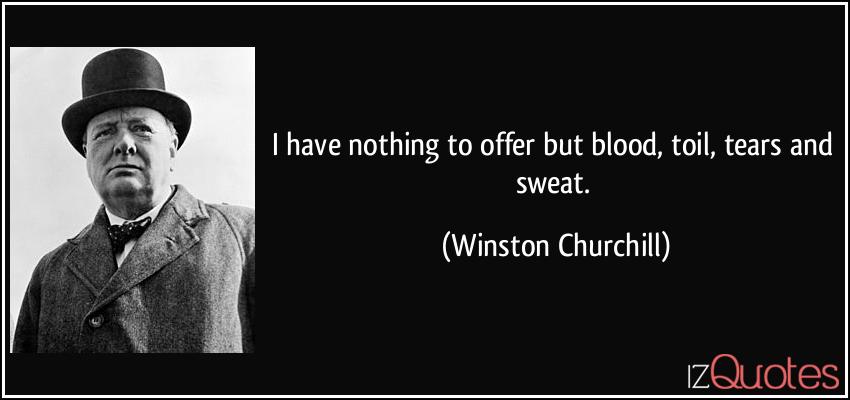 Tonight's ONT brought to you by the good old days: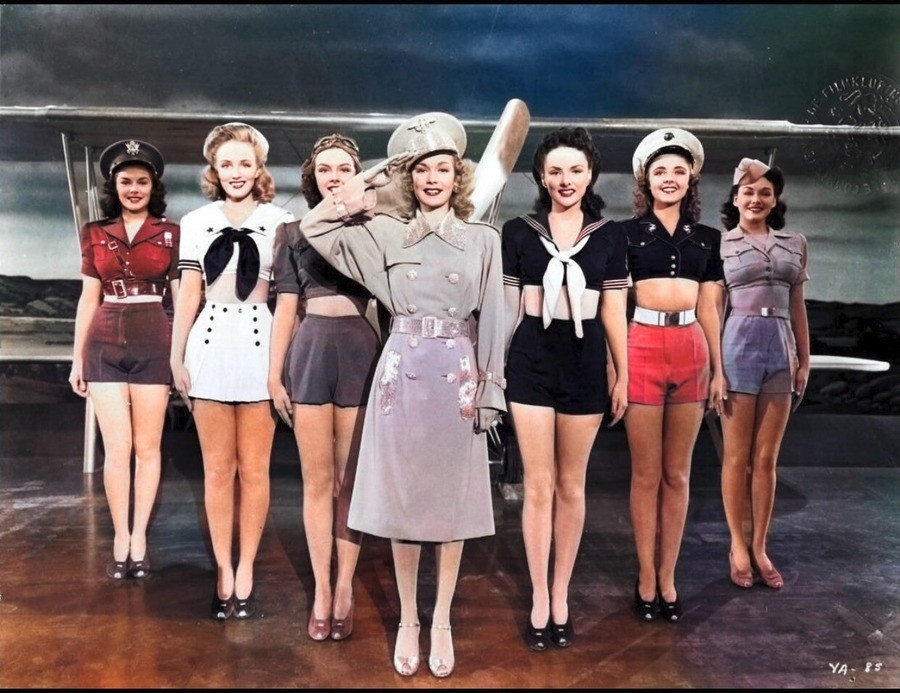 posted by WeirdDave at
09:44 PM
|
Access Comments