« A Little Of This, A Little Of That...
|
Main
|
Gun Thread: It's Snowing Down in Texas Edition! [Weasel] »
February 21, 2021
Food Thread: Steak Or Chop? With MSG Or Without? These Are The Questions That Try Men's Souls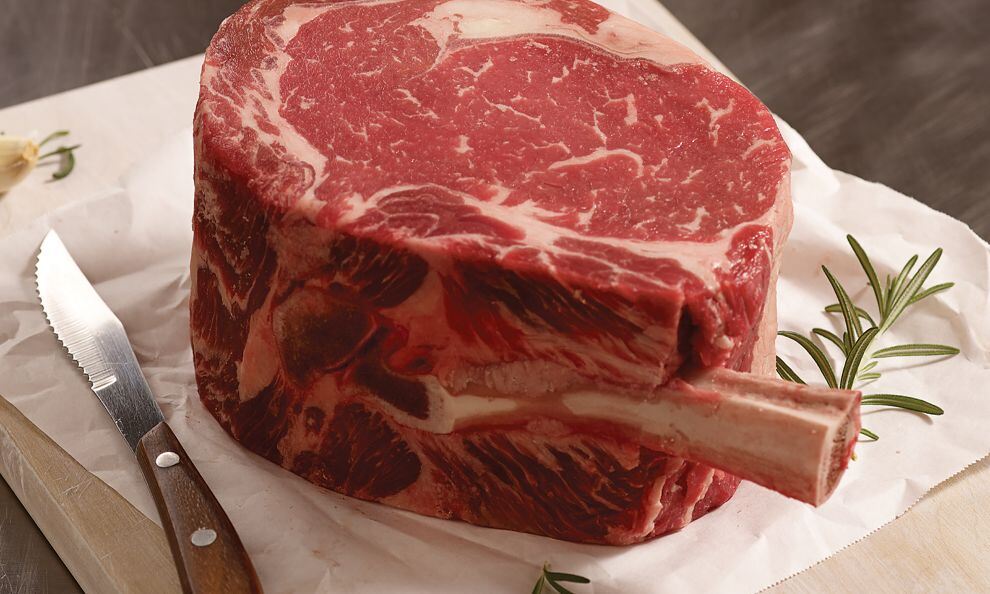 I grabbed a nice looking rib steak recently. I had no need for it, but when I walked past the butcher's case it began to whisper to me..."Dildo....Dildo...come to me!" I felt like Frodo with the One Ring.
Anyway, it was a 3" thick steak cut from the deckle end of the primal, which means a shorter bone and a thick girdle of the best part of the cow. Please don't argue the point. The deckle is magnificent.
I have been playing around with reverse sear, so that's what I did with this one. But it was so thick that it behaved more like a roast than a steak. That is by no means a complaint...it was excellent, and impossibly juicy, which is why it seemed like a roast. And the fat had that unctuous mouth feel that one gets from a nice big slice of prime rib.
I wasn't sure what was going on in the pan, but one of the advantages of being comfortable in the kitchen is the confidence to figure out what is different and just go with it. Had I been fixated on a crispy exterior I probably would have overcooked the steak, but it turned out really well.
But that's not a photo of it, and careful readers of this column will know exactly why!
******
Misanthropic Humanitarian sent me
a PDF of a guy who is obsessed with MSG
, or maybe he works for Big Glutamate...I'm not sure.
And while his suggestions border on the insane (in a martini?), it's not a bad thing to experiment with additives. There is a conceit among a certain class of chefs and cooks that everything must be more natural and authentic than even at God's table. I'll bet I have displayed that sort of elitism and arrogance on occasion, but the reality is that as long as the food tastes good to you, who cares what's in it. There are a few people in my food world who sneer at truffle oil. Okay, it's artificial, and it was overused in the 1990s. But I sort of like it on popcorn, and it doesn't offend me when used properly.
So...eat and drink what you want, and if that means sprinkling MSG on your Velveeta and truffle oil sandwich...have at it!

******
Here's another entry in the Festive-but-Frugal Meal For Eight; and it's a good one. Commenter "Michael" is a man of few words but a hearty appetite!
Easy Roasted-Garlic Focaccia - $10

Bacon-Wrapped Figs With Blue Cheese and Bourbon - $20

Pan-Roasted Chicken With Vegetables and Dijon Jus - $30


Bourbon Bread Pudding - $15
In addition to this being a very appealing menu, it is not complicated, and can be prepped easily the day before. It's exactly the kind of cooking that makes people want you to host again next year.
******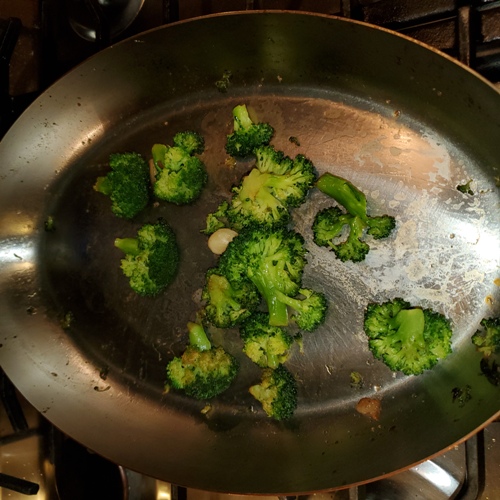 It's not a great photo, but that is the pan in which a couple of very nice steaks were seared and then buttter basted. With garlic and fresh thyme because I respect my food and want it to be happy and content and to smell good.
While the steaks were resting I decided to make something green, and cut up some broccoli, nuked it for about three minutes, then tossed it into the pan to brown in the beef fat and butter.
I will be doing that as much as possible. It's not that I don't like vegetables; I do...really! But cooking them in animal fat makes them taste better. Although a large quantity of olive oil sure does make my ratatouille taste good...
Could it be that fat in any form tastes good? I will have to examine this supposition.

******
One of the frustrating things about many food blogs and websites is that the people who write them -- good, honest cooks who have interesting ideas -- often have no idea how to write a recipe. They bloviate and ramble or are too cryptic and provide too little detail. Here is Hank Shaw from "Hunter-Angler-Gardener-Cook" doing it the right way. There is plenty of chatter, but there is also plenty of good information about how the recipe will work out, and how it will vary based on the cook's choices. I love that!
Green Chile Stew
I like chiles, and I like stews, and I like stews with chilies even more, so this is going to make me a happy camper just as soon as I find some good fresh chilies. I wonder if there is a non-stop to Albuquerque?
******
I mentioned last week that I made fresh tortilla chips for a dish I made recently. Well, they were so good, and so damned easy that I kept doing it. Of course I had a ton of corn tortillas, and I'm a cheap bastard, so I didn't want them to get stale.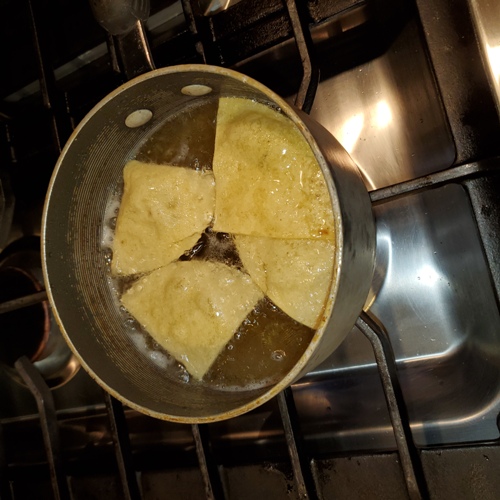 Why did I use such a small pot? Well, I was only making a few, and that way I didn't have to use very much oil. It worked fine. They fry so quickly that it makes sense to do them in small batches anyway.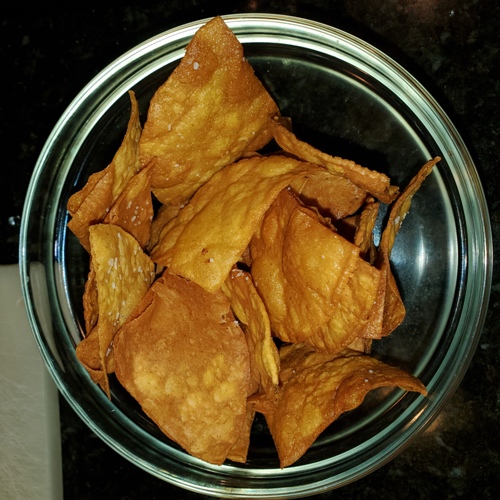 They are great plain. Seriously, they are so good that I didn't bother with salsa or anything other than a sprinkle of Kosher salt when they came out of the oil.

******
I have posted a video or two from Guga, who has two channels. One, "Sous Vide Everything," is pretty self explanatory. The second one, "Guga Foods," is a more general cooking channel, but he loves meat...beef in particular...so that is the topic most times.
But this is just nuts!
[Hat Tip: Prothonotary Warbler]

******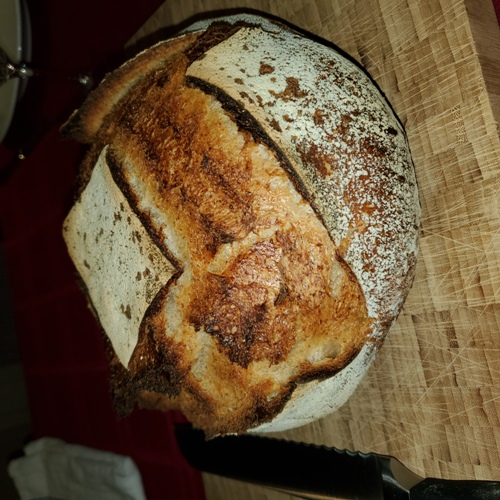 I was a little worried about this loaf, because I tried a different technique that included an autolyse step. Sounds impressive, but all it means is mixing the flour and water without salt and sourdough starter and letting it rest for 30 minutes or so. It improves the hydration of the flour and does a few other geeky things involving proteases a. Also it allows the foul humors exuded by the baking imps to leave the dough, giving it a better chance of turning out well.
And it did. The dough itself was easy to handle and formed nicely. It was also very...um...tight? It would stretch but snap back immediately, and that made me a bit concerned about it rising fully. I was correct; it didn't rise as much, but it more than made up for that by rising beautifully in the oven.
So this easy extra step is a keeper. Although I am not sure about the pattern on the top of the loaf. Next time I will cut much deeper.

******
Food and cooking tips, Large-breasted Muscovy ducks, young wild pigs, bartenders who use vermouth in Martinis (but not too much), pork belly that doesn't have 5-spice, an herb garden that actually grows herbs, beef short ribs that have meat on them (not the stupid little sliver of bone they sneak into the packages) and good tomatoes that aren't square, pale pink and covered with Mestizo E.coli:
cbd dot aoshq at gmail dot com
. Any advocacy of French Toast with syrup will result in disciplinary action up to and including being
nuked from orbit.
And yes, shaking a Manhattan is blasphemy...it's in the Bible!

posted by CBD at
04:00 PM
|
Access Comments