« Saturday Gardening and Puttering Thread, February 20 [KT]
|
Main
|
Saturday Afternoon Chess thread 02-20-2021 »
February 20, 2021
Ace of Spades Pet Thread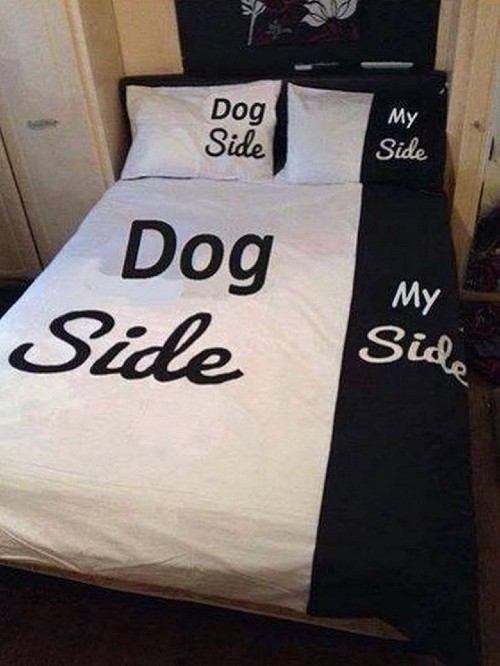 ***

Good afternoon and welcome to the almost world famous Ace of Spades Pet Thread. Forget about the weather. Forget about current events. Leave the real world behind you and enjoy the world of animals.
***
Service dogs being trained. Too cute. Thanks Hrothgar. Hoping you are feeling better.
***

It looks like pets have wandering eyes as well. H/T Shibumi
***

Now you can get a cat to like you without hanging tuna fish around your neck.
***

This meme reminds me of my dogs. Does it remind you of yours?
***
Meet The PetMorons
Photo 1 - This is Beam, sent in last a Saturday by Thecommander. The cat looks like it knows it's being admired in the photo. It looked so perfect that I decided to do this stylized version instead of something more realistic. Amazing kitty.

Photo 2 - This is Indiana, also from last Saturday's thread. It was a lot of fun working on the subtle gradations in the dark fur on his face.

Gorgeous work, as usual I must say. You are so gifted and do such a great job sketching our PetMoron friends.
***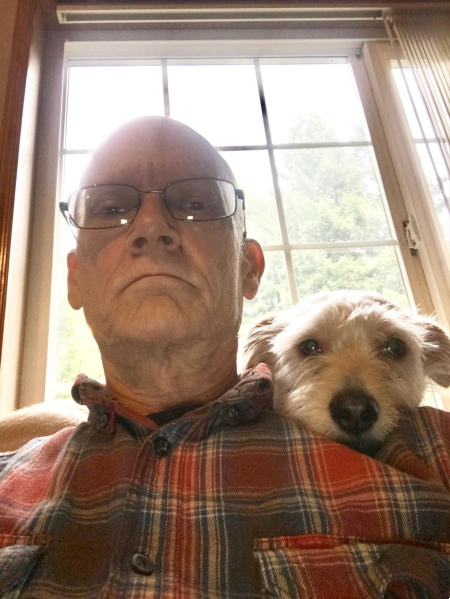 This is my son's dog Khan. He took 1 1/2 months to get cozy with me. When we moved back to town, we moved in with our son's family till we got settled. He has emotional traits but is loving when he finally gets to trust you. - Steve
I finally got your photo of Khan. He is a serious looking doggeh. Or are you guys just shy when it comes to taking selfies? Thanks for sharing.
***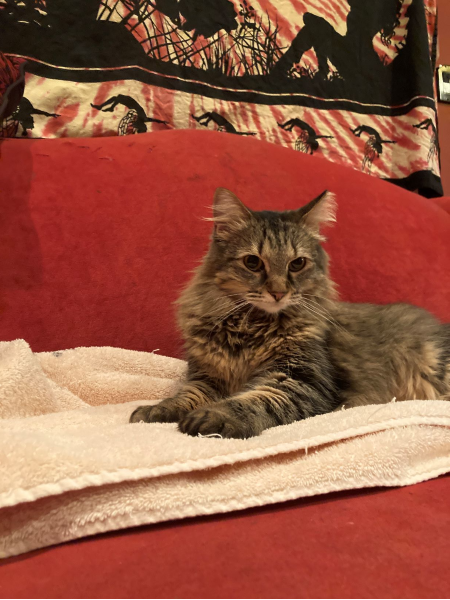 Meet my 9lb, 12 oz "Pretty Girl" (I'm keeping the name since she somewhat recognizes it). I adopted her last Friday. She's had prior fostering and a prior, failed home but she is definitely warming up to life at Dark Acre, especially if I'm sitting down, as she loves laps, especially when I'm doing dumb bell presses. Pretty Girl's quite a jumper and is now sitting on the back window ledge looking out at the backyard she'll be allowed to go into when she's completely comfortable here with me.
-SFGoth
I can't argue with the name. She is a pretty girl. Congrats on the new addition. Hopefully she settles in soon and becomes the queen of the home.
***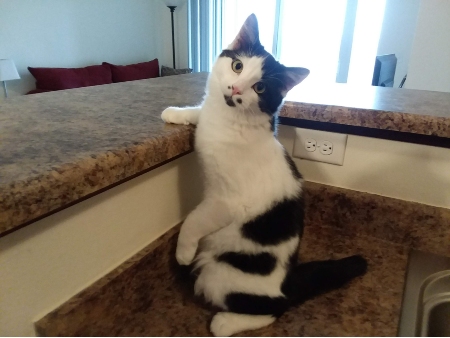 Dear Mis Hum,

Thanks so much for the pet thread every week, not to mention your always stellar ONTs. I've been a lurker since about 2016, and recently delurked as "screaming in digital," but I don't say much because I can't keep up with the rapid fire wit of the Horde.

Anyway, here is one of my small fuzzy Morons. I'd rather not share his name, because it's kind of distinctive and well known among many of my (leftist) colleagues. Let's call the little miscreant "B." This picture was taken when he was about 5 or 6 months old. He's now 15+ pounds of floof, love, and mayhem. B was a pitiful injured kitten when he found his way into the basement of the library where I worked at the time. Coworkers climbed up to rescue him from a water pipe near the ceiling, took him to the shelter for medical attention, and circulated his picture to a catalogers' meeting (shooting fish in a barrel, really). It is a truth universally acknowledged that a single lady in possession of no fortune must be in want of a cat. So I decided to bring him home after he healed from having about 1/3 of his tail amputated. He is now my older kitteh's BFF and my snuggle bug.


Thanks again for everything you do for us reprobates. - (screaming in digital)
First of all, you're welcome. Secondly, what an inquisitive and charming looking fellow you have there. Looks like he found a way into a wonderful home. Thanks for sharing with us today.
***
I knew there was something I was forgetting!

Too often folks talk about how their pet has passed away, and how they miss them. My wife and I had a pack of six when we lived in CT but the move to VA only had one come with. Three of them were lost within about 16 months of each other due to medical issues. It damn near destroyed us both. When we moved here I decided to put up a memorial to besties. I was wondering how others honor the memories of their pets. I know its a sad topic but wonder if it would help others have ideas on how to honor that special pet or pets?
Attached is my memorial. Starting at 12 o'clock is Aelish, Bobby, Angel, Mugsy, Sassy and Chico. In the center I have "The Last Will and Testament of a Boxer." I have seen it with other dog breeds and shelter dogs. Basically it says, after you grieve, go to the shelter and give another the love you shared in my lifetime, that is the best memorial. So at the bottom is our current, and probably last, dog...Lucky. The spoilest dog on the planet! TWO bully sticks after supper! Four meals a day. Treats after every walk, no matter how short, even if it is uneventful. He even has his very own Sherpa Fleece throw on the bed! - Dale
Dale, you have a big heart. What a tribute wall to your furry family members. Here's hoping you live to adopt many more furry family members in the future. We appreciate your contribution to the pet world.
***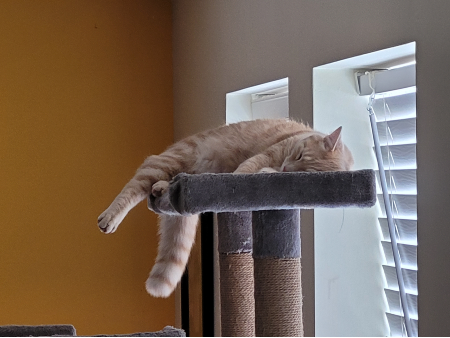 This is Orange Julius, our pandemic kitty, who arrived last April. His creamsicle color earned him his name -- OJ for short. (As a result, I call him "Juice", for reasons only middle-aged folk will understand.) He's the only one of our four cats who can stand me, and is just a little bit spoiled as a result. He has survived many bouts of curiosity about dangerous things that we feared would cost him one of his nine lives. As you can see by the photo, he can also crash anywhere, even places where various limbs are hanging in midair. - Schnorflepuppy
Well one out of four isn't too bad when it comes to kittehs. Amirite? Neat looking cat. Appears he is quite adaptable in his surroundings. Thanks for your entry today.
***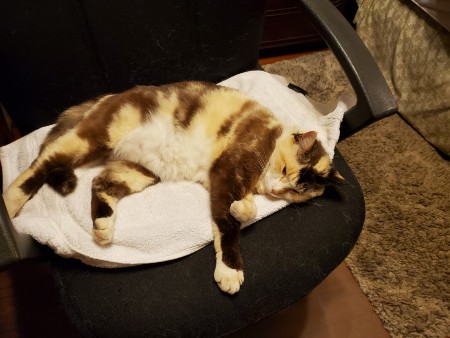 This is Mocha. We "inherited" her when our daughter, Michelle, passed away in 2017. We don't get many pictures of her, because she likes to be outside. It's been too cold here in North Texas the last few days, so she has been "making do" inside.... - Teresa in TX
Well Mocha might like to spend time outdoors. But, she sure looks like she knows how to make herself comfortable inside as well. Thanks for sharing today. Hope you're staying warm.
***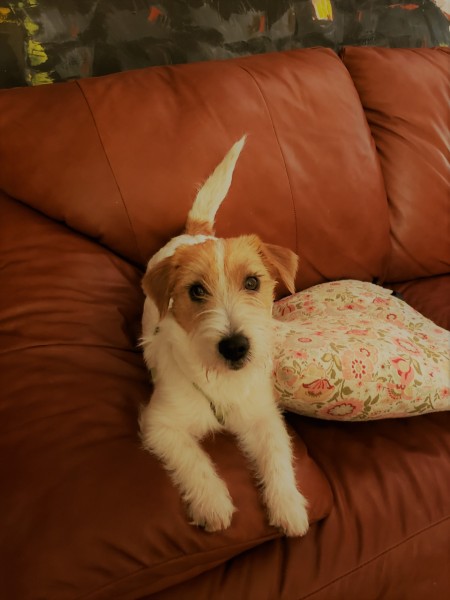 Here's my new little doggo, Bogie, a rough coated Russell Terrier. As I mentioned on the threads, it was hard to find a new pup after Rusty passed away. Rusty was from an animal rescue before there was a shortage of smaller dogs, and I expected it would be easy to find another. It was not. I was rejected because of my husband's age, my distance from the shelter, and because I was not on the approved list early enough. Other rescues never bothered calling me back at all. Luckily I was contacted by a Russell breeder in PA who was looking for a home for a nine month old pup whose legs were a bit too short for the show ring. I haven't had a terrier since I was a child, but we jumped at the chance and Bogie became ours. The name does come from Humphrey Bogart as he was part of her "Hollywood litter" and the pups were named after classic stars, his sister was Bacall.

Russells are active and like walks, but I have not experienced any really wild or crazy behavior and he came to me housetrained! I'll get used to the extra energy and my husband likes a devoted walking dog. He also admitted that he had desperately wanted a terrier as a young child as a neighbor boy had one, so over 70 years later, Prof. N is living the dream and enjoying a terrier at last. I still miss my Rusty and all the other spitzes before him, but I'll adjust and my husband is truly happy with Bogie and watched African Queen and The Maltese Falcon in his honor. - CN

"Russells are active" LOL. That's funny as they like to bounce off of walls and ceilings in my experience. I'm so happy you guys found a new family member. He is in good hands.
***
Thanks to all of you who contributed to today's Pet Thread. You folks make it happen. If you have something animal related you can contact us here at petmorons at gmail dot com.
Until next Saturday, stay warm and out of trouble. Have a good week!

posted by Misanthropic Humanitarian at
03:00 PM
|
Access Comments