« Censoring and Deplatforming Fox Isn't Really Censorship or Deplatforming, Insists Obese Gay Vampire Brian Stelter
|
Main
|
Bits and Pieces »
February 01, 2021
Oligarch Jeff Bezos' Corporate Newsletter The Washington Post: Akshually, The Hedge Fund Short-Sellers Are the Good Guys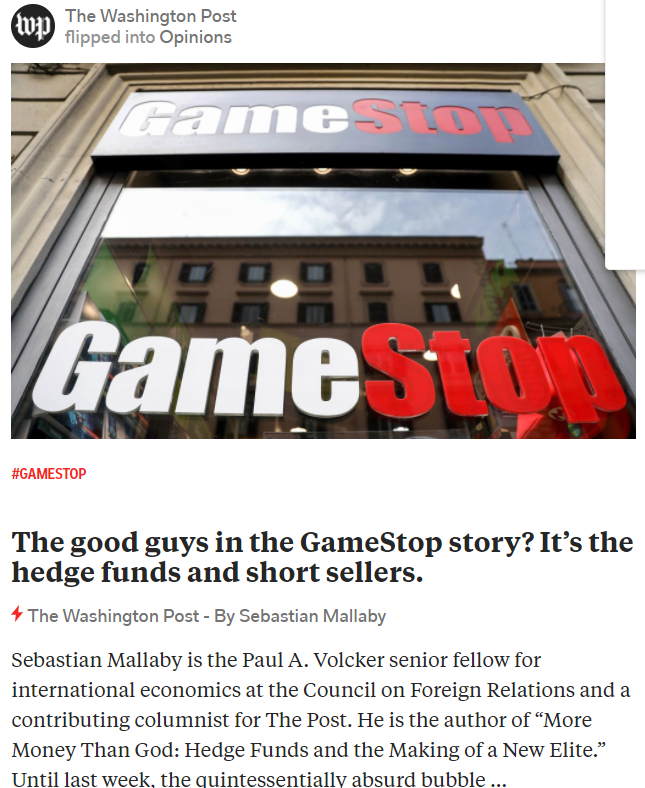 This is a PR piece.
Note that you don't need to do PR if you're just trading stock. Public relations can't help or hurt you.
But, if you are asking your crony government friends to help you, you do need to lay down a smokescreen of defensive Public Relations fog to provide cover to your government allies.
That is the only time you need to run these political ops: When you're trying to create the conditions for illegal government action to aid you.

I don't care who the "good guys" and "bad guys" are here. I don't want to care.
One group won a bet, the other group lost a bet.
Any attempt to portray the winners as "the real bad guys" is just a fucking lie in a political prelude to getting the people who outsmarted you prosecuted -- unless they give you back "your" money, of course!
The "bad guys" are the ones trying to claim it's unjust that they lost money, and that therefore, we need government action to undo this Great Injustice.
Last week, a similar fantasy reared its head: the idea that GameStop, an ailing retailer whose shares had slumped from $57 to $4 since 2013, should suddenly trade at $350. The speculators driving this 8,750 percent revaluation have no evidence that this makes sense: Indeed, they disdain evidence. GameStop's price-to-earnings ratio is infinite, because the company earns nothing. Its prospects are grim, because it is mainly a brick-and-mortar vendor of video games, a product best sold digitally. But the speculators don't care. They believe. And the force of their belief has been contagious and self-fulfilling.
Well, no. They had the fact that the short sellers had sold 120-140% of the available stocks and therefore had created a trap for themselves which would obligate buy the stock at almost any price. They correctly deduced the fact that the short sellers were obligated to pay almost any price to buy the stock they had sold (sometimes multiple times) after merely borrowing it.
The short sellers got greedy and made a huge, huge mistake in creating an artificial scarcity in the very stock that they were contractually obligated to purchase.
They created their own stock sqeeuze.
The stock is, therefore, worth almost any price to the short sellers.
The price of something is what someone is willing to -- or obligated to -- pay for it.
These are facts, not beliefs.
But this guy is trying to pretend this is about virtuous "facts" versus evil, and vaguely Christian, "beliefs."
...

The particular targets of the GameStop crowd are hedge funds and short sellers. Here, a couple of definitions may be useful. Generally speaking, a hedge fund is a small-to-medium-size company that makes money by choosing smart investments. There is nothing nefarious about this. To the contrary, if you don't like too-big-to-fail banks that get backstopped by taxpayers, small-enough-to-fail hedge funds ought to be celebrated. M}


...

Hedge funders and short sellers are out to get rich: They are certainly not angels. But there is a difference between trading based on evidence and research and trading based on conspiracy theories and mob tactics. Over the past week, it'a been tempting to celebrate the colorful rebels -- they represent the democratization of finance, the revenge against the fat cats. Now it is time to remember that truth matters.
Their go-to move is to say you're a white supremacist conspiracy-theorist who is peddling "misinformation."
As the Wall Street Journal did.
Then, having laid the predicate -- it's always legal to Punch Nazis (TM), as Fredo Cuomo says -- they demand the government "crack down" on you.
And the government they own and operate eagerly complies.
And the bois at National Review cheer their big, strong government protectors coming to the nation's rescue.
And fuck you, Jeff Bezos.
Below: Jen The Genius Psaki spins for Treasury Secretary Janet Yellen getting hundreds of thousands of dollars from the same hedge fund that owns Robinhoodapp.
Yellen refuses to recuse herself from the matter.


posted by Ace at
02:12 PM
|
Access Comments