« Food Thread: What Makes Everything Better? [fill in the blank]
|
Main
|
Sunday Overnight Open Thread (1/31/21) »
January 31, 2021
Gun Thread: Rifling Re-Run Edition! [Weasel]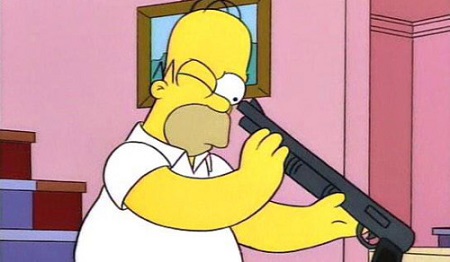 Howdy, y'all! It's Sunday, and we all know what that means, don't we? Why yes, yes we do! Sunday evening means it's time to climb up on your 'ol pal Weasel's knee and talk about guns, gun stuff and shooting. In the process, perhaps we can also forget about the retarded world we live in for a bit. Win-Win!
For some reason, I have been getting a lot of email questions on rifling and barrel twist rates lately. Is something going on I don't know about? Seriously, in the last couple of weeks I've answered at least a half-dozen questions on this very topic, so perhaps it makes sense to cover the matter in a little detail tonight. It also occurs to me that we've had this discussion before, so I went back into the GT Archives, dusted off some previous material from June 2019, and added some new information. In other words, a Gun Thread re-run, with just enough new stuff to provide a veneer of legitimacy.
Let's take a peek at that below, shall we?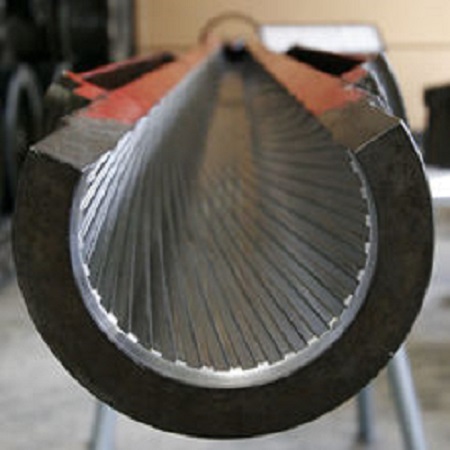 Cutaway 105mm Tank Gun Barrel
Rifling
We've all heard the term, but what does it mean? Rifling a barrel is the process of machining helical grooves inside the bore to impart spin on a bullet and stabilize it in flight. Credit for the idea goes to one of two inventors sometime in the 15th or 16th century. A spinning projectile is much more accurate to longer distances than one which is merely lobbed from a smoothbore barrel. Let's take a look at the process of rifling a barrel.
There are four general machining techniques used to achieve the pattern of lands (high part) and grooves (low part); cut, button, broach and hammer-forged rifling. In "cut" rifling, an adjustable cutter is pulled through a cold barrel multiple times to make a single groove. The process is repeated until the desired number of grooves and depth are achieved. Cut rifling is an older and slower process, but results in very accurate barrels in the hands of a skilled machinist. The second is "button" rifling, where a very hard bullet shaped button is pushed or pulled through a cold barrel displacing metal to impart the desired pattern in a single pass. This is a more modern process which lends itself to mass production. Button rifled barrels can also be accurate. 'Broach" rifling is sort of a hybrid of cut and button processes. A broach is a metal bar with multiple cutters of increasing depth which cut the pattern in a single pass. Lastly, hammer-forged rifling is accomplished with a mandrel and rotary hammer forge. There are pros and cons for each method depending on the application and your budget, discussed in detail here and here.
Q: Gee, Weasel, that's fascinating! What do you use in your match guns?
A: Thanks for asking - I use barrels which are cut rifled.
Q: Excellent choice for accuracy! How about all of your other guns?
A: Well, I don't really know and never gave it much thought. Shut up! No more questions!
Here's a look inside a couple of rifle barrels using a borescope.

Regardless of the rifling process used, a key element is the twist rate, or the distance along the length of the barrel it takes the rifling to make one complete revolution. This twist rate should be stamped on the barrel, but can also be measured at home with a cleaning rod. Without delving into a whole lot of math and aerodynamic theory, the twist rate is important because different combinations of bullet design factors require different amounts of gyroscopic spin created by the rifling to properly stabilize them in flight.
It is not, as stabilization charts would imply, solely the weight of the bullet that makes a difference, but also length and several other factors including muzzle velocity and the bullets ballistic coefficient. The general rule is longer and heavier bullets require more spin or "faster" rifling to stabilize them. Ammunition manufacturers list the bullet weight on the packaging and that's what is used to generally group bullets in stabilization charts. For the aspiring Rocket Surgeons out there, a number of online stabilization calculators are available which are useful for determining if a rifle will stabilize a particular bullet. Here's one from Berger and another from JBM Ballistics if you're curious and have some basic information on a particular bullet. Both of these use the Miller Twist Rule and the required inputs can usually be found buried somewhere in the bullet manufacturer's website. The Berger calculator helpfully contains a library of their bullet specifications, but if you don't know what bullet you're using and the necessary data, just stick with a chart.
Why look! We have one right here!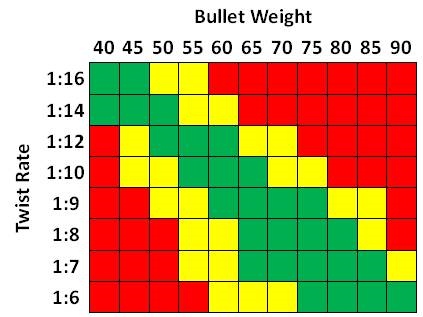 Sample 5.56mm Stabilization Chart
So why am I telling you all this? Very simply put, if you are wondering why some ammo shoots well in your rife while other ammo doesn't, it may be that you have not correctly matched a particular bullet and load to your rifle barrel twist. If you under stabilize a bullet or spin it too slowly it will not fly true and may begin to tumble (not good), and if you over-stabilize or spin a bullet too bigly, the jacket can separate and the bullet will disintegrate in flight (very not good). Scroll down in the following articles here and here for recommended bullet weights by caliber and twist rate.
A good article on the topic of barrels from Bear Creek Arsenal was sent to us by our pal redc1c4.
Since a video is worth a thousand words, here's an explanation of the hammer-forge process by a guy with an accent.
Well this is pretty wacky, here's accent guy again! Who needs grooves and lands? Forget all that crap I said up there and just get one of these.
******
First up, our pal and delightful 'ette Ladyl recently took the plunge and became a crazed gun nut. I think hearing other people's stories helps those considering gun ownership, and Ladyl was kind enough to summarize her experience for us.
I recently bought my first firearm, a Glock 43X. It was a purchase I wasn't enthusiastic about at first, having lived my many years without being around guns. After my husband died, my younger brother had encouraged me to arm myself and even gave me a generous gift certificate to a local range. That certificate expired, unused, many years ago.

I first began considering a purchase in 2015, when it was all but certain that Hillary Clinton would win the White House and that many of our rights would be diminished or simply taken away. Well, Hillary Clinton will never be our president, and I lived, unarmed, for four more years. When the election was flat-out stolen in 2020, and the hatred towards the right ramped up to eleventy, I felt my window to purchase a hand gun was closing fast. So why did I guy the firearm? For self-defense in my home, and partly as a big FU to the left.

Friends of mine had spoken well of LEPD, a range close to my house. I decided try them first. I felt comfortable there, the first moment I walked in. They spent two hours with me, explaining the basic gun operation and allowing me to handle various handguns. They had only one in stock and it was promised to another buyer. I visited several other stores, but they didn't have the guns in stock that were recommended to me and I didn't feel nearly as comfortable at those.

The third time LEPD called to say they had just gotten a Glock 43X in stock, I went and bought it. I figured that if I ended up not liking it, I could simply buy something else. I then attended LEPD's Handgun 101 class. It included two hours of classroom instruction and 1.5 hours at the range. It was a really good class.

The class covered safety rules, the differences between revolvers and pistols, basic handgun operations and safe storage. At the range, we had two people to a booth so we were divided into two groups. I used my Glock, and the other nine people shot 22s provided by the range. I couldn't tell how well I shot, as there was more than one person shooting at the target.

I loved shooting the Glock, and the instructors were very patient with me. The hardest part was loading the ammunition into the magazine. I was shown how to use the loader, which made it somewhat easier. But my hand hurt for a day afterward. The best thing is that I lost some of my fear. My next step is private instruction at the range, to get more experience shooting the Glock and to get additional questions answered about its operation.

What I REALLY want is an AR15. Such a fun gun gun to shoot! But I can imagine my kids cleaning out my house when I'm gone and saying, "I guess there's a lot we didn't know about Mom."
I know for a fact Ladyl can shoot - I've seen her with a rifle making a steel plate at 500 yards look really stupid! Thank you Ladyl!
******
So! You left your favorite pistol out in the rain for a few years, and have a little rust problem.
I have to say I'm a little surprised the thing came out looking as good as it did. You will notice, however, there wasn't a demonstration of the pistol firing afterward and I would be very leery of what that barrel looks like in the inside.
Clearly this is an extreme example, and it emphasizes the wisdom of not storing your firearms outdoors and generally preventing corrosion in the first place.
Do any of you have experience restoring firearms?
******
Our pal OldBlue was recently looking for a shooting diagnostic chart to correct a low right/left pattern in shot groups which had developed. While I was fooling around trying to find one I had shown here before, OldBlue looked online and found a good one! Thanks OldBlue!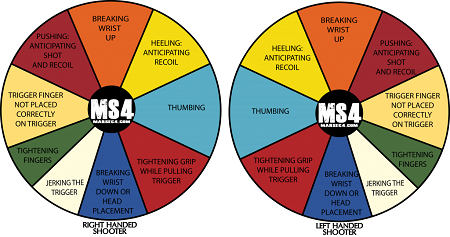 ******
Link-O-Rama
I'm really very seriously not kidding around anymore. Buy Ammo
AmmoSeek - online ammo search tool
GunBot - online ammo search tool
SG Ammo
Palmetto State Armory
Georgia Arms
AmmoMan
Target Sports USA
***Mail Bag***
This is awesome on just so many levels [h/t JT]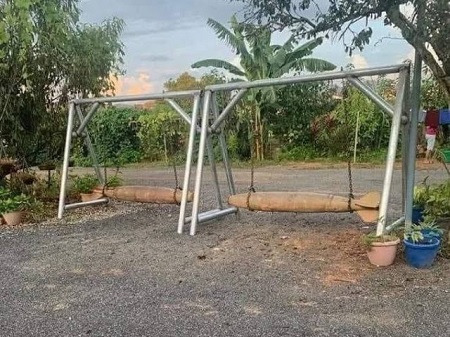 ******
Please note the new and improved protonmail account gunthread at protonmail dot com. An informal Gun Thread archive can be found HERE. Future expansion plans are in the works for the site Weasel Gun Thread. If you have a question you would like to ask Gun Thread Staff offline, just send us a note and we'll do our best to answer. If you care to share the story of your favorite firearm, send a picture with your nic and tell us what you sadly lost in the tragic canoe accident. If you would like to remain completely anonymous, just say so. Lurkers are always welcome!
That's it for this week - have you been to the range?


posted by Open Blogger at
07:00 PM
|
Access Comments