« First-World Problems...Part Quarante
|
Main
|
Gun Thread: Rifling Re-Run Edition! [Weasel] »
January 31, 2021
Food Thread: What Makes Everything Better? [fill in the blank]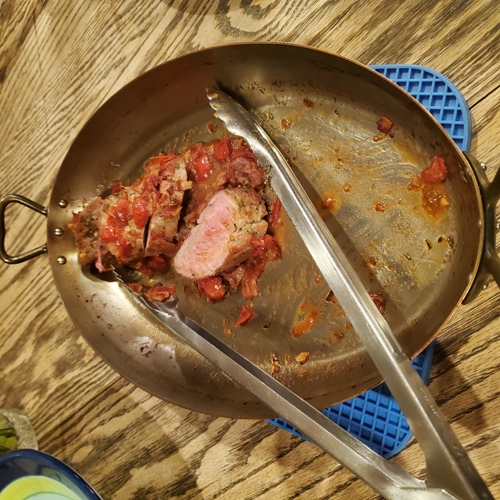 That was last night's dinner, consumed with great gusto and acclamation. But how it came to exist was a typical process for me and most other reasonably comfortable cooks.
Hmmm...pork tenderloin*! Now what? Well, what do we have? Grape tomatoes, fresh herbs, and...BACON!
Yes folks, I found a way to cook pork with bacon, because nobody has enough bacon in his life. I chopped three (liar...it was four) slices of thin bacon, plopped it into a cold pan to render and crisp, then reserved the bacon and poured a couple of tablespoons of the fat into the roasting pan. Then I seared the salted tenderloin in the pan and then removed it to a plate to cool for a bit.
Remember those herbs?I chopped some Rosemary and painstakingly removed the thyme leaves from the sprigs. Wow, I hate doing that, but there really is no easy way. And yes, I know all the tricks, and they are filthy lies. Anyway, I made a mash of the herbs, some salt and pepper, a few cloves of garlic and a blob of Dijon mustard. Then I smeared it all over the tenderloin and into a 350 degree oven with a temperature probe set at 139 degrees.
When it was done I put it on a cutting board and deglazed the pan with some white wine; the crappy stuff that has been in the refrigerator forever. Don't you dare spend a lot of money on cooking wine! Then I tossed the grape tomatoes and bacon into the pan while I scraped up the yummy bits. After it thickened a bit I finished (mounted) it with a nice chunk of butter, and we were ready to eat.
One of the challenges of tenderloin is that it overcooks easily, and because it is so lean it tastes like shoe leather, thus the temperature probe and more importantly, the extra fat and flavor from the bacon and the butter.
Oh, the pan with most of the bacon fat? I blanched some broccoli and sautéed it in the fat with a pinch of red pepper flakes and some salt. because I am frugal and my bacon fat can is full.
*Way too expensive, but in its defense it was trimmed perfectly of the silver skin, and it was incredibly tasty; nothing like the typical mass-market stuff I have bought in the past.
******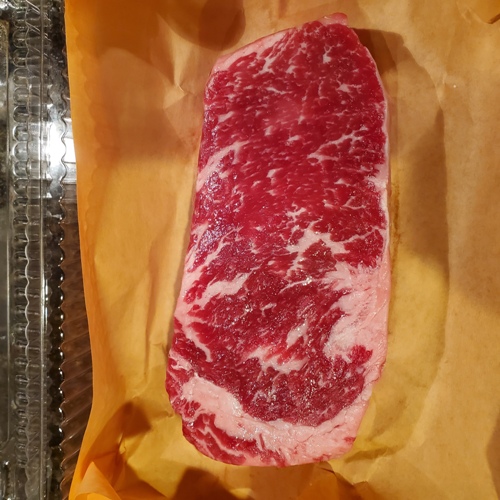 That's not prime beef. That is a New York Strip purchased from a super market in my area that was running a sale. I go there a few times each week, and the first time during the sale the steaks looked like they had been cut from cows just after a six-week cattle drive. Not an ounce of intramuscular fat! So I moved on. But the second time? Bingo. That is a nice looking steak. It's not perfect, and wasn't as tender as many prime steaks I have eaten, but it was clearly the pick of the...uh...litter?
What's my point? Be picky. Don't go to the store with a shopping list tattooed on your hand. If the steak looks like crap, buy the nice looking pork chops. If the lamb chops have a bacterial sheen on them, buy some bacon (just kidding; leave without buying anything).

******
Commenter "Lurker Lou Here for Five Minutes" sends along a narrative about a food I have never heard of, much less tasted!
Dropping a line to suggest a light meal that will make you feel cultured, fancy, and lazy. That is a wonderful combination. For any morons that keep homemade stock or broth on hand, even lazier so even better.

Over the holidays, I invited friends from the work bubble over for a light lunch right before Christmas. One is a vegetarian so that limited me somewhat. I served them scripelle 'mbusse after a shameless google.

Basically, make a broth from scratch. Make crepes. Fill crepes with Pecorino or Parmesan. Spoon broth over crepes. Eat.

I served mine with a red leaf lettuce salad and simple home made lemon Dijon dressing in the french style, accompanied by an extra dry Prosecco, although an italian white was suggested (but not stocked locally).

Some recipes have you add herbs to the crepes, or slice the crepes into strips. I did not add herbs because *lazy and I wanted crepes for dessert too because lazy some more*. Dessert crepes: creme fraîche and some quality preserves (apricot and raspberry).

This fool of a magazine has a good picture and I agree that nutmeg is a value adder.

But the magazine says the difficulty of scrippelle 'mbusse is "medium." Crepes have a reputation for being difficult. This is a lie. They want you to be scared. Don't be. Trust your gut. I have a terrible "breakfast buffet omelette making style" to my crepe making, basically, I just roll the pan around in the air as I am setting the batter. It is ugly. It works for me and we eat the results.

There are eleventy billion recipes for crepes. They all have slight variations. My favorite is from a 60 year old Good Housekeeping cookbook but I try others all the time. Stay with the one that works for you. Batter should be thinner than cake batter, almost but not quite as thin as half and half. But it will cook up just the same. Thicker makes thicker crepes which are not my favorite but they are still edible and other cuisines like thicker crepes. Thicker crepes will require more batter to feed more people. In the end, eat what you want.

If you read about the origins of this recipe, you will see there are many suggestions for the broth. The magazine above says chicken but I did a broth that called for beef and "whatever you have kicking in your freezer." I think that is more likely. I am going to try a mushroom broth next time but I don't think this recipe is about "riching it up" through the broth and mushroom might be too much. I think a plain broth that you like is fine, but it should be a clear broth I think. And yes, the cheese does melt.
Oh, remember those "Alaskan Carrots" she teased us with recently? Well here is a bit of an explanation.
To answer your question from however long ago, Alaskan carrots are carrots grown in Alaska. They are very sweet with a higher sucrose content. They also are not woody. I don't know why they are so damn good but you caramelize those bad boys with sea salt and rosemary nom nom nom.
******
Sorry about the abbreviated edition of this thread, but it has been a hectic day; for some reason the real world keeps intruding on the fun stuff.
******
Food and cooking tips, Large-breasted Muscovy ducks, young wild pigs, bartenders who use vermouth in Martinis (but not too much), pork belly that doesn't have 5-spice, an herb garden that actually grows herbs, beef short ribs that have meat on them (not the stupid little sliver of bone they sneak into the packages) and good tomatoes that aren't square, pale pink and covered with Mestizo E.coli:
cbd dot aoshq at gmail dot com
. Any advocacy of French Toast with syrup will result in disciplinary action up to and including being
nuked from orbit.
And yes, shaking a Manhattan is blasphemy...it's in the Bible!

posted by CBD at
04:00 PM
|
Access Comments