« Ready to Regulate Again [KT]
|
Main
|
Ace of Spades Pet Thread »
January 30, 2021
Saturday Gardening and Puttering Thread, January 30 [KT]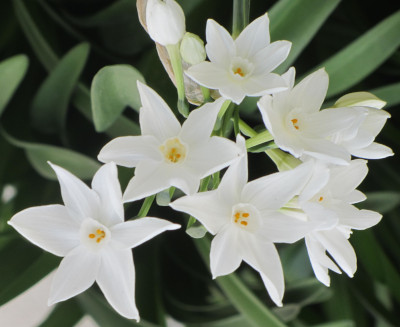 Hi, everybody! Got snow? We have had rain, fog and frost. But there is some garden activity in parts of the nation. The photos above and below are from 40 miles north: (How did I ever write "40 moles north"?)
The narcissus enjoyed the recent rains. They have a really strong onion smell this year: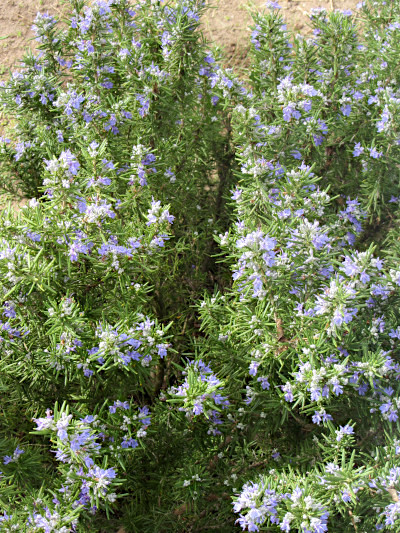 The bees are loving the rosemary. This is without a doubt the largest, most luxurious rosemary bush I have ever had. Yet another Trump success story.
Birds
Hi KT. Here are a some wild parrots that frequented our bird feeder in San Diego. San Diego parrots are all offspring of escaped pets. The first parrots were seen back around 1970 in some eucalyptus trees at the end of Point Loma. Since then they've spread all over town and like to form raucous flocks. They are always a treat to see.

DR.WTF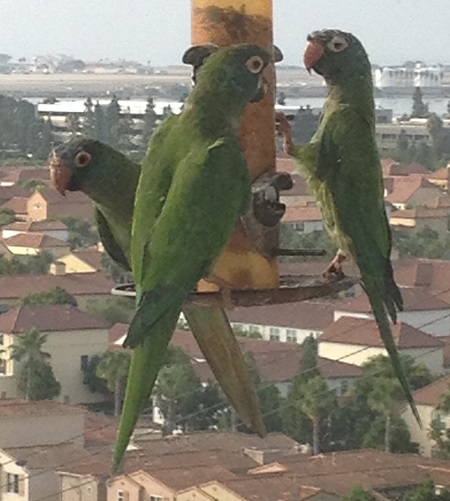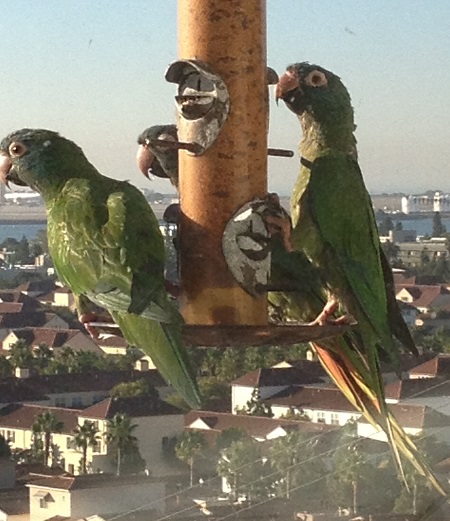 Edible Gardening and Puttering
Last week, we had some discussion in the comments about cold weather greenhouses. Emmie provided a link which included the following impressive greenhouse. We have some real life example of greenhouse and related structures from The Horde, simple and not so simple, for later threads:
On the puttering front, NaughtyPine was thinking about eagles, and then remembered an out-of-season woolly bear.
Gardening in Israel
You may recall that Neal in Israel has sent us some photos to cheer us through the winter. Here are some more, from December:
I understand that cold weather has shut down most gardening activity for many people.

Here in Israel this isn't the case. We have no rain from about April until October. When the rains renew in late October-November, open fields and cultivated gardens revive and renew. Since the winter is relatively mild, with snow and frost extremely rare, winter-mode plant activity continues throughout the winter months, until the spring brings more intense sunshine and higher temperatures.

The citrus harvest is concentrated in the fall-winter months. I've already sent pictures from our lime tree, whose season concluded back in October. By contrast, our clementine is a late ripening, Israeli-developed variety named Orri, whose season begins and ends much later. I've just now stripped the tree of fruit, so that it can rest up for blossoming in the spring.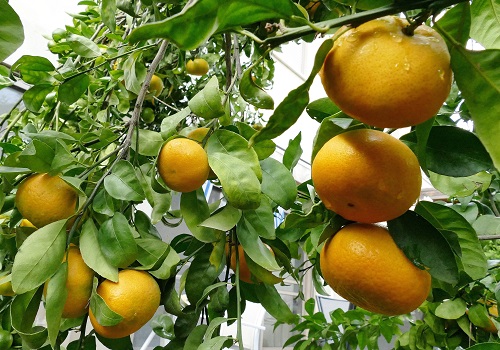 The cyclamen is one of Israel's signature fall-winter wild flowers. It has been domesticated for gardeners by commercial breeders, who produce a wide range of special varieties.

You'll see classic-type cyclamens. The plant sends up flower stems from a mass of leaves growing close to the ground. The stem bends back 180 degrees back towards the ground, and when the buds open, the petals grow upward.

A new twist which breeders have introduced is a variety whose appearance is shaped by the contrast between the color of the flower's sepals and that of its petals. In order to show off the contrasting colors, the breeders have introduced two innovations: first, the sepals are much larger than in classic-type varieties and second, the petals open in parallel to the ground rather than sweeping back upward, as in the classic-type varieties.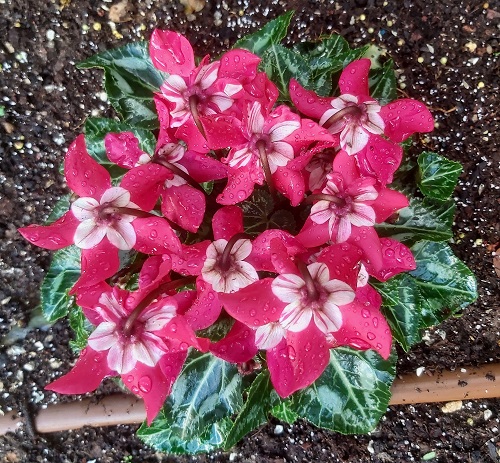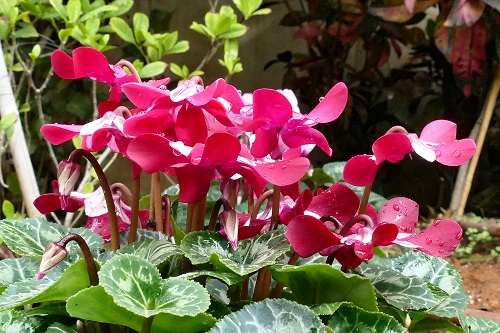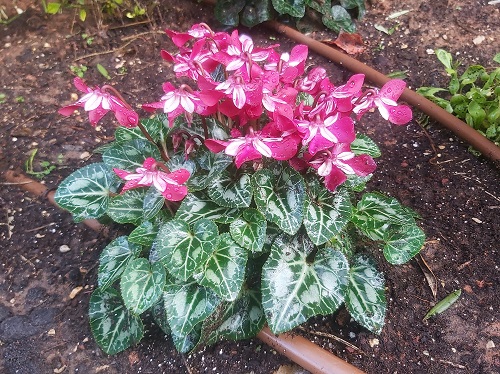 Gardens of The Horde
Anonymous Lurker is new to garden photography, and has sent in a photo of the first daffodil of the season. So cheerful!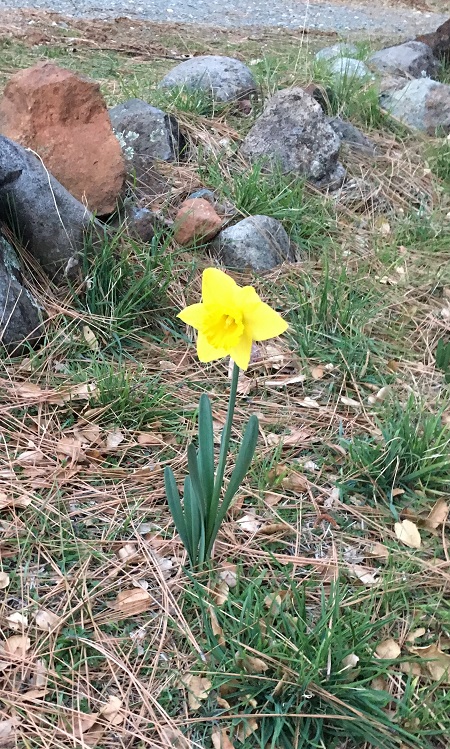 Anything going on in your garden? Doing any puttering?
If you would like to send information and/or photos for the Saturday Gardening Thread, the address is:
ktinthegarden
at that g mail dot com place
Include the nic by which you wish to be known when you comment at AoSHQ,
unless you want to remain a lurker.


posted by Open Blogger at
01:30 PM
|
Access Comments