« First-World Problems...Part נײַן און דרײַסיק
|
Main
|
Gun Thread: Tragedy on the River Edition! [Weasel] »
January 24, 2021
Food Thread: Fat Is Flavor...But Sometimes It Requires Moderation! (Who Knew?)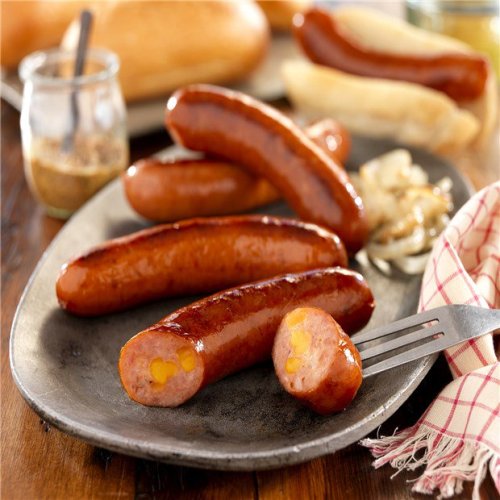 I received a glorious and lovely and generous gift of a Neuski's gift certificate from a friend, so I promptly ordered their bacon ( a wonderful thing) and a couple of packages of their Bacon Cheddar bratwursts.
My local (and excellent) butcher makes them, and they are good, though pretty fatty and overly rich. But the Neuski version is a different thing entirely. Perfectly in balance, with just enough cheese and bacon for flavor, but not so much that your gall bladder goes into spasm and your liver cries out for mercy. I think they back off on the fat in the brat itself, but whatever they do, it is a resounding success.
Wait...did I just say that less fat is better?
******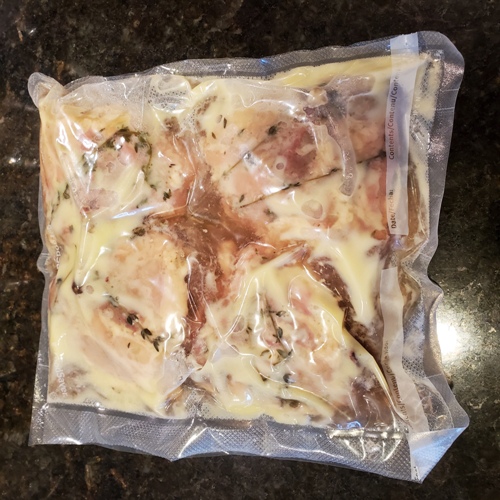 Confit is a glorious way to cook, but it is also a bit messy, takes a long time, and requires huge quantities of duck fat. But Sous Vide solves a few of those problems, and I have mentioned in the past how well duck confit turned out using Sous Vide. But the technique is not reserved just for duck! I tried it with chicken thighs, and it was stupidly easy and quite tasty. As good as duck? No, don't be silly. But it was a simple and satisfying meal that took almost no time at all to prepare (I don't count the cooking time as part of the prep). And those thighs were on sale, so the $1.49/lb. won't break the bank. Tons of garlic, some fresh thyme, salt (more than you might think)and a dollop of duck fat (optional, but it does need some extra fat) and you can be off to the races.
It lasts for a week or two in the refrigerator, and it is a wonderful convenience to have something tasty, ready to go with a few moments of finishing. Hot oven to crisp the skin, or a hot pan and a weight on top, and it's all set.

******
From "Garden and Gun" comes a guide for roasting oysters. Not a bad plan if you don't like them raw on the half-shell.
And I had no idea that those little crabs that I sometimes see in the oysters had a name! "Pea Crab." who knew?

******
Here's another entry in the never-ending saga of the frugal holiday menu. This one is from commenter "Jay," who has some simple crowd pleasers that scale very well. And that I think is a very important part of these dinners. If it is too much of a pain in the ass to make, then the host isn't going to have much fun.
Appetizer
Potato skins

Main course (requires gas or charcoal grill, charcoal better):
chuck roast 2 zone cooked

Sides:
nice lettuce salad, 1 head iceberg lettuce, 1 head romaine lettuce, chopped
dressings of choice
variety of sides
sliced veggies, like radishes, onions, cheddar cheese
fry up some bacon if desired, crumble that, allow as side
Squash veggie stir fry.
carrots (2 per person)
parsnips (1 per person)
onions (1/2 per person, good sized)
summer yellow squash (1 per person)
slice all these, cook carrot and parsnip first, cookie sheet with olive oil, oven hot at 400-450, until a knife pushes in easily
can also use a wok or a skillet
add onions and squash after carrots and parsnips have cooked. put over the top, add some chicken broth to pan for some steam
I also like adding Chile Sambal, for a little kick.
Cook until softened, stir up in pan, roast for a while longer, until onions and squash are tender
Mix well, serve in bowl aside.
Dessert
Pecan pie bread pudding

Serve that with vanilla ice cream.
******
Many of you use Roku to access streaming content, and I recently discovered a Gordon Ramsey cooking series on their channel that is quite entertaining and has a bunch of really solid recipes and cooking advice for the neophyte.
Gordon Ramsay's Ultimate Cookery Course
There is nothing earth-shattering or new, but the episodes are short, packed with good cooking, and I find Ramsey to be a pleasing personality. This isn't him screaming and yelling, it is a calm and well-produced series linked to one of his books (which I didn't buy). Just the food shots are worth a look!
******
"Bitter Clinger" has a recipe for Grenadine! Because so many of you drink Shirley Temples and the real stuff is stupidly expensive.
There are lots of things behind the bar that when you start bartending you just take for granted that are the go-to ingredients.

Two of them are Rose's Lime Juice and Rose's Grenadine. They are just about behind every counter at dive bars, corporate soulless hellholes and night clubs. Until recently, most Gen X bartenders didn't place a lot of thought into what went into the mixers they used, as we were born of the microwave dinner, drive-thru, convenience store era of the 1990s where free time was increased and put to good use doing extremely stupid things like fashioning homemade water bongs and playing Tetris for 4 hours on Nintendo.

Bloviation aside, I'll give Millennials a hit tip on this one, in their rush to be hip and retro, they have helped bring back into focus the traditional things that had become mundane, economical and shelf-stable. Grenadine is one such item that is getting a fresh look.

That bottle of Rose's grenadine is little more than colored simple syrup with artificial flavoring that winds up being thought of as cherry syrup from the bright red maraschino cherries that go on your ice cream sundae but belong nowhere near a cocktail.

And so boutique crafters began making crafted grenadine with more of a hat-tip to the original product, which was truly a sweetened pomegranate syrup. So on a nightly browse of Amazon after a few drinks, I considered purchasing some real stuff, until....$17 for a 12 oz bottle! You have to be f*cking kidding me.

So as usual, my miserly self began researching how to make it and after a little trial and error I settled on a decent recipe:

8 oz Golden Sugar
8 oz Unsweetened Pomegranate Juice
1 oz Beet Juice
1 oz Pomegranate Molasses
1 oz 151 Rum (as a preservative)

Heat those first 4 ingredients and reduce to a consistency that is just a tiny bit thicker than what you want to work with in a drink, as the addition of the rum at the end will thin it back out.

Save the bright red stuff for making Shirley Temple's and Rob Roy's for the neighbors' bratty kids at the cookout. Use this stuff for cocktails.

For fun, here is the story of the ubiquitous Tequila Sunrise, one of the drinks bartenders routinely drown in the red stuff turning it into a nightmare of a sugary cocktail. Made with a little effort and decent ingredients, it's actually a pretty nice drink!

One note on the video, the Stones actually called it the 'Cocaine and Tequila Sunrise Tour', a fact Jose Cuervo predictably left out.

******
Commenter "flygal' sends along a very funny parody of Chef John (he of the irritating lilt), dedicated to "Cannibal Bob!"
******
It's on "MeWe," so for all I know you'll catch herpes if you read it, but I have poked around and it looks like fun.
Deplorable Dining: An AoSHQ Food Thread Fan Group
******
Food and cooking tips, Large-breasted Muscovy ducks, young wild pigs, bartenders who use vermouth in Martinis (but not too much), pork belly that doesn't have 5-spice, low-temperature-roast chicken, and good tomatoes that aren't square, pale pink and covered with Mestizo E.coli:
cbd dot aoshq at gmail dot com
. Any advocacy of French Toast with syrup will result in disciplinary action up to and including being
nuked from orbit.
And yes, shaking a Manhattan is blasphemy...it's in the Bible!

posted by CBD at
04:00 PM
|
Access Comments