« Unity, Bipartisanship, Reaching Across The Aisle, And Other Euphemisms For Losing...They All Mean Fascism
|
Main
|
Food Thread: Fat Is Flavor...But Sometimes It Requires Moderation! (Who Knew?) »
January 24, 2021
First-World Problems...Part נײַן און דרײַסיק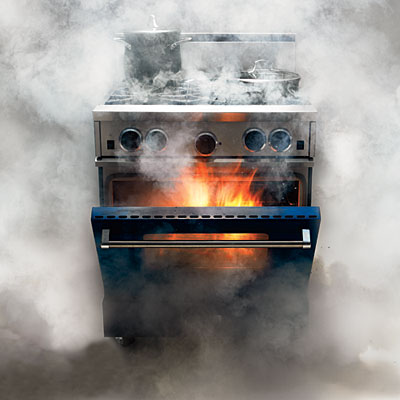 Baking stones are great cooking tools for anyone who likes to make pizza or homemade bread. But they are relatively fragile, and the endless cycle of heating and cooling seems to weaken them. I have gone through a couple, and got tired of replacing them, so I bought a baking steel, which is pretty much the same thing, only heavier, more expensive, and probably unbreakable in a home kitchen.
But they rust! And obviously they are exposed to lots of moisture in a gas oven even when they aren't being used*, so they need to be cleaned and seasoned to prevent it.
Except...a very stupid amateur cook who shall not be named decided that using mineral oil to season his steel might be a good idea. I He used food-grade oil on a freshly cleaned stone and put it into the oven to season. Unbeknownst to him, because he is an idiot, mineral oil vapor has a flash point of about 380 degrees F. And lo and behold! What happened at about 375 degrees?
Lots and lots of smoke. Unpleasant smelling smoke!
Pulling a heavy steel out of a smoking oven and taking it outside was amusing, in a very unpleasant and unfun way. In his defense, mineral oil is used as an industrial cutting lubricant, so the assumption that it can handle high temperatures is not unreasonable. It's still wrong however, and it reinforces some pretty basic rules about how to approach new situations.

*CH4 + 2O2 --> CO2 + 2H2O

posted by CBD at
02:15 PM
|
Access Comments