« Saturday Gardening and Puttering Thread, January 23 [KT]
|
Main
|
Saturday Afternoon Chess thread 01-23-2021 »
January 23, 2021
Ace of Spades Pet Thread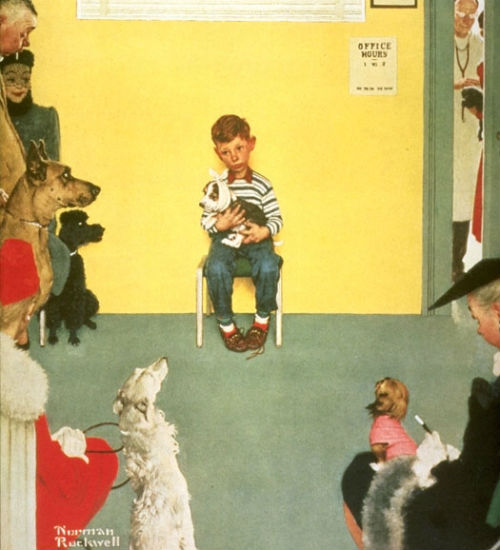 (H/T CBD)

One of my all time favorite Rockwell pieces. A happier and simpler time. Good afternoon and welcome to the almost world famous Ace of Spades Pet Thread. Escape the real world for a while and enjoy the world of pets.
***
A Little of This. A Little of That.

Man's best friend helping in the sympathy department.
***

Speaking of Man's Best Friend: Patient doggeh waits for his master outside a Turkish hospital. H/T CBD
***
Who would have thought this? Pot legalization spikes pet clinic visits.
***

I've always wanted to name a dog Dammit. Absurd pet names.
***

In last week's Pet Thread there was a link to the AKC to keep your pets away from coffee. This week we cover what one should do if their pet ingests coffee. A great H/T from Dale.
If you suspect your dog has eaten any coffee grounds/beans the first thing to do is give him a couple tablespoons of hydrogen peroxide. This induces vomiting and so would minimize and absorption of the caffeine. This is the same thing you should do if your dog eats any densely cocoa product (bakers chocolate, etc.). The theobromine in the chocolate is also very dangerous to dogs. Once you have induced vomiting then make the vet run. If your vet is closed, look for emergency vet in your area.

Dale
***
Meet The PetMorons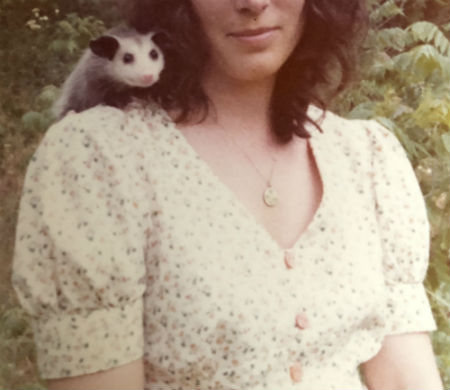 Once upon a time, a long time ago, my husband was conducting a field study at a Missouri farm as part of his masters studies. The farmer's dog found and killed a possum, and out from the marsupium crawled a number of baby possums. Being unfamiliar with possums (because we do not have them out west), my spousal unit thought it would be "fun" to bring two of the possums home to raise, especially since we did not have any pets. Living in an apartment at the time, it was especially unwise to have brought them home, and I lived in fear of being evicted for having pets, which were not allowed. Anyway, the possum boys were soon named Herkel and Snerkel and placed in a wire cage which became their new home. My husband assumed all care and feeding duties for the little critters. We soon learned that possums: (1) love dog food and bananas, (2) are nocturnal and active all night, (3) will hiss loudly if you enter the room or turn on the light, (3) have more teeth than a shark (!), and (4) do not make good pets. Several months after our possum adventure began, it came to a necessary end. It was early summer and we were traveling to visit family and would be gone for an extended period. The possum brothers were released to the wild so they could hang from trees by their tails, find their own food and shelter, avoid coyotes and other predators, and play possum to their heart's content. Snerkel agreed to be photographed only one time before the big release. - Legally Sufficient
Our friend Legally requested that her photo be altered, I tried my best. Quite the story, I've never known anyone with a pet possum. Sounds like your husband has a big heart. Thanks for sharing.
***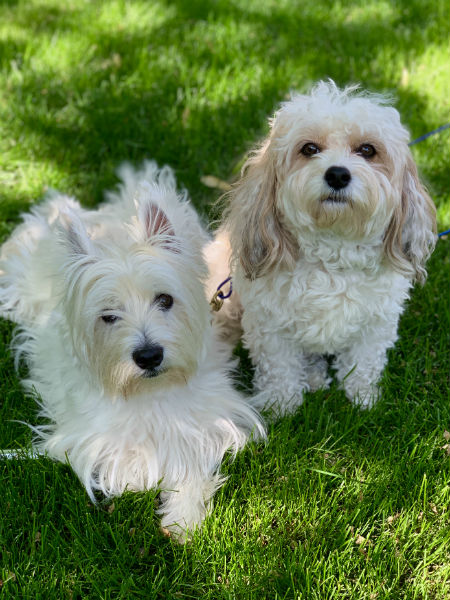 Love the pet thread, I only lurk, rarely comment. Please see my two puppers, attached.

Cody, the Westie on the left, is the goodest boy, and at 11, deserves all the treats.
Then there is Olive, the other dog. A Cavachon, or high priced mutt, you decide. She is 6, and is the source of all entropy in the universe and were she to run away at any point, I would be slow to try and find her. But she has a cute face, her only saving grace.
Keep up the good work. And everyone, calm down, It will be ok. Eventually. Maybe, someday. Soon i hope. Or not, who knows. - Bill

The source of all entropy? She's not even a Brittany Spaniel! Cody and Olive certainly are cute. Thanks for lurking and contributing today.
***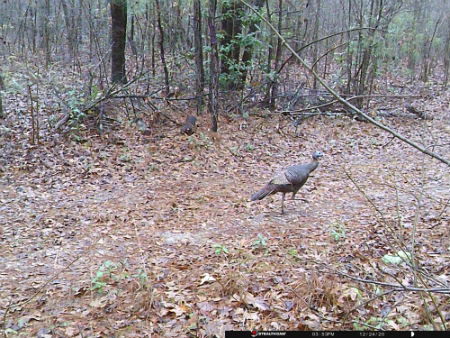 &&&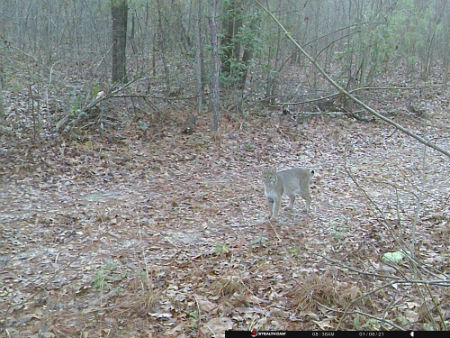 Greetings,

Have to say that I always get a smile while scrolling through the Pet Thread. Anyhow, happened upon these two while checking the cameras on my property, of course, not pets. We lost a chicken a couple of months ago and I attributed it to a Red Shouldered Hawk, we have about three to five in and around the farm, but now I'm thinking it might not of been them and was the Bobcat. Have seen several of the turkey's around, first I've gotten on camera. - v/r Sua Sponte
Glad that the Pet Thread brings a smile to your face. Quite the visitors you have there on the farm. Your trail cam takes awesome photos. Feel free to submit wildlife photos any time you want to.
***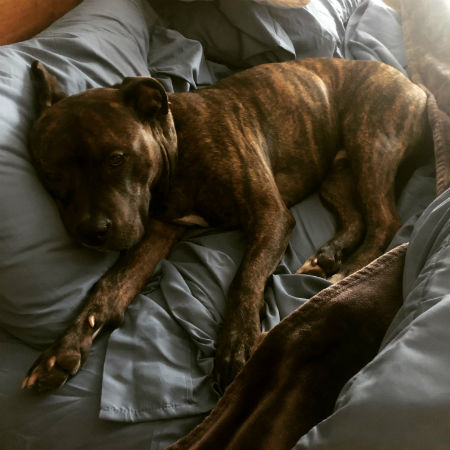 This is my latest foster, Bronson. This adorable bastard has stolen my heart and my king-sized bed. I'd adopt him if my dog didn't hate him as much as she does cats. - Lurker Rabidsquirrel
Thanks for sharing today. I'm not sure how you can foster and surrender a big sweetie like Bronson. Thanks for doing that type of service.
***
First, Thank you for this little island of peace (pet thread) on the bigger island of sanity (AoSHQ). It's the best place on teh interwebs.
These are my boys: Insom, left, and BobCat on the right. Both of them had been thrown away by some fool. Well, different fools.... BobCat was living in a culvert and in need of food when i took him home. I asked first, he said he didn't mind. He enjoyed 3 years of a sedate, peaceful life, when i brought the terror home one day. Fool number two had pitched an entire litter of kitties at a large intersection when the light was red. At least it was a nice day and people were tolerating sitting at a green light while several of us were scrambling for kitties. I had to keep him in his own bedroom for a month because Bob wasn't having it. He would hiss at the closed bedroom door when he walked by it. Now he only hisses when Insom jumps on him as he's trying to get to the wet food first.

I didn't want pets but i like my life a bit better now, having them to come home to. Anyway.
Again, thank you for this forum, and for encouraging our participation.
I post very little, but am Appycay when i do. (When i do get a random funny thought to post, someone else has already beaten me to it - horde mind, heh heh)
Happy Caturday to all.

Oh. And...... to "our" Insom at AoSHQ: i hope you don't mind that i used your name. No disrespect was intended, but for that first month, i slept in the room he was confined to and i got damned little sleep. The name seemed appropriate. - Appycay

First of all, you are so welcome. Secondly what a big heart you have to rescue these beautiful critters. Pets do make life better. And we in turn make their lives better as well. Thanks again.
***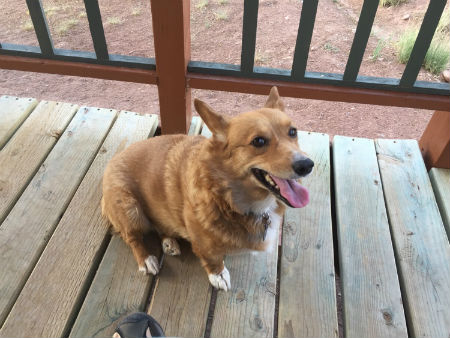 Hi, I'm Joel. And this is/was Torso Boy.

His real name was Laddie, which I always thought was a dumb name but he answered to it. He came to live with me unexpectedly in August 2018. My own big mutt Little Bear had recently died, and coincidental to that a good friend in Montana also died and her Corgi Laddie needed a home. I live far back in the Arizona desert and had strong doubts about the wisdom of bringing a townie dog, especially one old enough to be set in his habits, way out here where there be monsters. And he wasn't so sure about me, either. We spent our first year with me just being the nannie: he learned to depend on me for necessaries, but otherwise didn't really want much to do with me. But after about a year he gradually turned around and sort of invited me to be his person. Along the way he learned the sublime pleasures of the Jeep ride. And believe it or not, as funny as it looks when it's happening Corgis actually are natural-born cattle dogs - he could get a fair-sized herd moving in the right direction just by nipping a few strategic ankles.

And then the little bastard got Lymphoma and was dead less than a week after the diagnosis. But he had some fun for about a year before that. He was a cool little guy.
I'll be honest with you I do have a soft spot in my heart for Corgis. Mis. Hum. Mid-Kid had one. It sounds like Laddie ended up one lucky dog after his master passed. So sorry to hear of his demise. Thanks for sharing.
***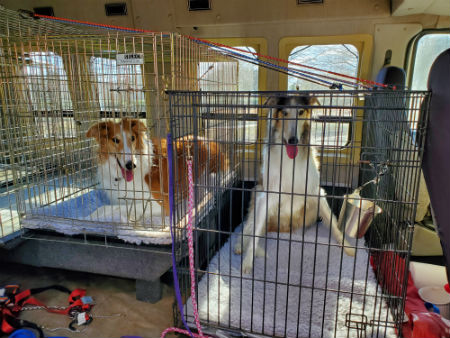 Our foster boys Rocket (left) and Doppel (right) on the way to their forever home in Tennessee.

When we got them, they were in poor condition, malnourished, neglected and unsocialized. Rocket didn't even have a name; he came to us only as "Red Dog #2". They had spent their lives outside, scarcely protected from the conditions. To feed all the dogs there, food (of poor quality) was dumped on the ground and only the strongest ones got to eat.

They spent six months with us and got little more than to live the life our own dogs have. Clean water, good food, a bed to lay on, shelter in an air-conditioned kennel, toys to squeak, bones to chew, sleeping at night with a full belly of warm meat and milk, ear noogies and a kind word. Their physical and mental condition improved so that they learned to trust people. Their new family says they're fitting in well.

Dogs live with us in trust. Better to have a millstone hanged around the neck and be cast into the sea than betray that trust with abuse. - Hadrian the Seventh
There seems to be a theme running through today's Pet Thread. And that is there are a number of you with HUGE HEARTS. How anyone can do the things to these creatures or others is revolting. What a wonderful turn around. Thanks Hadrian.
***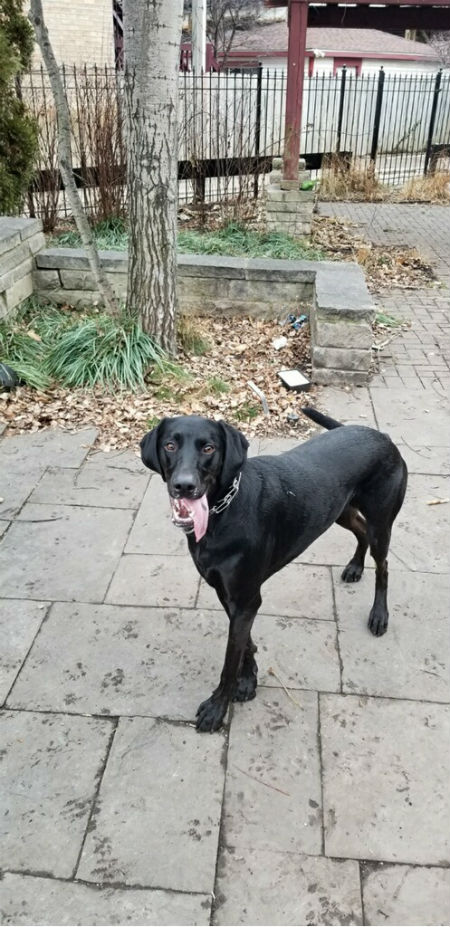 Hey there,

This is my two year old rescue Lily. The DNA test says she's part lab, Vizsla, and German Shepard. Or as I like to say, a German Vizslador.

Long time lurker, RoboticKnobBob
I love the breed name of your dog! Lily appears to have quite the disposition. I bet she is happy you adopted her. Thanks for sharing today.
***

The In-Box was mighty full this week. Thanks for that. And don't you worry, if you submitted something we will get to it.
If you have something you wish to share please feel free to contact us at petmorons at gmail dot com.
In the mean time have a great week and we'll see you next Saturday!

posted by Misanthropic Humanitarian at
03:00 PM
|
Access Comments