« Quarantine Cafe: Riotous Hearts and Bad Boys Edition
|
Main
|
The Morning Report - 1/15/21 [J.J. Sefton] »
January 14, 2021
Hodgepodge ONT
Weird week. I'm used to writing these in the evening, but I have appointments all evening so I'm writing this in the middle of the afternoon. Also, I don't have as much material as usual. I have been staying far away from social media lately. It's just toxic, toxic to mind, body and spirit, and frankly I don't need that right now.
One thing I will comment on is the camera on my new iPhone 12. I'm not one who rushes out to buy the latest technology, but my old iPhone 8 was giving up the ghost recently so I got a new phone. The camera on this thing is amazing.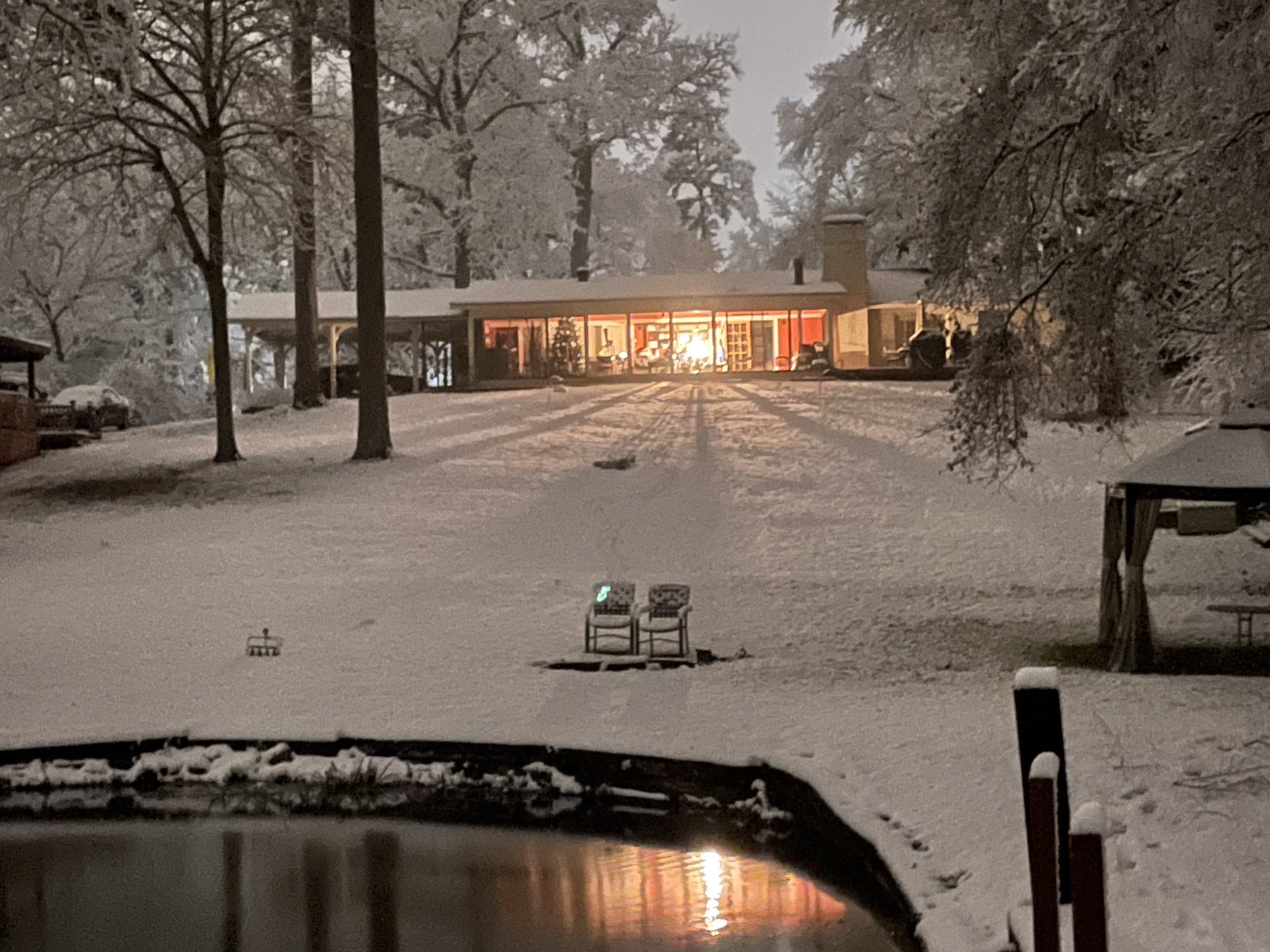 This was taken from the dock, at 11 PM, in a snowstorm. The only light is from the propane lantern in the sun room (power is out). Still snowing, no moon or stars out.
Stolen From The Food Thread
I know CBD is going to want to be all over this gastronomical delight in the food thread, but I'm getting the jump on him and posting it now. Nyah-nyah.
Insect Market To Explode: EU Gives Green Light To Eating Mealworm
Now let us take a moment to drop to our knees and thank our superiors for this gift of insect protein. We truly are blessed to have such kind and benevolent overlords so concerned for our well being. I'm sure that cricket tartare will soon be on the menu at Versailles and Buckingham Palace, aren't you?
Unrelated: Pizza is the world's most popular takeaway dish: Report Mmmmm. Give me an anthropod pizza with extra antennae and vegan cheese. Six slices, not eight, I don't think I can eat eight.

Not The Craw. The Craw!
Bonus points and Geritol for recognizing the title to this section.
Chernobyl digger claw 'so radioactive one touch would kill you' still lies in forest 33 years after disaster
Somehow, I doubt the veracity of this story. Not that the thing is sitting in the woods outside Pripyat, I'm sure that it's there, but exactly how deadly it is. The fact that the "radiation expert" quoted looks like he's just spent the night unsuccessfully trying to blow a security guard to get backstage at a Phish concert has nothing to do with it, really. Well, OK, it has a little to do with it, along with the fact that I've seen pictures of people just standing around the claw without radiation suits, including in the article itself. But maybe I'm wrong, any 'rons or 'ettes with a background in nukes care to opine?

For The Birds
Pro sports teams named for birds
There are 12 teams in the 4 major sports leagues in North America named for birds. Here is the story behind each of them, including the surprising fact that a couple of teams named after birds weren't named after birds at all.

Musical Interlude
Personally, I think this ought to be called a Trumpollo

Cancel Culture

Parler CEO Says Conservative Twitter Competitor May "Never" Return

Warning: This is a Zero Hedge link, as always the rule over there is don't read the comments. Really nothing more to say that Ace hasn't been pounding on for the past week. People saw a need, created a company to meet that need, built it up to 12 million users and now, poof! It's gone because the tech overlords can't stand wrongthink. I hope it makes it back. Gab is still around, they own their own servers, but their traffic is up over 800% and the service is wonky right now.
Of course, none of this would be necessary if people would just passively sit back and do as they're told, think as they're told to think. Big Education is working hard to make that happen. When Schoolbooks Go Full Woke. I'm sure you've noticed, whenever the left says they are "anti-something", it's a sure sign that that thing is exactly what they are. One of the things that completely baffles me is that more people don't see it, it's so bloody obvious. "Anti-Fascist" Antifa is following the fascist playbook to the letter, down to having their own brownshirts and now they have their Reichstag fire moment. I guarantee that if you took the book in the above link titled "Antiracist Baby" and did nothing more than flip the races that it would be widely and rightly decried as a racist screed. (Full disclosure: I have not read the text, nor do I intend to, but I am willing to bet a considerable sum, sight unseen, that I'm right).

Cancel Culture, Part II
Jon Favreau Rumored To Be Protecting The Mandalorian Actor Gina Carano From Being Fired
I don't know Carano's politics, but I've seen the Tweets in question. What she's doing is nothing more than refusing to bow to the mob. I suspect that they are right of center, but I don't know (nor should I, she's an actress and MMA fighter, not a political figure). Before you go thinking that this means The Mandalorian is a media property you should support (Full Disclosure: I've watched and enjoyed the first two seasons), rest assured that Mandalorian star Pedro Pascal thinks you're a Nazi. Nice to know that Hollywood is still Hollywood.
Space X
This is marvelous.
Tonight's ONT is brought to you by Poland: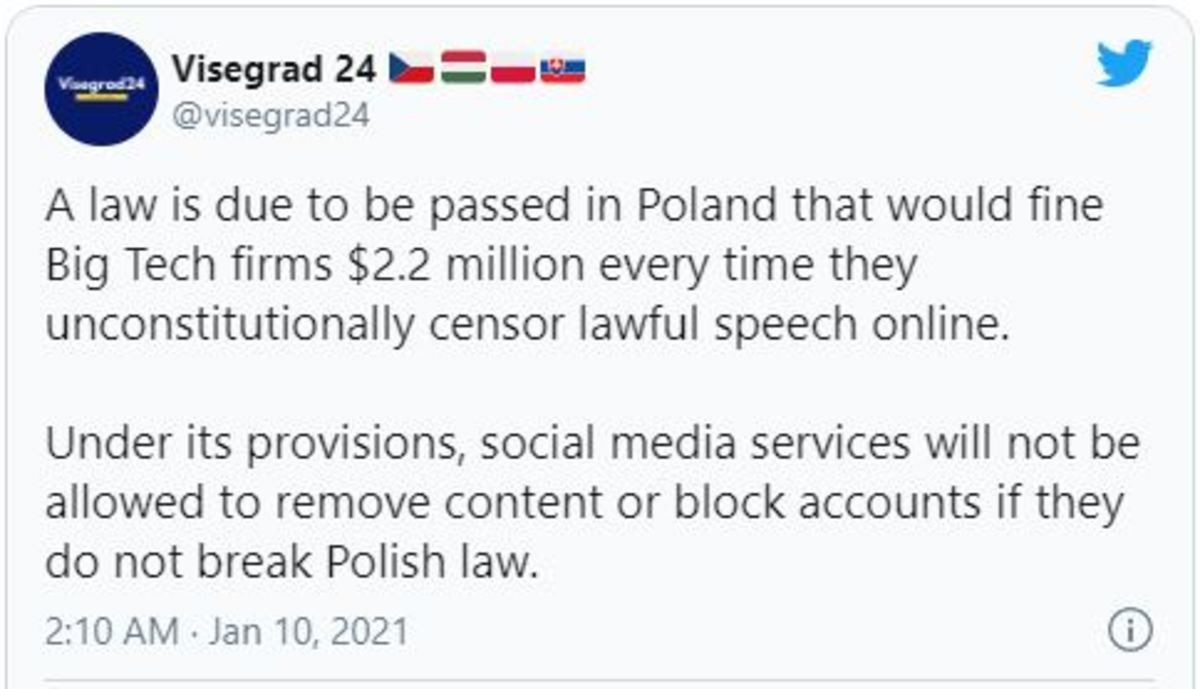 posted by WeirdDave at
10:00 PM
|
Access Comments