« NBA Christmas Ratings Down "Massively" From Last Year's
|
Main
|
Mentally-Ill Trans Extremists Insist That Men Who Refuse to Date Other Men Are Guilty of "Trans Hate" »
December 29, 2020
Stacy Abrams' Sister Is Judge Appointed by Obama (Of Course), and She Just Ruled that a County Cannot Clean Up Its Voter Rolls
In other words, this clearly-compromised judge ruled in favor of her sister's vote fraud organization.
A county agreed to take 4,000 names off the voting rolls. For a very good reason: the Post Office had received a change-of-residence notification from these people, indicating that they had moved and were no longer eligible to vote from their old address.
Stacy Abrams' corrupt sister ruled that just because you've moved out of your address, doesn't mean you can't still vote from there.
If you're a Democrat, at least.
Incredible.
Incredible.
This is no longer a democratic republic.
Obama succeeded in destroying America.
It's time to secede.

By the way, check this out: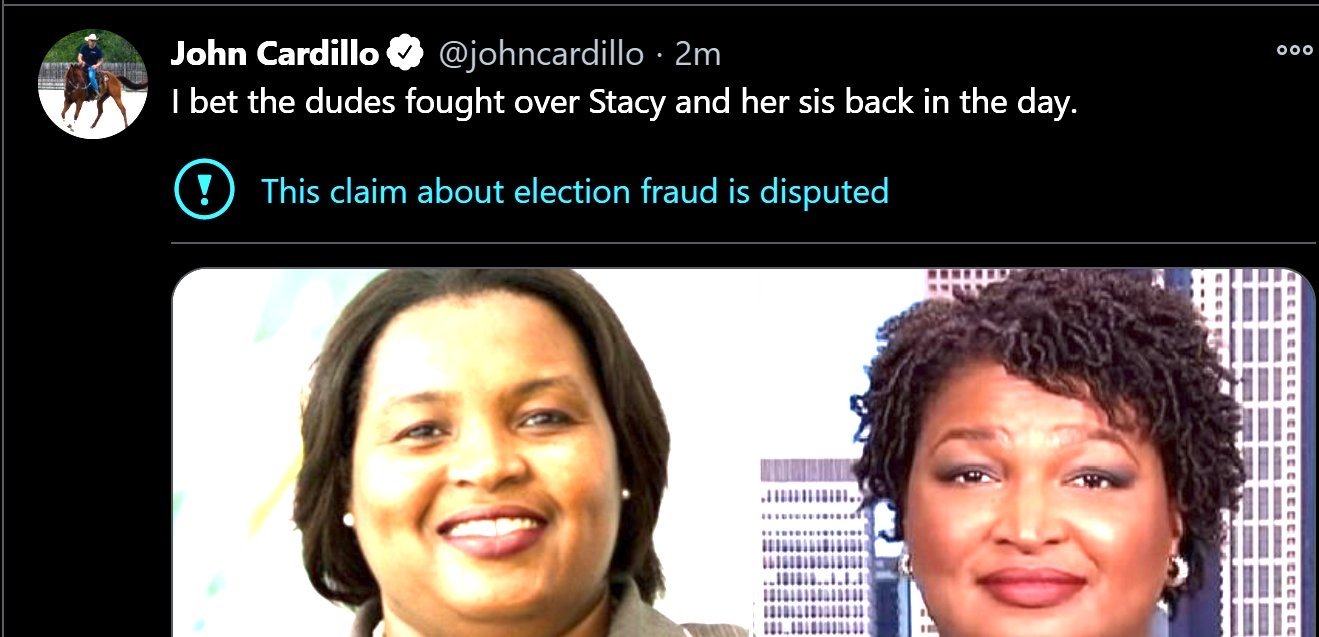 He made a joke about neither of these two women being lookers and Twitter slapped on a caution that this election fraud claim is disputed.
This is proof, if you needed more of it, that Twitter isn't even bothering with human review when making its censorship decisions; this is all automated. Twitter has put certain users on a Preemptively Censor list, and any time they use a protected keyword or keyname, the automated system censors them.
Make sure you say "congratulations" to the 100+ GOP "Representatives" who once again decided to protect their Monster Tech corporate donors at the expense of their (former?) citizen voters.

posted by Ace at
05:06 PM
|
Access Comments