« Food Thread: Food Insecurity And Other Fairy Tales
|
Main
|
Sunday Overnight Open Thread (12/20/20) »
December 20, 2020
Gun Thread: Week Before Christmas Edition! [Weasel]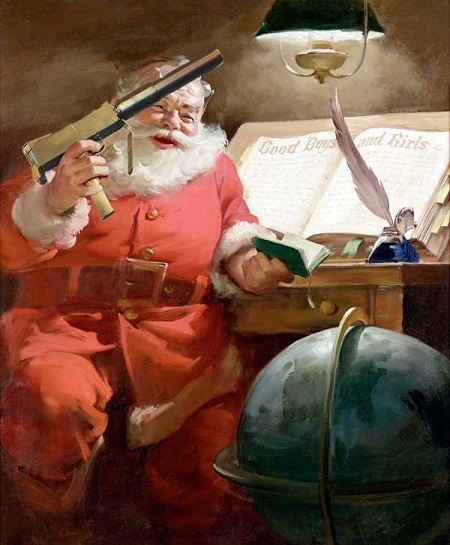 Howdy Y'all! Only four shopping days left until Christmas! Yikes! Do you have everything on your list crossed off, or are you waiting for 8:30 pm on Christmas Eve to run to the corner drugstore in a panic hoping to find the perfect gift for your loved one? At some point in the dim, distant past, WeaselWoman and I stopped exchanging gifts and instead now simply focus on neices and nephews and godchirrun'. Oh, and WeaselDog, WeaselCat v2 and Fun Size Joe! Those three have a bigly box of presents and delicious treats for Christmas morning!
So lets take a peek below and see what's in the ol' Gun Thread this week, shall we?
Last week we talked about some neat-o stuff for your range bag, and this week I'd like to cover another item we can all use.
Holsters
I mentioned having a lot of now unused gun-stuff in the basement, and holsters are well represented. I have a big tub of old holsters of all types that I thought I'd give a try and ended up not using for one reason or another. So what do I use? There are three. In no particular order, they are:

Desantis Nemisis This is a handy little pocket holster for small pocket sized guns. I have a Sig Sauer P238 in .380 that I carry quite a bit, and the Nemisis is the holster it rides around in. No frills and nothing fancy. It's made of a synthetic material and does a perfect job breaking up the outline of the gun in your front pocket. The shape keeps it in place with the trigger covered and with normal fitting clothes and it's easy to draw. Retail is under $30.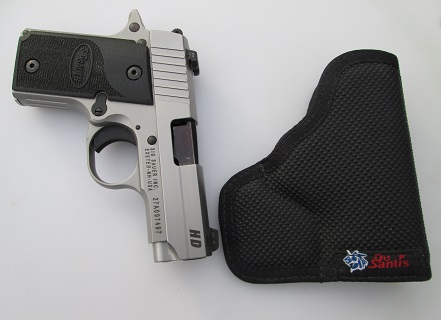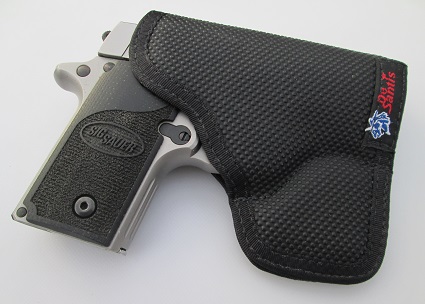 ***
Next up is the Garrett Silent Thunder STX. My main carry gun is a Kimber Compact Custom in .45ACP and I really like the Garrett holster line. I have several of the Silent Thunder holsters for a number of guns that are likely to end up in the carry rotation. It features a Kydex outer shell which is lined with leather, has adjustable tension screws, and is made on a mold for your particular firearm, so the fit is perfect. It's made from quality material and I cannot say enough good things about the product or the company, whose customer service is excellent. Added bonus - Garrett is offering a 15% discount thru 12/25. Retail is $100.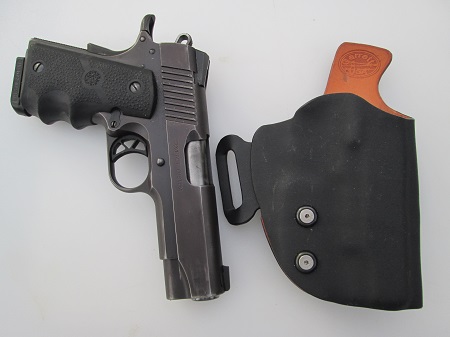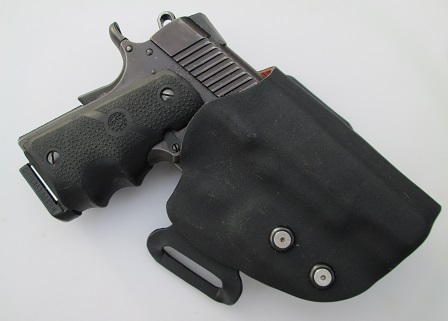 ***
Finally we have the Gunfighters, Inc. Kenai Chest Holster. Belt carry isn't really a good option when I am at the farm bouncing around on the tractor, so I use a chest rig while I'm there. Again, the holster is made for a particular firearm, so the fit is great, however, my Smith & Wesson 686 is a snubby and it only comes in a 4" barrel length. It also lacks tension adjustment screws and these are both negatives for me. The materials are first rate, and since it retails for $150, they should be. That said, overall I am very happy with it.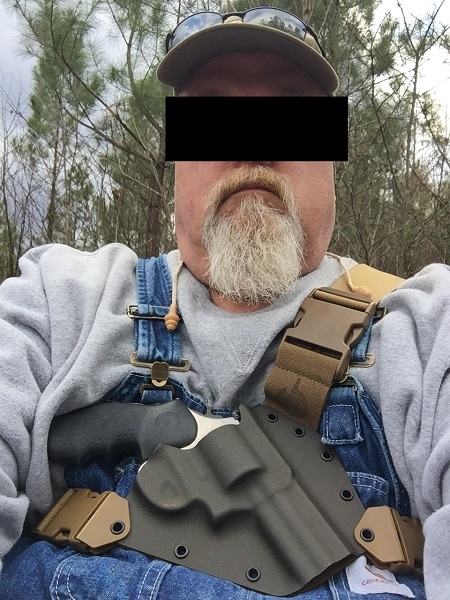 Dangerous Armed Lunatic
Accumulating a bunch of holsters probably isn't that unusual, especially for first-time gun owners. After you get in the habit of carrying your firearm, and you should, you may find the holster in the blister pack you grabbed as an afterthought doesn't really suit your needs. You may find you don't like the angle, or cant, it has on your belt, or you want something inside your belt instead of outside, or any number of things. Don't be afraid to write off the first few as bad guesses until you find one you're happy with, and are willing to carry!
Merry Christmas everyone!!!
******
A couple of weeks back a question came up in the comments on whether or not to carry a pistol with a round in the chamber. Later our pal A.H. Lloyd gave the matter some thought and sent in the following:
Regarding chambered vs unchambered carry, I believe the appropriate place to begin is to understand that this discussion is really all about risk and mitigating that risk. One of the difficulties in talking about risk is that people often allow their personal fears/priorities to skew their understanding of risk, which can result in them making choices that increase risk rather than lowering it.

Risk consists of two elements: the probability (likelihood) of an event and the impact (danger) the event presents. A classic example is snow. In Michigan, snow has a high probability during the winter, but low impact, since we have the equipment to remove it. The farther south one goes, the lower the probability and the greater the impact. By the way, Michigan buying salt and snow plows is a classic risk mitigation strategy. Carrying a firearm is itself an act of risk mitigation. For much of the country, criminal attack is a low probability but it does carry potentially very high (even catastrophic) impact. The mere fact of having a functional firearm with ammunition handy does a lot to mitigate this risk.

The question of whether to load a round in the chamber while carrying thus must be understood as trying to mitigate "risk within risk." That is, we are taking extra actions to mitigate a specific type of attack, one with minimal warning where only instant firepower will help. Note that even here, this is imperfect. Having a locked, cocked and loaded gun in your holster will not mitigate an ambush attack by an unseen attacker. In fact, trying to completely mitigate an attack pretty much requires one to have a loaded, drawn weapon at the ready at all time, a posture which in turn creates lots of other risks. I don't think anyone can argue that this form of attack is vanishingly rare. Let me also add that the risk matrix for uniformed personnel is vastly different than civilians. Someone who knowingly attacks a police officer or soldier is clearly operating in a different mode that an opportunistic criminal.

Having identified the primary risk of carrying without a round in the chamber, let's look at the risks of having your firearm loaded.

The most obvious risk is during unloading. There is a reason that police and military armories have a "clearing can" or barrel. I've personally seen an unintentional discharge happen while a weapon was being cleared. The firearm in question was older and not in the best of shape, and the person holding it (correctly pointing it downrange) was absolutely not at fault. This is why clearing cans exist. If you can't afford one or live in an apartment where this is no true "safe direction" to point a firearm while clearing it, you may want to consider not chambering a round.

Another risk is firing while drawing. Guns have all sorts of safety features, but this does happen and we've all seen the videos of idiot LEOs shooting themselves in the leg. Yes, training is essential, but accidents still happen because people make mistakes.

To repeat, these are both low probability events especially if you take precautions, but they are not zero probability and they can carry very significant impacts. I would go further and say that these happen far more often than assassination-style attacks. In 18 years of carrying, I've drawn my pistol exactly once and didn't need it, thankfully, but I have seen many, many unintentional discharges.

As to the risk that one may need to bring an unchambered weapon into immediate action, we can also mitigate this incorporating loading into the way you practice. For example, instead of inserting the magazine, chambering a round and then beginning to shoot, consider inserting the magazine and then pausing for a moment before chambering and immediately shooting the first round. Chambering will quickly become reflexive. Similarly, incorporate chambering when you practice drawing from your holster which you should absolutely be doing. In short order this can become a fluid movement.

Now at this point, Paul Harrell's "What If Brigade" will ask how one chambers a round if one hand is mangled or stuck in a shark's mouth or something. My response is that every action carries risk, and you can't mitigate all of them. As Paul often says, each person will have their own risk matrix on this question. What works for you might not work for someone else. You might also have multiple postures or adjust your posture based on changes in risk. Risk is a fluid thing, so always be looking at what has changed and update your training accordingly. Also understand that life is about tradeoffs. Absolute security is impossible, and if you overcompensate for one type of risk, you might be creating an even bigger one.

I will close by noting that no less than combat pistol pioneers William Fairbairn and Eric Sykes trained the Shanghai Municipal Police to carry with a loaded magazine but unloaded chamber. They even went so far as to have the manual safeties on their Colt 1908s pinned so they could not be used.
I agree with AHL. While I think people are pretty much evenly split on this great eternal question, I frankly think it's simply a matter of personal preference. Do whatever makes you comfortable. If you don't want a round in the chamber, then don't carry with a round in the chamber. If the time it takes to rack the slide is going to get you killed and you would rather carry with a round in the chamber, then by all means, carry with a round in the chamber. The important thing here is that you carry your damn weapon, and carry it in whatever configuration you choose, consistently.
******
Next, our pal Sua Sponte takes a break from his .22LR testing to make a little girl happy for Christmas.
I have been working with my grand daughter the past few months on her introduction to firearms and started her off with her very own Red Rider BB gun. She's became quite accomplished with it, more importantly, has really nailed down the safety rules of firearms. She turns 9 this month and has been asking me for several weeks when she will be able to upgrade from the BB gun and start shooting a 22. She's progressed quite a bit and it was time to get her her very own 22. We sat down one evening and went through some rifles she might like. She wanted nothing to do with any stocks that looked too girly, such as the bright pink and purple's. I favored the KSA Crickett as a good starter, single shot, pull to cock firing pin, making it a bit more safer yet still accomplishing the goal of really learning. Anyhow, they had one in a Muddy-Girl design she really liked and naturally with the way things are lately, were nowhere to be found. I did however come across one in FDE and decided to spice it up for her. I hydro-dipped the stock and cheek rest in the Galaxy film. It's a fairly simple process, but does require some patience and attention to detail during the application. I graduated from SDI in 2018 and happened to have a roll of it still on the shelf from class and hope it doesn't border too much on the girly side but is still unique. I'm pretty sure I'm more excited about this and getting her out on the range than she will be.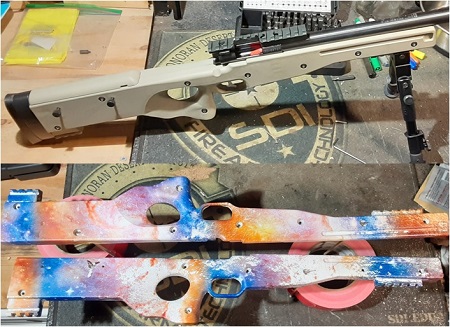 This is great! I wish I could get more people involved in passing along their love for shooting to the younger generation. Very, very nicely done, Sua Sponte!! Please let us know how it's going and send us a picture of her progress from time to time!
******
Next up, we have a nice story from our pal Liquor Store Steve.
My dad left me a couple of handguns in dubious condition when he passed. I took his nine shot H&R .22 revolver to a smith, spent the money, and now I have a working revolver. I took it to the range a few days ago and while I'm concerned about the stopping power of a .22, I think I hit the target in the right places.

Sidebar about my dad. He was an immigrant from Ukraine with very little English and no formal American education before shipping off to Korea in the Army. He came home to Philadelphia, got a GED, and led a normal American life before being killed by a hit & run driver when he was only 53. He was a gun enthusiast who took me to the range as a teenager, before I could appreciate it. So I'm grateful to be able to shoot one of his handguns. He had a concealed carry permit from the city of Philadelphia, and his EDC was a Dickson Detective. The attached photo shows the price of the ammo for that handgun back in the early 1980's.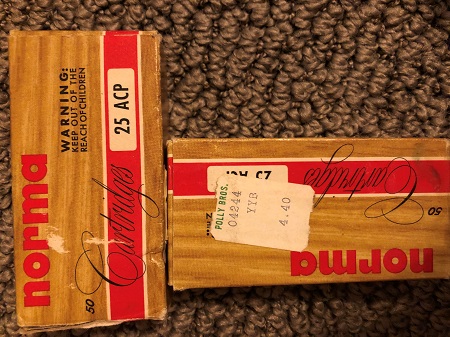 Sorry to hear you lost your dad so early under such unnecessary circumstances, but it is really nice you have some of his weapons to remember him by. Great family story! Thanks for sending this and welcome to the Gun Thread!
We've had several pictures of older ammo with original price stickers lately. What do the rest of you have to share?
******
Next up our pal redc1c4 anticipates a need for storage on the horizon and wanted to pass along some ideas,
here, here, and here. Guess what surplus ammo cans are really good for? Storing ammo and even other things!
Thanks as always, redc1c4!
******
I found this on the web and thought it was interesting. Jason Vanderbrink, President of Federal, CCI, Speer and others, has something to say on the current state of affairs in the world of ammo production. I'm not sure I'd have adopted quite the same 'tone' as ol' Jason here does, but I'm also not El Presidente of an ammo company listening to people bitch about the lack of supply every day.
What do you think? All things being equal, if you were advising Jason would you have suggested a slightly more positive and less combative message? Do you give a shit one way or another? It sort of rubbed me the wrong way, but then I'm sensitive, delicate flower as you all know.
******
Link-O-Rama
I'm really very seriously not kidding around anymore. Buy Ammo
AmmoSeek - online ammo search tool
GunBot - online ammo search tool
SG Ammo
Palmetto State Armory
Georgia Arms
AmmoMan
Target Sports USA
***Mail Bag***
Once again, our pal JT come through for the mailbag! I want this in my house!!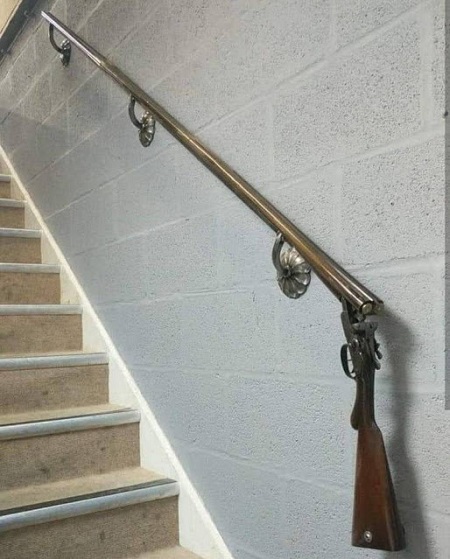 ******
Please note the new and improved gmail account morongunthread at gmail dot com. An informal Gun Thread archive can be found HERE. If you have a question you would like to ask Gun Thread Staff offline, just send us a note and we'll do our best to answer. If you care to share the story of your favorite firearm, send a picture with your nic and tell us what you sadly lost in the tragic canoe accident. If you would like to remain completely anonymous, just say so. Lurkers are always welcome!
That's it for this week - have you been to the range?


posted by Open Blogger at
07:00 PM
|
Access Comments