« LBJ And His Foul Great Society Slithers Its Tentacles Into College Football
|
Main
|
Gun Thread: Week Before Christmas Edition! [Weasel] »
December 20, 2020
Food Thread: Food Insecurity And Other Fairy Tales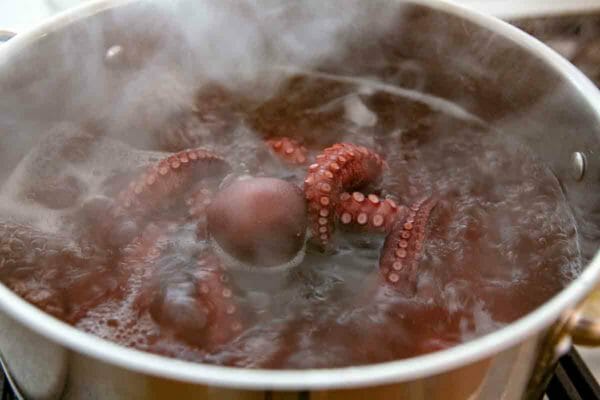 I was going to write about some soaring and uplifting food topic, like how to cook a standing rib roast, but then I saw this comment in a previous thread.
I'm suffering from Food Insecurity. There's no chocolate ice cream in the freezer.
-- Hadrian the Seventh
We have been beaten about the head with the seemingly intractable poverty in this country, manifested most cruelly by "Food Insecurity." That's a $20 phrase to hide the fact that nobody starves in America. Hell, our poor people are fat.
But where are these data coming from? My guess, based on nothing more than a healthy skepticism of any information coming from our government or a politically motivated NGO, is that some conniving and profoundly stupid functionary came up with the term because it can be defined as pretty much anything. So send some lackeys into a few inner city schools and ask the kids a few questions.
Have you ever come home and not had anything to eat? Have you ever been hungry for an entire day? You can imagine how the questions can be tailored to get the preferred answer.
So here is my tale of woe and food insecurity!
My mother was quite the adventurous cook, and my parents were familiar with cuisines other than American. So it was not uncommon to find odd and sometimes disturbing foods laying in wait for me when I got home from school. And this was before I was open-minded about gross stuff. Octopus was particularly disturbing, because it took up an entire shelf in the refrigerator, but was conveniently covered, so I had no idea what was in store for me until I popped the lid off.
But the worst was brains. Calf brains to be precise. You're damned right I was insecure about food after I got a gander at a gelatinous mess in a pot that looked like it was going to engulf the house and destroy the town.
Awful. I am scarred to this day.
******
This is pretty much using a waffle iron as a toaster oven, and click-bait. But mostly click-bait. And the addition of almond or coconut flour instead of regular flour just adds a delicious frisson of hipster pomposity.
Chaffle: Trendy cheese waffles
But there's nothing wrong with the recipe; it's just silly to use a waffle iron instead of a saute pan. I guess it will get a bit crispier in the iron, but really, it's just a snack, so why bother.

******
Butterscotch bars always look so good, but sometimes they are cloyingly sweet or filled with silly things like coconut. What's the point of coconut? It tastes like wood shavings. So I will be leaving them out when I make this recipe.
These Butterscotch Bars Deliver Rich, Gooey Goodness
Notice the directions for the filling? "Using the same bowl..." perfect! Unlike some cookbook authors and celebrity chefs, these folks recognize that not all of us have lackeys running around cleaning and tidying as we cook.

******
Another entry in the world famous frugal holiday meal contest! This one is from "Joshua," and I am particularly impressed by the mushroom cream soup, mostly because I love mushrooms and I love cream!
By the way, I haven't hit a boring one yet. Some of the menus are more interesting (to my palate) than others, but every one seems to have something worthwhile. Luckily I am dumping the hard work of choosing a winner on Moki!

Appetizer
(bread has 3ish hour prep time soup has 30 minute)

Hungarian pan bread with roasted Garlic
Roast the garlic as described under the recipe for the bread, works great.



Hungarian mushroom cream soup $15 for 8 peeps worth

Entree
Grilled Pork tenderloin (4 hour prep, 30ish minute cook time)
ingredients
Sesame oil 1/4c
2 tbsp vinegar (cider/wine or Balsamic(preferred))
2 tbsp Soy Sauce
1/2c Pineapple juice(canned)
dash ground ginger (or more to taste)
Dash black pepper (2-4 grinds of black pepper depending on how much you get from your grinder)
2.4-2.8lb pork tenderloins (Walmart!)

Remove tenderloins from wrapping, place in 1 gal ziploc baggie, pour all other ingredients on top. Burp bag to express the air, and palpitate bag to thoroughly mix marinade in and around loins.

When ready to cook, heat gas grill, (yes, outside) get up to max temp. Place loins on the grill surface at least an inch apart. Cook for 10 mins one side, flip, and IMMEDIATELY baste ONCE (to cool off surface of the loin and cook marinade) with reserved marinade.Try not to flip more than once, and take first temp 5 minutes after flipping. Depending on your grill the grill time should be between 15-30 minutes. My grill takes around 18mins.The loins will cook fairly quickly on a high heat, you want them to get to around 155deg inside, then pull, and let sit for 10 mins before slicing. (they should be browned on the outside and nicely pink in the center)

Slice each loin at a 45deg angle into 12 slices, place 3 slices on each plate, around 4-5 oz cooked meat.

Rice Pilaf
Ingredients
2 tablespoons butter or margarine
1 small onion, chopped (1/4 cup) SAVE $
2 cups uncooked regular long-grain rice
1 cup vermicelli/Spaghetti broken into 3/4 inch pieces (dry) OR 3/4c Orzo
5 cups chicken broth (or use your favorite chicken base and water)
salt - to taste (probably won't need if using base/bullion, WILL need if using packaged broth)

Steps
In large saucepan, melt butter over medium heat. Stir in rice and pasta. Cook until pasta and rice change colors, becoming golden to nut-browm. Stirring frequently - constantly. When pasta starts to change color, watch like a hawk, it will go from beginning to brown to over browned VERY quickly, esp. if you are not stirring constantly. Add onions when rice is browned, remove from heat. Stir rice/onions together and cover - let stand for 4 minutes.

Stir in broth, place on medium heat, heat to boiling, stirring once or twice; reduce heat to low. Cover and simmer 16 minutes (do not lift cover or stir); remove from heat.

Broccoli - frozen or fresh (with butter) - I am not going to insult your intelligence describing how to prepare broccoli.

Dessert
Pan chocolate chip cookie - If you do not have a cast iron pan, a 9" round cake pan works just as well. Have a quart of vanilla ice cream on hand, scoop 4ozs onto each serving of cookie. Cookie can be cut into 8 wedges. If you make early, place into oven for 20ish minutes at 250deg. Works better if cookie is assembled and left unbaked until dinner is plated and served as the 20 min cook time will have it be done at about the time it takes to eat main course and it is best if served fresh and hot.

Cost of total menu should be around 60ish bucks depending on what you have on hand to start. Pork loins are 3.80 a lb, and you need around 5oz raw per person.

BTW- French toast with syrup ROCKS, I have checked and re-checked Leviticus and see no problems with it. I have seen that raisins shall not be placed in oatmeal cookies as it is an abomination, however.

Some of these recipes are my own, some I have done from other web sites. When it is mine, I wrote it out; and gave links to ones I used. If you have any questions, just ask.

The mushroom soup is SO much better if you subs 1/2 and 1/2 for milk. Or just use 1/2 heavy cream for milk. I also find that 2-3 tablespoons of VERY finely diced poblano pepper sauteed with the mushrooms makes a very nice addition. (Do not allow the seeds to go in)
I would cook the pork to a lower final temperature. As I have harped on ad nauseam, American commercial pork is quite safe...trichinosis is vanishingly rare, so cook it to your desired doneness and don't worry! I would shoot for about 140 degrees.
******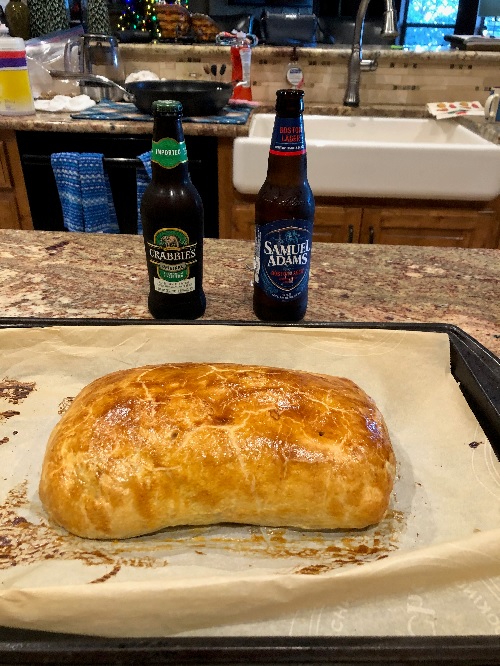 I follow a foodie guy on YouTube named Joshua Weismann. Full disclosure, he is a man bun snot nose millennial, but so far in the various videos I have watched, he has never mentioned politics, and he is colorful and fun to watch. He does not take himself seriously, and the overall theme is always, "you can do this".

So when I came across a video for Beef Wellington, I thought "Why not?"

A few notes:

I have made this guys puff pastry before, and it is amazing, but in the interest of time, I used the puff pastry you buy in the freezer section at the grocery store.

Meat - I did NOT get the high end Chateaubriand for my maiden voyage. I DID talk to the meat counter at my HEB, and the guy cut a center cut beef tenderloin for me of the medium quality meat. My two pound center cut tenderloin cost $22. My husband was impressed that I got a pretty good looking piece of meat for that price.

Here are the results. We did not know what beer to pair with Beef Wellington, and frankly he decided to use up the swill left over from a party. I had the Crabbies. (Hey I know I am weird.)

The result: It was awesome! I would not spring for the more expensive meat, this grade worked fine. We were pretty dang happy!

Bon Appetit, or "Dig in"

Satrose
here's the link to Weissman's
YouTube page.
I absolutely agree with Satrose, the guy is indeed a snot-nosed millennial hipster, but he keeps politics out of his videos, and he can cook!
******
What the hell is going on here?
******
Food and cooking tips, Large-breasted Muscovy ducks, young wild pigs, bartenders who use vermouth in Martinis (but not too much), pork belly that doesn't have 5-spice, low-temperature-roast chicken, and good tomatoes that aren't square, pale pink and covered with Mestizo E.coli:
cbd dot aoshq at gmail dot com
. Any advocacy of French Toast with syrup will result in disciplinary action up to and including being
nuked from orbit.
And yes, shaking a Manhattan is blasphemy...it's in the Bible!

posted by CBD at
04:00 PM
|
Access Comments