ę Recommendations Thread & Review of Fatman
|
Main
|
Jake Tapper: Ignore The Fact that Joe Biden Ran Nigh-Exclusively on a Promise to "Heal the Nation" and "Restore Our Norms." When His Senior Aids Call Republicans "Fuckers," That's Just Another Excuse to Attack... Trump Ľ
December 18, 2020
New York Times "Experts:" We Should Delay Giving the Trump Vaccine To the Elderly Because They Tend to be "Whiter" Than the General Population; We Should Let Many of Them Die Just to Achieve Racial Balance in Covid Deaths
OUT: The Tuskegee Experiment, which involved denying care to a race, was a crime
IN: The Tuskegee Experiment should be replayed, this time with whites, to deliver some Racial Justice Vengeance
How long can we go on as a grim mockery of a country?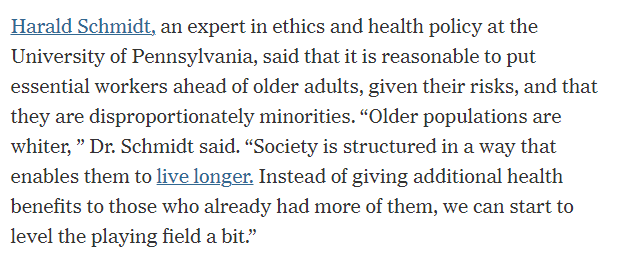 Meanwhile, the FDA has approved the emergency-use exemption to allow the Moderna vaccine to be deployed.
Federal advisers voted overwhelmingly Thursday to recommend the Moderna vaccine for people over the age of 18, clearing a path for government authorization on what would become the nation's second vaccine to prevent COVID-19.

The panel of independent advisers, called the Vaccines and Related Biological Products Advisory Committee, found that based on evidence of a clinical trial involving 30,400 people, the Moderna two-dose vaccine is safe and likely more than 94% effective in preventing serious illness caused by the virus.

The decision paves the way for a final green light from the U.S. Food and Drug Administration, which in turn triggers the shipping of 5.9 million doses.

"All these vaccines will not be the magic bullet and miraculously reverses all the damage this pandemic has caused. It gives us hope that one day in the not-too-distant future, some semblance of normalcy will be within our reach," said Robert Wong, a physician at the Veterans Affairs Palo Alto Healthcare System, who spoke during a public comment session.
By the way, this Wong also recommended a Racial Vengeance deployment of the vaccine, ignoring the fact that the elderly are the most at-risk of dying from covid:
Wong urged the panel and federal regulators to be "particularly cognizant" of ensuring equitable access among underserved and vulnerable populations that "have been disproportionately exacerbated by this pandemic."
..


The panel voted in favor, 20-0, with one abstention, to recommend the vaccine.

...

If authorized, the 5.9 million doses shipped from Moderna would be in addition to the 6.4 million doses provided by Pfizer-BioNTech that started to roll out this week after being the first to get emergency use authorization.
They warned that there are some people who will have "serious" allergic reactions to the vaccine.

Trump tweeted about his latest triumph:
@realDonaldTrump

Moderna vaccine overwhelmingly approved. Distribution to start immediately.
Meanwhile, also thanks to Trump's Operation Warp Speed, the over-the-counter rapid-results covid test will now be available in stores.
Knowing whether you're infected or not will impose a sharp limit on covid spread.
The FDA has authorized the first at-home COVID-19 test that doesn't require a prescription and provides results within 20 minutes. The Ellume COVID-19 Home Test is an antigen test that detects fragments of proteins from the SARS-CoV-2 virus on a nasal swab and then reports results to your phone. "Today's authorization is a major milestone in diagnostic testing for COVID-19," FDA Commissioner Stephen Hahn said in a statement. "By authorizing a test for over-the-counter use, the FDA allows it to be sold in places like drug stores, where a patient can buy it, swab their nose, run the test and find out their results in as little as 20 minutes."
Oh, and alert Professor AllahPundit and Dr. Guy P. Benson, M.D., Ph.D. -- pace these two zero-science-credits-since-high-school Science Warriors relentless shittalking of hydroxychloroquine based upon their voluminous reading in Anti-OrangeManBad Science, it turns out the AMA reversed its previous Trump-deranged ruling that HCQ should not be prescribed, and quietly -- oh so quietly -- stated that a proper treatment with HCQ could result in 50% fewer hospitalizations, if given early to a patient.
RUSH: Iím old enough to remember when hydroxychloroquine was a kook theory from a kook president. Now all of a sudden it is amazing the things that are happening after an election where this kook, this so-called kook, Donald Trump, has lost, allegedly lost. Now all of a sudden the AMA -- although very quietly -- that hydroxychloroquine is okay. Itís perfectly fine. Go ahead and use it if you want. It can be helpful.

How many people do you think ---we'll never know -- how people do you think died needlessly because they were sent home to ride it out or were afraid to go to the doctor or were afraid to take hydroxychloroquine because of what they were hearing about it in the Drive-By Media?

Now, if you doubt the corruption in the numbers of COVID cases, consider that the AMA, the American Medical Association, lied to us about using hydroxychloroquine. Hereís the headline. "AMA Rescinds Previous Statement Against Prescription of Hydroxychloroquine to COVID-19 Patients. The AMA, in a surprising move, has officially rescinded --" for those of you in Rio Linda, that means theyíve taken it back "--a previous statement against the use of Hydroxychloroquine (HCQ) in the treatment of COVID-19 patients, giving physicians the okay to return to utilizing the medication at their discretion."

Wait a minute. I remember when we were told that this stuff could kill you. Do you remember, in fact, when Trump talked about hydroxychloroquine during/// oh, was it when he had it? When he had COVID-19 or was it before? Might have been before. Who was it that was on television that went nuts, saying, "Mr. President, youíre killing people, youíre killing people, you're asking people to die.
Who was it?" It was some prominent cable news person that accused Trump of killing people by suggesting that hydroxychloroquine was okay to use. I can't remember who it was, but it'll come to me.
It came to Rush after the commercial break.
It was Fox News' Neil Cavuto.
You know, Fox News, the Fair and Balanced News Alternative.
Is it possible that the "experts" and the leftwing media intentionally stirred up panic about hydroxychloroquine for purely political purposes, and gladly sacrificed tens of thousands of lives to bring Trump down in the polls a couple of points?
Answer: It's more than possible. It's exactly what happened.
Does anyone who routinely demands "honesty" and "accountability" from Trump or dirty deplorable conservatives plan on offering an honest admission that they were wrong on this? And wrong with deadly effect?
Or is honestly and accountability only the duty of The Proles, while the Ruling Class can spin any lie they like -- and any conspiracy theory they like -- without ever offering any accountability at all?
Quod licet Iovi, non licet bovi -- What is permitted to (King of the Gods) Jove is not permitted to the cows.
Or: What is permitted to the Rulers is not permitted to the serfs.
Still waiting for any acknowledgement that the Russia Conspiracy Hoax was in fact a lie and a conspiracy theory.
Note that the people who spread this conspiracy theory -- and still push it, even after its complete debunking, as the 911 Truthers continue pushing that conspiracy theory -- still shriek that other people's conspiracy theories are illegitimate and in fact disqualify the speakers from participation in the public debate.
The Russia Conspiracy Theory Hoaxers never explain why they should not be disqualified from the public debate based on their own unhinged embrace of toxic, evidence-free conspiracy theories.
BTW, commenters say that's not real.
Dat ass doh.

posted by Ace at
05:14 PM
|
Access Comments