« First-World Problems...Part Triocha A Hocht
|
Main
|
Gun Thread: All I Want for Christmas Edition! [Weasel] »
December 13, 2020
Food Thread: Is A Tomahawk Steak Cultural Appropriation And Other Important Questions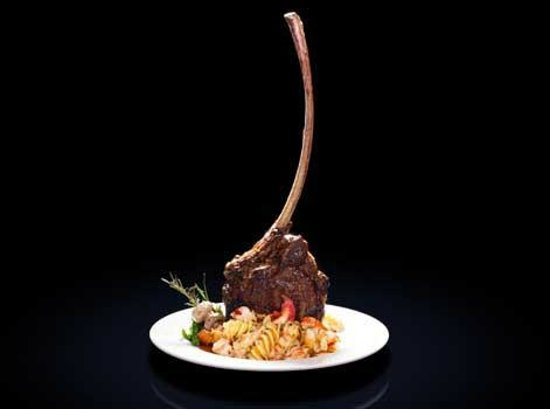 I freely admit that Tomahawk steaks are imposing on the plate and look fantastic. As presentations go they are hard to beat, especially in restaurants with big plates when the bone still hangs over the edge.
But in this case form does not follow function, because the function of a large chunk of beef is to please the palate, and trimming all of that luscious fat and meat from the rib is a crime. It might not rise to the level of putting maple syrup on French Toast, but it is close.
In fact, as I have ranted before, Frenching any bones is a waste of time and a waste of good food. For example, when I buy pork chops I will specifically ask for the chops with as much of that meat on them as is possible. There is simply no reason to trim it off!
Crown roasts are the other criminals in this conspiracy to deny us the essence of fatty goodness. Yes, they look good, but they would look good AND taste better if we left them in their natural state.
Every time I walk past the butcher counter at my new and sadly not improved market I see a couple Tomahawks hanging out in the case. The cleaned bones are at least 18" long, and look ridiculous. I'm sort of embarrassed for the butchers and the cows.
******
I hope that this column has been irreverent enough about food and drink that you all understand what my real thoughts are. It is the joy of the meal, the pleasure of the company of those around you, the vast amusement value of a ridiculously undercooked turkey, or a cup of coffee on the morning after, in which you put salt instead of sugar, or a meal for 12 that was supposed to be a roast but the butcher cut it into steaks (yeah, that happened to me a few years ago), or running out of propane two minutes before the chicken was to go on the grill, or an exploding eggplant (poke some holes into it before you roast it!), or the hilariously overcooked pot roast that looks like the proverbial shoe leather.
Those meals are in some ways more memorable than the perfectly cooked ones, and that tells me that it just ain't the food that is the most important ingredient.
And even if you are eating alone, treat yourself to a sit-down meal instead of hunching over the kitchen counter wolfing down some fuel (although I like doing that sometimes).
I have a few old and dear friends who really don't give a shit about food. They eat it for sustenance; it isn't important. But what I wouldn't give to have them at my table tonight?

******
It's a grand drink, and a simple one. That's why following the recipe is vital. And bitters are quite potent, so there is a big difference between three drops and four drops.
Here they are getting into the weeds of cocktail making, and I approve. I like the high alcohol content of the Bourbon the chose, and that it is a high-rye bourbon makes it interesting.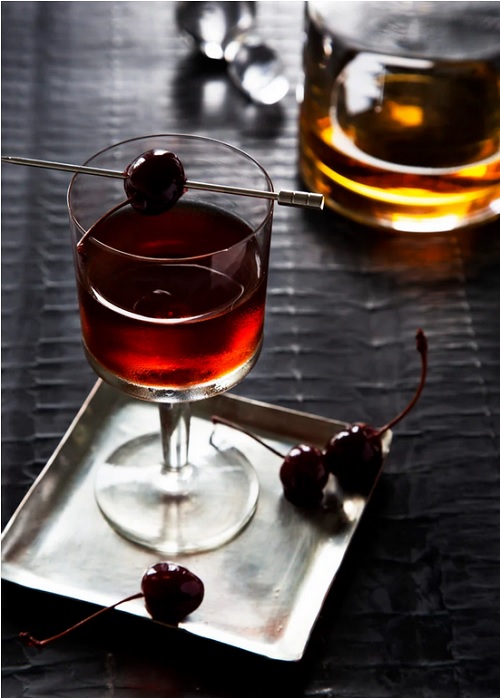 Manhattan: Classic Cocktails with a Southern Twist
And I really like the photo, so why not!

******
As internet arguments go, what tomato sauce is best is right up there with Ginger or Mary Ann, or crossbows vs. longbows, or carpet vs. hardwood!
From commenter, "Leo" comes a good question, and I have no doubt you will have the answer. All 38 of them.

a possible food thread topic some may enjoy (I know I would) and I apologize if it's already been covered plenty, would be tomato-based pasta sauces. The methods and ingredients are vast and I'd love to hear what y'all prefer and have success with. I use a day-long simmering paste method, with beef neck bones as a base, a recipe passed down from my Italian half. Would be great to have a quicker style for those days when I don't feel like babysitting the pot but haven't found anything yet that doesn't produce jar quality (yuck!).
My answer is to use
Marcella Hazan's classic and quick tomato sauce recipe.
I think it's perfect, and I have modified it slightly for many dishes, including what I use on pizza.
But there's also this one: I Make The Best Spaghetti

******
J.J. Sefton sent this along, pointing out that the videos are great, though the recipes are a bit strange.
Webspoon World
He's correct on both counts!
******
It's Egg-Nog Time!
Hey CBD,

It's that time of year in case you want to run this dangerous recipe again. I'm not a lurker any more. I am now the occasional commenter TN Deplorable.

Regards.


Ingredients:



1 dozen large eggs (extra large or jumbo works too)

1 Quart half & half

1 pint heavy cream

1 pint light cream*

1 half gallon milk

1 fifth of rum (light or dark, it doesn't much matter)

1 fifth brandy

12 ounces of bourbon or whiskey (no scotch!)

2.5 cups of granulated sugar

Nutmeg

*(it's pretty hard to find heavy vs. light, so just buy a quart of whipping cream)

Separate eggs and beat whites until stiff
Beat yolks
Fold whites into yolks
Add cream, half & half, milk and sugar and stir well. Do not beat.
Add liquor and stir well
Ladle into glass jars or punch bowl for storage (don't use plastic - it might melt)
Serve in punch cups or glasses with nutmeg sprinkled on the top.

This will keep in the refrigerator for a week to 10 days

Don't try to drink more than 16 to 24 ounces depending on your intake capacity. You will regret it.
******
And here is another installment of the Great Frugal Menu Contest of 2020! It's a good one, though just a bit different. And for anyone who complains that purchasing stuff ready-made is cheating; well...tough. Cooking for eight people can be a daunting task, and for those who are not comfortable in the kitchen it is perfectly respectable! Remember, the purpose of the event is to enjoy everyone's company. The meal is a delightful bonus!
Greetings and Felicitations El Senor Dildo.

This is my attempt at a great meal.
3 whole chickens, split north to south, with spine still in place, preferably split half in two.
Basting sauce: 2 sticks of butter.(Margarine is the devil's smegma and should never be eaten under any circumstances. Cockroaches won't even eat that nasty shit.)
Cayenne pepper, ground
Garlic salt, preferably Lowrey's,
Season-it-all or Tony Chacherre's or whatever seasoning gets you going

Add above 3 according to butter according to personal tastes.

Roast the chickens, starting meat side up at 350 for about 20 minutes; put the rack in the oven 2 slots down for this part.

Take the birds out, turn them and rebaste with the jizz mentioned above. Move the racks up all the way to the top.

Put birds back in and watch so that the skin (WHICH YOU LEFT ON) side is up and be sure to prevent burning. You want the skin to be brown and crisp. Being "carbon glazed" is not acceptable.

Pull from oven and let rest for 5 minutes after skin is the correct color. Check for done-ness; adjust accordingly.

2 big bundles of asparagus, pan broil/sear in butter and garlic salt.
Make sure the pan is hot. Did I mention that the pan needs to be hot to do this?

2 bunches of broccoli, steamed with butter in the microwave. Seasoned how you wish; lemon, rosemary and basil, whatever makes you feel good.

APPETIZER
A jar of pickled Brussels sprouts, sliced north/south, topped with crumbled feta cheese.
a tub of hummus and a bag of Fritos

DESSERT
2 Marie Callender pies of your choice; one of which must be pecan or you are commie slime. A half gallon of vanilla bean ice cream.

This may top the $80 barrier by a little, but it is doable and not very friggen complicated. Everyone will enjoy and one person can do it with a little effort.

Kindest Regards
Bonecrusher
******
Food and cooking tips, Large-breasted Muscovy ducks, young wild pigs, bartenders who use vermouth in Martinis (but not too much), pork belly that doesn't have 5-spice, low-temperature-roast chicken, and good tomatoes that aren't square, pale pink and covered with Mestizo E.coli:
cbd dot aoshq at gmail dot com
. Any advocacy of French Toast with syrup will result in disciplinary action up to and including being
nuked from orbit.
And yes, shaking a Manhattan is blasphemy...it's in the Bible!

posted by CBD at
04:00 PM
|
Access Comments