« Food Thread: Is A Tomahawk Steak Cultural Appropriation And Other Important Questions
|
Main
|
Sunday Overnight Open Thread (12/13/20) »
December 13, 2020
Gun Thread: All I Want for Christmas Edition! [Weasel]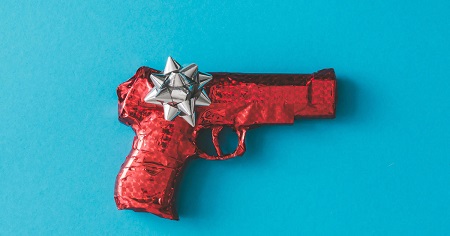 Howdy Y'all! What time is it? It's Gun Thread time!
Unfortunately, yer ol' pal Weasel did not make it to the farm this week, so the video I halfway promised didn't happen. I'm now looking at Christmas week, so if the weather is decent, I'll try and do it then. 'kay?
Speaking of Christmas, it's coming up in a hurry, so now is probably a good time to have a look at our lists for Santa. Assuming that you've been a good 'ron or 'ette this year, what are you looking to add to your gun safe? If you've only been sort of good, and thus only qualify for gun stuff and not actual guns, what shooting gear would you like to see under the tree come Christmas morning?
Let's scamper beneath the fold and see what we have, shall we?

As with many other pursuits, shooting can open up a whole new world of things you didn't know you needed. I suppose in it's most basic form, shooting requires a weapon, ammo, hearing and eye protection, a target, and some cleaning supplies. That's in it's most basic form. How many of you have stopped there? How many of you have stopped anywhere close to there? How many of you have stopped even within a mile of there? If so, congratulations, weirdo. If you're anything like me, you scoff at the idea of personal restraint. Buy all of the things! I have quite literally filled up half the basement with shooting gear, much to WeaselWoman's dismay. I'm talking about five gun safes, an large array of reloading gear and components, all of my competition gear, some ammo, and an assortment of other shooting related crap too numerous to list. To say I have a lot of shooting stuff is an understatement of bigly proportions. Why buy one thing when five things are more better?
So to assist you in your quest to become more like Weasel, you're going to need more shit. Much more shit. But where to start? What things beyond the basics noted above should you begin with? What should you be asking Santa to bring you?
Here are a few ideas.
A Decent Shooting Bag
So as your pile of shooting stuff grows, you're going to need something to tote it around in. This is called a range bag, and the one I use is made by Competitive Edge Dynamics. In fact, I have two; a large one for the rifle range, and another for the handgun range which is the travel size. I have tried others which were less expensive, but hands down this is the best of all the ones I have used. I have a little graveyard of bright ideas in the basement, and all the other range bags are in it.
At $80, it's a deal for what you get. Super heavy material and zippers, and plenty of storage. These bags are designed with competition and travel in mind, and are absolutely up to the job. No question. If you don't have a range bag, or if you're still going to the range with the plastic retail bag you left the store with, this is the bag you want.
So you have a spiffy new range bag - what do you keep in it besides the basics? Very little is the answer. Please. I have seen guys at the range with so much shit in their range bags it looks like they're living in them. Don't be this guy or gal. Aside from the guns and ammo I plan to shoot for the day, I carry hearing and eye protection, targets, a small tool kit, and that's about it.
Range Bag Contents
Spare Magazines: Since I do not compete with handguns, I normally only have a couple of magazines for the pistols I am shooting. Sometimes I forget the extras and just have one, and I have been known to forget the one magazine altogether when I am loading the range bag which makes all the other stuff moot. Anyway, I almost always purchase 2 or 3 extra magazines made by the manufacturer when I buy a gun, and rarely have any trouble with them working. I do have some aftermarket magazines, but not many. Anyhow, it's smart to have at least one extra in your bag, just in case. When shooting a revolver, some like to skip the magazine altogether!
Hearing Protection: When I shoot rifles I use Pelton ear plugs because earmuffs tend to lift off my right ear when I setup with a cheek weld on the stock. When I am shooting handguns, I either use the plugs or Howard Leight Sport ear protection. I prefer these because of their low profile, and they fold up taking very little space in my range bag. They have some sort of electronic business too, but since I never read the manual, I'm not sure what that's about and just ignore the feature. I have a little bag of spare plugs in my bag, just in case.
Eye Protection: When shooting handguns I normally have my readers on if I want to hit anything, so I am not super dedicated to any particular brand. I will tell you the Oakley M Sport glasses I recently purchased for the Gun Thread videos are nice, but an argument whether they are $100 worth of nice can be made. Here, I look for super clear lenses with zero distortion and fogging. The Oakley's seem to fit the bill, but they're pricey and I'm pretty sure you can find something just as serviceable without the little "O" on the frame to run up the price.
Small Tool Kit: I'm sure you can find a ready-to-go kit, but I put mine together myself in a small plastic case. A stubby Klein Tools driver, and a variety of quality gunsmithing bits, and a small pair of needle nose pliers. The idea here is not to be able to repair your car, but to be able to take care of small things, like a loose grip screw, at the firing line if needed. I have a few more tools in my rifle kit; things like spare springs, firing pins, backup rifle bolt, and trigger components in case something happens while I'm away at a match.
Gun Lube: I keep a small container of oil (Mobil 1) and a small container of Hoppes 9 along with a couple of terry cloth shop rags in my range bag. I also have a tube of TW25B Gun Grease. I have other types of grease at home, but this stuff comes in a handy tube and it works well. I personally hate paying $17 for a 1.5 oz. tube of stuff because it says "gun" on the label, but I make an exception for TW25B.
Targets: All you need for a target is something to aim at. A blank sheet of paper will work, so unless you own stock in a target company, you can skip the expensive targets. I carry a small stack of copier paper, a sharpie, and a roll of 1" adhesive dots. At the farm I'm usually shooting at steel, but if I am zeroing a rifle I use these paper targets designed for that purpose, although they aren't really necessary. Having said that, I have been known to use Shoot-n-See "splatter" targets to make hits more visible. They're pricey, but make a great stocking stuffer!
After years of shooting I have learned to live by the "buy once, cry once" adage. If you're in the market for a piece of gear, certainly shop for bargains when you can, but remember the lowest price isn't always the best deal. Whenever I recommend a product, it's because I own it and I have used it. If I haven't personally owned and used it I will say so if I think it's worth a look. I love finding cheaper everyday options rather than overpriced "gun" stuff, but that rarely happens, and often higher-end products are more expensive for a reason. Not always, but often, so shop around and consider the overall cost if you end up replacing a less expensive and inferior product with something better, later on.
******
This past Monday was the anniversary of the Jap attack on Pearl Harbor, and in last Sunday's Gun Thread I mentioned it. Our pal Diogenes commented his parents and older brother were there as it happened and promised to share their story. Here's what he sent last Monday.
Here is an anecdotal-based summary of what my parents experienced 79 years ago this morning.

My parents were up early this Sunday morning 79 years ago today. My dad was on the USS Cachalot, a submarine stationed at Pearl and on this particular morning, it was the only sub outside the sub pens. She was moored behind the Pennsylvania that was in dry dock, and just ahead of the Helena and Oglala. Being small and tucked in next to the pier, she would ride out the attack unscathed.

The 'ol man was the Chief of the Forward Torpedo Room and the third ranking NCO on the Boat. The only reason he was there that morning was because he had the "Duty" which means he would be the senior guy on the Boat for that Sunday. All the military types know what pulling Duty means. My parents lived in Pearl City just on the other side of Ford Island. Mom rose early to get breakfast and to tend to my oldest brother who was not quite walking at the time. Once she got dad on his way she would be doing some washing that had been piling up.

Dad had arrived at the Cachalot a bit early, checked in, and relieved the man who had the Duty from the night previously. He did the changeover, took charge, and at this point, things were settling into a normal quiet Sunday morning. He would never admit it, but I suspect he was reading the paper as well. He was just getting to the bridge when someone shouted Sound General Quarters. He's wondering WTH??? He looked around and saw what was happening and, as he had the keys, sent one of the men to unlock the weapons and ammunition. As they were in port, all the weapons were locked up but being a sub, and small, and having about 60% of the crew already there (it was where the men slept) the ship was quickly able to get its first .50 cal. up and firing. The Cachalot would be granted 1/2 credit for a shootdown.

Meanwhile mom was outside, hanging laundry. My brother was playing in his playpen. (Whenever they show this scene in a Pearl Harbor movie I immediately think of my mom.) She heard the planes flying over and figured they were ours, although she later told me they seemed awfully low. She watched them for a bit and even waved at a couple...some of the pilots waved back. Then she started hearing the explosions and saw the smoke. A neighbor lady came over wondering what was happening. Another neighbor came over and said they were under attack. They walked down to the end of the street to see the Harbor better and watched. She later got together with the other wives of the sub and pitched in as needed around the neighborhood and on the base. She never talked much about that. She made a lot of bandages.

Dad would not get home for several days. He went through the recall roster although that really wasn't necessary as the officers had figured it out and got back to the Boat. When they weren't shooting, they were assisting in firefighting and with the wounded. The Oglala was sunk and the Helena seriously damaged. It would be a few weeks before they would have their first war patrol.

Mom would be sent back to the Mainland along with their car and belongings. She and another wife would eventually drive across the country to New London to wait like so many other submarine wives. The car that dad had driven into work that morning had three bullet holes in it. Mom said they pounded some wooden plugs into them to keep the water out and it became a bit of a story for them on their drive to Connecticut. Every time they stopped for gas, people would gather around to see.

That is their story. Dad would do two war patrols before being promoted to Chief of the Boat and he would go on to do over a dozen patrols in the war. Mom bounced around as wives typically did back then, between New London, Key West and Long Beach in California. She finally got back to Hawaii by the end of the war.
Holy shit. What a story. Thank you for sharing this with us Diogenes!
******
Next up, our pal and delightful 'ette, and intrepid Gun Thread Product Tester Heidi reports on the iTargetPro.
OK, here is our early review of the iTargetpro. The kit I bought came with a 'sled' that holds the target and your phone and a 9mm laser bullet (they offer other calibers). The app works with Android and Apple Phone.

Pros:




Inexpensive. Whole shooting match is $100. Including a set of additional batteries. Expected life of the batteries is 3000 shots.


Super easy to set up. You download the app, put your phone in the sled and zero in the target, enter the distance you'll shoot from. 5 minutes max.


You use your own gun (well, Cannibal Bob's 9mm in this case)


It makes pew-pew sounds when you hit the target.


You see where you are hitting the target on your phone display and it shows which ring you hit after each shot. (See photo)


It gives a total score for each session so you can compete with yourself or someone else.


We tried it in low light, natural light and bright sunlight and it registered all shots.


Great for target acquisition and drawing from holster.


We can also anticipate setting up in various rooms and moving, acquiring and engaging.


You can switch to a silhouette target or use your own.


It seems quite accurate judging from sight profiles to hits. Imho.


Here's a look at the shots registering on a smartphone. Surely that is Heidi's group, nice shooting!!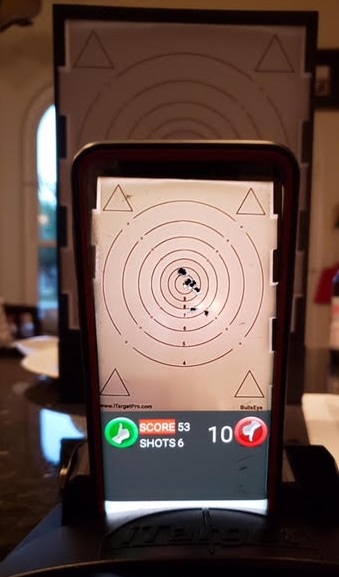 Here's a look at the whole enchilada.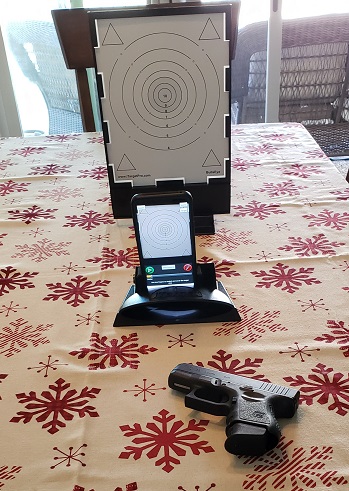 9mm not included
Heidi goes on to list some product weaknesses, too.
Cons:

Additional laser bullets are $60, which seems steep if you have several caliber weapons you want to train with.
I can't figure out how to download my results. The only thing I can figure out would be to do a screen shot.
Bullets from iTarget are expensive so for now we'll stick with the 9mm.

So that's the long version. The short version is: Easy set up, works well, big fun beating Cannibal Bob at shooting!
Excellent report, Heidi! Thank you!!
Coming Next Week: Our pal hogmartin reviews the iDryfire system!
******
Here are 60 seconds of awesome courtesy of our pal Brave Sir Robin, Veteran and Certified Gun Nut.
I could watch this a hundred times and not get tired of it. The Old Guard is truly amazing. Thanks BSR!
******
Link-O-Rama
I'm really very seriously not kidding around anymore. Buy Ammo
AmmoSeek - online ammo search tool
GunBot - online ammo search tool
SG Ammo
Palmetto State Armory
Georgia Arms
AmmoMan
Target Sports USA
***Mail Bag***
This week's entry is courtesy of our pal JT. How badass is this?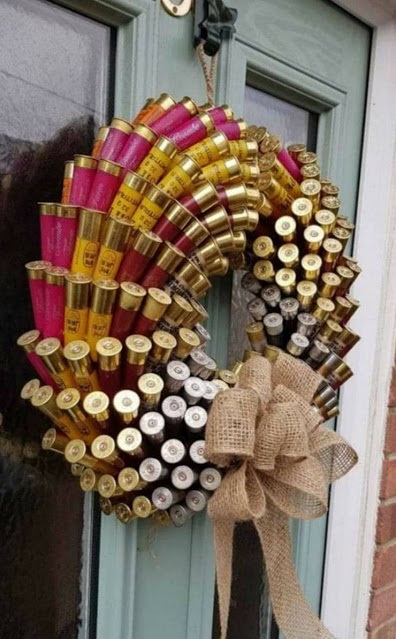 ******
Please note the new and improved gmail account morongunthread at gmail dot com. An informal Gun Thread archive can be found HERE. If you have a question you would like to ask Gun Thread Staff offline, just send us a note and we'll do our best to answer. If you care to share the story of your favorite firearm, send a picture with your nic and tell us what you sadly lost in the tragic canoe accident. If you would like to remain completely anonymous, just say so. Lurkers are always welcome!
That's it for this week - have you been to the range?


posted by Open Blogger at
07:00 PM
|
Access Comments