« Saturday Morning Coffee Break
|
Main
|
Saturday Gardening and Puttering Thread, December 12, 2020 [KT] »
December 12, 2020
These lockdowns gotta stop. [KT]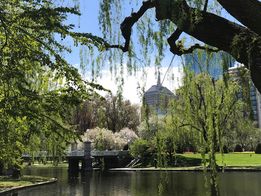 Public Gardens in Boston, in the spring
Photo by someone who was supposed to be staying home
Good thing she doesn't live in Los Angeles.
Well, it has been pretty warm for the beginning of December in the Central Valley of California. But COVID-19 cases have still been rising some. There was reportedly no ICU capacity in some counties one day this week. My husband and I both got alerts on our phones. His was quite dramatic, with a loud alarm. The alert demanded that he acknowledge having read it. He did not want to acknowledge the alert. He re-started his phone. He got the alert again. Re-started the phone again. Got the alert again. Not sure how he finally got rid of it.
My alert was in Spanish. I could just "dismiss" it. Oddly, the "Dismiss" button was in English.
Earlier in the month, Gavin Newsom had gotten tough about stay-at-home orders tied to ICU capacity under 15%.
The reaction of the Fresno County Sheriff was typical of other law enforcement officials in the area:
Sheriff Margaret Mims was quick to respond after the announcement, saying "We will not be enforcing any stay-at-home orders."

She said her department doesn't have the resources to enforce the order.

"If I showed anybody a list of what assignments and what cases our deputy sheriffs were working, they would be pretty hard-pressed to decide which one should stop what they're doing to go enforce these COVID rules," said Sheriff Mims.
"But that decision could come with consequences from the state."
"If you're unwilling to enforce the rules, if you're unwilling to adopt the protocols to support the mitigation and the reduction of the spread of this disease, we're happy to redirect those dollars to counties that feel differently," said Newsom.

Fresno County Supervisor Nathan Magsig said the governor shouldn't play politics with dollars that are vital to the Valley's survival.

"The specific purpose of those dollars were to be used for personal protective equipment, for testing," said Magsig. "For the state to step forward and try to withhold money from regions that maybe have a disagreement with the governor on his approach I think is completely wrong."

Newsom added that they've withheld funds before.
So Newsom's priorities here seem to line up with those of the new Soros-backed DA in Los Angeles. No unnecessary walking in Los Angeles, per the Mayor. That's Gavin Newsom's kind of mayor.
But resisting arrest and criminal threats are O.K., per the DA. This helps the Mayor and Governor meet their goals, right?
What about other ways to reduce the risk?
On Tuesday, Ron Johnson chaired a hearing on alternative treatments for COVID-19. The AP seems a little biased.
One physician spoke about Ivermectin. Something a lot of people haven't heard about. His statement was dramatic. The AP's "fact check" was dumb. The reason he was in the hearing was because U.S. studies are "not the gold standard": peer-reviewed randomized controlled clinical trials. But there ARE a lot of data beyond the Australian in vitro data. Clinical data. Controlled trials, even. The fact check is misleading. He wants the NIH to review the data. He wants physicians to act like physicians.
Much of the AP "fact check" focused on the couple who swallowed fish tank cleaner instead of getting prescriptions for Hydroxychloroquine. We wouldn't want people taking their dogs' heartworm medication instead of getting prescriptions for Ivermectin.
Here's the statement before the senate:
Here's a video in which he discusses the data with an Italian physician. It's long. At about 35 minutes, he describes data demonstrating that in parts of Peru where the regional health ministries distributed Ivermectin to all residents, deaths from COVID fell despite continued COVID cases. In Lima, where Ivermectin was not distributed, deaths remained high. Similar results were found in other countries. I think this video is more compelling than the Senate statement, but it is long.
The group of which this physician is a part has a website where clinical data are constantly updated. They have also issued a protocol for prophylaxis and treatment of early COVID-19. It includes some vitamins and other agents to enhance the immune response, in addition to Ivermectin.
He often mentions Dr. Paul Marik. This is the Marik Protocol, which has been online for several months. It's a little different from the one put out by the entire group of which he is a part. It is also updated from time to time. Here's a statement Marik made in October advocating for large studies for Ivermectin. Why isn't it being widely researched and utilized?
Everybody seems to be waiting for someone else to do Randomized Controlled Trials, then to get them peer reviewed. If the agent works, how many people will die in the meantime? Should physicians and patients be given a choice?
Vitamin D
There's an interesting discussion of Vitamin D over at Chicago Boyz. In addition to D, it's probably a good idea to pay attention to some basic nutrients, including the B vitamins, C, A and K, and various minerals.
Vitamin C and sometimes D are being used in some hospitals as drugs rather than nutrients, but we're not talking about those kinds of levels for prophylaxis.
Music
No club music like this at present:
Hope you have a great weekend.
This is the Thread before the Gardening Thread
Serving your mid-day open thread needs

posted by Open Blogger at
11:17 AM
|
Access Comments