« First-World Problems...Part שלושים ושבע
|
Main
|
If Ever There Was a Year for Christmas Cookies, this is the One [Bluebell] »
December 06, 2020
Food Thread: Is There Such A Thing As "Too Much Cheese?"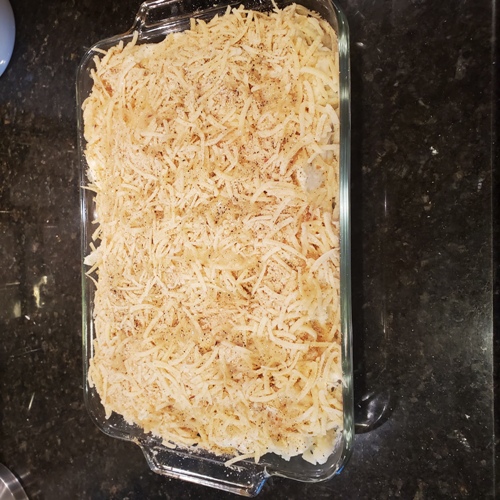 That's the gratin I served to great acclaim and adoration for Thanksgiving. I used Ina Garten's recipe, which is in dire need of some further testing by her kitchens, because it's a dumb way of making it (more anon).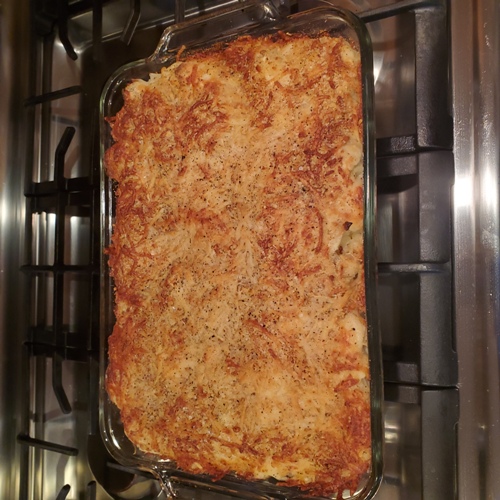 And that's what it looks like when it is done. Pretty good! Garnish it with oysters and you'll be in heaven (right Bluebell?).
But the recipe calls for a measly, wholly inadequate 10 ounces of grated cheese (by volume, which is worse!). That's just silly.
So I tripled it.
And it was..um...great!
So the answer is: No, there can never be too much cheese.
Oh, she calls for painting the bottom of the casserole dish with one third of the bechamel/cheese sauce. That's dumb. Just toss everything into your largest bowl and using a spatula gently coat the florets with the cheese sauce, then put it all into the casserole. Why she wants it striated is beyond me. Sometimes cookbook writers try to be too clever.
******
Yes, there is method to the madness. There is a special guest post coming at 4:00pm; thus the early and abbreviated Food Thread. But the ongoing and chaotic contest for best menu on a budget got short shrift last week, and because the entries were uniformly interesting I wanted to post a couple more...
***
Long time lurker, comment rarely.

Here we go:
App: Dover Sole Involtini/Braciole
8 Filets $9. (Really, only 10.99/ lb
1 c bread crumbs
Lemon juice 2 T
Lemon zest
1/2 tsp ground ginger
1/2 c toasted chopped pine nuts. $5 for full jar.
24 shards good parmigiana, use peeler. $3
Remaining ingredient costs scored with other courses. $17

Mix filling, roll filets around, place in oiled ramekin or Pyrex storage bowl, garnish with a few dabs of marinara and 3 shards best parmigiana, bake 325 oven

Main course
Esquire Magazine Best Meatball Ever Recipe (One of two, avoid the one with bacon, as well as the current content)
1 1/2 lb 85 % Ground beef. $10.50
1 1/2. lb. mild Italian sausage. $7
1 c flat leaf parsley chopped. $1
3 eggs. $0.70
1 1/2 c bread crumbs, Italian seas. $1
1/2 c best quality Parmigiana $9. Total $27.20

Mix, chill 12-24 hours and form balls size of a small lemon. I bake in glass 9 x 13 dish at 400 oven, to crisp the bottom and turn a few times. Makes enough for 3 + per person. Ok to make the day before.

Marcella Hazen's Marinara.
3 x 28 oz Kirkland San Marzano tomatoes/Costco. $10
1 onion. $1.
2 sticks Weyauwega butter (Land'OLakes-$2). $2
Spaghetti x 2 lb. $3.
$$16

Heat tomatoes w onion (in large eno ugh pieces you can remove at end of simmer) and butter, crush tomatoes with spoon at end. Kirkland has basil included. Make this in time to use a little in appetizer.

Caesar Green Beans
Prepped cleaned green beans 8 oz x 3 (busy night). $12
Anchovy paste 2 tsp. $2
Dijon mustard 2 tsp
Mayo. 3. T
Lemon juice 10 T. 2
Olive oil 8 TGarlic
2 cloves.
Croutons, extra dry/crunchy2 c. $4 for all,
total $20

Dessert
Ghiradelli Doube Chocolate Brownie Mix. $3.29
Krusteaz Meyer Lemon Bar Mix. $3.29
4 eggs. $0.60
Oil/butter. $0.60.
$8

It's a party, have one of each.

Total cost $ 88 oh no too much. I can't apologize, needed the pine nuts, best Parm.could save on green beans, but the party was election night.
***
Appetizer: Portobello Mushroom pizza
(Grilled large portobello mushrooms, then filled with pesto topped with prosciutto. Then added buffalo mozzarella cheese. Put back on grill to melt cheese.)
One mushroom for two people. Serve with Tractor Shed Red (Zinfandel) wine at $10 per bottle)

Main Course
Pork Tenderloin medallions with onions and mushrooms setting on top of jalapeño cheese grits with grilled asparagus.

Serve with E. Guigal Cotes du Rhône Red Southern Rhône Blend ($15)

Season tenderloin with olive oil, salt, pepper, onion powder, and garlic powder. Using a hot grill, cook for five minutes on two sides.
Remove from grill and place inside an aluminum foil pouch.
Put slices onions and whole small mushrooms with the tenderloin. Seal the pouch and place on grill for 15-20 minutes depending on size of tenderloin.
Remove from grill, let set for ten minutes.
Remove from pouch and cut medallions.
Place medallions on top of grits with the onions and mushrooms.
Pour some of the pot liquor form the pouch on top of the medallions.

Desert: Dark Chocolate Creme Brûlée with fresh berries and whipped cream

Serve with Pierre Ferrand Champagne Reserve 1ER Cru deCognac ($72/bottle with plenty left over!)

"MB"
Long time Lurker!
******
You may remember that commenter "ALH" has shared some rather yummy looking foods from her kitchen. The last two were Peach Cobbler and a luscious-looking lasagna.
Well, I guess she thought that we were in need of some punishment.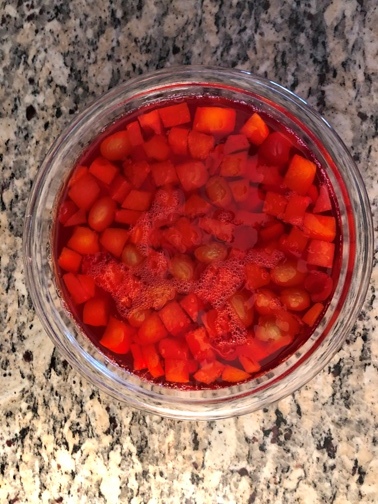 I guess I could have posted "Man On Ottoman," and it would have been pretty much the same thing.

******
Food and cooking tips, Large-breasted Muscovy ducks, young wild pigs, bartenders who use vermouth in Martinis (but not too much), pork belly that doesn't have 5-spice, low-temperature-roast chicken, and good tomatoes that aren't square, pale pink and covered with Mestizo E.coli:
cbd dot aoshq at gmail dot com
. Any advocacy of French Toast with syrup will result in disciplinary action up to and including being
nuked from orbit.
And yes, shaking a Manhattan is blasphemy...it's in the Bible!
Addendum: Here's a hint about what's coming up...anyone with a special cookie recipe who would like to share with the Horde...dig it out of your files and bring it to the playground at 4:00pm!

posted by CBD at
03:00 PM
|
Access Comments