« If Ever There Was a Year for Christmas Cookies, this is the One [Bluebell]
|
Main
|
Sunday Overnight Open Thread (12/6/20) »
December 06, 2020
Gun Thread: December 6th Edition! [Weasel]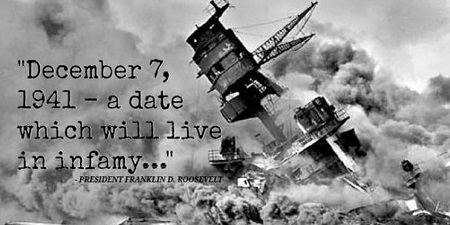 Holy crap! Did I just type December 6th up here? How in the hell did it get to be December already? This week was another to hang around the casa (the house), but I am planning an epic and triumphant return to Weasel Acres, hopefully sometime this coming week, and have an idea for a video that I've been thinking about doing for a while. So if you're feeling down and low and depressed, now you potentially have that to look forward to! If I get around to doing it, that is.
Also, tomorrow is the anniversary of the Jap sneak attack on Pearl Harbor, now known as Pearl Harbor Remembrance Day. So take a moment and join me in remembering the brave men and women who lost their lives that day.
With that, let's see what we have below, shall we?
This is getting to be the time of year that will see fair-weather shooters beginning to hibernate. Believe me, it's no fun to be on an outdoor range on a cold, blustery day for an hour or so of shooting. It's much less fun to spend all day on a cold, blustery range trying to keep your toes and fingers thawed enough to come up to merely miserable, which will truly test your commitment to the shooting sports. Camp Butner in North Carolina hosts a multi-day long range Iron Man match each year in late November, and that was just long enough ago to remember freezing my ass off there fondly. Sort of.
Anyhoo, you may be finding your interest in outdoor shooting beginning to wane as winter starts to settle in. So what do you do? Well, if you don't have access to an indoor range, you aren't entirely out of options. There are any number of drills that can be done at home, for example the penny drill:
As mentioned in the video, either a penny or a dime will work; and you may want to start with a penny and work up to the dime, as your economic circumstances allow.
So Rolex Guy has another video on magazine changes that I thought was good.
This is something else you can practice at home with an unloaded! gun. Just start with the slide back, dump the magazine, reload, drop the slide and reacquire the target. There is a huge benefit in developing the muscle memory associated with this drill, because there are a lot of things going on. If you're fumbling around and dropping shit, you need to practice. Start slow. Speed can come later. Be able to do this in your sleep.
What else do we have...
Oh! Laser training systems! Truthfully, I started as a skeptic several years ago when these systems began to appear on the market. Over time, however, the products have advanced and evolved, and now to me seem like a pretty good at-home supplement to your training regemin. Plus, you're not burning expensive and hard-to-find ammo, so win-win. There are countless systems available, but since I haven't used them extensively I am reluctant to recommend any one in particular. So look around and read reviews. How about anyone here? Care to give us your thoughts on your particular model? Do you find it helpful and are you still using it?
Finally, maybe take the time to do a detail cleaning of your firearms. WeaselWoman is one happy camper whenever I drag out a bunch of weapons and spread them all over the diningroom table and let the Hoppes 9 flow. So do your 'ron or 'ette a favor and treat them to a marathon gun cleaning session!
Now let's see what else we have.
******
First up, our pal and delightful 'ette screaming in digital sends in a bigly grand and luxurious report! One of my greatest pleasures is helping new shooters take some of their first shots, and a very close second is reading reports like this!!
Today I took a 5 hour basic pistol class for women. Before today, I had fired a rifle once and a pistol once (not just on one occasion--one shot each). I feared and hated guns most of my life. Didn't even touch a firearm until I was almost 40 years old. Even after my perspectives on guns had changed, I didn't think I'd ever need/want to own one, or ever be capable of learning how to use one. (I'm a klutz with no mechanical inclination whatsoever.) But the Horde has motivated me to become a knowledgeable gun owner; the Left's intention to deprogram me may also have something to do with my current pursuits.

The class cost $125, which included eye & ear protection, ammo, and guns (but you could bring your own). This class qualified us to apply for a CCP. There were 12 students in the class. We began with about 2 1/2 hours of classroom instruction, starting with the 4 rules of gun safety, which were reinforced many times throughout the day. We also covered the basic parts of pistols and revolvers, how guns work, why you want to use different kinds of ammo for practice vs self-defense, and more. Next we learned about stances, grip, aligning sights, how to press the trigger, and follow through.

Then it was time to go to the range. We began with dry firing, using the Mantis app. It's a small device that attaches just below the muzzle and tracks movements as you aim and fire, and then provides a report to help correct errors. It scores each shot on a 100 point scale, with 80 and above considered a good shot. I began with a score of 33, had a high of 98 and averaged out at 76 with 10 shots. Because of the ammo shortage, the number of students, and time, we did more dry firing than they'd usually do in this class.

Next we practiced loading and unloading. Finally we practiced live fire in groups of 6, taking 3-5 shots with each turn. We were able to try several different pistols of different sizes and brands (all 9mm, except for one .380). I was not very accurate, consistently off to the left. We were sharing targets. I'm attaching a couple of pictures that I know are only my shots, in "A" and "C" respectively.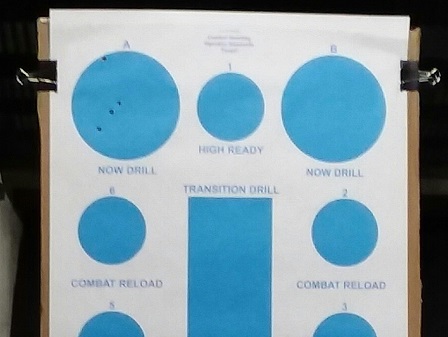 Nice shooting! Screaming in digital wraps up with overall thoughts:
Some more or less random impressions--

The first issue I had to correct was a too-loose grip. Then I needed to adjust the placement of my finger on the trigger-- I was too close to the knuckle rather than right on the finger pad.
One thing that surprised me is that our instructor taught us to press the trigger slowly. This was *very* hard to do and not at all how it looks on TV.
I had extreme difficulty applying the slide lock after clearing the chamber. I'm not sure if it's because my hands are small or not strong enough, or maybe I just need more practice.
The noise and flying shell casings were a little overwhelming to a noob. Or maybe that's just me having a bit of sensory overload. (I'm happy that no casings ended up in my bra.)
Everyone in the class was great, but I'd have preferred a smaller class and a little more time on the range.

All in all, it was an incredible experience and well worth the cost. I have a little more confidence that I'll be able to make an informed buying decision, and then to practice and develop good habits.
Congratulations screaming in digital, I love, love, love the report! One question - do you think the fact it was a ladies only class made a difference, and if so, how? I'd be curious to know. Please let us know how it goes the next time you make it to the range, OK? Thanks again!
******
Next up our pal AHL sends us a great report.
As you know, my concern about not having enough ammo chiefly revolves around the need to practice with it. I remain convinced that if things get "sporty," people aren't going to be doing multiple mag dumps with their Glocks.

The issue is whether one remains proficient when it really counts. With ammo still very scarce, I've tried to take Paul Harrell's advice and shoot .22 LR as a practice round. It is better than nothing, but I'd really rather use something that is closer to what I will normally use, particularly in terms of noise, weight and recoil.

My solution is to shoot .32 Auto (aka 7.65mm Browning). It's still out there and not hideously expensive to shoot. It's a bit 'snappy,' but that's a feature, not a bug. What is more, there are some very economical guns out there chambered in it.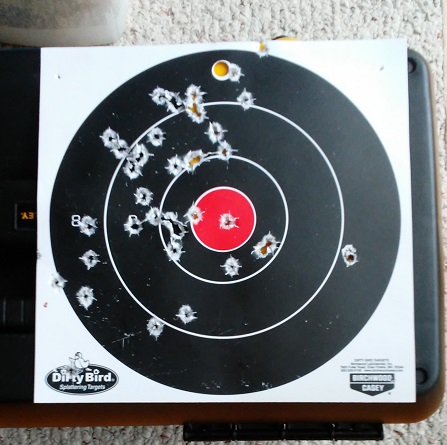 This week I picked up a Crvena Zastava M70, which is an all-steel Yugoslav police pistol chambered in the afore mentioned 7.65mm (aka .32 Auto). These things are flooding the marketplace at the moment and can be got for around $250. Mine even came with a spare mag, flap holster and cleaning brush.

This is a single-action autoloader with 8-round magazines. It's pure blowback, and its guts, for those who care, are Tokarev-inspired. Disassembly is a little tricky at first, but there are videos that show you how to do it. The biggest obstacle for me was the Cosmoline. This could be tricky for people not used to dealing with it, so before buying one online, check to see if it has had it removed. I thought I did a pretty thorough job removing it from mine, but the firing pin was still sluggish which led to light primer strikes. I fixed the problem in short order, but a novice might have been stumped.

It fits the hand well, though the trigger was a bit stiff. This could also be because of gunk. As you can see, my target isn't great, but for a breaking-in session it's not too bad. Range was 10 yards at an outdoor range in weather just above freezing - what we call "brisk" in Michigan.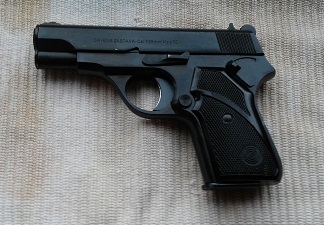 Basically, it fulfilled my expectations in having enough recoil to force me to use good technique and was accurate enough to reward me when I used it correctly. The sights aren't up to modern standards, but it points well. I actually did better when I tried to shoot instinctively rather than using slow-fire technique. To put it another way, instead of trying to hold it steady and shoot it from the same position, I found I did better by dropping it slightly after each shot, and then raising it again.

My point is that these M70s may be a good option for people wanting a handgun they can actually find ammo for. It is heavy for its size, but you could conceal it if desired. The biggest drawbacks are the Cosmoline if it has it, and the takedown, but both can be overcome.

I'm sure that some will dismiss .32 ACP as underpowered, and while it certainly lacks the punch of heavier calibers, the .32 in your hand beats the .45 you left at home. Shot placement always trumps caliber, so the extra practice you can get with relatively plentiful ammo could well be a life saver.

We are in a time when many of the old rules no longer apply. The days of doing test firings of rental guns, getting lavish amounts of practice in using cheap ammunition and having instructors readily available to help are gone. I'm hopeful that they will come back, but that seems an increasingly risky bet.

They are absolutely not for everyone, but some folks may find them useful. I have a weakness for 'mouse guns' anyway, but this seems like a good practice engine and I'm glad I picked it up.
Nicely done, AHL! I generally agree the philosophy on ammo, with the exception that I manage my inventory with the expectation that I'm never getting any more. So while I'm not expecting prolonged high round count combat, I'm also not expecting the UPS truck to 'round the corner with re-supply either.
What do you all think? Agree? Disagree?
******
While all the rest of us were screwing around, our pal Old Blue has been keeping an eye on important stuff:
*****Firearm Public Service Announcement*****

Smith and Wesson has just announced a recall for their M&P Shield EZ firearms because of a defective hammer that may cause the weapon to fire, possibly multiple times, even with the safety on. This includes the 9mm and .380 Shield EZ firearms. You can go to this website and enter your firearm serial number to see if your firearm is affected. If so, S&W will send you a prepaid postage label to return the firearm for inspection. If it is determined that your firearm needs repair, S&W will repair the firearm for you and return ship it at no charge.

We now return you to your regularly scheduled blog.

*****Firearm Public Service Announcement*****
Vey useful, Old Blue, thanks! Unfortunately, OB found his .380 is covered by the recall. Hopefully all goes well with the return and repair. Anyone else affected by the recall? My experience with S&W customer service has always been 100% positive. Please let us know how it goes!
******
Next up, our pal Grey Fox has an interesting question on ammo storage:
I've got an odd dilemma for which I could use some experienced advice. Background: A bit over a year ago I lost my damp little basement apartment when the septic tank failed and the landlord didn't have the funds to repair it to code, and between employment issues and the skyrocketing cost of housing I have been unable to find another home, so I've been living my parents' spare bedroom and keeping my stuff in a storage facility and their basement. My ammo supply can't be stored in the rental space, so it has been with my tools in the basement, which is reasonably dry and cool. Unfortunately space down there is pretty limited, and the ammo was put up on top of a pile of boards (future blanket chest, hopefully), which in turn was right next to the cat's litterbox. And there it stayed for 14 months . What I did not realize until very recently is that cat urine produces ammonia and that ammonia fumes in the air (not just liquid) causes brass to become brittle over time. While it is not like the cat has been peeing on the ammo or the place smells like cat urine all the time, since the ammo was stored so close to the litterbox and for over a year, I've got some serious reservations about the safety of some of what I had down there.

I figure that the stuff that was in surplus ammo cans is probably unaffected - ammo cans are designed to protect against this kind of thing, and they've been kept closed for the most part while down there. Unfortunately my entire small supply of .223 was not in ammo cans - about half of it came in plastic buckets that, as it turns out, I didn't quite seal completely when I inspected them last spring/early summer. The other half was just in the cardboard boxes they came in, and was already showing some tarnishing from humidity being held by the cardboard when I broke some out of storage last spring, which is what prompted the inspection later on when I figured out what was going on. Everything is now sealed up, though that is small consolation since the horse has already made tracks for other places.

So yes: I need to get more ammo AND I need to get more and better ammo storage boxes AND I need to figure out a place to store ammo that is neither a hot little bedroom upstairs nor a basement with a cat box. In the meantime, I'm wondering if you have ever had to deal with something like this and whether you know of any test short of shooting it that I can use to make sure that the affected brass will not crack or separate. I'm not even sure if embrittled brass will still be shiny or the process will produce tarnishing or darkening as part of the process (ammonia is used to produce the effect of aged brass, a color change, but whether the brass becomes brittle prior to the change I do not know.) I don't really want to toss 500-1100 rounds of ammo that might still be shootable, but neither do I want to risk my eyes nor do I want to be worrying about it every time I pull the trigger, which will certainly do my habitual flinch no good!
I have the same circumstances - kitty box in the basement with a lot of my ammo and reloading components. We use a clumping litter and I never notice an ammonia or urine odor, and I think it would take more than a few stray airborne cat pee molecules to cause an issue. I can tell you I have been storing my ammo and reloading stuff like this for years and have never had any problems, but it's a great question and frankly one that I'd never thought about.
What do you all think?
******
Link-O-Rama
I'm really very seriously not kidding around anymore. Buy Ammo
AmmoSeek - online ammo search tool
GunBot - online ammo search tool
SG Ammo
Palmetto State Armory
Georgia Arms
AmmoMan
Target Sports USA
***Mail Bag***
This week's funny comes to us courtesy of our pal JT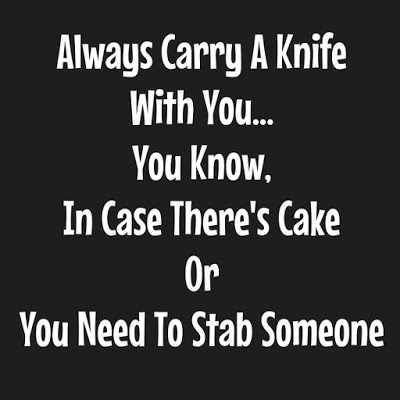 ******
Please note the new and improved gmail account morongunthread at gmail dot com. An informal Gun Thread archive can be found HERE. If you have a question you would like to ask Gun Thread Staff offline, just send us a note and we'll do our best to answer. If you care to share the story of your favorite firearm, send a picture with your nic and tell us what you sadly lost in the tragic canoe accident. If you would like to remain completely anonymous, just say so. Lurkers are always welcome!
That's it for this week - have you been to the range?


posted by Open Blogger at
07:00 PM
|
Access Comments