« Gun Thread: December 6th Edition! [Weasel]
|
Main
|
The Morning Report - 12/7/20 [J.J. Sefton] »
December 06, 2020
Sunday Overnight Open Thread (12/6/20)
***
Quotes of The Day

Quote I

"Unlike tobacco smokers who could still leave their apartments to step out to the curb or smoke in other permitted outdoor smoking areas, cannabis users would have no such legal alternatives," San Francisco Supervisor Rafael Mandelman

Quote II

"I hope you're watching Matt — you are not welcome in New Jersey, and frankly I don't ever want you back in this state." Gov. Phil Murphy (D-NJ

Quote III

"I'm losing everything. Everything I own is being taken away from me and they set up a movie company right next to my outdoor patio, which is right over here. And people wonder why I'm protesting and why I have had enough." Angela Marsden, owner of the Pineapple Hill Saloon & Grill in Sherman Oaks
Quote IV

"My heart goes out to Ms. Marsden and the workers at the Pineapple Hill Saloon who have to comply with state and county public health restrictions that close outdoor dining," Los Angeles Mayor Eric Garcetti

Quote V

"All of the things we've said for months and the thousands of hours of dedicated work from our staff and our local partners on this response effort and our excitement for the hope the vaccine offers make our overall department position on the pandemic clear" Wyoming Department of Health spokeswoman Kim Deti
***

OMG, it's the Hairy Panic!!!! And "Karen" isn't happy.

Giants tumbleweeds have overrun a housing estate in Melbourne trapping some residents inside their homes and leaving others in fear of going outside.

Neighbour Jane Borg wasn't laughing and said she was becoming increasingly agitated by the situation.

'I can't open my front door or it'll fill my house,' Ms Borg said.

'It is a biohazard. I am reluctant to put our heating or our cooling on because our unit is actually full of this at the back.'

She said repeated attempts to contact staff at the city of Melton council on Saturday went unanswered.

The frazzled homeowner believes the invasion is result of landowners in the nearby paddock failing to maintain the property.
***

A big time, "Oh Shit Moment", caught live by a drone.
Today, the National Science Foundation released video taken at the moment the Arecibo Radio Observatory's cables failed, allowing its massive instrument platform to crash into the dish below. In describing the videos, the NSF also talked a bit about the monitoring program that had put the cameras in place, ideas it had been pursuing for stabilizing the structure pre-collapse, and prospects for building something new at the site.

A quick recap of the collapse: the Arecibo dish was designed to reflect incoming radio radiation to collectors that hung from a massive, 900-ton instrument package that was suspended above it. The suspension system was supported by three reinforced concrete towers that held cables that were anchored farther from the dish, looped over the towers, and then continued on to the platform itself. Failure of these cables eventually led to the platform dropping into the dish below it
***
Pampered, overpaid, spoiled athletes: Piss off their fans in the UK.

Millwall fans booed as their players took the knee in support of the Black Lives Matter movement.

The players, staff and match officials all took a knee at the start of the match between Millwall and Derby County at The Den, as fans returned for the first time since lockdown began.

Videos circulating on social media showed a significant number of supporters booing, with Kick It Out condemning the behaviour of those fans booing the gesture, and admitting they are "saddened".

A statement from Kick It Out read: "We are saddened by the behaviour of fans booing the players taking the knee today at Millwall. What this demonstrates is that players are right to continue standing up to discrimination, whether that is through taking the knee or speaking out

Funny thing that this "Saddend Avenue" is only one way..........
***
50 Famous Photos That Changed Our World
***

Worst job ever? According to Lindsey Boylan, who previously served as deputy secretary of economic development for New York, it would be working for Gov. Andrew Himmler Cuomo.

The Democrat had previously worked the state's chief economic development agency Empire State Development from 2015 until March 2018 – when she was appointed by Cuomo to serve as a special adviser.

"Don't be surprised that it's the same small group of white people sitting alongside him at every presser. The same group that he has had by him the whole time, doing his dirty work," she tweeted.

"If you're not one of those handful, your life working for him is endlessly dispiriting."

Boylan, who ran for election to the US House of Representatives but lost in the June Democratic primary, was prompted to make her comments by a tweet from fashion photographer Jerry Avanaim asking his followers to "name the worst job you've ever had."
***
Oh noes, if you use natural gas stove you are in danger. Danger they say! Why experts are sounding the alarm about the hidden dangers of gas stoves

Control and Prevention, T. Stephen Jones spent his career fighting major threats to public health in the US and globally, from smallpox to HIV to viral hepatitis. But it wasn't until Jones was well into retirement that he learned about a widespread yet widely overlooked health risk in his own home in Florence, Massachusetts, and in most US households: pollution emitted by natural gas appliances.

While many Americans might think illness linked to indoor cooking and heating is a problem confined to smoke-filled kitchens in the developing world, the natural gas-burning stoves and furnaces found in millions of US kitchens and basements can produce a range of health-damaging pollutants, including particulate matter (PM), nitrogen dioxide (NO2), carbon monoxide (CO), and formaldehyde. Over the past four decades, researchers have amassed a large body of scientific evidence linking the use of gas appliances, especially for cooking, with a higher risk of a range of respiratory problems and illnesses.
***

I don't think any of us would say that being a police officer is an easy job. That being said, when a cop fucks up, there has to be consequences. Phoenix to pay $3 million bucks to the estate of a man fatally shot.

The Phoenix City Council on Wednesday unanimously agreed to pay $3 million to the family of Ryan Whitaker, who was shot and killed several months ago by police investigating a noise complaint and who did not receive immediate medical assistance after the incident.

Taxpayers will be footing the bill. Taxpayers are also footing the bill for the salaries of the cops—Officer Jeff Cooke, who pulled the trigger, and Officer John Ferragamo, who too was on the call—as they are both still employed by the Phoenix Police Department (PPD).

On May 21 of this year, Whitaker's upstairs neighbor called in a noise complaint: "I have a domestic dispute going on…and I can tell they're just at each other's throats down there," a man is heard saying on a 911 call. "I hear slamming of doors, and—I don't know, somebody could be getting thrown into a door for all I know, but I hear all kinds of banging."
***
Do We Really Need To Study How To Dispose Of Unused Opioids? Seriously?

A study by a group from the Mayo Clinic in Arizona focuses on making it easier to dispose of unused opioid pills. I would argue that we need better disposal methods for opioids like a fulminating case of crabs. Here are both sides.

I was rather intrigued by a recent paper in Anaesthesia News. Why? The title: "Education and Easy Disposal Option Lower Opioid Supply." In other words, the more opioids that get thrown away the fewer remain behind. Obvious? Perhaps.

I would argue that we need better disposal methods for opioids like a fulminating case of crabs but Rachael A. Haverland, MD, MS, a gynecologic surgery fellow at Mayo Clinic in Scottsdale, AZ, and colleagues believe otherwise:

"I think the public is becoming more aware of the opioid crisis... But we noticed that although our patients knew about the problem, they didn't know what to do about or how to dispose of their medication".

Rachael A. Haverland, MD, MS
***
Kung Flu transmission in your car? Travel by yourself, leave your windows open or vent diapers for your car.

A new study looks at how airflow patterns inside the passenger cabin of a car might affect the transmission of SARS-CoV-2 and other airborne pathogens. Using computer simulations, the study looked at the risk of aerosol particles being shared between a driver and a passenger in different window configurations. Redder shades indicate more particles. Risk was shown to be higher with windows closed (top left), and decreasing with each window opened. The best case was having all windows open (bottom right). Credit: Breuer lab / Brown University

A new study uses computer simulations to track airflows inside a car's passenger cabin, providing potential strategies — some of them counterintuitive — for reducing the risk of transmitting airborne diseases.

A new study of airflow patterns inside a car's passenger cabin offers some suggestions for potentially reducing the risk of COVID-19 transmission while sharing rides with others.

The study, by a team of Brown University researchers, used computer models to simulate the airflow inside a compact car with various combinations of windows open or closed. The simulations showed that opening windows — the more windows the better — created airflow patterns that dramatically reduced the concentration of airborne particles exchanged between a driver and a single passenger. Blasting the car's ventilation system didn't circulate air nearly as well as a few open windows, the researchers found.

"Driving around with the windows up and the air conditioning or heat on is definitely the worst scenario, according to our computer simulations," said Asimanshu Das, a graduate student in Brown's School of Engineering and co-lead author of the research. "The best scenario we found was having all four windows open, but even having one or two open was far better than having them all closed."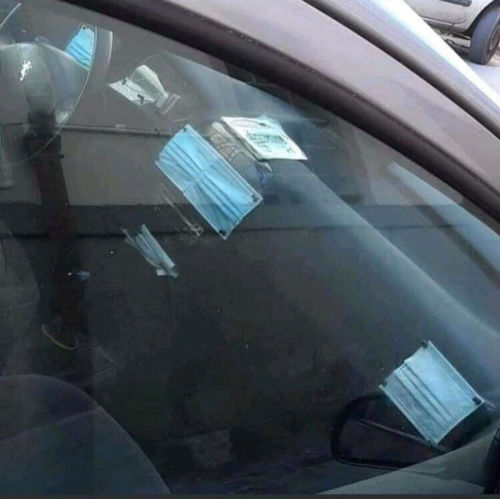 H/T Barnhardt
***

Intelligence vs. Paste..........

***

You need a smile. Watch this. Before the Nannies at the Twitter take it down.
***

I'm not from Idaho. But from what I know about it, it has been a Red State for years. A little heads up to folks who want to move there. If you voted for the shit you're leaving. Then don't go to Idaho or Arizona or any other state who doesn't vote D.

Jeremy Newberry, who played nine seasons at center in the NFL and made the Pro Bowl with the San Francisco 49ers in 2001 and 2002, is selling his big cherry farm property outside of San Francisco because he is sick of lockdowns in the region and wants his children to return to socialization.


"We're going to move somewhere where our kids can actually go to school, go participate in sports," Newberry told TMZ. "Somewhere in the country that's open. I kinda feel like these kids are getting deprived from their childhood because everything's locked down."

"What is the future of this state?" Newberry asked. "Are they gonna go back to school next year? Are they gonna go back sometime later this year? We're going on almost a full year now where these kids haven't been in school, haven't been allowed to do any extracurricular activity, any football, any dancing, anything. It's time to give them a childhood that they deserve."
***
The ONT Musical Interlude

Hard to believe FZ has been gone 27 years as of this past Friday December 4th.

&&&
&&&
***

An $820 tab and certain desires. Genius Award Winner.

After being placed in shackles due to some alleged drunken dumbassery, a Florida collegian told cops that being restrained "gets me off," and then requested someone "pinch my nipples," according to an arrest report.

Cops allege that Joseph Lancaster, a 22-year-old University of South Florida student, caused a disturbance early Sunday after refusing to pay an $820 bill at a St. Petersburg nightspot.

After Lancaster argued with security guards, his friends stepped in and paid the bar tab. Lancaster, stumbling and slurring his words, then began shouting, "I am sorry none of you graduated high school, but fuck you." Upon being detained by police, Lancaster's belligerence did not cease. "Fuck you, pussy" and "Bro, this is fucked," he shouted, cops noted.

When a police transport van arrived, Lancaster "even argued with the van driver," the report states. "The defendant had to be placed in shackles and stated, 'This gets me off.' He also said 'pinch my nipples'
***

Tonight's ONT has been brought to you by the Joys Of Bacon.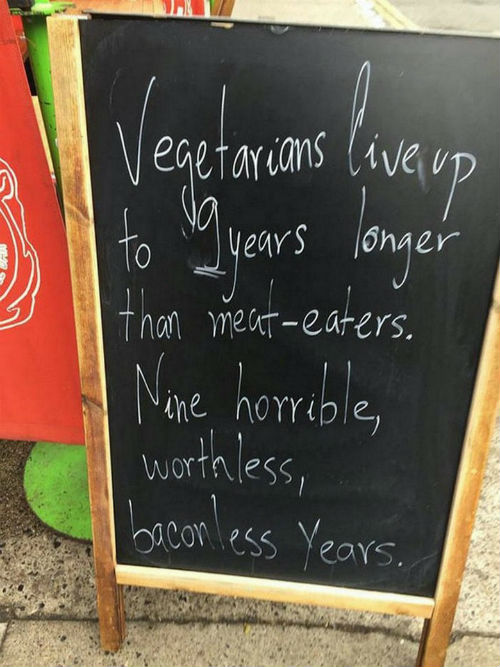 Notice: Posted with permission by the Ace Media Empire, AceCorp, LLC and Dewey, Cheatem & Howe, S.C. ONT tips, loose change, drink tokens and burner phones to petmorons at the gmail thingy. All other issues to someone who is empathetic.


posted by Misanthropic Humanitarian at
09:44 PM
|
Access Comments