ę Food Thread: Mustards And Other Tarts
|
Main
|
Sunday Overnight Open Thread (11/29/20) Ľ
November 29, 2020
Gun Thread: Breathing Technique Edition! [Weasel]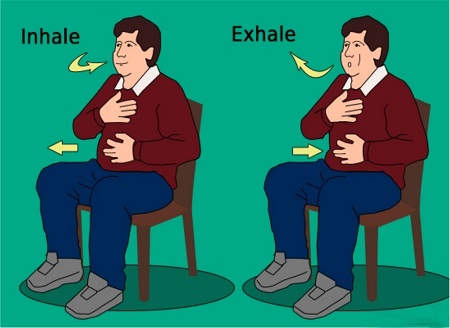 Helpful Breathing Technique Graphic
Howdy, y'all, and Happy belated Thanksgiving! I hope you were able to celebrate in the best way possible for you and find at least a few things to be thankful for. I made a quick run down to the farm to check on things this week, and everything was good, but it ended up being a quick down and back trip and I didn't have time to shoot any video.
So with that, grab a leftover drumstick and let's see what we have below, shall we?
Breathing Technique
We have recently had a number of questions and discussions in the comments on the topic of breathing while shooting. Breathing is something we tend to take for granted because we've been breathing without thinking much about it since we were born. However, it's an important part of shooting and there are right ways and wrong ways of doing it.
Correct breathing technique applies to all types of shooting. My match shooting was in a style called F-Class, where high powered rifles with optics are fired from the prone position at long distances. In this style rifles are supported by a front rest or bi-pod and a rear bag, which steadies the weapon and takes a lot of the work off the shooter compared to other disciplines, where the weapon is held in the hands or by the use of a sling, and fired while sitting or standing. That being said, anytime a part of your body is in contact with the gun, your breathing can and will affect your aim.
The Wrong Way
Pretty much any way other than The Right Way discussed below, especially if it involves holding your breath at any point in the inhale and exhale cycle.
The Right Way a.k.a.The WeaselWay
I am going to discuss what I do when shooting rifles from a supported position, however, the concept is the same for all styles of shooting. Please note in this discussion we're talking about shooting on a range at a fixed target, and without anyone shooting back. I haven't been in combat and can only surmise it raises your anxiety level a bit which is going to affect your breathing and aim. The same rules apply though, even on a battlefield, for a well executed shot.
Why is it important? Well your heart and lungs and circulation are all connected, and if you're huffing and puffing and holding your breath, then you're moving all over the place. It also allows you to go to your happy place and be relaxed as you shoot rather than tensing up your muscles, which is not bueno.
First let's talk a little about setup. You need to take care of all the little chores in setting up your gear before you settle in behind the rifle. I like to do things exactly the same way each and every time I shoot so it all becomes habit. You aren't doing your calm Zen state any good by freaking out and forgetting stuff and having to get up and down half a dozen times. When you settle in behind the rifle, you should be 100% ready to start shooting without distraction.
Reading wind is a big part of my match routine, so I will give it a brief mention now. My long range setup includes a spotting scope with the eyepiece about six inches left of the riflescope. In this configuration, I can go back and forth between the rifle and spotting scopes as I evaluate wind conditions by simply tilting my head. Once I have made the wind call on the spotting scope and decide to shoot, I go back on the rifle and settle in. Inside 150 yards or so, wind is generally not a big factor, so I mention it only as part of my process.
OK. So now you're on the rifle with a proper cheek weld on the stock and eye relief behind the scope. A normal, measured inhale or exhale for me takes between 2 and 3 seconds. As soon as I get setup, I start breathing at this rate; call it 2.5 seconds to inhale, then 2.5 seconds to exhale. I have done this so many times and for so long while shooting it's second nature for me now, and it just happens automatically. The important part is to find your own relaxed and consistent, measured inhale/exhale cycle. In and out without pausing at the top or bottom of the cycle. Figure out your own resting respiration rate, and go for that. Practice breathing at that rate and mentally review the mechanics of taking the shot with each cycle. Seriously practice this, and eventually you will find you are able to get into a relaxed state very quickly, and you begin to no longer notice peripheral distractions.
I will usually take one or two breaths in this fashion to settle in and get into my little shooting 'zone' where I am relaxed and allow my heart rate to settle some while beginning to focus on acquiring the target. As I begin the next breath, I am making my final target alignment. As I start to exhale, I begin taking the slack out of the trigger with the goal of being right at the trigger break point when I'm at the mid-point of the exhale. I continue to refine my aim point and break the shot at the bottom of the exhale. BANG!
That's it.
So for me, call it three consistent and measured breaths total. First two are settling in, and the third is executing the shot; target aim refinement on the inhale, then take out trigger slack at about the midpoint, and finally breaking the shot at the bottom of the exhale. Continue breathing normally. You can apply this to any style of shooting, but do not hold your breath ever. The minute you do all sorts of counter-productive physiological stuff begins to happen, none of which is good for your aim.
If you aren't doing this, or something like it already, then give it a try. Practice this 3 breath routine at home and mentally focus on the mechanics of breaking the shot during the third cycle. Then take it to the range and put it to use. Three breaths isn't a magic number, either. Maybe you need five, or sixteen, or two, or whatever number makes you happy. Just focus on relaxing, consistent steady breathing, and the timing of the mechanics during the last breath when the shot is taken.
QUIZ:
Q: Do we hold our breath when shooting?
A: No. No, we do not hold our breath when shooting.
******
First up, our pal rickb223 mentioned this helpful handgun diagnostic target last week in the comments, and then sent it in. Thanks rickb223!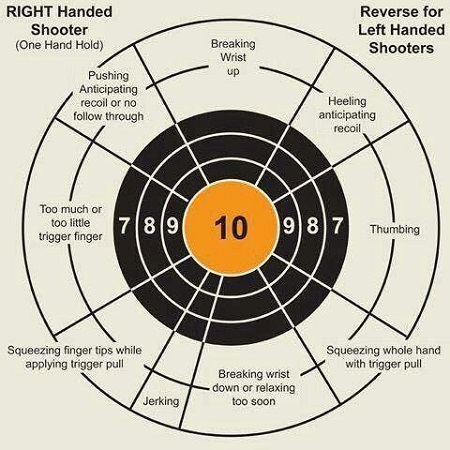 Have any of you used one of these and has it helped?
******
Next we have a couple of goodies from our pal Neon Madman
Came across this old box of .22 lately. 80 cents a box sounds pretty good for .22, especially since my local range is currently selling bags of 50 .22 Long Rifle for $5.97, but you also have to remember that 80 cents was a lot more money 40 or 50 years ago, back when you could buy rifle cartridges in a paint and hardware store.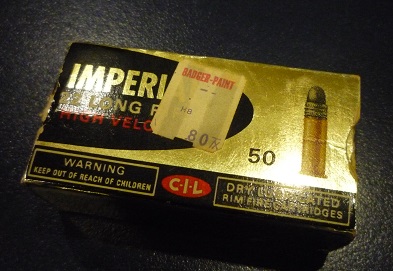 This is a group of Stevens rifle cartridges that were introduced from around 1895 - 1907, compared to the common .22 Long Rifle round. They are (left to right): .22-15-60, .25-21, .25-25 and .28-30-120.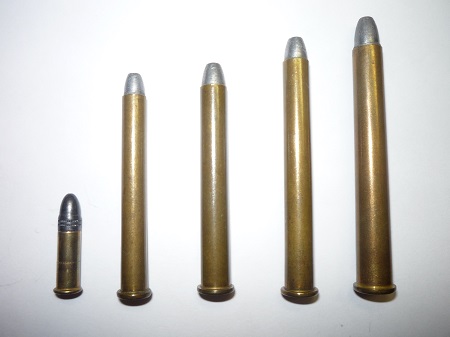 By the way, this form of cartridge designation (by no means universal) indicates: caliber - power charge in grains - (optionally) bullet weight in grains.

Someone at Stevens seems to have had a thing for designing long, thin cartridges. In general, if you wanted more "oomph" from a cartridge, you needed more powder (to use the technical terms). Bottlenecked cartridges existed at the time, but there was apparently some resistance to them on the part of shooters. That meant the only way to get more powder in the case was to make the case longer. The drawback is that such long cartridges didn't work well in much of anything other than a single-shot action. The reference book "Cartridges Of The World" (fascinating book, if you don't have a copy you should get one) mentions in general that these were accurate rounds, but because of the small caliber and the fact that they were loaded with black powder bore fouling could be a problem. They have been obsolete, of course, for many years.
I've had this second picture for a while and don't recall using it before. Very, Very cool. Thanks Neon Madman!
******
Next we have a great looking rifle and 100 yd target from our pal Wyoming Lurker: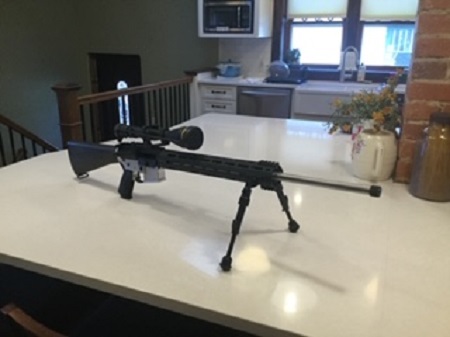 Iíve built an AR in 6.5 Grendel. Notice the manufacturer on the lower. Lol. Seems Creedmore has taken over the 6.5 party. People younger than us donít know about 6.5 Swede. Anywho, here is my build, and 100 yard group.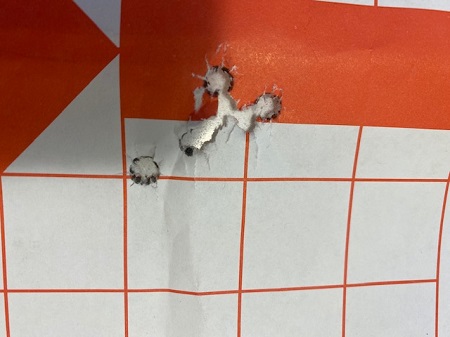 Nice shooting and nice rifle, Wyoming Lurker! Thanks for sending this in. Did that start as an 80% lower? How about you other 6.5mm guys and gals... what're you shooting?
******
Next, our pal CK has been busy with a project or two!
Well, the never ending lockdowns made me realize that I need a new project. Hello 6mm ARC. My first AR was a DPMS Oracle, the only one that I didn't build, so I've decided that it will become a 6mm ARC. I just ordered a 20" Faxon barrel from Brownells. I have an extra rifle length A2 style handguard so I think I'll use the goofy Oracle gas block and make it a retro looking 6mm ARC. I'll put a FDE A2 stock and grip on it and paint the handguard FDE. A retro, saddle shoe 6mm ARC.

Things are coming along nicely with the new ARC . Scope, mags and Hornady Black ammo arrive this week and the 20" Faxon barrel and a bunch or 105gn 243's are on backorder. I love a good project. Once I started painting my little 762x39 got in the way too!!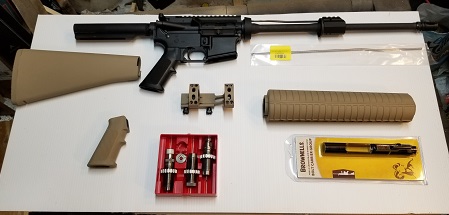 Nice job, CK!
******
Yay! Another video on the .223 and 5.56mm calibers! Seriously, this is a very good look at the differences in the two cartridges and interoperability. Well worth 12 minutes of your time!
******
Link-O-Rama
I'm really very seriously not kidding around anymore. Buy Ammo
AmmoSeek - online ammo search tool
GunBot - online ammo search tool
SG Ammo
Palmetto State Armory
Georgia Arms
AmmoMan
Target Sports USA
***Mail Bag***
This week we have a great entry from our pal JT.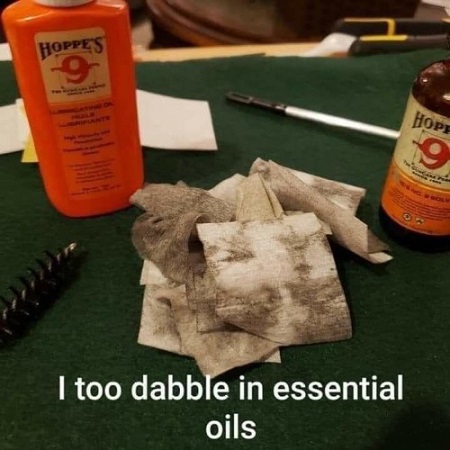 I love the smell of Hoppe's! Thanks amigo!
******
Please note the new and improved gmail account morongunthread at gmail dot com. An informal Gun Thread archive can be found HERE. If you have a question you would like to ask Gun Thread Staff offline, just send us a note and we'll do our best to answer. If you care to share the story of your favorite firearm, send a picture with your nic and tell us what you sadly lost in the tragic canoe accident. If you would like to remain completely anonymous, just say so. Lurkers are always welcome!
That's it for this week - have you been to the range?


posted by Open Blogger at
07:00 PM
|
Access Comments