« Dr. COVID, or How We Learned to Stop Worrying and Love 2020 [As Told By: Shibumi & Bozo Conservative]
|
Main
|
Saturday Gardening, Puttering and Thanksgiving Thread [KT] »
November 21, 2020
The Mayflower Compact, 1620 [KT]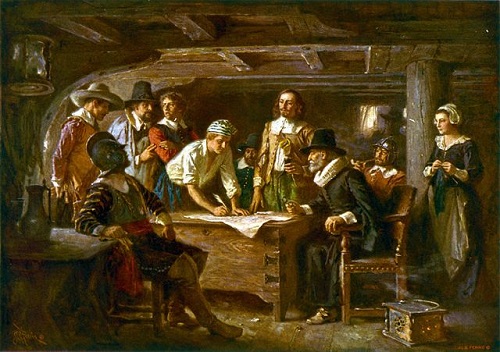 Signing the Mayflower Compact 1620
a painting by Jean Leon Gerome Ferris, 1899
Well, last year, the New York Times released its celebrated and castigated "1619 Project", in commemoration of the 400th anniversary of the accidental landing of a slave ship in what would later become Virginia.
This year, it is the 400th anniversary of 1620, and a different ship landing (with related events) is being commemorated. Not in a project published in the New York Times:
Below, a highlight or two from each of these four new publications:
From the Federalist's 1620 Project
Wilfred M. McClay: How The Mayflower Compact Changed History Forever 400 Years Ago
The Plymouth colonists in particular were not only Calvinists but also Separatists, which meant that they had separated themselves from the Church of England as a hopelessly corrupted body and preferred to worship in independent congregational (meaning self-governing) churches. This would turn out to be one of the most primal constitutional moments in history. It established the foundational principle of self-rule that would become the heartbeat of the American republic and its free institutions.

After 11 years of living in increasingly difficult exile in the city of Leiden in the Netherlands, they secured a land patent from the Virginia Company permitting them to establish an English colony where they could practice their faith freely. That was their dream. Across the ocean, they came aboard the Mayflower and made landfall at what is today Cape Cod -- outside of the Virginia Company's jurisdiction, and indeed, outside the jurisdiction of any known government.
There were clear and present dangers in these unexpected circumstances, and the group's leaders knew it. They were especially worried that the colony might not be able to hold together as a law-abiding entity, in the absence of any larger controlling authority. About half of those on board were "Strangers," the Pilgrims' term for non-Separating passengers, who did not share their religious motives for making the arduous trip, but whose skills and labor were going to be essential to the colony's success in a harsh and forbidding environment.

Some among the Strangers had already indicated that as the colony was being planted outside the reach of the royal charter, they might feel free to go their own way and "use their own liberty," as one of them said, "for none had power to command them." This was a frightening prospect. What were the Pilgrim leaders to do?
In response, they drafted and signed on Nov. 11, a short document they came to call the Plymouth Combination (the name "Mayflower Compact" would not be applied until the 1790s). In that document, they committed themselves to "covenant and combine ourselves together into a civil Body Politick," and committed themselves to obey any and all laws and authorities that would be established thereby.

This would turn out to be one of the most primal constitutional moments in history, one that established the foundational principle of self-rule that would become the heartbeat of the American republic and its free institutions. . .
From the National Association of Scholars' 1620 Project
Video: White House Conference on American History from September 17:
Today, President Trump hosted the first ever White House Conference on American History, an event that brought together renowned American historians, scholars, and educators to discuss how our country is fighting the indoctrination of our children through unpatriotic American history curricula.

Conference speakers included Wilfred M. McClay, Mary Grabar, Allen C. Guelzo, and President Trump himself, as well as the National Association of Scholars' very own President Peter W. Wood.
One of the important things that President Trump has done.
Peter Wood also had a piece in the New York Post earlier the month that is included in the Project now.
In August 1619, a pirate ship, the White Lion, stopped at Jamestown and traded 20-some captive Africans for food. The Africans were treated as indentured servants and soon released.

Fifteen months later, in November 1620, an English ship blown off course on its way to Virginia ended up off the barren coast of Massachusetts. It landed more than 100 men, women and children. Those voyagers founded Plymouth Colony.

Which event mattered more?
Stanley Kurtz reviews Peter Wood's Book
I can think of no book more deserving of a review in The New York Times--or less likely to receive one--than Peter Wood's just-published 1620: A Critical Response to the 1619 Project. More than a powerful refutation, Wood's 1620 is a withering appraisal and deadpan skewering of the 1619 Project as a cultural phenomenon. That ill-starred journalistic project is the purest and most perfect example of woke. The cultural revolution of 2020 will always rightly be associated with the 1619 Project of The New York Times. Not for nothing did project creator Nikole Hannah-Jones cheerfully embrace the term "1619 riots."
The re-imagined, "activist woman" Mayflower Compact
I'm sorry, but this short description of the re-imagined Mayflower Compact seems totally irrational to me. Think Harriet Tubman and Yoko Ono would have worked well together?
"Curriculum guides for middle and high school students based on the Re-signing The Mayflower Compact 2020 project are available."
Perfect.
At this site, you can get a chart or poster depicting how many of the Pilgrims survived until the First Thanksgiving.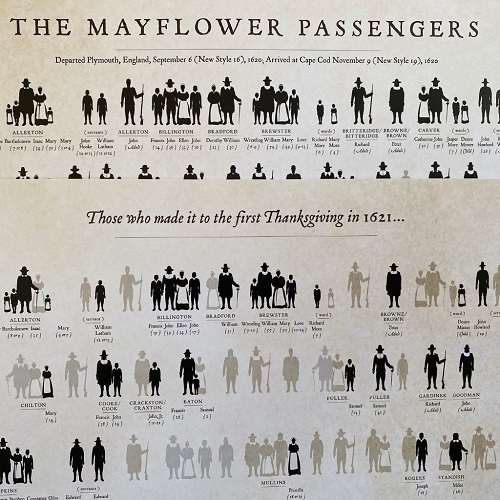 Think Yoko Ono would have made it if she had been there?
Music
This hymn is from the time when the Pilgrims and their co-religionists were in the Netherlands.
Let thy congregation escape tribulation.

Thy Name be ever praised

O Lord, make us free.

Hope you have a good pre-Thanksgiving weekend. Any kids around who need to learn something real about 1620?
This is the Thread before the Gardening Thread
Serving your mid-day open thread needs

posted by Open Blogger at
11:30 AM
|
Access Comments