« First-World Problems...Part Drësseg-Dräi
|
Main
|
Gun Thread: Tom Sawyer Edition! [Weasel] »
November 15, 2020
Food Thread: Smash! Smash Your Meat!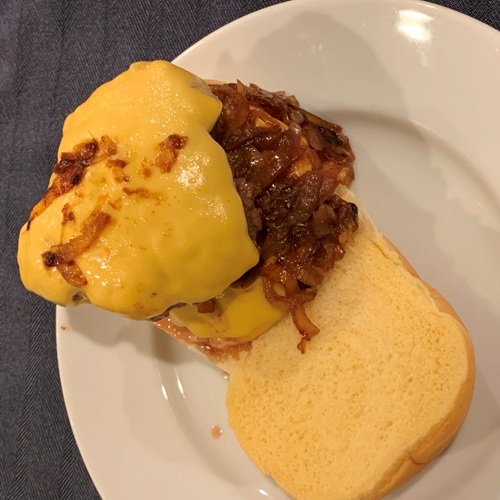 It was outside agitators! I had no plans to make fast-food burgers for dinner, but subversives carefully manipulated dinner plans at stately Chez Dildo and before I realized what was going on I was rushing out to pick up the vital ingredient...Kraft American Singles! And pickle slices. And potato buns.
The rest of it is insanely easy and loads of fun. What I found interesting was that the smash technique is not quite so effortless as one would assume, because after all it's just ground meat! I had to use a solid spatula and push down on it with my hand. Smash means SMASH!
Anyway, a few minutes in a screaming hot cast-iron pan to develop a nice crust, then flip it, slap that slice of cheese on top*, and watch the glories of a fast-food burger unfold.
I caramelized a bunch of onions (see below) and made my special secret sauce, which is just like everyone else's special secret sauce: mayo and ketchup.
The order of construction is important, and the younger brat insisted that the sauce be slathered...ON THE BOTTOM BUN! What witchcraft was afoot in my home?
No, I didn't put pickles on mine. Maybe next time.
Oh, that is a double: two patties, each of four ounces, with two slices of cheese and a ton of onions, because caramelized onions are glorious.
*Don't forget to unwrap it!
******
This Best-Holiday-Meal-On-A-Budget contest has turned into a huge pain in the ass, and it is all your fault. Every single one is at least interesting. Seriously, there isn't a dud among them.
I hate you all. How the hell am I going to choose a winner? Obviously I will dump all of the heavy lifting on Moki, because this whole contest is her fault.
Anyway, here is another one of the menus, with a particularly amusing dessert.
[I am joking about the "hate you all" part. Well, mostly joking.]

******
Straight from the Bog Family Kitchen - My entry for the Extravagant Meal Tiny Price Sweepstakes.

Appetizer - Baked Brie in Phyllo Dough with Cherry Chutney



Brie was from Costco about $8
Phyllo Dough from grocery $4
Chutney 3 TBLSP $1
Butter $1

Total $14

Entrée - Moroccan Spiced Chicken with Baked Cauliflower and CousCous



This recipe is easy and delicious. Marinade Chicken Thighs with Onions, Garlic, Parsley, ground Ginger, pepper, turmeric, paprika, red pepper flake, thyme, cumin and harissa paste. I also added two preserved lemons that we make at home. Just Salt, Lemon and time to cure. Brown the Chicken thighs in your dutch oven with some olive oil. Remove thighs then sauté the remaining marinade ingredients until they smell heavenly. Add the thighs back to the pot with 1/4 cup of pitted olives. If you are extravagant you can also add saffron but I thought the cost and unusual spice preclusion may prevent its use. Although there are a lot of spices in this they are relatively common. Takes about 15 minutes to make up the marinade, cooks in the oven about an hour at 375 degrees. We served it over a side of plain CousCous along with a side of roasted Cauliflower with Lemon, Salt and Pepper.

Chicken Thighs from Costco 5 lbs @ .99 per pound $ 5.00
Two Preserved Lemons and two fresh lemons $ 3.16
Two Onions and five garlic gloves $ 3.50
One bunch parsley $ 1.80
Cauliflower $ 4.71
bunch of spices (tsp and tblsp generally)say $ 5.00 WAG
Half tube of Harissa paste (tube was 7.50) $ 3.25
half cup of olive oil $1.00 WAG

Total (if my head math was right) $27.42

Dessert - What else could it be?



Pudding Cups 4 for $2.49 $5.00
Candy Skull $4.00

Total $9.00

Total Cost of Dinner for 8 approximately $50.

We subsequently blew out the budget cause we drank too much wine. A lot of boxes of Valu-Red died that day, let me just tell you.


Pete Bog, with the assistance of the lovely and talented Mrs Bog,
formerly of California, now roaming the high plains of Wyoming
******
From a reader (and hopefully a commenter) comes a deeply odd and sort-of-gross sounding snack that is probably fantastic.
I love spicy crackers and nuts and finger foods. They go so well with cocktails at the beginning of the evening, or with a cold beer on a hot day...do they wake up our palates in preparation for the meal?
Fire Crackers

Southern thing. Very good snack

1 cup olive oil (not extra-virgin)
1.5 tsp garlic powder
1 tsp. onion powder
1 tsp MSG (Accent)
1 tsp cayenne
2 TB crushed red pepper flakes
1 tsp lemon/citrus pepper
2 x 1-ounce dry Buttermilk Ranch dressing packets
1 Lb of saltines (regular or mini)

Put saltines in a 2-gallon ziplock. Mix all the remaining ingredients together. Pour the mixture onto the saltines, turning them in the bag occasionally to make sure the stuff's not poured onto 1 cracker. Let marinate 24 hours, turning the bag occasionally to distribute the ingredients.

Put crackers onto a half-sheet pan lined with parchment paper. Bake for 20 minutes at 275, stirring once to redistribute the crackers.

Let cool if you can. Great with beer.

This recipe can be halved easily.

This is pretty hot and spicy, if you like, leave out the pepper and it's still good and mild. Also works without MSG, if you have problems with that ingredient (I don't).
******
Texas MoMe door prizes?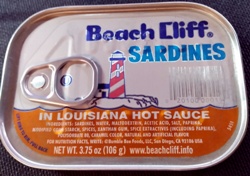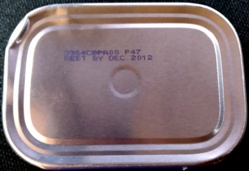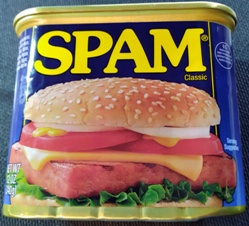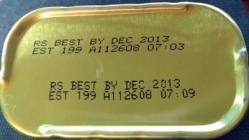 I don't know...anything newer than the turn of the century is unimpressive. I think the new gold standard is the 1970s!

******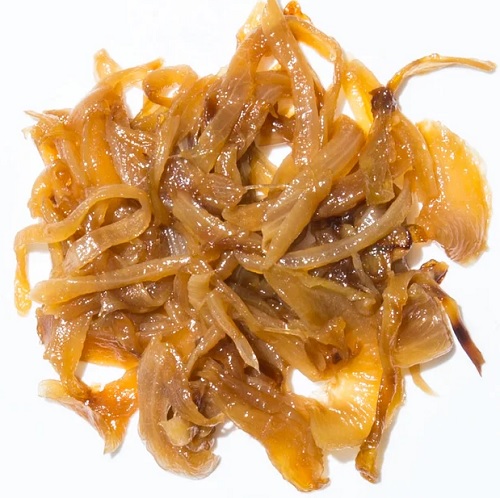 Caramelizing onions is not a difficult technique, but it takes either a long, long time, or a lot of attention. It's tough to do it quickly without hovering over them, but the long, low and slow variation takes way too much time for most people.
So...here's my Solomonic technique: Cut the onion in half and then half again, so you aren't left with any really long slices. Then just slice thin. Don't stress...just slice as thin as you can without worrying about losing the tips of your fingers. Put them in a pot with a tight cover over very low heat. A pinch of salt won't hurt. Poach in their own juices for 60-90 minutes. Then take the cover off, increase the heat to medium-high, and when most of the liquid has evaporated add your fat of choice (butter works nicely) and stir and stir and stir until they reach the color you want.
Yeah, it isn't perfect, but it's the best I can do.

******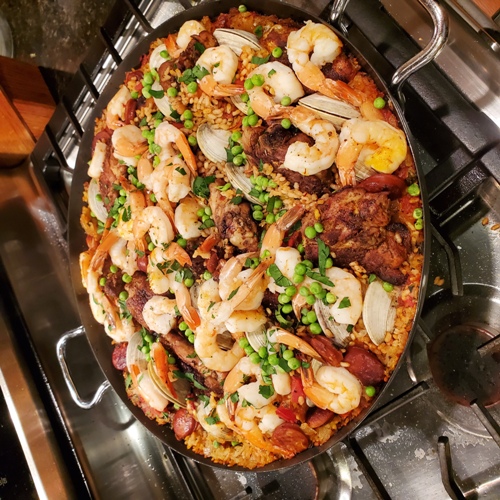 That was last night's dinner at Chez Dildo. By request for my SIL's birthday. But I did not take into account the extra mass of the 50% in protein that for some reason I was convinced I needed. So it took a lot longer to cook than I anticipated, but nobody got to bitch because it was my booze they were drinking while I cooked. It turned out well in the end, and I have enough leftover paella for about seven more meals, so no complaints.
Except from my waistline and my low-carb diet.

******
Food and cooking tips, Large-breasted Muscovy ducks, young wild pigs, bartenders who use vermouth in Martinis (but not too much), pork belly that doesn't have 5-spice, low-temperature-roast chicken, and good tomatoes that aren't square, pale pink and covered with Mestizo E.coli:
cbd dot aoshq at gmail dot com
. Any advocacy of French Toast with syrup will result in disciplinary action up to and including being
nuked from orbit.
And yes, shaking a Manhattan is blasphemy...it's in the Bible!

posted by CBD at
04:00 PM
|
Access Comments