« Food Thread: Smash! Smash Your Meat!
|
Main
|
Sunday Overnight Open Thread (11/15/20) »
November 15, 2020
Gun Thread: Tom Sawyer Edition! [Weasel]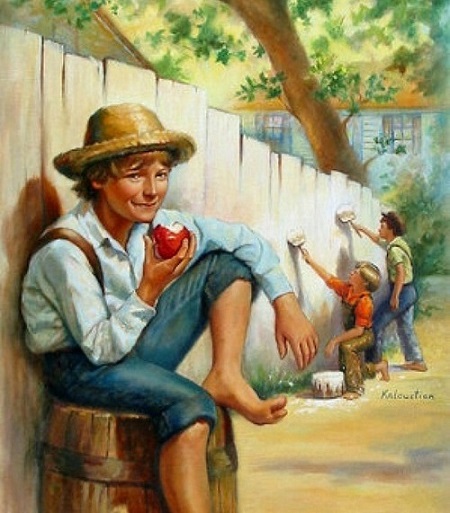 Is it Sunday again already? Where the hell did the week go? I mean, it was just the other day I was sitting here pecking out the last Gun Thread on this very keyboard. I haven't been to the farm for several weeks now, owing to other commitments and now a bum ankle, so no range time for poor ol' Weasel. Hopefully, you all are getting in some practice, whether it's live fire, or with any of the indoor practice laser shooting aids we have discussed here before. With the scarcity and cost of ammunition today, these systems are more appealing than ever. What might have seemed like a $200 extravagance before, suddenly makes a lot more sense now. I encourage you to check them out.
Oh, and there is a SpaceX launch tonight scheduled for 7:27 p.m. EST, and since that involves ballistics, it's on topic!! Watch Here
With that, let's get to the content below, shall we?
So I had another feature all writ up for this week, when Senior Gun Thread Correspondent and hepcat hogmartin started yelling about stopping the presses because he had a whole big breaking news dealio to report. Seems like on a recent ONT you people were talking about guns 'n shit without me, and the topic turned to CCW insurance. In a nutshell, this type of insurance is purchased to cover legal expenses in the event you're involved in a self-defense shooting. The coverage is popular and many people take advantage of it from a variety of providers, who usually bundle it into some sort of membership package along with other benefits. The dark side of the story is that, for some unknown reason, Big Insurance doesn't like paying claims, so buyer beware.
Anyhoo, here's hogmartin's most excellent report!
***
On Thursday's ONT, WeirdDave asked for experiences with the US Concealed Carry Association (USCCA), one of several "carry insurance" providers. The idea is that you pay a membership fee, and should you need to defend yourself
physically
, they will step in and provide bond, attorneys, expert witnesses, and so on, if you subsequently need to defend yourself
legally
. When I signed up for USCCA, their primary competitor was the NRA's product, the now-defunct Carry Guard. USCCA's policy was to bond you out and provide representation, up to the limits of the plan you had subscribed to, as needed, rather than reimburse you after the fact. Combine that with $150k of defense, and hey, sign me up for Platinum ($30/month). The member forums and training materials, and monthly magazine are also top-notch.
Well, Andrew Branca weighed in on that thread later on, and when Andrew Branca offers an opinion on defense law, I take it the same way as I'd take an opinion from Massad Ayoob on practical drills. He brought up two points about USCCA:
USCCA is currently being sued in Federal court for refusing to cover one of their Platinum members, and they decline to explain why, except to flatly state that they have no legal obligation to pay.

You can give them your money, if you want, but I'm not sure why you would.

Details here: Law of Self Defense/USCCA
Well that's interesting. In that case, they'd already paid out $50k and were declining to pay up the other $100k, and haven't said why. Troubling. And then there's this:

If you've killed someone in self-defense, you'll go through $100-$200k in PRE-trial expense. $100k is nowhere near adequate for trial. $200k is nowhere near adequate for trial. And what if you have to appeal? USCCA counts your trial costs against what they offer for an appeal--well, your trial costs will have consumed all your coverage and then some.
$150k looks like a nice big number, but I have to admit, I didn't go window shopping for self-defense criminal trials when I signed up. I didn't realize that even if USCCA had paid the entire $150k, that amount would already be spent before going to trial. Just how much do these things cost, anyway, and what kind of insurance covers it entirely? Others in the thread suggested CCW Safe. I don't see if Mr. Branca endorsed any. Since I'm now seriously considering switching and advising others to do the same, now's as good a time as any to hear from The Horde.

***
Nicely done, hogmartin! I have USCCA my own bad self and will absolutely take a look at this. In fact, if I'm not mistaken, Andrew Branca has a CCW insurance selector tool on his website, so check it out.
How about you all? Do you have CCW insurance, who do you use, and why?
******
Kimber K6
First up, our pal redc1c4 sends a Guns America review of a Kimber K6 revolver. As you know, I am a big fan of revolvers in general and usually recommend them to new shooters looking for their first handgun. I have always thought their simplicity and ease of use make them an excellent place to start.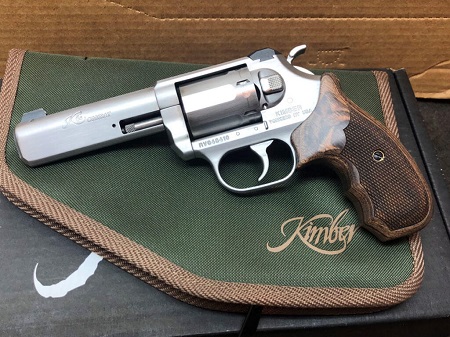 I have a Kimber pistol as my carry gun and love it, anyone have any experience with their line of revolvers?
******
Next up we have an impressive report on gun sales [h/t Fungus Boy]

Next up is an article from the NRA MAGAzine, America's 1st Freedom. 7 million first time gun owners in 2020. Holy Crap. If you know one of these people, do what you can to safely and responsibly introduce them to the shooting sports. See someone new and sort of lost looking at the range? Introduce yourself, ask if they're new, and offer to help them learn the ropes. We need all the people on our side that we can get.
******
Next, Nurse R shares an archival photo of Marine Ratched on the range. How much fun is this?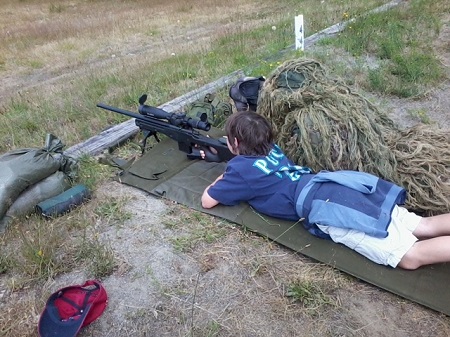 This is the first gun marine ratched fired other than his Red Ryder. We were on a 1000 yard course at JBLM for the annual Air Force Rodeo. He was 10. It's an M24. His entire body shot backwards about a foot and a half on the recoil. Darn if the little bugger didn't whomp the target 4/5. Guy in the ghillie suit was his spotter.
I'm not entirely convinced that's not Nurse R in the ghillie suit. Nice job, Mom!
******
Have some spare cash?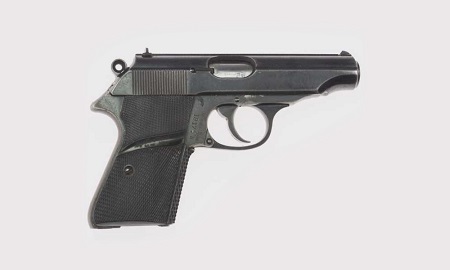 How about bidding on James Bond's Walther PPK? [h/t CBD]
******
This is just too cool not to share. [h/t That Deplorable SOB Van Owen]

******
Link-O-Rama
I'm really very seriously not kidding around anymore. Buy Ammo
AmmoSeek - online ammo search tool
GunBot - online ammo search tool
SG Ammo
Palmetto State Armory
Georgia Arms
AmmoMan
Target Sports USA
***Mail Bag***
Our pal Wyoming Lurker and his co-conspirator Wyoming Lurker'ette recently committed this act of civil disobedience. Well done!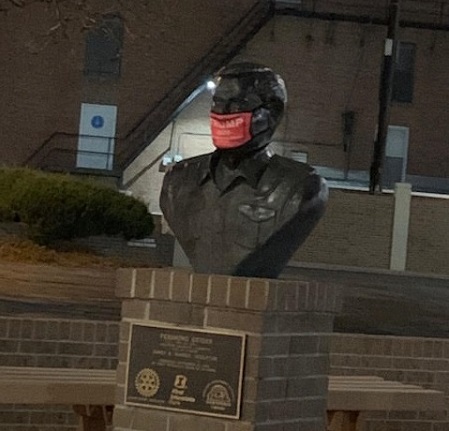 ******
Please note the new and improved gmail account morongunthread at gmail dot com. An informal Gun Thread archive can be found HERE. If you have a question you would like to ask Gun Thread Staff offline, just send us a note and we'll do our best to answer. If you care to share the story of your favorite firearm, send a picture with your nic and tell us what you sadly lost in the tragic canoe accident. If you would like to remain completely anonymous, just say so. Lurkers are always welcome!
That's it for this week - have you been to the range?


posted by Open Blogger at
07:00 PM
|
Access Comments