« Subversion and Diversion [KT]
|
Main
|
Ace of Spades Pet Thread »
November 14, 2020
Saturday Gardening and Puttering Thread, November 14, 2020 [KT]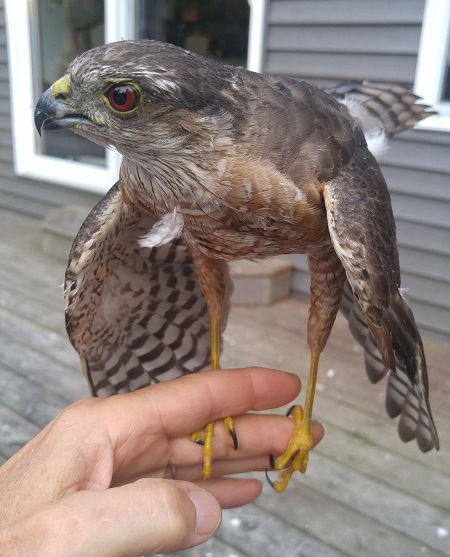 Would you try this at home?
We heard a bang on our front window & found this little one laying on the deck. I recorded the video clip right after crash when I picked up the bird, a hawk of some sort. It looked in bad shape and I wasn't sure it would make it but after about 20 minutes it recovered enough to fly away. Next time I'll have to remember to wear leather gloves.

PointyHairedBoss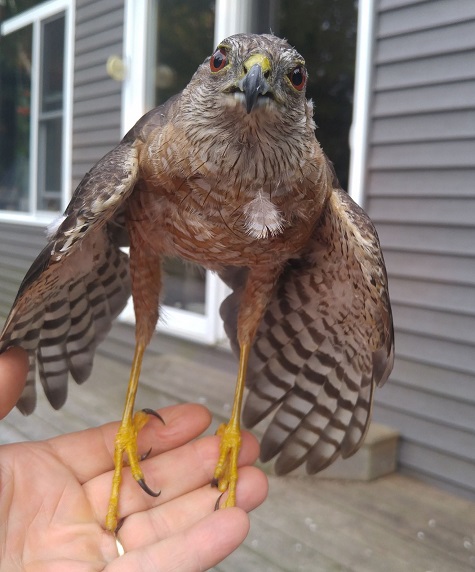 Fall Flowers
Thought about visiting the Atacama desert? It has started blooming again. This is not a yearly event, I guess. Instagram slide show here:
One of the driest deserts on the planet has resumed flowering after three years. We are talking about the fascinating arid desert of Atacama, Chile, considered one of the driest in all of Latin America . Usually, the drought and heat, which usually pushes maximum temperatures up to 40 degrees Celsius, does not allow this corner of nature to dress in bright colors, but after the last bloom of 2017, the Atacama has began to re-reveal all its splendor.

Speaking of the extraordinary flowering of the arid Atacama Desert, this natural area of Chile also experienced a particularly cold and snowy season in August, when only a month later, the thousand colors of the flowers were proudly displayed as every 3/4 years.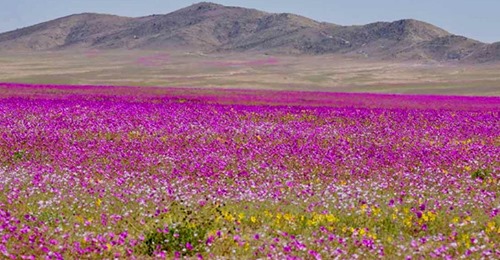 Puttering
From my friend who has taken up quilting:
Been makin' quilted birthday cards like crazy! We have a lot of family birthdays in October/November. I used gold embroidery floss for the candle flames. The wonderful pattern designed by Sarah @saroy was my inspiration. FYI, she works at NASA and designs quilts. She's amazing!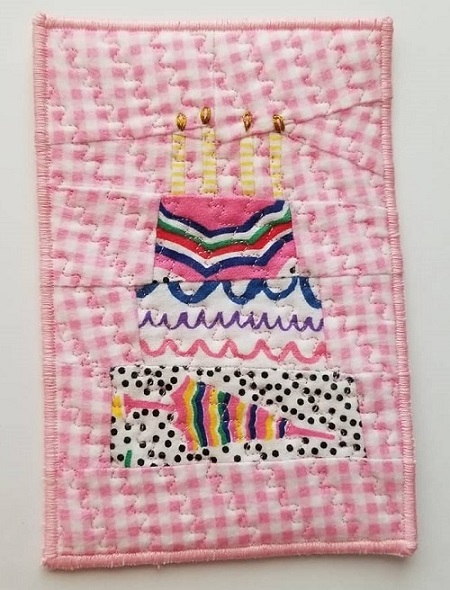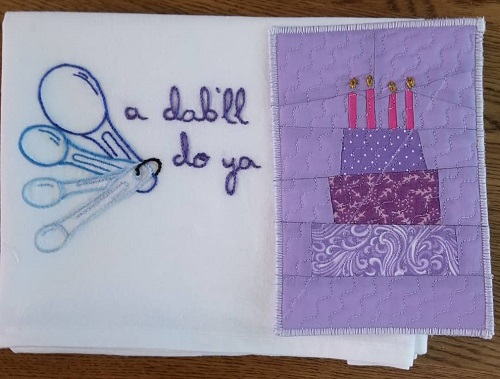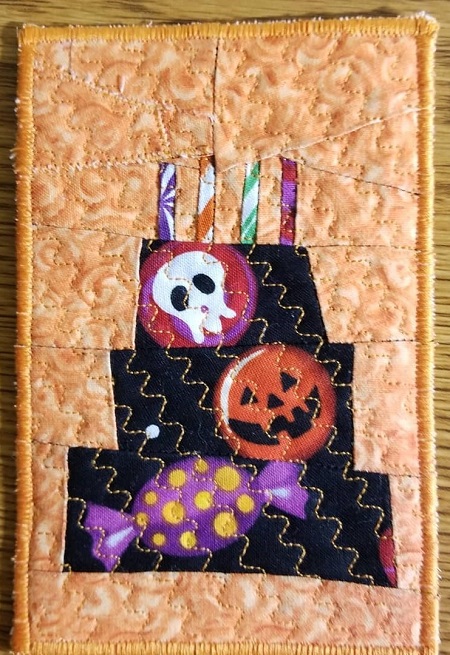 The Edible Garden
Wee Kreek Farm Girl has grown another exotic plant.
My curry tree, which is currently making seeds. When the seeds get black you can plant them, and you have to plant fresh seeds from what I hear. I have managed to propagate a number of new trees and given them to friends as gifts. You can eat the seeds as well, they have a tiny bit of flesh around the seed and that is what you eat. It tastes a lot like what the curry leaf taste like but more intense. This is a "real" curry plant, not like the ornamental one that they sell. You cook with the leaves, you can fry them in oil and use the oil to start your curry dish but my favorite way is to make a curry leaf pesto. It is delicious and very different. Here is a link if you want to know more about it.
Nice blog post. Short curry leaf pesto recipe is near the end.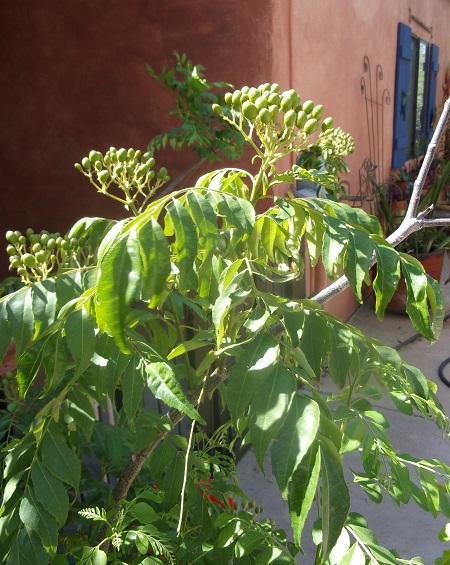 Thinking about growing one of these plants? They don't take frost. Here are growing directions from someone who brings hers indoors in the winter. She says you can also put yours in the garage, though it may lose its leaves.
Here is a detailed video from Logee's.
Catalogs and Tomatoes
Gardening (and Home and Garden) catalogs should be arriving soon. You might want to consider Seeds for Autism, where people in the Phoenix area who are on the autism spectrum make hand-crafted items for the on-line home and garden catalog as part of a training program. Michele, an instructor there, sent us the link.
Tomatoes are one reason we look forward to catalogs. We have been asking for recommendations from The Horde.
From Clutch Cargo:
I can definitely say whatever I bought that was supposed to be a beefsteak (at 2 different nurseries) is not on the recommended list. Awful. The worst. Tiny golf ball sized solid seed nasty.

In fact, I got a lot of dogs to grow, probably because when I was buying plants was the peak of the lockdown here in CA. So the proper nurseries were shut down, I had to go to the hardware/nurseries at home despot and ace. Only one pepper plant was correct. Totally blew the cucumbers (any recommendations there?).

I used to love a small hybrid determinate golden tomato, the name escapes me. I haven't seen it for years, but I guess it's been over 20 years since I grew it. Also liked the zebra heirloom, or whatever they call it now. Brandywine is still a favorite, but it seems to be favored by the vermin as well.
And later:
I just remembered the name (I think) it was Husky Hybrid. Medium sized slicer, super meaty and sweet/mild.
dartist:
I read about a tomato variety used for sauce in Calabria called costoluto fiorentino and picked up some seeds from growitalian.com that I'll try along with my usual san marzano's. Great seed site btw.
Sal:
Almost forgot- I loved the Black Krim tomatoes I planted this year. Very, very tasty.
KarlHungus:
I liked my Ashleigh tomato, big, meaty slicer, not a heavy producer but they were quality, thin skin and the first crop of the season was seedless too.
Celebrity was our best tomato the last two years. Most disease resistant, anyway.

Brandywine is a nice heirloom. Definitely not an eating tomato, but great for sauces, cause they're hugeous.
Brandywine is supposed to be an eating tomato. There are several strains . . .
Cumberland Astro:
Good reliable tomatoes that I enjoy every year are Celebrity, Cherokee Purple, and Sweet 100. My "recommend against" are anything with "Beef" in the name (sickly and no production) and anything with "Sun" or "Heat" in the name (zero flavor.)
And Pat* had a great report, too.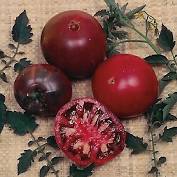 Black Krim Tomato
Fragrant Plants and Flowers
Remember Wee Kreek Farm Girl's Carrion Cactus? It is also known as a Giant Toad Flower or Zulu Giant.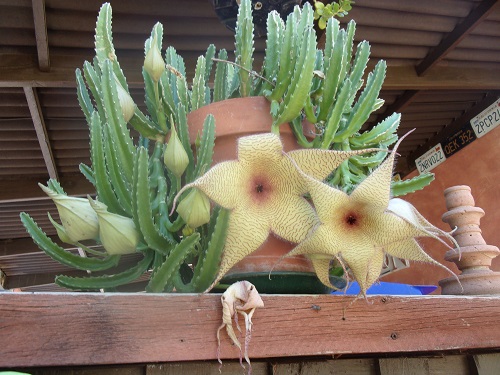 She has a follow-up note:
It is all done with the show now and just looking like a normal sort of cactus now, but I know that it will give me another surprise next year. It is pretty easy to propagate, I have started two other cactus from it. They are still too small to bloom but I am sure I will get them there.
Orbea gigantea, formerly known as Stapelia gigantea, is from South Africa, and it has relatives. What a variety of flower forms! Actually, I think a lot of people still prefer to call them Stapelias. "Parts of Stapelia gigantea have been reported to be used by the Zulus as a remedy for hysteria." Wee Kreek Farm Girl may want to remember that. You never know . . .
BigG in San Diego has a very different Stapelia that he got from a cactus grower in Palm Desert. Though you can definitely see the resemblance in the plants. This is Stapelia leendertziae. I am impressed that Robert kept track of the name. Common names include 'Black Bells' and 'Maroon Cup Starfish'. There is a photo of one cut in half at the link. It also comes in a crested plant form that is quite attractive. Haven't seen that form shown with a flower, though.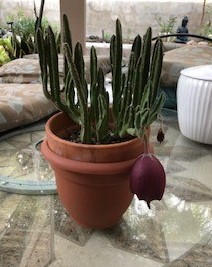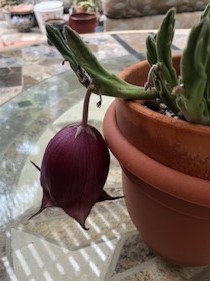 Here's another one. S. (or O.) variegata: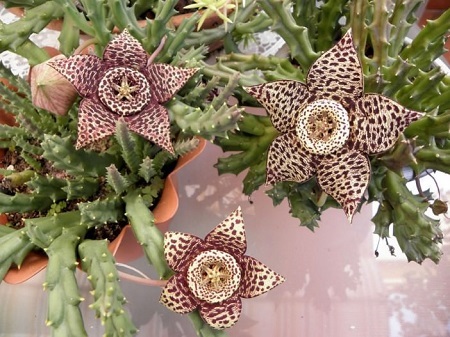 Plants in this genus are not really cacti, as you may have guessed by the flower forms. They are in the Dogbane family, like milkweeds and those venerable house plants, the Hoyas, which often smell quite good at night when they bloom. One species is said to smell like cinnamon. You might see a family resemblance between some of their flowers or flower buds and the Stapelias above.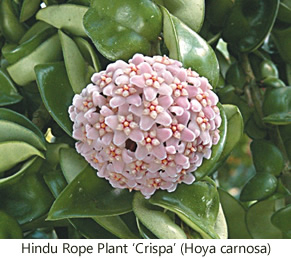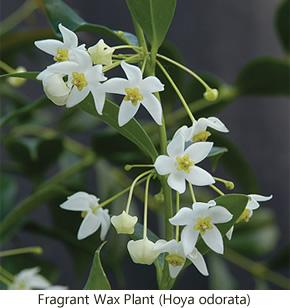 Gardens of The Horde
Don in Kansas has an early November report:
December arrived last week and wiped out most of the garden outside. The weather has since reverted back to October, and it turned out that the cold and snow barely touched the California poppies. They started blooming back in the middle of May, over five months ago. After their big display in May and June, and unlike the rest of the hardy annuals which faded out in the summer heat, they kept going and have always had a few blossoms open. Not even the snow and ice a week ago stopped them. There's mild fall weather scheduled for the rest of the week, so there should be color for a little while yet.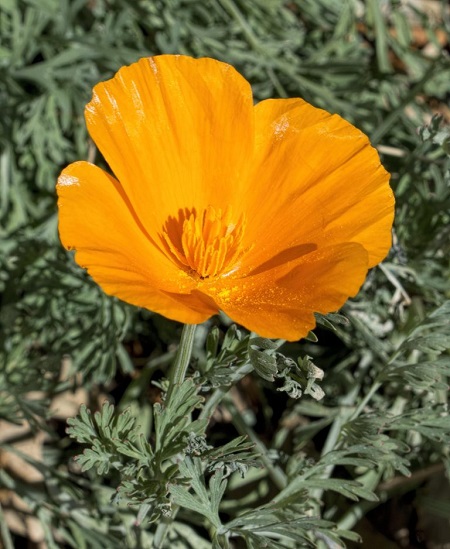 If you would like to send information and/or photos for the Saturday Gardening Thread, the address is:
ktinthegarden
at that g mail dot com place
Include your nic unless you want to remain a lurker.

posted by Open Blogger at
01:01 PM
|
Access Comments