« Saturday Morning Coffee Break
|
Main
|
Saturday Gardening and Puttering Thread, November 14, 2020 [KT] »
November 14, 2020
Subversion and Diversion [KT]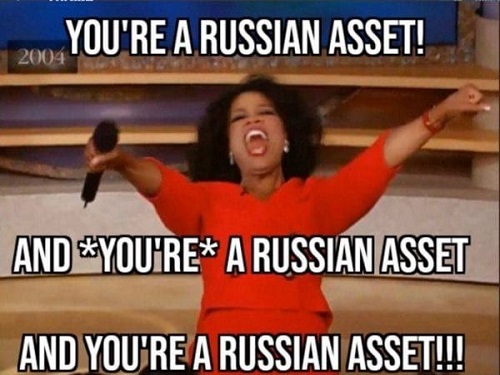 I was thinking about Ace's flaming skull post yesterday:


Four years after signing the now-infamous "Never Trump" letter condemning then-presidential candidate Donald Trump as a danger to America, retiring diplomat Jim Jeffrey is recommending that the incoming Biden administration stick with Trump's foreign policy in the Middle East.

But even as he praises the president's support of what he describes as a successful "realpolitik" approach to the region, he acknowledges that his team routinely misled senior leaders about troop levels in Syria. . .
And I was also thinking about how particularly bad NPR was in the few minutes I heard yesterday. They suggested several times, in effect, that President Trump would lead America into disaster by delaying Biden's takeover of agencies of the Federal Government with regard to national security and Covid response. Personally, I can't imagine that members of Biden's "Covid team" don't have "access to" scientists in the federal government.
The tone among NPR commentators was one of contained alarm. I could imagine some of them taking breaks to scream at the sky.
I wondered if these types of responses by members of the Deep State and the rest of the Ruling Class were all just precipitated by the uniqueness of Trump. Then I remembered Tulsi Gabbard. Someone from the Left, but not a stodgy, predictable leftist like Bernie Sanders.
Tulsi Gabbard becomes a threat to America
This is Matt Taibbi in Rolling Stone, a little over a year ago:
Hillary Clinton, not long ago the nominee of the Democratic Party, had some choice words about the state of American politics Friday.

"I'm not making any predictions, but I think they've got their eye on somebody who is currently in the Democratic primary and are grooming her to be the third-party candidate," Clinton said on a podcast with former Barack Obama aide David Plouffe. "She's the favorite of the Russians."

Clinton appeared to be talking about Hawaii congresswoman Tulsi Gabbard, a combat veteran. She wasn't done, teeing off on former Green Party candidate Jill Stein:

"[Jill Stein's] also a Russian asset... Yeah, she's a Russian asset -- I mean, totally. They know they can't win without a third-party candidate."

She went on to talk about Donald Trump:

"I don't know what Putin has on him, whether it's both personal and financial ... I assume it is."

Hillary Clinton is nuts. She's also not far from the Democratic Party mainstream, which has been pushing the same line for years. . .
Tulsi went forward for a while in the primaries, trashing the Democratic party for some of its policies and attacking, ahem, certain candidates. Leaving the Democratic Establishment apoplectic.
Tim Black, last November:
the Democratic establishment and its media cheerleaders seem to have become fixated on her. She annoys them. She riles them. And it's not just because of her ambivalence towards identity politics and the other aspects of her Sanders-style progressivism - indeed, she endorsed Sanders in 2016, much to the chagrin of the Democratic establishment at the time. No, it's also because of her uncompromising opposition to the 'counterproductive regime-change wars' pursued with such ignorant zeal by the likes of Democratic grandee Hillary Clinton. It's because of her willingness to question the narratives that have justified Western intervention in Syria, including a secret fact-finding mission to Damascus, and a meeting with Bashar al-Assad in 2017. And it's because she does all this not as a woolly pacifist, but as a war vet.

So where her small but growing band of supporters see a principled 38-year-old, armed with a progressive policy platform, and, above all, a strong commitment to anti-interventionism, her powerful opponents are determined to present her as something altogether more sinister. They talk of her being a poster girl for white supremacists and the alt-right, of her being a Republican stooge in Democratic clothing, and of her being some sort of Russian asset.
In December, Tulsi Gabbard pointed out that some Democrats preferred allowing people to rot in prison to giving President Trump a policy "win" on prison reform.
In January, Gabbard and her white pantsuit no longer qualified for the main Democratic debate stage. Americans would lose out on her perspectives as a combat veteran, an opponent to regime-change wars, someone willing to point out flaws in The Party, etc.

In February, CNN excluded Tulsi Gabbard from a town hall featuring lower-polling Democratic primary candidates, even though she polled higher than some of the candidates included. She responded
You can call this by many names: Media bias. Election interference. Political gamesmanship by the Democratic establishment. But regardless of motive, the end-result is that the American people lose. They lose the ability to hear directly from a candidate with a broad, inclusive message for change. They lose the opportunity to show their support and spread the message, about a dynamic, anti-establishment candidate breathing fresh life into the Democratic Party. And they lose the freedom to make educated political decisions without media manipulation.
She also called CNN's behavior un-American.
CNN, the DNC and others do not seem to want Americans to hear points of view outside of a narrow range which they can manipulate easily. They may hate Trump with a special fervor, but Trump did not make them act this way.
I wish their tactics were not so effective. I still have some rather conservative social media friends who consider Tulsi Gabbard to be some sort of slightly eccentric conservative, because she is attacked by the Left and because she acts human when people have tragedies in their lives. Because the media's approach is so skewed, superficial and sensational, they don't know about most of her policy positions.
And one lefty "friend of a friend" was celebrating the other day that a Biden presidency would mean the end of Putin secretly running America. It is just insane that she can still believe something like that. She doesn't seem like "the type". Don't think she's ever heard any substantive information on this issue post-Mueller. Speaking of foreign influence, how is CNN's investigation of China's influence on the Biden family coming along?
Music
CNN is not the only media outlet which could look into the Biden Family's foreign business adventures. What does The Fox say?
Hope you have a good weekend.
This is the Thread before the Gardening Thread
Serving your mid-day open thread needs

posted by Open Blogger at
11:15 AM
|
Access Comments