« First-World Problems...Part Dreiunddreißig
|
Main
|
Gun Thread: It Ain't Over Edition! [Weasel] »
November 08, 2020
Food Thread: Big Chunks Of Cow And The First Installment Of Festive Meals!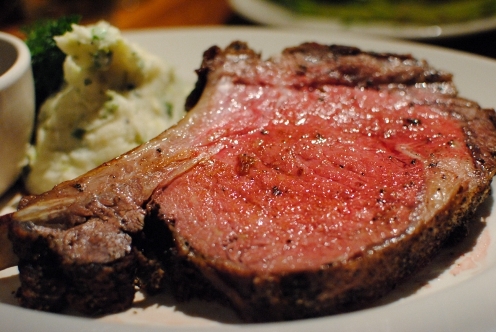 Prime rib is one of those cuts that screams "SPECIAL!" And if price is the measure, it certainly is! One issue is that a rib roast is quite large, so even at a reasonable price you are buying a lot of meat. A full roast is seven bones, and that is an easy 15-pound chunk of meat!
But you can also buy fewer ribs and still enjoy a really nice meal without having to deal with a huge amount of beef. Of course I have no idea why you wouldn't get the biggest roast that will fit in your car, but that's just me.
The nice thing about that cut is that in spite of its daunting size and price, it is pretty easy to cook. I won't bore you with a bunch of recipes, because everyone's taste is different, but I think that any recipe that cooks the roast low and slow for most of the time is going to work well. I am suspicious of high heat (except for a quick sear) with such a large piece of meat; it is too easy to overdo the outside in search of that perfect medium-medium-rare middle.
Fine...here is one recipe from Pat LaFrieda that touches on the important points. Yes, it's also an ad for his meat empire, but I have his cook book, and the man knows how to cook beef!
******
We got about 20 entries for the festive meal contest, and a bunch of them look great! Moki had the very good idea that I simply post one each week so no matter who wins the incredible grand prize of a copy of "The Deplorable Gourmet," everyone's ideas are available. Obviously the judging is going to be subjective, but one of the themes of this Food Thread has always been, "If you like it, then it is good!" Except Campari. That's just gross.
******
And here is the first one, even though it was the last received, and by a good bit of time!
App:
Crown Royal Maple-Glazed Chicken Wings (4 piece) $15.00

Entree:
Rum Craisin and Walnut Stuffed Pork Roulades $21.00

Sides:
Galliano Brûlée Carrot Medallions $6.00
Beer Cheddar & Bacon Potato Au Gratin $ 11.00

Dessert:
Cinnamon Port Wine Poached Pears $ 18.00

Total cost: $71.00

As per the SCOTUS rulings, even entries time stamped days after the ruling must be counted and declared as the winner of the contest.

Fraudulently submitted,

Bitter Clinger, E-mail Huckster and All-Around Swelled Guy
******
I have always gravitated towards dark roast coffee for home use, but it seems as though many restaurants and coffee shops default to a medium or even light roast. I don't approve. Those lighter roasts are far too acidic for my palate, and they don't provide that pop of intense coffee flavor that I crave.
I found an excellent roaster in San Francisco and have been enjoying their various dark roasts. On a whim I ordered a bag of one of their medium roasts and, while it is the best one I have ever tasted, it is simply not my cup of...um...tea!

******
Dinner at ALH's tonight!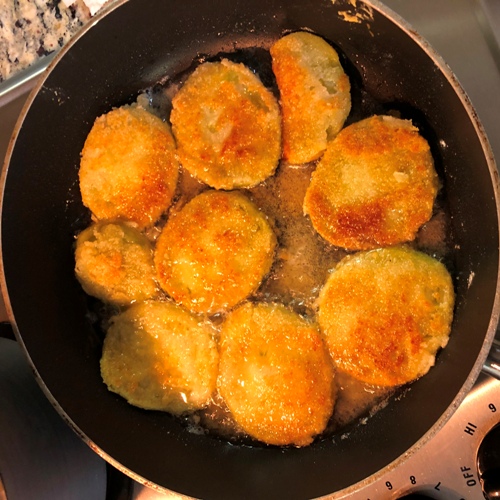 I love fried green tomatoes, even though it is sort of a weird thing to do with tomatoes.

******
From "San FranPsycho" comes a photo of his hoity-toity San Francisco version of Oakland barbecue. I'm sure it is good, but my memories of Oakland-Style Barbecue are much, much messier. And for God's sake, there are vegetables in that takeout container!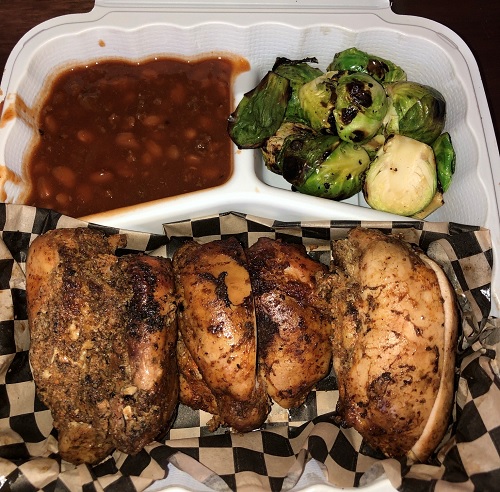 Okay, if those Brussels Sprouts are smoked then I would try them. And I love baked beans from the smoker, and the chicken actually does look pretty good.
SFP tells me that this is from a place called "Smokin Woods BBQ." Cool name!

******
I have recently been cooking with honey and brown sugar and agave syrup with meat, and while it is easy to overdo it, I find some things, in particular pork and chicken, handle sweet very well. It doesn't hurt that grilling anything with sugar on the outside will yield a lovely crispy-crackly glaze. Or a mass of cinders if you aren't careful. But I like living on the edge!
This looks like a really simple and easy way to feed the brats on a hectic Tuesday night when one has hockey, one has too much homework, and one is just being a brat. Easy Honey Garlic Chicken. I like the flavors a lot. The technique? Less so. If I try this it will be finished on the grill. But either way it is a quick and painless dinner.

******
Food and cooking tips, Large-breasted Muscovy ducks, young wild pigs, bartenders who use vermouth in Martinis (but not too much), pork belly that doesn't have 5-spice, low-temperature-roast chicken, and good tomatoes that aren't square, pale pink and covered with Mestizo E.coli:
cbd dot aoshq at gmail dot com
. Any advocacy of French Toast with syrup will result in disciplinary action up to and including being
nuked from orbit.
And yes, shaking a Manhattan is blasphemy...it's in the Bible!

posted by CBD at
04:00 PM
|
Access Comments