« Food Thread: Big Chunks Of Cow And The First Installment Of Festive Meals!
|
Main
|
Sunday Overnight Open Thread (11/8/20) »
November 08, 2020
Gun Thread: It Ain't Over Edition! [Weasel]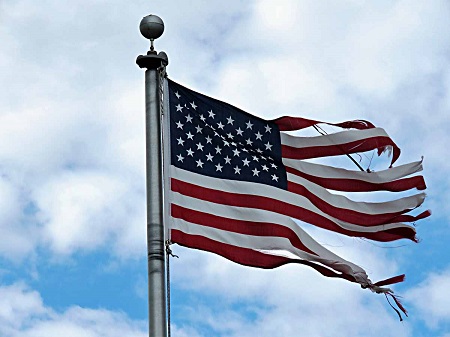 So who is ready for a nice, calm, relaxing and friendly Gun Thread?
Weasel is! Weasel is ready!
As I write this Friday we're winding up quite a week to say the least, and the political landscape is, to be charitable, uncertain. I obviously have my own thoughts on the matter, and I know all of you do too. With that in mind, a word on the comments this evening. Think before you click "post" and memorialize whatever is running through your head at that particular moment. If you enjoy the blog in general and the Gun Thread in particular, please use a healthy dose of common sense. I know that tensions are high right now, but we all need to take a deep breath and keep our shit together, OK? We are all guests here, and I sure as hell don't want this to be the thread that causes Ace any trouble.
It's fine if you want to discuss the election and how it may impact things from a 2nd Amendment, guns and shooting perspective if you like, just use your head. Thanks!
Now, with that out of the way, let's see what we have below, shall we?

Mostly Apolitical
You should know by now that I like to keep the discussion here mostly apolitical, if for no other reason than I get enough of a boost in my blood pressure during the rest of the week. As a result, I like to just hang out and relax with you guys and gals and discuss shooting and not to concentrate on much else.
So I'm going to stay mostly apolitical, and follow-up on a number of posts I have made elsewhere on the blog this week. In order to do that, I'm going to use a shooting analogy drawn from my own experience to answer the question of why I'm not jumping up and down, screaming, tearing my hair out, and otherwise declaring that "it's over" whatever that means.
Why? Well, it ain't over, because it ain't over.
I was very fortunate to have had a 2nd career as an amateur shooter and coach, and was competing against some of the very best shooters in the world. Depending on the match, the competitors might have prepared all year for the one opportunity to place 20 shots on a target. To say the stress level is high is an understatement, and it's very tempting to let all sorts of shit get into your head and interfere with the job you are there to do. I have seen more than one competitor make a single errant shot, and thinking it has likely cost them a big match, come completely unglued and just quit trying. They just give up and want nothing more than to get off the range and lick their wounds. So they half-ass it through the rest of the string and go off in a huff. You see this mostly with very inexperienced competitors, but guys that have been around a while have done it too. I'm not making this up. I have seen grown men and women do exactly this. I have kicked otherwise promising shooters off of a team for having bad attitudes, because attitudes are contagious.
Not only is this incredibly poor sportsmanship, but it's also retarded. Imagine how that person, who is already pissed, feels when he or she finds out that everyone else on the line at the time blew the same wind call on that same shot, and they had still been in the running for a potential win until they simply quit doing their best? They became undisciplined and quit trying and quit fighting before the match was over. So now the person has gone from being pissed to being a basket case, and has a really long trip home. Think about that.
Here is my point; President Trump is a fighter and he hasn't given up the fight, and neither should we. It ain't over, because it ain't over until PDT says it's over. I don't think this is going to be solved quickly, and we might not be happy about it when it is, but we must at the very least do our best to support PDT right up to the conclusion of this mess, and not start anguishing now over what we think might be inevitable. This is precisely what the left wants us to do, and I am certain they take no small measure of satisfaction from seeing us do so.
He's been fighting for us all along and we owe it to him not to give up. So stay focused and stay unified. Do not quit, and for Pete's sake don't tell the opposition you're giving up and quitting. The time for rending garments and gnashing teeth is later, if need be.
OK. Sermon over.
******
Guns & Ammo
I have no idea what is going to happen. Nothing for at least a couple of months, but after that who knows, so use the time you have now wisely. If you are in the market for a self-defense weapon, you may no longer be in a position to wait on your first, second or even third choice. Waiting for things to go back to "normal" as far as ammunition is concerned is also probably not the greatest idea. A lot of people are having the same thoughts and are already in line ahead of you, right now. The picture may be clearer in a week or two and it may not. Either way I suspect we're in for a bumpy ride. The hour is late so get off of your ass is now if you haven't already done so.
******
Up first is our pal Chris from Delaware who sends us an observation on red dots, a topic we're seeing more of lately.
One of the commenters was asking about putting a red dot on an AR. Makes for easy acquisition but at anything after about 50 yards the dot will cover the entire bull and groups turn into patterns. Ask me how I know... Magnifiers greatly reduce this problem. Someone mentioned the Sig Romeo. I have the Romeo with the Juliet 4x magnifier on an AK. Excellent to 100 and quite good at 200. On a gong at 300. With cheepy Red Army Standard.
This is an excellent point. A big problem with optics is when the reticle subtension obscures the target, particularly at longer ranges. Either finer subtensions or a work-around as mentioned above might be needed. Something to think about when deciding on an optic for your particular application.
******
Next up our pal Sua Sponte continues testing .22LR ammunition.
Had a pretty good day out on the range today as I continue my 22LR performance testing. Maybe not super great results but a much better indication on what is going to do well at 100 yards and beyond.

Today I went with Geco 40g LRN, Aguila SE 40g CPRN and CCI Mini-Mag 40g CPRN.

Four targets each, four tables each target, three rounds per at 75 yards.

Geco best grouping: 1.174
Geco worst grouping: 1.748

Aguila best grouping: 1.28
Aguila worst grouping: 1.67

CCI best grouping: 0.975
CCI worst grouping: 1.412

Overall the best average was the CCI, which I expected, coming in at 1.17, the Aguila coming in second with 1.44 and the Geco just slightly behind the Aguila at 1.45.

I have not doubt all of these can be better performers and attribute the variations to what has been discussed here a multitude of times, practice, practice, practice, breathing control and trigger control. I also might have assumed that the brands producing sub-MOA at 50 yards were also going to do well at 75. Just adding on an extra 25 yards changes a great performer into a "what the hell?".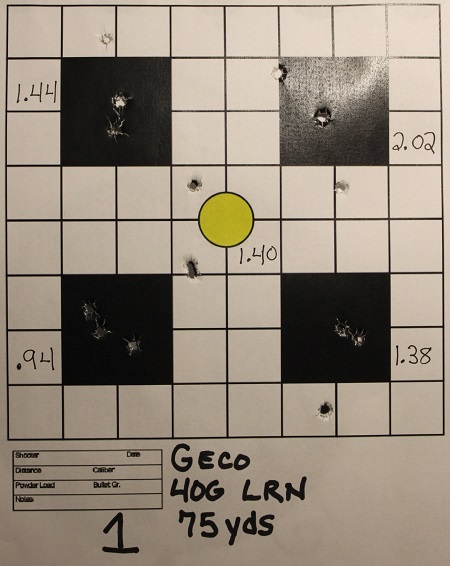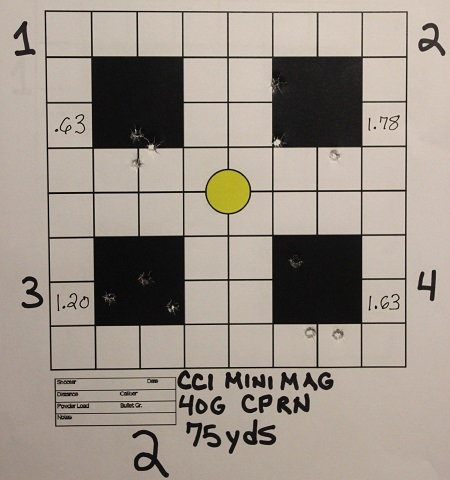 I'm always impressed with Sua Sponte's methodology. .22LR can be particularly finicky, so it pays to try a bunch and find the one which seems to work best in your firearm. You can only really do this by using a solid bench setup and meticulously recording results. The ammo that works great for you might not be so hot in your buddy's gun, so it pays to test!
******
Next up we have a nice range report from our pal
WTM
Went shooting today and it was almost as bad as was last Friday, which was a disaster. Rain was in the forecast for last Friday, but it didn't look too bad that morning. By early afternoon it had clouded up quite a bit and one could see that it WAS going to rain later. But, while on a cease-fire and everyone concerned was at the 100-yard targets, a gust front blew through unannounced and unexpected.

I've seen these in west Texas but never on the Gulf Coast. Winds went from maybe 5 mph to around 60 mph in a matter of a few seconds. It tore my targets off and - can you believe it - it wiped everything off of the bench except the sandbags. My range box, which weighs about 20 lbs, went tumbling, as did my spotting scope, a 50-round case of .300 Win Mag ammo, my rifle case, and a box of parts, batteries for the red-dot, and tools, most of which I never recovered. Everyone was in the same boat. Had to happen during a cease-fire, of course. But at least I had gotten the rifle sighted in just before the event.

Today's shoot wasn't much better, again due to the wind. No gust front but the cold front of the other day brought with it a steady 25-30 mph wind which again tore targets off. Between gusts, I DID finally get that AR-15 sighted in with the red-dot. Bore sighting had again been very high and far right. If we get a calm day anytime soon I will verify the sight-in.

Having given up on hard cast lead bullets for the Marlin 1895 .45-70, due to its Micro-Groove rifling, I brought my heavy loads of jacketed, these being 400gr FN slugs with a MV of circa 2000fps. Below is the target at 100 yards.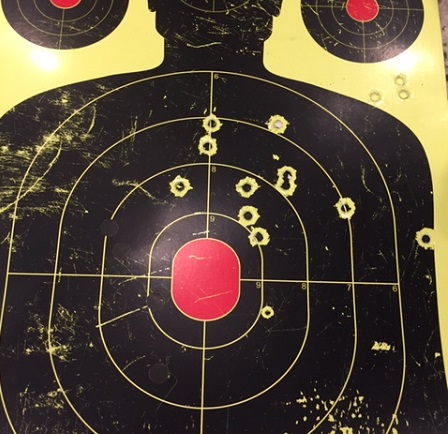 It turned out that it took 19 clicks to the left to get centered. My last shot was the lower of the two on the centerline. It was also quite high to begin with, elevation having been set for 500gr slugs at 1200fps. I cranked elevation down 10 clicks before firing a shot and it was still quite high, as seen by the holes in the yellow. Heh - it was set so far right that I actually hit the target to the right of this one to begin with.

I'll have to check it all out again on that same calm day, but this rifle is good to go for now. This rifle is my wounded-bear-in-the-woods go-to gun, and it is a thumper. And wasn't it in Jurassic World that a .45-70 was used against the dinos? I believe it, as also does my right shoulder after 17 rounds of maximum loads.
Holy crap, WTM! That sounds like quite a FROPA! Hope you didn't lose too much and nothing was damaged.
******
Next up, our pal Jane D'oh does what any proud Mom would do, and sends us a picture of Doh Boy's latest acquisition.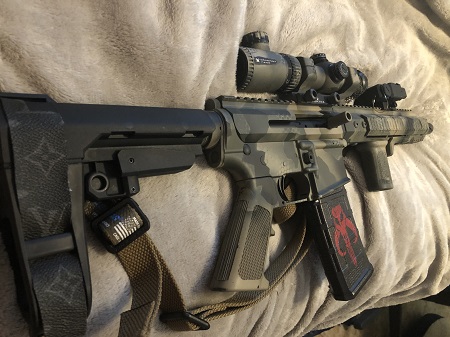 Thanks Jane and congratulations on the addition to the D'oh family!
******
Lastly, we have a question from our pal Diogenes.
I was enjoying a non-rainy day at the range the other day and after putting about 30 rounds through my Israeli Arms Baby Eagle 9mm, I pulled out my little Ruger Bearcat 22 revolver. I got it from my dad after he passed away years ago. It fits small in my hand but is an easy shooter and fun to plink with.

However...
I fired 50 rounds through it... all old ammo but which had been stored indoors. I found that almost every shot at 30 feet was high and to the left while shooting with my right hand and with the left supporting. By high and left it was easily 6 inches by 6 inches. The groupings were good. The weapon has a blade front sight with no obvious damage, and the rear sight is a small channel along the top of the piece. I tried adjusting my touch on the trigger, slowing the pull, changing the grip, and changing my stance. I even used the side of the shooting lane to steady me which helped a bit, but not much. I thought my sight picture was proper. Top of the front blade even with the tops of the channel so that the blade fills the channel with just a touch of target around the edges. Clearly whatever I am doing, I'm consistent.

Am I missing something aside from the bullseye?
So what do you handgun experts think? Is it the grip, the gun, the ammo, or are Diogenes' socks too tight? Let's help a brother out!
******
Here's a video of bullet impacts in slow motion. The music sounds like it's from a porn flick, or so I'm told, but it's pretty cool!
******
Link-O-Rama
I'm really very seriously not kidding around anymore. Buy Ammo
AmmoSeek - online ammo search tool
GunBot - online ammo search tool
SG Ammo
Palmetto State Armory
Georgia Arms
AmmoMan
Target Sports USA
***Mail Bag***
With things as they are, it's only sensible to make your ammo last twice as long! [h/t Hrothgar]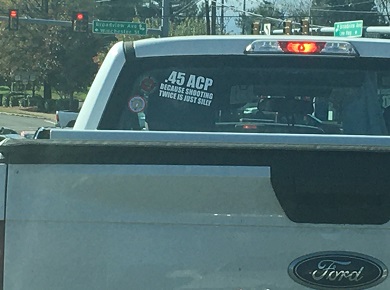 ******
Please note the new and improved gmail account morongunthread at gmail dot com. An informal Gun Thread archive can be found HERE. If you have a question you would like to ask Gun Thread Staff offline, just send us a note and we'll do our best to answer. If you care to share the story of your favorite firearm, send a picture with your nic and tell us what you sadly lost in the tragic canoe accident. If you would like to remain completely anonymous, just say so. Lurkers are always welcome!
That's it for this week - have you been to the range?


posted by Open Blogger at
07:00 PM
|
Access Comments