« Wednesday Overnight Open Thread (11/4/20)
|
Main
|
Mid-Morning Art Thread »
November 05, 2020
The Morning Report - 11/5/20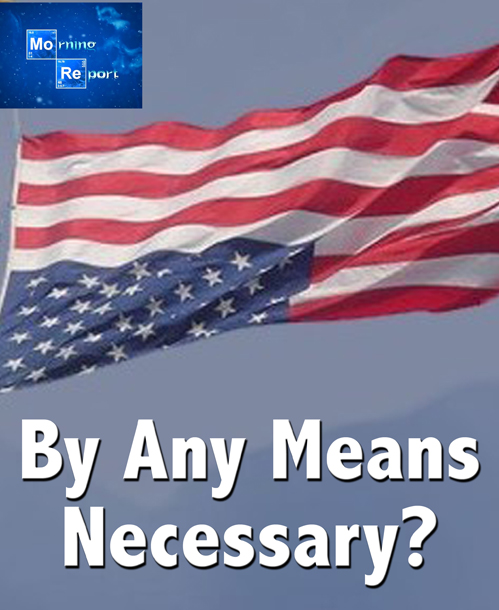 Good morning, kids. Day Two of what I pray is not the descent into Year Zero begins with rage and confusion. The situation on the ground is that the lawsuits are flying while the Democrat Deep State Machine stands on the nearly dead corpse of the republic to proclaim the system works and we should all come together and heel, er, heal. Or some such rot. Most outrageously, those controlling the zombified Joe Biden have a Biden-Harris Transition website already live. If there is a G-d in Heaven, then that kind of arrogance and hubris I pray comes back to haunt them.
As it is, it is taking every ounce of energy I have to fight the sinking feeling that they will get away with this. I should have sensed this was going to happen but even after everything we had been through with this President and before, I really didn't think what they just did was possible. Oh, election meshugas happens and it does affect outcomes here and there, or on a national level in some fluke cases like 1960 or almost in 2000 where sanity (or so we thought at the time) prevailed. But for blatant election tampering and voter intimidation in PA and AZ, the national news media to blatantly call races for Biden that were still active while delaying the calls for major victories for Trump, and then for those five or six crucial states to stop their counting for no legitimate reason at all (a burst water pipe?!), then suddenly "discover" tens of thousands of ballots, with no signatures or even postmarks that are 100% for Biden and ZERO marked for Trump, that is not random. That is a coordinated attack to sabotage the election by the Democrat Deep State Globalists. They knew weeks ago that Trump was going to at a minimum have a clear win of the Electoral College and perhaps even a narrow margin of the popular vote if not a landslide. The pollsters didn't "get it wrong." They were spewing propaganda as part of a psychological warfare operation to depress Trump voters. As if the tens of thousands of rally attendees going bonkers for Trump would believe it.
Look, Malig-Nancy Pelosi may be a classless, corrupt daughter of a mobster who's only marginally more articulate than Goofy Joey Biden. But back in July, she had this to say about President Trump:
"The fact is: Whether he knows it yet or not, he will be leaving."
She didn't say, "I'm confident he will be defeated," or "Joe Biden is beating him badly in the polls so there's no way he can win," or something like that. The words she used were a tell. Yes, you can argue that she suffers Trump Derangement Syndrome, but I think that it was her TDS that got the better of her and she tipped her hand as to what was up. What I'm driving at is that everything I cited above proves that what happened on Tuesday was a coordinated, multi-pronged, pre-planned event. Pelosi's words just underscore it.
Traitorous, treasonous vermin like Stanley McChrystal are expert at staging so-called "color revolutions" that may resemble grassroots uprisings of "the people" against "tyrants." He is part of the Deep State Globalist cabal and I would not be surprised if the election thievery, along with the threatened violence of the Antifa/BLM street thugs who will be portrayed by the Industrial Agitprop Media disinformation complex as "ordinary citizens fighting for their freedom" as well as the former's election night disinformation op are all interconnected. From everything I have seen over the past four years, you can bet your bottom social credit score credit on it.
So, what can we do? We have a column from Spengler (David Goldman) assuring us that with the Senate still in GOP hands and perhaps a razor thin margin either way in a divided House, as well as a 5-4 or even 6-3 SCOTUS because of ACB, a Joe-Kamal administration will be completely handcuffed for four years. With all do respect to Spengler, these fucking criminals just did the unthinkable and actually stole a national election after spending four years doing the other unthinkable and attempt to illegally reverse the previous election. Do you really think they are going to be bothered by the niceties of the Constitution, regular order, tradition and - wait for it - ethics?!
We also have Miranda Devine insisting "the Dems will not get away with this" as well as the outstanding Michael Anton stating "It will all go according to plan -- unless we stop it." Well, Mr. Anton I am open to suggestions. To my mind, the only way to do that requires the five or six armored or airborne divisions to seize the statehouses and legislatures in question, arrest every damned Democrat in sight, seize all the ballots and/or thumbdrives (evidently that's a thing in Michigan) and declare Donald J. Trump as the winner based on the real projections at about the time on Tuesday night when the Chinese yuan crashed.
And since that is probably not going to happen except in my mind, I don't know really what can be done. The whole thing is now a hot mess of phony ballots, real ballots and the rules and regulations of six states, some of them changed literally almost at the last second before election day to make it impossible to reject clearly bogus ballots. How are the courts or Supreme Court going to clear that up, assuming we have a majority that wants to do so?
Look, for better or worse, in elections past when things did not go the way I wanted, I swallowed, bit the bullet and then moved on. But I never thought in a billion billion years that the American system of free and fair elections would ever be anything but that. And here we are, on par with Zimbabwe in 1980, or Mexico for nearly 100 years with the PRI (which is indeed where we are headed). Yes, the average Democrat voter is upset about what happened NOT because their party sabotaged the election but that they did not get the clear victory they were promised. And now, if Trump does in fact survive this not-so-soft coup attempt, it will further tear the country apart. Not that there is any love lost between the Left and America as founded (or what vestige is left of it). Funny how if Trump does win the shrieking about how the Constitution was ignored or destroyed will be deafening. Ironic, and disgusting at the same time.
It's one thing when the thug terrorists of Antifa/BLM say "by any means necessary." It's quite another when what is supposed to be one of the two major American political parties says it as well and takes it to heart. They lost this election. They know they lost this election. Worse for them, they have lost a good chunk of their base - the disaffected, disenfranchised and so-called "marginalized" "victims" ironically enough who are that way because of Democrat policies. The Deep State machinations of power, thievery and perversion wrapped in privilege also took a massive hit insofar as it was exposed to the people. They lost this election months ago if not a year ago before the phony pandemic hit. They lost it when Trump stated to their faces and for the whole world to see on January 20th, 2017 when he promised to drain the swamp.
But the swamp is wide and it is deep, as we have now seen. So I ask Ms. Devine and Messrs. Goldman and Anton, who are no doubt sincere in their words, yes let's fight back and not let this happen.
The question is "HOW?"
Latest links about what's happening where below. Have at it.


THE 2020 DEMOCRAT ELECTION HEIST
NOTE: The opinions expressed in some links may or may not reflect my own. I include them because of their relevance to the discussion of a particular issue.
ALSO: The Morning Report is cross-posted at CutJibNewsletter.com if you want to continue the conversation all day.
Follow us on Twitter: @CutJibNews
Follow us on Instagram: @Cutjibnewsletter


posted by at
07:21 AM
|
Access Comments