« Local Senile Old Man Confuses One Granddaughter For Another
|
Main
|
Trump Takes Florida. Is Georgia Next?
Did Fox Blow Its Virginia Call?! »
November 03, 2020
TRUMP WINS FLORIDA
Called by Newsmax.
Update, from my Florida polling expert: Trump won in 2016 by 1.5%. My expert predicts a 3+% win this time. He points out that no matter who wins in Florida, it's a razor-thin margin.
Except this time.
If Trump has extended his lead in Florida -- and remember, supposedly all those seniors in Florida were going to turn on him due to covid -- it seems likely he's keeping or extending most of his other 2016 vote levels.
A commenter pointed out that the NYT "needle" had Trump with a 78% chance of winning Georgia.
Which was supposedly a solid prospect for a Biden pick-up.
If Georgia is a fairly solid Trump win -- we'll have to see about that -- what the hell do we say about the polls?
@realDonaldTrump

WE ARE LOOKING REALLY GOOD ALL OVER THE COUNTRY. THANK YOU!
Enemy-comms Fox has already called Virginia for Biden. This reminds me a lot of their early call of the Congress for the Democrats in 2018, going out of their way to depress the Republican vote everywhere west of the east coast.
Chris Stirewalt face was smugly obese as he made that call.
Paul Sperry points out that Fox is -- as many have realized -- leftwingers top to bottom:
@paulsperry_

5h
BREAKING: Records reveal the analyst who will run Fox News election decision desk is a registered Democrat who voted for Hillary Clinton in 2016 & gave Democrats more than $4,000, including $1,525 for Obama. Arnon Mishkin will announce states for Biden or Trump on election night
Meanwhile, Fox is not calling Florida for Trump -- while the New York Times "needle" says that Trump has a better than 95% chance of winning Florida at this point.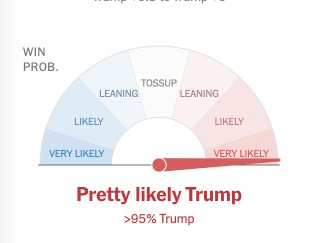 That's a screenshot of their running prediction.
And while even downticket Democrat House members are suddenly in danger:

But Fox News leftwingers were Johnny On the Spot with that Virgina call, huh?
I would turn off Fox. Vote with your fingers. Put on Newsmax or OANN.
Democrats seem nervous about Minnesota:
The New York Times claimed that the constitution entrusted the power to determine the presidential winner to the fucking media.
They then deleted that claim.