« Saturday Evening Movie Thread 10-24-2020 [Hosted By: Moviegique]
|
Main
|
EMT 10/25/20 »
October 24, 2020
Saturday Overnight Open Thread (10/24/20)
***
The Saturday Night Joke
The madam opened the brothel door in Elko County, Nevada, and saw a rather dignified, well-dressed, good-looking man in his late forties or early fifties.
"May I help you, sir?" she asked.
"I want to see Valerie," the man replied.
"Sir, Valerie is one of our most expensive ladies. Perhaps you would prefer someone else," said the madam.
"No, I must see Valerie," he replied.
Just then, Valerie appeared and announced to the man she charged $10,000 a visit.
Without hesitation, the man pulled out ten thousand dollars and gave it to Valerie, and they went upstairs. After an hour, the man calmly left.
The next night, the man appeared again, once more demanding to see Valerie.
Valerie explained that no one had ever come back two nights in a row as she was so very expensive. There were no discounts and the price was still $10,000. The gentleman did not blink an eye. Again, he pulled out a wad of cash, gave it to Valerie, and they went upstairs. After an hour, he left.
The following night the man was there yet again. Everyone was astounded that he had come for a third consecutive night, maybe a record in the history of brothels in Nevada, which date back into the early 1800s. But without hesitation he paid Valerie the ten grand and off they went upstairs.
After their session, Valerie said to the man, "No one has ever been with me three nights in a row. Where are you from?"
The man replied, "Billings, Montana."
"Really," she said. "I have family in Billings."
"I know," the man said. "I regret to tell you, but your sister died, and I am her attorney. She asked me to give you your $30,000 inheritance."
The moral of the story is that three things in life are certain:
1. Death
2. Taxes
3. Being screwed by a lawyer
(H/T Legally Sufficient)
If you are offended...........
***

An interesting Saturday night tune..............

(H/T Isophorone Blog)
***

The ONT Is Always Looking Out For You TM Milk, it does a drink good.

Putting milk in a cocktail either sounds gross or way too fancy to pull off at home. But it's delicious — and far easier to make than you'd think

I can still remember the night I discovered milk punch. It happened six years ago, when I stumbled into a luxurious-looking restaurant in Downtown Los Angeles — the kind of place that has extravagant leather banquettes, 1920s chandeliers and diners in black bandage dresses.

Flipping through the (leather-bound) menu in an awkward corner of the crowded bar, I spotted it: "English Milk Punch," featuring ingredients like funky Smith & Cross rum, bourbon, green tea, tropical fruit and, strangest of all, something called a "milk clarification." If I had been more sober, I probably would've asked about this unseemly combination of tastes. But I wasn't, so I stuck my hand up and blurted it out.
***


Maybe I should move to the Moon. Nah, just kidding Verizon.

The moon will soon have cell service

NASA and Nokia plan to install it in 2022.

If NASA's Artemis program succeeds in returning humans to the moon in 2024, the astronauts may have the option of tweeting their first words before leaving their first footprints.

Last week, the US space agency announced a $14.1 million contract with the telecommunications company Nokia to build an LTE cellular network on the moon, one of 15 NASA grants awarded this year to private companies to boost the development of new space technologies. The hardware could touch down in late 2022 and would not need human hands for deployment or configuration, according to Nokia. The network would provide a speedy connection to any devices within range of a base station.
***
Are you a Deadhead? Be careful out there.

When we think of Deadheads, we tend to think of genteel hippies preaching peace and love. But as a new podcast called Dead and Gone points out, there's an underlying darkness at play thanks to the fact that a surprising number of Grateful Dead fans have tragically disappeared from shows by the band or even wound up murdered over the years.

Hosted by Jake Brennan and Payne Lindsey, the podcast explores some of the many unsolved mysteries related to Deadheads, as well as offering a broader look at how, as The Daily Beast puts it, "susceptible Deadheads, in their free-wheeling nature, have been to predation."
***

Once upon a time, there was a free lunch. To Evade Pre-Prohibition Drinking Laws, New Yorkers Created the World's Worst Sandwich. It was everywhere at the turn of the 20th century. It was also inedible.

NEAR THE END OF THE 19th century, New Yorkers out for a drink partook in one of the more unusual rituals in the annals of hospitality. When they ordered an ale or whisky, the waiter or bartender would bring it out with a sandwich. Generally speaking, the sandwich was not edible. It was "an old desiccated ruin of dust-laden bread and mummified ham or cheese," wrote the playwright Eugene O'Neill. Other times it was made of rubber. Bar staff would commonly take the sandwich back seconds after it had arrived, pair it with the next beverage order, and whisk it over to another patron's table. Some sandwiches were kept in circulation for a week or more.

Bar owners insisted on this bizarre charade to avoid breaking the law—specifically, the excise law of 1896, which restricted how and when drinks could be served in New York State. The so-called Raines Law was a combination of good intentions, unstated prejudices, and unforeseen consequences, among them the comically unsavory Raines sandwich.
***
The ONT Musical Interlude
Born on this day: 24 Oct 1936
Bill Wyman, bass, The Rolling Stones (1969 UK & US No.1 single 'Honky Tonk Women', and over 30 Top 40 UK & US singles and albums. Quit The Stones in 1993, 1981 UK solo No.14 'Je Suis Un Rock Star'). Now tours with his backing band, The Rhythm Kings, which has featured Albert Lee and Georgie Fame. via thisdayinmusic.com
&&&
On this day: 24 Oct 2018
US singer, songwriter Tony Joe White died of a heart attack on, at the age of 75. He is best known for his 1969 US No.8 single, 'Polk Salad Annie' (also recorded by Elvis Presley and Tom Jones) and 'Rainy Night in Georgia' which he wrote but was first made popular by Brook Benton in 1970. He also wrote 'Steamy Windows' a UK No.13 single for Tina Turner.
***

Talk about two people who should not have reproduced. Genius Award Winners.

A Swiss couple has named their baby daughter Twifia after Internet start-up Twifi and won themselves 18 years of free wi-fi internet.

The young couple responded to a Facebook ad from Twifi, a Swiss Internet provider, which dared parents to name their newborn Twifus (if it was a boy) or Twifia (if it was a girl) in exchange for 18 years of free internet. The parents, aged 30 and 35, ultimately decided that Twifia wasn't that bad of a name, and the thought of getting free internet for 18 years and putting that money in a savings account for their daughter was appealing. So after thinking it over, they decided to make it official, putting down 'Twifia' as their daughter's middle name on her birth certificate.
***

Of course dog is mankind's best friend. Tonight's Feel Good Story of The Day.

A drunk woman came home from a long and obviously at least somewhat successful night out and waiting for her was her loyal dog, who had to, as it turns out, become her impromptu caretaker as well.
***
Oh Shit moments, via forklift operators.............

***
Tonight's ONT has been brought to you by Pumpkin Overdosing.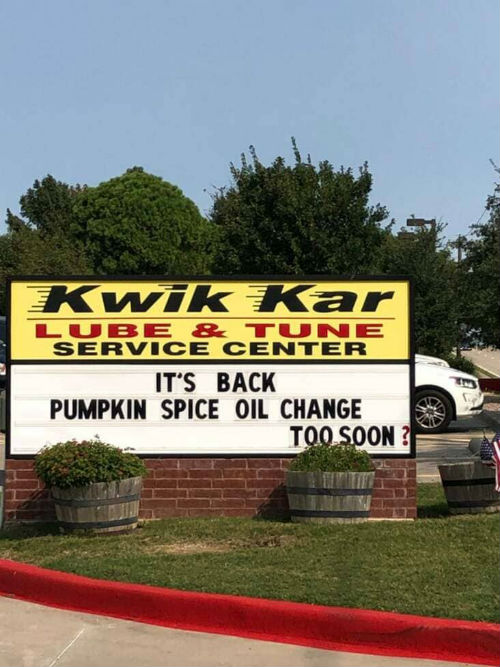 Notice: Posted with permission by the Ace Media Empire and AceCorp, LLC. No curfews, no pants, no problems, eh?

posted by Misanthropic Humanitarian at
09:55 PM
|
Access Comments