« Sunday Overnight Open Thread (10/18/20)
|
Main
|
Mid-Morning Art Thread »
October 19, 2020
The Morning Report - 10/19/20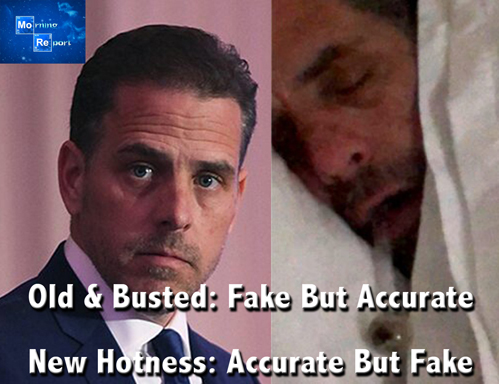 Good morning, kids. Monday and with 15 days until Election Day, the Joe Biden/Hunter Biden Ukraine Scandal has definitely not been contained by the Democrat-Left Media Complex. The tell is the media spin which is that Rudy Giuliani is either wittingly or unwittingly acting as a Russian agent to spread disinformation about the Bidens. Never mind the fact that Hunter Biden never denied that he did in fact drop off the laptop to the Delaware computer repair shop, that the laptop was attempted to be retrieved by none other than Hunter Biden's lawyer, that the photos, many of them sexually explicit and perhaps involving underage females and more to the point, that first they claimed they were faked but then they said the computer was hacked (if it was hacked, that's an admission that they're not fake), a damning e-mail about "remuneration packages" involving the Chi-Coms has in fact been authenticated by Hunter's business partner, and never mind the fact that while vice president Joe Biden boasted to a group at either the World Economic Forum or some other major globalist gathering that he blackmailed the Ukrainian government into firing a judge looking into Hunter's and Burisma's corrupt dealings or else risk having a $1 Billion aid package quashed and that Barack Obama knew and approved of the extortion.
Never mind all of it because, OrangeManBad!!! With this blatant criminality, the Democrat-Media Complex has now evolved its standard line of "fake but accurate" into "accurate, but fake."
There's another big tell. With something that could not only potentially destroy Biden's chances at re-election, even with the big cheat already in motion, or potentially land them, other family members and associates in prison (though let's be real; the odds of that happening are astronomically slim) where is the $1 Billion libel suit against The New York Post, the reporters who broke the story, Rudy Giuliani and all the others who went public with this? If I were Joe or Hunter Biden, I'd've called a press conference within a nanosecond of the story breaking to announce the lawsuit, demand a front page retraction and apology and go on a tear against Donald Trump, KGB Master Spy and Collaborator.
But that didn't happen, did it? In fact, the only thing that did happen was that Facebook and Twitter immediately muzzled The New York Post, White House Press Secretary Kayleigh MacEnany, prominent Republican Congressional leaders and other major conservative voices and outlets to squash the story. Naturally, it was under the pretext that the evidence was fake news and Russian disinformation. But of course, Islamic terrorists beheading people, BLM/Antifa beating people up and setting cities on fire, the President's illegally acquired and confidential tax returns, the lies and distortions about what he didn't say in Charlottesville, or about the WW1 dead and every other cheap, low smear is perfectly fine and above board.
For those not aware, Facebook, Twitter, Google and many other tech giants are joined at the hip to the Chi-Coms, both economically and politically. Look up social credit scoring. They have now a vested interest in destroying President Trump, so they can complete the transformation of America into a neutered, globalist outpost with the Chinese essentially ruling the world as a hegemon. That is not tinfoil hat nuttery; that is a verifiable fact of just what is at stake here. And speaking of the anti-media media, this just sort of crystalizes (or Kristol-izes) who and what they are. From Miranda Devine at The New York Post:


For three days, Joe Biden refused to say a word about The Post's exclusive stories last week linking him to his son Hunter's business deals in the Ukraine and China.

It wasn't till 7:45 p.m. Friday, at the Detroit airport that the former vice president briefly stopped for questions and CBS reporter Bo Erickson asked about the damning e-mails found on Hunter's laptop, which was abandoned last April at a Mac repair shop.

"I have no response," snapped Joe. "Another smear campaign. Right up your alley."

A video of Joe's remarks on Erickson's Twitter account has been viewed 6 million times.

But for some in the media, Erickson was at fault for asking the question.

"Bo, this is your News Director," replied Steve Holzer, a UCLA journalism instructor and news director who has worked at CBS in the past, but not currently, according to his LinkedIn profile. "The right question is, what do you think of the report that Rudy Giuliani used Russian disinformation to try to smear your family 19 days before an election?"

That tweet tells you everything about the dishonest response to our story from much of the establishment media.
Bingo. The question is, the perception of the world has been so poisoned and so skewed by decades of indoctrination in the schools and in the culture that I often wonder if these people actually believe the tripe they put out or do they know it's all tripe and just do it to advance the cause? I really now believe that they do in fact believe it. How else does one explain the Antifa goon from the Project Veritas sting video who believes lying, cheating and violence are all justified because "Gott Mit Uns?"
Now, come election night, I'm going to have to seal myself up in my house because New York and every other damned Democrat metropolitan fuhrerbunker is going to be set alight when Trump wins. I realize that the DOJ and FBI have their hands full, what with trying to investigate Rudy Giuliani as a Russian agent for passing off a fake laptop as the truth (SARC) but now might be a good time to start trying to interrupt and break up the prepositioning of bricks, baseball bats, gasoline and firearms in advance of Election Day. Right? Sheesh.
Anyway, lots and lots of links on this, other Democrat scandals, the Chinese Lung AIDS psy-op, Amy Coney Barrett, election news including the upcoming debate with this Leftist propaganda hack Kristen Welker set to interfere and smear Trump while propping up Goofy Joey Bivalve, and lastly Ben Sasse, go fuck yourself.


BOMBSHELL BIDEN CRIME FAMILY REVELATIONS
NOTE: The opinions expressed in some links may or may not reflect my own. I include them because of their relevance to the discussion of a particular issue.
ALSO: The Morning Report is cross-posted at CutJibNewsletter.com if you want to continue the conversation all day.
Follow us on Twitter: @CutJibNews
Follow us on Instagram: @Cutjibnewsletter


posted by at
07:35 AM
|
Access Comments