« Food Thread: Noodles With Pork; Pork With Agave; Sauce With Pork. Is There A Theme?
|
Main
|
Sunday Overnight Open Thread (10/18/20) »
October 18, 2020
Gun Thread: Headed to Texas Edition! [Weasel]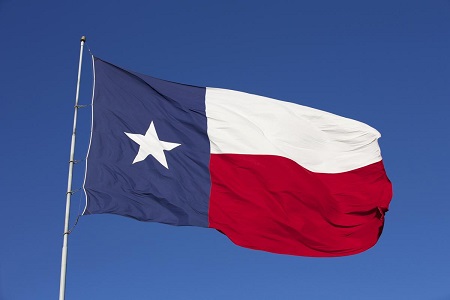 Howdy Pardners! When you read this Sunday evening I will be at Peak Packing Frenzy because I'm headed south early Monday morning for Texas. I'm driving this time for a couple of reasons; I can take more gun stuff, and although I love to fly, the airlines have managed to eliminate any and all enjoyment to be found in air travel. Fortunately, I don't mind driving and will just cruise along listening to the radio and watching gladiator movies. No problemo!
So I will likely be in and out of the comments this evening. That's the good news. The sort of bad news, if you want to call it that, is the Gun Thread for the next couple of weeks is going to be a little on the thin side. I will be busy with TXMoMe stuff all next week, and will be posting next Sunday's edition from the road on the way home. I may have to rely on re-runs of some previous GT content, so apologies for that in advance.
On the subject of Texas, I cannot say enough about the TXMoMe and how excited I am that it's almost here! Ben Had along with our gracious hosts RancherBob and Cow Horse Queen set the universal standard for MoMe's. I think this is my fourth trip to Texas and each year they get better and better! It's particularly fun to watch the new, first-time MoMe arrivals, and see the expression on their faces as they meet one new online pal after another. So if you are at all inclined to meet your fellow Morons, you really do owe it to yourself to attend a MoMe sometime. Large or small, they are always a ridiculous amount of fun!
And shooting? There will be shooting galore, with separate rifle and handgun ranges again this year. We have two very accomplished shooters, Jim Sunk New Dawn and Eromero, running a new and improved handgun range including a course incorporating shooting and movement. On the rifle range, I will be trying not to screw people up too badly with targets between 100 and 500 yards. For those attending, I look forward to seeing you on the range soon!
So with that, let's see what we have below, shall we?

Something we have talked about a lot, particularly lately, is ammo and how much is enough. This week I have a related question for you all, and that's what you're planning to do if a critical component on your firearm breaks. All the ammo in the world isn't going to do you any good if your firearm cannot reliably load and shoot it. You can be perched atop a veritable mountain of ammo and if your firearm is hosed, then you are out of the game, plain and simple.
So what do you do? There is probably a realistic limit on what spare parts you can reasonably be expected to have on hand, but I will tell you what I do. I identify a few firearms which I'm likely going to want to be able to return to service quickly in the event something breaks, then I concentrate on those firearms. There are a few parts that are subject to more wear than others, and I have spares on hand for those parts. I'm talking about springs, firing pins, assembly pins, grip screws, spare magazines, etc... A part may not even wear out or break, but tell me you've never launched a spring across the room when cleaning a gun. Truthfully, this should be as much on your mind as having a sufficient reserve of ammunition. There are resources to help you determine what replacement parts are a fit for your particular firearm. If you are having trouble, start with the manufacturer or a parts supplier such as Brownell's, which have technical support departments for this very reason. Entire replacement part kits containing frequently needed parts are even available for some firearms, so look around.
Once you have identified and acquired the parts you need, label everything clearly including which weapon the part is intended to fit. Keep these parts separate from all your other stuff, and do not forget a small tool kit. Here I'm referring to a good set of gunsmithing screw or torx drivers, a small pair of needlenose pliers, a magnifying glass for those over 29, a brass hammer and a small assortment of punches. Think about what you might need before you need it.
Here's a good video on spare part considerations for the AR-15 by Brownell's [h/t - JT]
This will get you thinking in the right direction. Remember, if you have a spare, chances are you're never going to need it!
******
Next, our pal Sua Sponte continues his mission to find the best .22LR ammo:
What a great day to have been outside and on the range. I had a "Patriot" box of CCI polycoated (due to the polycoat being red, white and blue) ammunition on the shelf and thought, let's throw this in the mix. I had some doubts due the coating that it might cause destabilization at 50 yards, but I think it did well, maybe not precision and distance well, but well enough. Maybe give it another run through on Monday.

Overall for four targets with five tables each, three rounds each; 1.132" / 0.906" / 1.008" / 1.244". Again, not the greatest, but workable.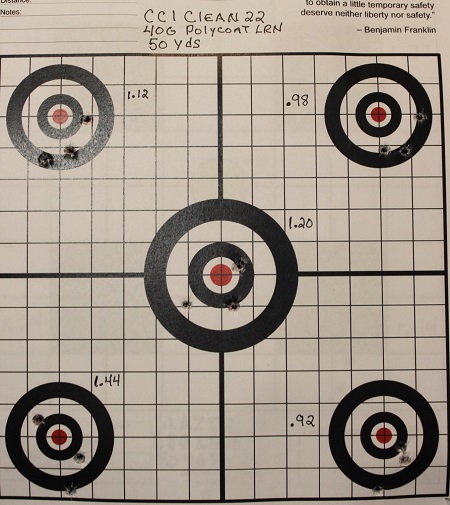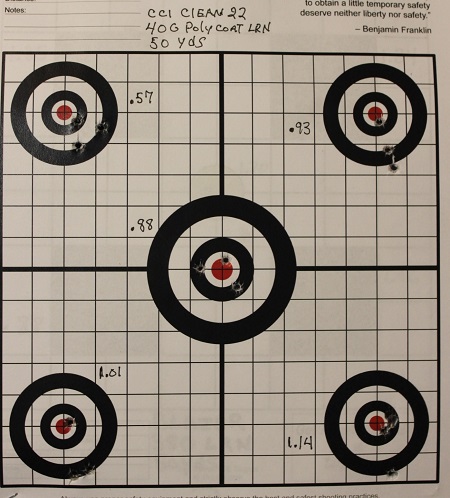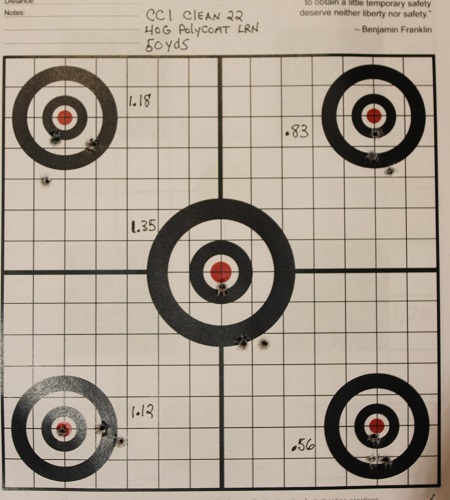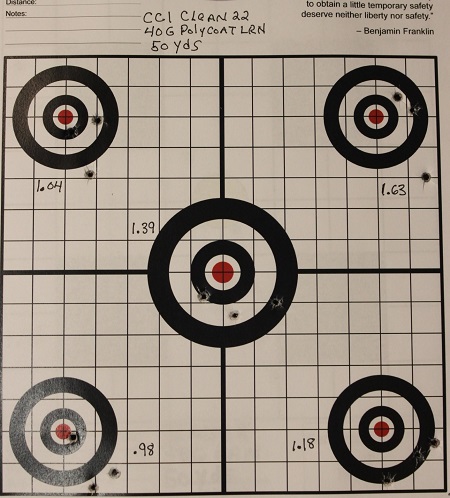 Thanks for sending these in, Sua Sponte!
******
I find these videos fascinating, even though I have a general idea how the firearms function internally. Here's one on how the AK47 innards work.
******
Q & A
I get a fair number of questions by email here at the Ol' Gun Thread, and have usually just answered them directly without including them in a thread. That's probably stupid of me because there might be others out there wondering the same thing, so I will start including a few here from time to time, without attribution. I am more than happy to answer your questions, so please always feel free to email me! If you prefer, you can also simply include a note that something is not for publication or that you want to remain anonymous, and I will be happy to oblige. Seriously, I'm happy to help if I can, and if I don't know an answer I will let you know that too!
So here are a couple of recent ones:
Q: This weekend you covered how much ammo you should collect before you really hit the upper limit but I remember reading in a previous thread that ammo that gets older has issues and should not be used. So the question is how long should you keep ammo before turning it around an using it/replacing it with new?
A: I routinely shoot ammunition that sixty years old, or older. The truth is, it doesn't go bad unless it's really stored improperly. Improper storage would be in high humidity or anywhere with large temperature variations. Ammo stored in your home will be good for decades as long as it's kept in a cool, dry place.
Q: I was wondering if magnification changes zero - specifically, does changing the magnification of a variable power scope require a new zero for each magnification setting, or is zero a constant?
A: Changes in scope magnification will not affect the zero, but it will affect the ability to use the reticle for ranging solutions. Second focal plane scopes only range accurately at one fixed power, typically 22x, while first focal plane scopes will range accurately across all magnifications. With either type, once you have established a good zero, it should be fine at all magnifications. Remember, if you switch ammunition, you must re-establish the zero.
These are just a couple to get the ball rolling. If I can't answer a question, I may toss it out here for you all to work on. Don't just sit there wondering, get an answer!
******
Next our pal Scuba_Dude sends us a video on red dots sights. The instructor in the video was S_D's instructor in one of the recent Sig Sauer handgun classes he attended. I also like Colion Noir's videos in general - notice his slow and methodical trigger reset after each shot. Very deliberate and controlled. Don't ba a spaz on the trigger.
Thanks Scuba_Dude! See you in Texas in a few days!
Ammo

Our pal Blake recently passed along a note that he'd recently purchased ammo at the CMP store. A quick check of the CMP Website shows handgun and rifle ammunition in most all popular calibers available at realistic prices, with free shipping on orders over $100. The only caveat is you must belong to a CMP affiliated club to make a purchase, however, membership in most NRA state associations will fulfill this requirement. If you aren't a member of your state association, you should be, and here's a great reason to join!
Great find, Blake! Thank you!
******
Pointy Things
Next our pal sock_rat_eez sends us a nice example of a pointy thing from his personal collection.
First one is an old favorite from my urban days, the Al Mar Wild Hair ... made to look like the end of a comb sticking out of your back pocket, just like the neighborhood greasers back when I was a yoot.
Nice, sock_rat! Thanks for sending this in!
******
Link-O-Rama
I'm really very seriously not kidding around anymore. Buy Ammo
AmmoSeek - online ammo search tool
GunBot - online ammo search tool
SG Ammo
Palmetto State Armory
Georgia Arms
AmmoMan
Target Sports USA
***Mail Bag***
This week our pal Mr. Charles B. Dildo shows us how to become a pirate!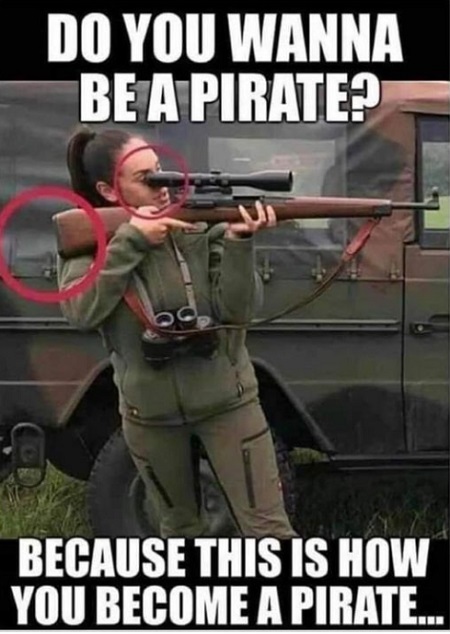 ******
Please note the new and improved gmail account morongunthread at gmail dot com. An informal Gun Thread archive can be found HERE. If you have a question you would like to ask Gun Thread Staff offline, just send us a note and we'll do our best to answer. If you care to share the story of your favorite firearm, send a picture with your nic and tell us what you sadly lost in the tragic canoe accident. If you would like to remain completely anonymous, just say so. Lurkers are always welcome!
That's it for this week - have you been to the range?


posted by Open Blogger at
07:00 PM
|
Access Comments