« First-World Problems...Part Toru Tekau Ma Warui
|
Main
|
Gun Thread: Headed to Texas Edition! [Weasel] »
October 18, 2020
Food Thread: Noodles With Pork; Pork With Agave; Sauce With Pork. Is There A Theme?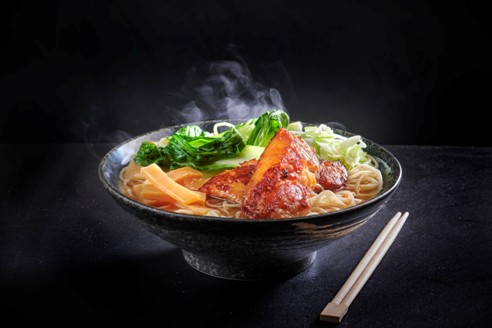 I haven't had good ramen in a very long time. And I blame the Wuhan nonsense for this huge hole in my recent gastronomic experience. Unfortunately there is nowhere to go for the good stuff except into the belly of the beast, and I'm not going out to dinner or lunch or breakfast or a snack or a beer or a cocktail in NYC. I'm just not.
But I can still think about how good a well constructed bowl of broth and fatty pork and maybe a bit of cod and some great noodles and a few other marvels can be. The bowl in the photo is miso cod, but it was the prettiest picture, not the most appealing variety.
It's actually not too difficult to make for one's self, but it does take time to make the broth and the pork belly (my preferred fatty protein). The thing is, ramen joints, even the fancy ones, just aren't that expensive, so it certainly isn't a big cost savings to make it in your own kitchen.
It's fast food, no matter what the slim-hipped hipsters say. And it goes great with cheap beer, and doesn't require anything fancy in the way of presentation. Don't let them ruin it like they ruin everything else they touch!
******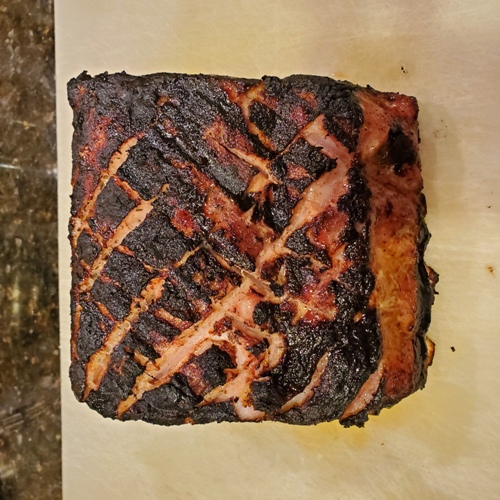 That's a four-bone pork roast, cooked for seven hours at 140 degrees (in honor of Sous Vide's biggest fan: Nurse Ratched), then finished on the grill with a Dijon/Agave glaze. At first glance the cross-hostaing seems to be an affectation, but I think it helps to render a little bit more of the fat cap and allow some of the salt and pepper and thyme to penetrate into the meat.
Or not. But the result s were pretty damned good, so that's my story and I am sticking to it.
The Agave syrup was in my cabinet for making cocktails. it never occurred to me to cook with it until recently, and I like how it tastes. I haven't compared it to honey or even brown sugar simple syrup, but let's face it, the sweetness goes wonderfully with pork, so I don't think it will matter what I use.

******
This is disgusting. I cannot imagine how it will taste, and I will never know, because it sounds too awful to try.
Trinidad Sour
sounds good until you check the quantity of bitters it requires. I thought it was a joke at first!
[Hat Tip: redc1c4]

******
Commenter "ALH" is teasing us. Lasagna is one of those simple but marvelous comfort foods that everyone likes. it's easy to make in large quantities, so it's perfect for those dinners that mysteriously morph into way too many people!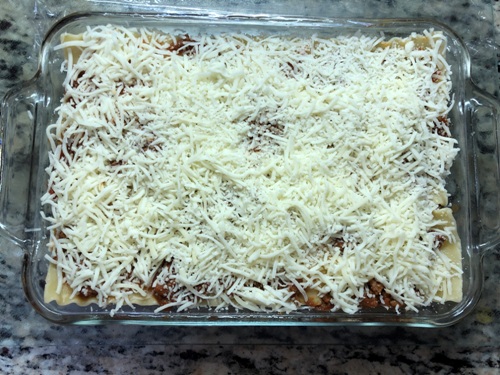 And here is the finished product!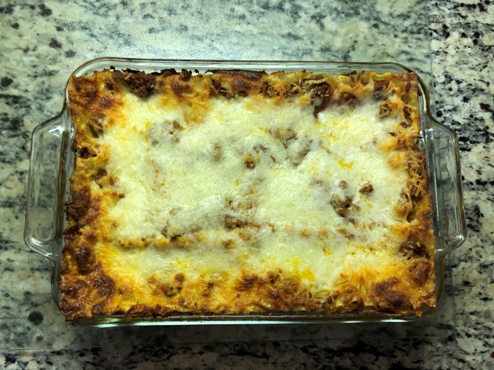 So...ALH...when's dinner? Just a few of us are coming.

******
From commenter and weird chef extraordinaire IrishEi comes the actual recipe she used!
I've attached the recipe I used for the Geschnetzletes a couple of weeks ago. The one I made was with pork, and I've made a couple of minor tweaks that I think work well.

I used some lean, boneless, center cut pork chops that I had on hand, trimmed them up well, then pounded them flat (like you would for schnitzel) before slicing them into strips. This kept the meat nice and tender.

The recipe calls for 1 cup of whole milk and 1 cup of cream but I've switched to using just 2 cups of whole milk. The cream was just a waste of money since the sauce came out way too thick and I ended up having to thin it with 2% milk!

And finally, I use Better Than Bouillon paste rather than bouillon cubes (that stuff is awesome.)
******
I have some vague memory of this guy, but did not realize how absolutely obsessed he is with hamburgers. And that is by no means a criticism, since it is sometimes a spectacular food. Too many of them are afterthoughts on menus, but an interesting burger executed well is very good eating.
A Burger Scholar Breaks Down Classic Regional Burger Styles
This was where I started down this particular rabbit hole, but I must admit that the steamed burger from Connecticut and the fried burger from Tennessee really intrigue me!
[Hat Tip: Misanthropic Humanitarian}

******
I had a couple of Philadelphia-area Italian deli sandwiches yesterday, and damn...they were great. Perfect bread-to-filling ratio, the brocolli rabe wasn't bitter and overdone, and the chicken cutlet was moist and just a bit crispy, which went perfectly with the excellent provolone. Not that crappy mass-market stuff that tastes of nothing. i mean the sharp almost crumbly stuff that you can find in good delis.
I am mostly eating a low-carbohydrate diet, but the occasional backsliding for a sandwich of this quality is a real pleasure. And besides, life is too short to be so rigid about...anything...that you miss out on something so viscerally pleasing.

******
From commenter "Bitter Clinger," who fancies himself a bartender. I won't insult him by calling him a mixologist. I think Sambuca is sort of gross, but
chacun à son goût
, as the Frogs say.
I'm sure many will debate the meaning of the three coffee beans.

In my day, which is to say 8 years ago because I'm only 29, we were taught the three coffee beans represented life, love and longevity.

I think modernists will claim this is more accurately representing "Health, Happiness and Prosperity".

I don't really give a hang what modernists, or anthropologists, or Italians or smartasses say. I'm from East By-God Tennessee and that's what we were learnt, so I'm sticking to my guns.

In any event, I reckon the purpose of lighting the liquor up is to warm the coffee beans up and impart oils from them into the Sambuca giving it hints of coffee in the drink.

Did that sound official and scientific and foody-ish? I think it did.

Honestly, I'd suggest the reason for flaming a drink is because when you are buzzed lighting sh*t on fire is fun. Whether you are in Italy lighting Sambuca or in the United States setting off fireworks while drinking beer or in C.H.A.Z. torching innocent peoples' businesses while strung out on heroin, getting messed up and burning stuff is fun!

If you are curious about the end of snippet and what is occurring, the snifter gets alcohol vapors trapped inside it when placed upside down to extinguish the shot, so you can inhale the fumes trough a straw after shooting the Sambuca for a bonus buzz.

It's a bit like sniffing rubber cement (like I did frequently back in grade school), only classier and it seems like a tradition of some sort and not all uncultured and redneckish.

Cheers!
******
Food and cooking tips, Large-breasted Muscovy ducks, young wild pigs, bartenders who use vermouth in Martinis (but not too much), pork belly that doesn't have 5-spice, low-temperature-roast chicken, and good tomatoes that aren't square, pale pink and covered with Mestizo E.coli:
cbd dot aoshq at gmail dot com
. Any advocacy of French Toast with syrup will result in disciplinary action up to and including being
nuked from orbit.
And yes, shaking a Manhattan is blasphemy...it's in the Bible!

posted by CBD at
04:00 PM
|
Access Comments