« Food Thread: Photo Bomb
|
Main
|
Sunday Overnight Open Thread (10/11/20) Cleaning Out My In-Box Edition »
October 11, 2020
Gun Thread: M1 Carbine Ammo Revisited Edition! [Weasel]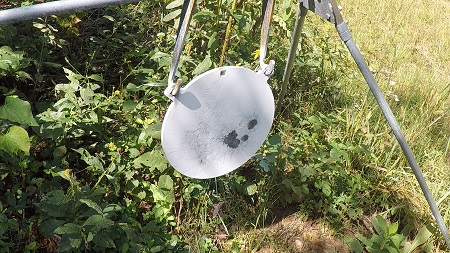 Hi! Remember me? I'm Weasel's target from the M1 Carbine video, and I have been mocking him relentlessly and haunting his dreams with my raggedy-ass self, ever since!
******
A couple of weeks ago I posted a video shooting the M1 Carbine at WeaselAcres. As you could probably tell, I wasn't overly excited with my 3 inch group at 100 yards and towards the end of the video offered some possible reasons for the less than stellar results. They were; shooter error, problems with the gun, and finally inconsistent ammunition. I wasn't entirely sure what the hell was going on, but that didn't stop me from speculating, and I decided to revisit the issue on a subsequent trip to the farm.
Let's see what I found below, shall we?
The Rifle
If you watched the video, you will recall I mentioned having to use around 250 yards of indicated elevation to get the rifle to zero at 100 yards. Since I didn't recall having to do this the last time I fired the rifle, I discounted a problem with the gun itself and jumped to the conclusion the problem was in the ammunition, or at least a mismatch in the ammunition velocity and the rifle sight setup. I was partially correct, but for the wrong reasons, and that was mistake number uno.
In the comments of that thread, our alert pal Panhandler observed the rifle had a late (1945) Type 3 upgrade to the front barrel band as evidenced by the bayonet lug, which got me thinking about and researching that change. What I found answered most of my question immediately. Apparantly, the M1 Carbine was produced with a front sight post left intentionally tall, and the rifles were then either zeroed by the manufacturer or shipped to the units for the armorers to zero by filing down the front site. I immediately felt stupider than usual because I had recently done a video on zeroing weapons with iron sights and in it mentioned this very method.
So, once I'd been whacked upside the head with that little nugget it didn't take long for me to get out the rifle and a magnifying glass to examine the front sight, and you guessed it, no tool marks. Of any kind. At all. Guess that explains all the needed elevation, huh? As a matter of fact, just about every gun blog forum on the M1 Carbine mentions this very thing. So I want you all to rest assured the Gun Thread Research Department employees have all been yelled at and notes put into their permanent records telling them to never be stupid again.
The Ammo
Before I had that particular epiphany, I had already decided to try some different ammunition, and recalled recently receiving an email from SG Ammo advertising surplus .30 Carbine ammunition for sale. I placed an order and the big heavy box showed up on my porch in about a week.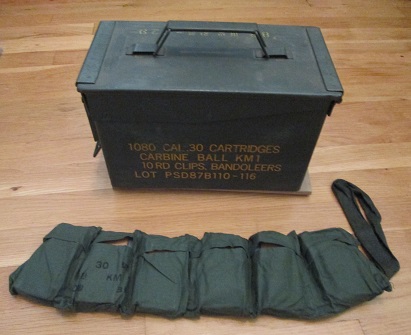 This surplus ammunition was made by PMC in South Korea in the 1980s and sure does look official, so I grabbed a bandolier and headed back to the farm with the rifle and chronograph.
The Test
The idea was to test the Prvi Partizan ammo I'd shot before against the PMC surplus and compare performance in terms of velocity. I fired two sets of 5 rounds each and measured the results with my Labradar chronograph. Here are my observations:
Prvi Partizan
Group 1: avg 1,979 fps, ES 74 fps
Group 2: avg 1,964 fps, ES 61 fps
PMC Surplus
Group 1: avg 1,970 fps, ES 75 fps
Group 2: avg 1,974 fps, ES 84 fps
You will recall the original .30 Carbine muzzle velocity specification was just under 2,000 fps, and both types certainly meet that standard. The PMC has very slightly tighter average velocities but slightly worse extreme spread performance. Overall, the differences are negligible, with both types of ammunition delivering about average performance for commercially made ammunition. I was able to get my group size a little tighter with both types this time at around 2 - 2.5 inches at 100 yards, but I was really, really, really trying hard to get there.
Conclusions
I suppose the most obvious conclusion here was not to jump to conclusions. I have shot my share of commercial and surplus ammunition and realize you're only going to get so much performance from them, but was too quick to assume something was wrong besides my shooting. An extreme spread of between 60 and 75 fps isn't ideal, but I have seen both better and worse. In reality, everything was operating within normal limits the first time, and I just needed to have realistic expectations while doing a better job behind the gun.
Finally, am I going to file the sights on the rifle? No way. I'm leaving exactly the way it is!
******
Next, or pal A.H. Lloyd makes a trip to the range and shares some thoughts after shooting with a buddy.


Recently a friend of mine picked up a semi-auto handgun. He already had a revolver but he wanted something that could stand off more potential attackers, which is quite reasonable under the circumstances. Like many casual gun owners, he rarely went shooting, and having made his purchase he joined me at the range to get in some practice.

The experience reinforced my long-standing contention that revolvers are inherently easier to use. Consider loading: You insert the rounds in the cylinder, close it, and pull the trigger. That's it. With an auto-loader, you have to load the magazine, insert it, and then cycle the slide it in order to chamber a round. If there is a misfeed, you have to clear it before it will work again. In addition, there are various levers; safeties, de-cockers and slide releases that vary greatly between designs. Is that a safety? How does it work? Does it de-cock? What if it only de-cocks?

Some may laugh, but he didn't realize that the rounds didn't automatically just enter the chamber after he inserted the magazine. We had to show him how to cycle the slide, identify the controls and so on. Again, I'd shot with him before, but it had been several years. The experience underlines that auto-loaders simply have a steeper learning curve. They are inherently more difficult to use.

Another complication was that he's left-handed and this particular model has right-handed controls. Revolvers are somewhat right-handed, most open to the left, but that's only important when you are loading/unloading which is a two-handed operation. Make sure you check on this before making a purchase.

This is also a good time to point out that shooting is a perishable skill. When I was last at the range with him, he was reasonably competent, keeping all his rounds on the paper at 10 yards. Now he was struggling to find it at all. I have some giant archery targets I use for teaching new shooters so we can see where the rounds go, but I didn't bring them because he'd been okay back in the day. As it was, after 50 rounds loading no more than 5 rounds at a time, he was gaining proficiency and starting to build a group. I told him that his homework was to handle it unloaded and get a sense of how it works before his next range session. I also told him that multi-year "vacations" from shooting are a bad idea, and he agreed that he would make it a priority.

To be fair, he hadn't consciously boycotted shooting, he simply had a lot going on. Like many gun owners, target practice was a fun thing he'd like to do more of, but something always came up and he'd try to make it "next time." But it isn't just for fun. If you have a firearm, you absolutely need to practice. It's like any other form of exercise - if you don't keep it up, you'll end up badly out of shape.

When you buy ammo, understand that its core purpose is gain and maintain proficiency. You are better off firing 200 rounds in practice and having only 50 in reserve than shooting 50 and saving the other 200 for an emergency.
Great observations, A.H. Lloyd! Anyone who has been reading the Gun Thread for long will know that I tend to harp not just on the value of practice, but the value of practicing with a purpose. Instead of just making holes in paper, have a plan for your practice time. Identify weaknesses in your performance and concentrate on those the next time.
I'm also inclined to agree with your assessment of allocating ammo between range time and "oh shit" time. Unless you're supplying a full blown war, you will likely do much more practicing than gunfighting. What do you all think? Agree or disagree?
******
Next, our pal Sua Sponte shares a range report and thoughts on his new SAR 9.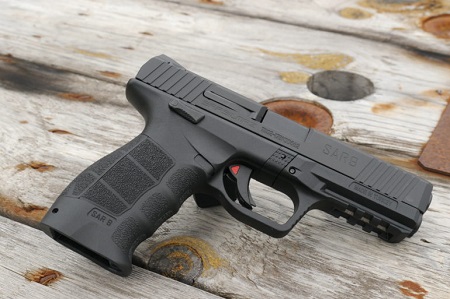 SAR 9 stock photo
This is a recent purchase I took out for its first run today, the SAR 9. I have seen many firearms made in Turkey and just couldn't bring myself to purchase one regardless of the great reviews I had been seeing. It was a bias in my mind that buying this equated to supporting the current administration. Now, with that being said, I never did enough research to see if and how much the government was involved with these companies. Anyhow, my son works for an outdoor store that takes in firearm turn-ins and he gave me a call about one just brought in that looked brand new to him. Prior to going to see it, I took some time to do some reading on the company that produces these, Sarsilmaz. The company has been in the firearms business since 1880 and has been the single supplier of firearms to the entire military and police. Perhaps the products are as good as the reviews. Long story short, I doubt the owner put more than two magazines through it and I was able to pick this up for under $230, with two 17 round magazines, cleaning kit, case and two sets of different sized backstraps/sidestraps. I figure even if the gun is just plain horrible, I'm not out too much and no doubt could resell for a halfway decent price and recoup my investment. The feel in the hand is very reminiscent of the HK VP9, good palm swell that seems to fit perfectly with a very positive grip. Not a big fan of the safety lever as this is striker fired and has the safety on the trigger (some call it the trigger dongle). Standard three dot sights that are replaceable. It's a bit top heavy but played out well as it seemed to reduce my time reacquiring the target, which is a good thing. Felt recoil was minimum and I was using CCI Blazer 115 grain FMJ at ten yards, no FTF/FTE. Depending on the ammo situation, I hope to get some more range time with this, I think it's a solid platform and price wise, even at retail, isn't that bad. I don't anticipate this being my EDC but more of my farm/truck carry.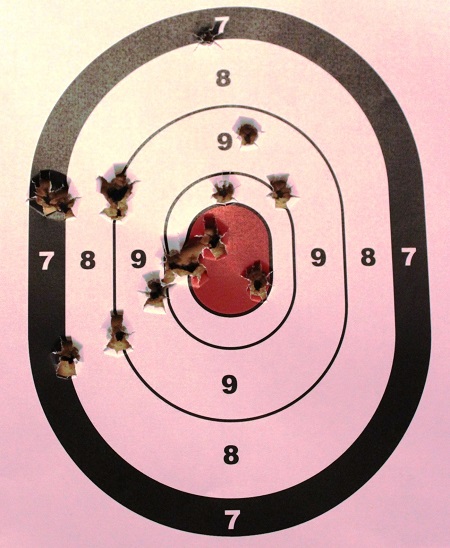 pink targets, bro?
Nice work, Sua Sponte! Thanks for the report!
******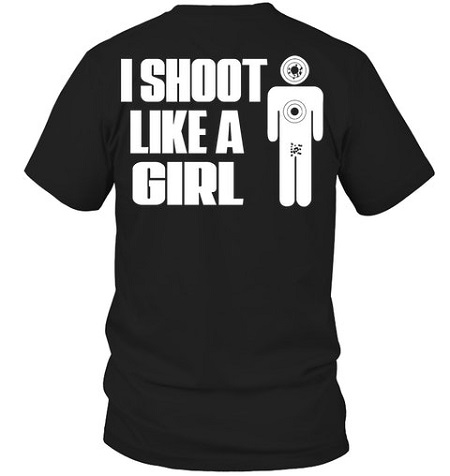 As someone who has had his ass kicked around a rifle range on more than one occasion by a girl shooter, it's nice to have an opportunity to highlight their successes from time to time. Our pal and frequent Gun Thread contributor redc1c4 recently passed along the following articles, here and here featuring an outstanding lady shooter, Regina Milkovich.
Remember ladies, shooting doesn't require a lot besides determination and a willingness to learn. I've said throughout my coaching career that I'd much rather work with women because they are less inclined to try and prove how much they already know. That may be an unfair generalization, but it's true! So if you enjoy the shooting sports, don't be afraid to learn as much as you can and leave your mark in the otherwise male dominated sport.
******
Next, if we needed any more proof of Jerry Miculek's shooting abilities, we see his performance in the 2020 Texas 3 Gun Championship.
Amazing shooter, and not only with revolvers!
******
And speaking of our pal Jerry, you know I like to keep politics out of the Gun Thread, but I ran across this and liked the message:

In fact, I like his style all around. Good guy and he makes great points. VOTE!
******
Link-O-Rama
I'm really very seriously not kidding around anymore. Buy Ammo
AmmoSeek - online ammo search tool
GunBot - online ammo search tool
SG Ammo
Palmetto State Armory
Georgia Arms
AmmoMan
Target Sports USA
***Mail Bag***
Can't have too much diversity! [h/t JT]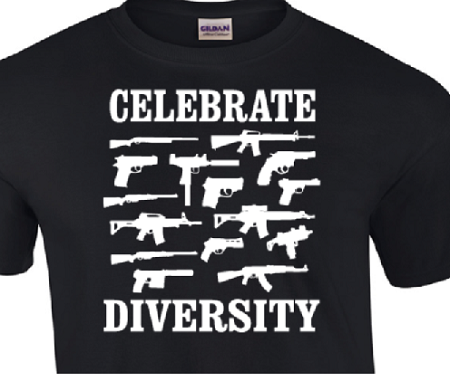 ******
Please note the new and improved gmail account morongunthread at gmail dot com. An informal Gun Thread archive can be found HERE. If you have a question you would like to ask Gun Thread Staff offline, just send us a note and we'll do our best to answer. If you care to share the story of your favorite firearm, send a picture with your nic and tell us what you sadly lost in the tragic canoe accident. If you would like to remain completely anonymous, just say so. Lurkers are always welcome!
That's it for this week - have you been to the range?


posted by Open Blogger at
07:00 PM
|
Access Comments