« First-World Problems...Part Otuz Sekiz
|
Main
|
Gun Thread: M1 Carbine Ammo Revisited Edition! [Weasel] »
October 11, 2020
Food Thread: Photo Bomb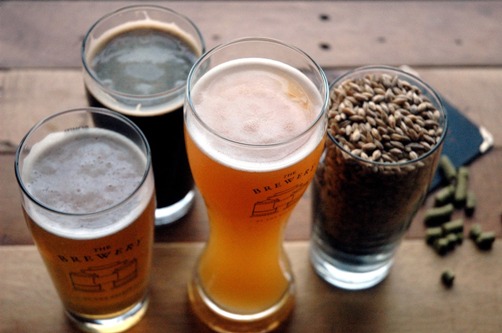 I spent several enjoyable hours at a sort-of-local brewery (Jersey City) for a private party. One of the things that struck me about their offerings (I'll get to the hard seltzers in a bit) was the relationship between alcohol content (ABV) and flavor. The correlation isn't perfect, and when I say "flavor," that isn't necessarily a good thing.
Too many of the beers were alcoholic monsters, which means that after a few the typical drinker is teetering on his bar stool. And those flavors can be a huge mouthful of hops, which when in balance is good, but an aggressively hop-forward beer is just too much.
But the low-alcohol beers seemed a bit timid. Why? I think American beermaking is still in its rut that hops means quality. But it doesn't have to be that way. The Brits have managed to make spectacular, flavorful yet low-alcohol beers for years. Some of their cask ales are less than 4.) alcohol, yet are intensely flavored and perfectly balanced.
As usual, I don't have a point, but I found it interesting.
******
I'm a minimalist when it comes to cooking. Not reflexively minimalist like Mark Bittman of the NYT, who cuts so many steps and ingredients that his food is often unbalanced and boring...or just shitty. No, I mean that I enjoy simple ingredient lists and simple (not necessarily easy) cooking techniques. But at some point we bounce up against some hard rules. Too simple is sometimes just boring
For instance, that Halibut With Prosciutto video I made last month? Well, plain halibut sauteed in butter is really good, but the prosciutto added a layer of flavor that made it more interesting.
So the next time I brought some halibut home I thought about doing something similar. I like the flavor of the fish and didn't want to drown it in a sauce, but I wanted to add some complexity.
Enter The Balthazar Cookbook and a tomato-shallot relish recipe. Well, it isn't really an important recipe as much as a really good idea. Just reduce minced shallots and some vinegar and sugar until it is dense and syrupy, then gently heat with some chopped tomatoes. And...that's it.
I put a couple of spoonfuls of the relish on top of the halibut, and bingo! Great stuff.

******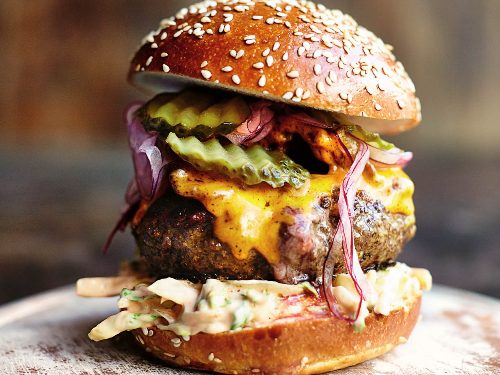 Yes, that burger is gorgeous, but it's too damned busy to enjoy the centerpiece of any burger...the meat! And pickles simply don't belong on anything other than a fast-food burger. That's not a bad thing; in fact I love them on occasion, but it's not a serious burger.

***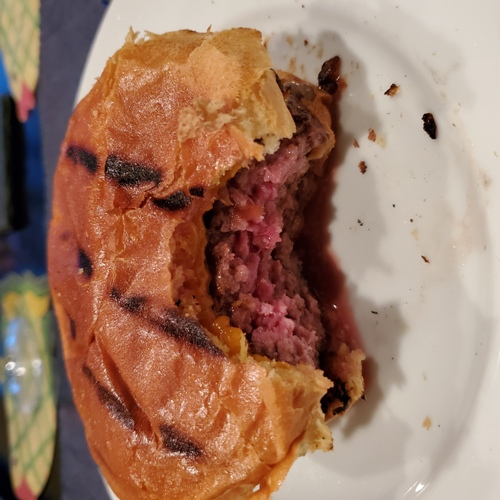 That's my idea of a good burger. Nice and simple. Good bun, good meat, good cheese (sharp cheddar), and some caramelized onions that you can't see. It is also cooked to the proper temperature, and that is a result of attention to detail. I cooked only two of them, so I was able to put them on the hot part of the grill and not worry about six or eight other burgers at the same time.
Believe it or not; I think that burgers are tougher to cook than steaks.

******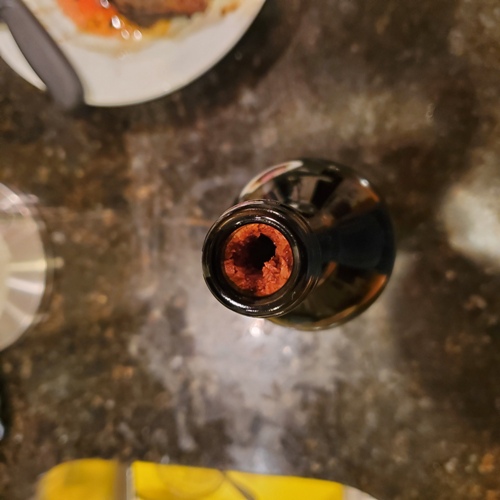 We live in wondrous times, and the proof is nowhere more obvious than the wine industry, which produces an incredible variety of excellent and reasonably priced wines from all over the world. Technology and improved techniques have revolutionized wine, and as I have ranted in the past, screw-tops are perhaps the most obvious improvement. But this wine is 15 years old, before modern closures were common. And what a pain in the ass! The cork adhered to the bottle and crumbled when I drove the corkscrew into it. I had to filter the wine to drink it, which isn't really a big deal, but it is so uncommon nowadays that I was a bit surprised!

******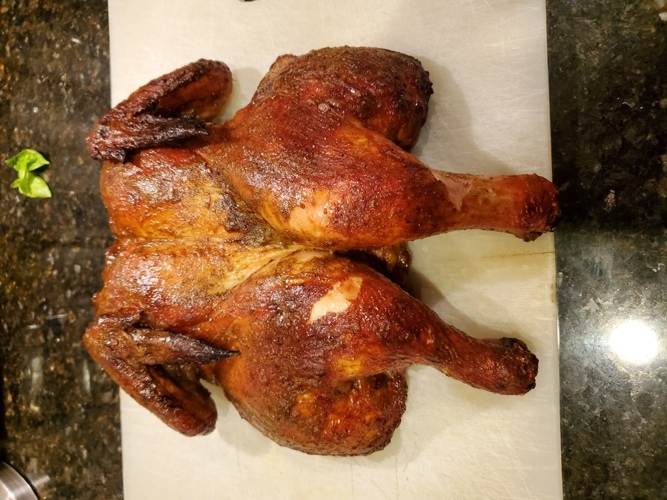 There is no reason not to spatchcock chickens. They cook more evenly, they look great, and they are easier to carve and serve. I haven't roasted a whole chicken in a long time, and while it's not really difficult, when a different technique is better in all respects, why bother?

******
From commenter IrishEi comes a food I have never even heard of, much less tasted! It's a Swiss, or German, or Swiss-German dish that sounds pretty damned good.
Can't believe I missed the food thread on a day that I've been cooking my butt off! You're probably not around CBD, but I wanted to tell you about a Geschnetzeltes I just made. We're doing Oktoberfest tomorrow and one of the kids doesn't like Sauerbraten so I made that for him--and it is great if I do say so myself.
Zürcher Geschnetzeltes
Sounds great. And easy!

******
Food and cooking tips, Large-breasted Muscovy ducks, young wild pigs, bartenders who use vermouth in Martinis (but not too much), pork belly that doesn't have 5-spice, low-temperature-roast chicken, and good tomatoes that aren't square, pale pink and covered with Mestizo E.coli:
cbd dot aoshq at gmail dot com
. Any advocacy of French Toast with syrup will result in disciplinary action up to and including being
nuked from orbit.
And yes, shaking a Manhattan is blasphemy...it's in the Bible!

posted by CBD at
04:00 PM
|
Access Comments