« Quarantine Cafe: Ten Years Later Edition
|
Main
|
The Morning Report - 10/15/20 »
October 14, 2020
Wednesday Overnight Open Thread (10/14/20)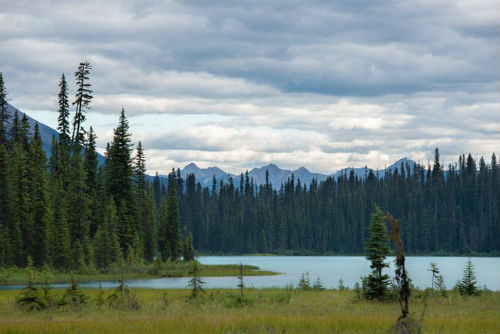 ***
The Quotes of The Day

Quote I

"I don't disagree with you. And look, I'm a hundred percent frank and candid. This is not a highly nuanced, sophisticated response. This is a fear-driven response. You know, this is not a policy being written by a scalpel. This is a policy being cut a hostaet, it's just a very blunt — I didn't propose this, you know. It was proposed by the mayor in the city. I'm trying to sharpen it and make it a better. But it's out of fear. People see the numbers going up, 'Close everything! Close everything!' It's not the best way to do it, but it is a fear-driven response. The virus scares people." Gov. Andrew Cuomo (D-NY)
Quote II

Be true to yourself, help others, make each day your masterpiece, make friendship a fine art, drink deeply from good books - especially the Bible, build a shelter against a rainy day, give thanks for your blessings and pray for guidance every day. John Wooden
Quote III

"Investigations by the press, during impeachment, and even by two Republican-led Senate committees whose work was decried as 'not legitimate' and political by a GOP colleague have all reached the same conclusion: that Joe Biden carried out official U.S. policy toward Ukraine and engaged in no wrongdoing. Trump Administration officials have attested to these facts under oath," Biden campaign spokesman Andrew Bates

Quote IV

Dude, I swear to god if that happens then I'm coming over to visit the UK. I'm out of here. I'll go back to my motherland, go back to go Greece and get a house on one of the islands." Washed up Rock N Roller, Tommy Lee
Beat the crowds and leave now wife beater.

Quote V

"Today marks a seminal moment in our city's history in our efforts to reimagine public safety," LA Council President Nury Martinez

If enacted, this program will end badly. Mark my words.

***
I would tell @jack to #LearnToCode, but that's hateful. And his apology is too late and too hollow.

Twitter CEO admits it was 'unacceptable' to block sharing of NY Post's Biden Burisma story 'with zero context'

The social media outlet is being accused of trying to influence the general election
***

Will jury nullification happen in Kenosha County for Kyle Rittenhouse? Why the haste in 1st degree murder charges before all the facts are in?
According to a criminal complaint obtained by the New York Post, a Wisconsin man has been charged by Wisconsin authorities with multiple crimes after he reportedly admitted to having fired the first of a number of fateful shots that rang out in Kenosha, Wisconsin, on the night of Aug. 25.


According to the Post, 35-year-old Wisconsin native Joshua Ziminski and his wife both admitted to detectives that Ziminski fired a "warning shot" into the air immediately before Rittenhouse allegedly shot and killed Joseph Rosenbaum during a tense night of protests. The detectives are the same detectives who have been in charge of investigating Rittenhouse's activities on that evening.

Was Joshua J. Ziminski (DOB 02-21-1985) the straw that broke the camel's back? Such an upstanding citizen, all around great person and wonderful parent.

$1,000 bail? GMFAB!
***

My, what a pleasant young lady. I bet she is one hell of an entertaining dinner guest.

A University of North Texas employee frequently posts videos of herself screaming at police officers at Black Lives Matter rallies, demanding their names and badge numbers. In one instance, she called a cancer clinic to demand information about a picture that had been sent to her showing a police officer not wearing a mask while sitting in the waiting room.

After obtaining a picture of a police officer waiting in the clinic without his face covered, University of North Texas employee Jessica Luther Rummel posted audio on YouTube of her calling the clinic to inquire about the situation. Rummel can be heard telling the clinic that she received a picture of the officer not wearing a mask and asks if it was not enforcing COVID-19 rules.

"So you're all talk and no action just like the rest of your Republican GOP death cult buddies, right?" Tweet This
In the video, Rummel posts the name and picture of the clinic employee, as well as the picture of the officer in the waiting room.


The clinic employee states that there are patients who must remove their mask to drink contrast fluid before procedures, and then put their masks back on afterward. The staff at that specific clinic verified that the officer did have his mask off, but only briefly. The employee also tells Luther Rummel that taking pictures of patients at a cancer clinic violates their privacy rights.
***
TRUTH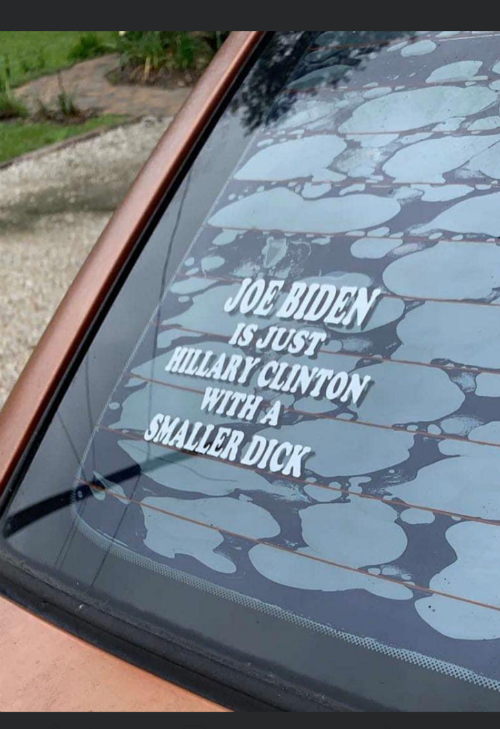 (H/T Confidential Informant)
***

I believe this falls into the category of: Be careful for what you wish for.

Anyone who has ever bought anything from Ikea can identify with that sinking feeling when you struggle to put together a cupboard or a chair, only to find something is missing.

Customers of the Swedish multinational captured this frustration when they named a street near a new Spanish store Calle Me Falta un Tornillo, or I'm Missing a Screw Street.

Ikea thought up a clever way to make customers identify with their store in Valladolid, in northern Spain, by asking them to dream up a name for a road beside the store. In a Facebook poll in which more than one thousand people voted, some 54 per cent backed the winning entry.
***

In the old days..............

***
As we approach Halloween and the little Trick or Treaters, remember Candy Corn, Lewis Black does............

Guess the kids of Glen Ridge, NJ don't have to worry about Candy Corn in their utility collection device.

It will be a disappointing Halloween for children who hoped to go trick-or-treating in Glen Ridge, after the Borough Council announced that going door to door for candy won't be allowed.

In a notice on the borough website, officials said people come from all over to trick or treat in town and a homeowner can give out more than 1,000 pieces of candy on the holiday, causing some streets to be extremely crowded.

"The Center for Disease Control has determined that it is a high-risk activity to participate in traditional Halloween trick-or-treating where treats are handed to, and received by children who go door to door," the notice said.

Mayor Stuart Patrick, members of the council and the Board of Health decided it would be best if traditional trick-or-treating not be allowed between Oct. 29 and Nov. 1.

Yes, let's remove all joy from the lives of everyone for the Kung Flu.
***
Being that the Ace of Spades is a Smart Military Blog, let's take a look at something awesome.

Watch The Biggest Unexploded World War Two Bomb Ever Found in Poland Blow Up

The British "Tallboy" bomb, one of the largest conventional weapons of World War Two, detonated during efforts to make it safe.

British Royal Air Force "Tallboy" bomb, intended to sink a German cruiser during World War Two, blew up spectacularly in a Polish canal while divers were working to defuse it. After lying dormant for 75 years, the 12,000-pound bomb exploded underwater, sending a huge column of water skywards, but fortunately not resulting in any injuries or serious damage.
***
The ONT Musical Interlude
On this day: 14 Oct 2004
Eric Clapton was suspended from driving in France after being caught speeding at 134mph in his Porsche 911 Turbo near Merceuil. He was given a 750 euro (£515) fine and his UK licence was confiscated. After paying his fine Clapton posed for photographs with French police and then left the scene in his Porsche - with his secretary behind the wheel. via thisdayinmusic.com
&&&
Born on this day: 14 Oct 1946
Justin Hayward, songwriter, lead singer, and guitarist with English rock band The Moody Blues who had the 1965 UK No.1 & US No.10 single 'Go Now' and the hits singles including 'Go Now', 'Nights in White Satin' and 'Question'. via thisdayinmusic.com
&&&
Elton John says Rod Stewart has a 'f***ing cheek' as 50-year feud escalates

Elton John has claimed in his new autobiography that his feud with music rival Rod Stewart "soured" after his frenemy blasted him on television then ignored his attempt to reach out

Checks library nothing by Elton John and nothing after 1974 by Rod Stewart. Grow up Wankers.
***
A couple of Genius Award Winners tonight. Cars and Genius Award Winners go hand in hand, sort of like Maple Syrup on French Toast.

Beamers are fine vehicles, but don't you would think the ride got bumpy after a short distance? Genius Award Winner.

Vehicles, like any other functioning entities, are made up of different parts that work to operate the whole. Some of those parts are necessary, some aren't, and some aren't required but are highly recommended. Tires are around the top of the list in that last category, but it looks like someone didn't get the memo.

Philadelphia station WPVI reports that a driver on a local Interstate Tuesday was rolling around without tires, evidently conducting a real-world test of how imperative that whole "highly recommended" qualifier is. State police told the station they got several calls about it that morning, and that the driver, who wasn't named in the report, went at least five miles with the car like that.
Drinking and driving and another Genius Award Winner.

Struck The Police!

Don't you just hate it when you're driving down the highway – the wrong way – minding your own business – while drunk – and the racist, fascist cops try to stop you – while you're ignoring their commands – and start chasing your car?
***

At the right place, at the right time. Tonight's Feel Good Story of The Day.

Nick says when they bought the house, they were told it was built by a childless German baron who turned to bootlegging illegal liquor in the 1920s.

Nick says the story seems to be at least partly true. "While repairing trim as part of a larger renovation, we discovered multiple false walls and secret compartment under the floor in our mudroom. The foundation walls and floors in the mudroom are lined with intact cases of 1920s whiskey."
***
Tonight's ONT has been brought to you by Legal Tenders.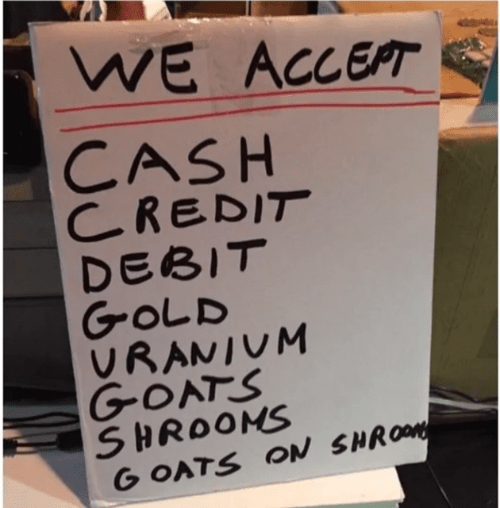 Notice: Posted with permission by the Ace Media Empire and AceCorp, LLC. Our currency acceptance structure is a wee bit different.

posted by Misanthropic Humanitarian at
10:01 PM
|
Access Comments