« Wednesday Overnight Open Thread (10/14/20)
|
Main
|
Mid-Morning Art Thread »
October 15, 2020
The Morning Report - 10/15/20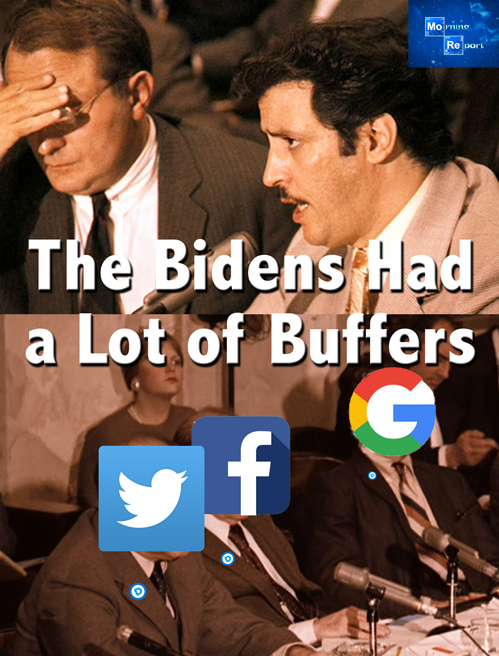 Good morning, kids. Thursday and all I can say is Ho Lee Fook. Rush Limbaugh (pbuh) is always exhorting people to never pay attention to polls far in advance of an election because, paraphrasing, there are events that can affect the outcome yet to happen that we can't even conceive of. And then, yesterday. While we were all paying attention to the disgusting display at the Amy Barrett confirmation hearing - and the equal but completely opposite comportment and intelligence of the Judge herself - one of the only relatively honest mainstream media outlets left in the country, The New York Post released a bombshell report of e-mails from First Meth Addict Hunter Biden's forgotten laptop proving that he was involved in Ukrainian corruption and that his father, the Democrat presidential nominee Joe Biden knew about it and used his power and influence as the vice president to make it all happen.
In theory, that should have been one of the biggest legitimate (as in non-Democrat engineered) October surprises to ever break. But then, like Operation Valkyrie, the Democrat-Media Complex instantly sprang into action and not only prevented the dissemination of the story on Twitter and Facebook, but those same outlets labeled the story as spurious and on top of it suspended the accounts of anyone attempting to disseminate the story. Most egregiously Presidential Press Secretary Kayleigh MacEnany and the freaking New York Post itself. Just. Fucking. Wow.
This is where the story diverges along two separate paths. First, there are the revelations themselves which if you didn't know any better closely resemble the transcripts of wiretap surveillance of Mafia crime families. In fact, one linked below showed that Joe Biden's family members had to kick back up to him 50% of whatever earnings they made. Man, I don't even think the percentage was that thick with Jimmy Burke, Henry Hill and the Roberts Lounge crew after the Lufthansa heist! Then again, millions is small potatoes compared to billions in graft and extortion from Ukraine, China, Romania and G-d knows how many other countries over the course of almost 50 years in government. And when I say government, I mean a Democrat in government with the full protection of the media as well as the instrumentalities of a corrupt national law enforcement and intelligence apparatus.
That is, the same law enforcement and intelligence apparatus that helped orchestrate, engineer and execute the plot to sabotage the 2016 Trump campaign and then overthrow the Trump presidency - a plot which continues unto this very day. And like that ongoing attempt, the G-men of the FBI are right in the thick of it. That's G as in Google or George Soros, or Globalist, but I digress.
One of the strangest details of the exclusive New York Post story involving the recovered data from a computer linked to Hunter Biden is the story of the laptop itself and what is alleged about it. You can read about the evidence alleging that Hunter Biden was trading influence with foreign actors in Matt Margolis's piece here. But what also interested me was the part of the NYP investigation where they claim there's a sex tape and pornographic photos starring Hunter on the laptop -- and the FBI knew about it in December...

Let's forget for a moment that there's reportedly a video of Hunter Biden smoking crack and romping with hookers on the laptop. That's par for the course, isn't it?

What about the part where the FBI had possession of this information back in December? Why didn't the FBI come forward with this evidence about Hunter Biden's emails, which appear to show collusion and influence-trading? Isn't that something they should have told the president or members of Congress? Was the FBI deliberately covering it up? If the good citizen who came forward and alerted the FBI of the contents of the laptop had not made a copy of the information, it would still be under FBI lock and key. But the computer repairman did make a copy and sent it to Rudy Giuliani. If true, it's a stunning indictment of the FBI that an American citizen -- who alerted them to alleged multiple crimes involving a guy with the last name Biden -- knew not to trust them and made other arrangements should they try to cover it up (which, apparently, they did).
This is the same FBI whose head Christopher Wray not two or three weeks ago declared that Antifa was essentially as Jerrold the Pants-Shitter Nadler described it "a myth" while white supremacy was the nation's biggest internal threat. The same FBI that orchestrated the process crime set-up and persecution of Michael Flynn. The same FBI that James Comey as the head of declared Hillary Clinton innocent and not worthy of prosecution for a litany of crimes that took him several minutes to recite that "no reasonable prosecutor" would try. The same FBI that had in its employ Andrew McCabe, a key cog in the plot to overthrow the president who has been punished with a high six-figure gig on CNN. And on and on and on.
Sure, Joe Biden and Hunter Biden and every other rotten Biden in their miserable lineage are corrupt blood-sucking ticks on the US Treasury and body politic. But the FBI's non-actions here and trail of incompetence, ineptness and bureaucracy in the name of preserving the status quo and crushing anyone who dares oppose it are just as rotten to the core. But it doesn't end there. It radiates outward to every other agency in DC, to the media, to academia and everywhere else that allegedly are supposed to be bulwarks (no pun) against the approach of tyranny.
Tragically, they have become the tyranny itself. Such an in-your-face censorship is a warning sign of a seriously ill society. Taken together with the seizure of power on the pretext of a health emergency and the disturbing communiques from former high-level military officials and you're talking hot civil war and revolution. Meh, what the hell do I know? I know that it's in my face and I am not one for living in denial.
Anyway, the President, along with a number of Republicans are blasting Twitter and Facebook, while Trump is demanding Biden come clean. When news broke yesterday, the Biden camp threw him back down into the rumpus room and chained him to the radiator. Now Jack Dorsey has issued some sort of alleged apology, though I do not know the status of the suspended Twitter accounts and Politico has indicated that the Biden camp went from calling BS to stating well, maybe there might have been some contact but we can't recall. They're circling the wagons. Had Twitter and Facebook not censored anyone, the propaganda machine could've just screamed "fake news!" and slimed Rudy Giuliani etc. etc. The cover up is always worse than the crime and by muzzling the Post and others, they really stepped on a rake.
Look, if this is all fake, like the Steele Dossier which is still being pimped as gospel emmes truth, then I would've expected a libel suit against the Post to have dropped instantly and announced with a press conference by the Bidens. So far, crickets and excuse-making.
Amazing how every lie, smear and accusation against Trump was front-page stop-the-presses news and allowed to flow on Twitter and Facebook freely along with calls for violence against Trump and his supporters. Yet, this was immediately censored because, reasons!
They sicken me. They're the enemy. That Travis Bickle "real rain" cannot come soon enough. I guess Mairzy-Doats Hirohito will have to spring her surprise "witnesses" sometime before noon today. Let's start a pool.
Feh.


BOMBSHELL BIDEN CRIME FAMILY REVELATIONS
NOTE: The opinions expressed in some links may or may not reflect my own. I include them because of their relevance to the discussion of a particular issue.
ALSO: The Morning Report is cross-posted at CutJibNewsletter.com if you want to continue the conversation all day.
Follow us on Twitter: @CutJibNews
Follow us on Instagram: @Cutjibnewsletter


posted by at
07:45 AM
|
Access Comments