« Saturday Gardening and Puttering Thread, October 10, 2020 [KT]
|
Main
|
Saturday Afternoon Chess thread 10-10-2020 »
October 10, 2020
Ace of Spades Pet Thread
(H/T Blake)
***
Good afternoon and welcome to the almost world famous Ace of Spades Pet Thread. Enjoy the world of animals while you take some time off from your chores.
Please leave current events at the front door
***
A Little of This. A Little of That.
Patent #10,455,817 was granted in Oct 2019 for "animal olfactory detection of disease as control for health metrics collected by medical toilet."

In plainer language, it's a toilet that has a small door built into the side of it (the "scent dispenser"), allowing a dog to smell your poop (or other bodily fluids) in order to detect the presence of disease. From the patent:

The user deposits bodily waste into the toilet through actions which include urinating or defecting into the toilet, vomiting into the toilet, coughing up sputum into the toilet, and depositing mucus into the toilet...
An animal may be trained to sniff the scent dispenser in response to a command or signal. The user may give the animal the command or signal when the user desires the animal to assess the presence of disease in the user.
***
From hard working animals to couch potatoes.
***

A shepherd's next best friend?
***
What are you? Besides a Moron of course. Are you a dog person or a cat person?

Ever wish you could peer into your cat, dog, skink, or betta fish's brain? It would give you a far better perspective of the world—or at least help you be a smarter pet parent. We're here to demystify your animals (to some extent), while also shedding advice on how you can best thrive together. Welcome to Pet Psychic.

Are you a cat person, or a dog person? The answer to this age-old question could reveal a little bit about your personality, some research shows.

For example, there are notable differences between dog and cat people as demographics. In 2014, Mikel Delgado, a postdoctoral researcher and applied animal behaviorist at the UC Davis veterinary school, authored a study that looked at something called the "Big 5" personality measurements in those who said they preferred one or the other species, as well as those who said they have no preference or don't like cats and dogs.
***
Meet The PetMorons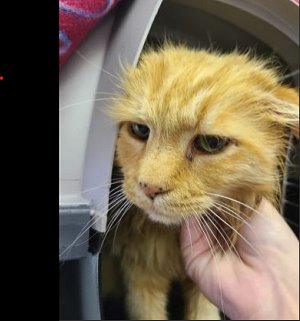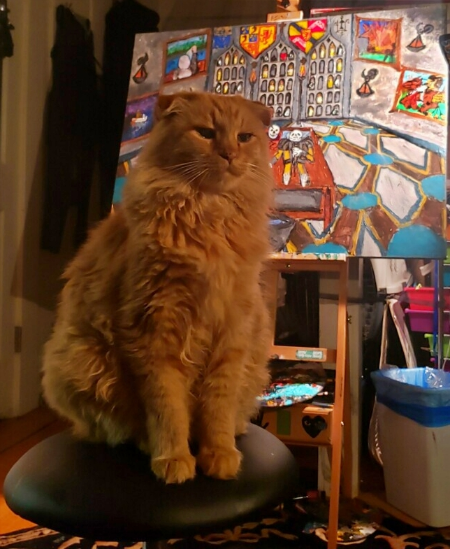 Hey, Sorry for being such a pet homer, but I really wanted to share these two pics of my godkitty Maceo who was a summer rescue cat. As his Humane Society kennel card pic shows, he was quite sad. But look at him now four months later. With his new mama's love and attention, Maceo's become a handsome and dignified art aficionado. His mama has been painting to help heal from losing Kitty last year. Maceo likes to sit/lie in front of the paintings or stare at them for awhile. - (SFGoth)
No need to apologize my friend. You have had a rough time losing your last kitty. We are so happy to see a rescued critter.
***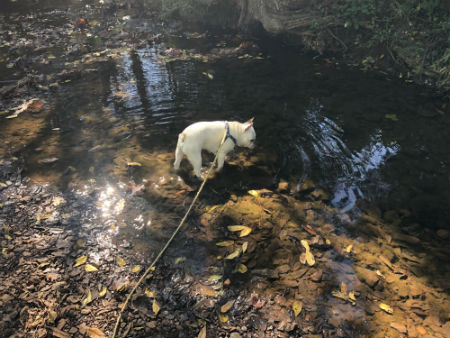 Here's a curious Conor checking out a stream/creek at Manassas Battlefield Park. I was surprised that he got that far in, normally, he is not a water dog! - Hrothgar
It is so good to hear from you and see that Conor is expanding his horizons. J/K cute handsome little guy who has it too damn good.
***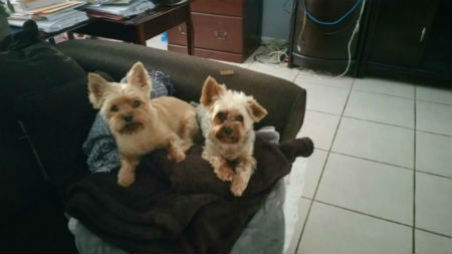 Hi Misanthropic Humanitarian:

Been a longtime lurker and occasional commenter. I've been wanting to do this for a long time, but didn't think of myself as a real 'ette until Nurse Ratched dubbed me thus a couple of weeks ago! So now I feel comfortable sending a pic and the story behind my four-legged family members.

Meet Gracie (Grace Kelly) and Audrey (Audrey Hepburn), our beloved Yorkies. They both turned 8 last month. Not biological sisters, but no one could ever tell.
We got them as puppies at the same time, the week after the sudden loss of my darling Yorkie Cocoa.

I was on the verge of tears most of the week, and didn't think any dog could ever replace her. To cheer me up, my husband said let's take a drive. We wound up going to a Yorkie breeder in Sarasota. It was a lovely farm, and the puppies were all adorable.

I looked around and a tiny bundle of energy caught my eye: Audrey, the runt of her litter. She had such a great personality and we bonded immediately. I picked her up to cuddle her, turned around to show my husband, and . . . this beautiful Golden Yorkie puppy was quietly staring up at me: Gracie. First impression: Such a sweet, wise little face! I picked her up too, and what a calm soothing presence she was.

Two exact opposites, and I immediately fell in love with them both.
Asked my husband, "Can I have two?"

Well, he put his lifelong negotiating skills to work; 1/2 hour later, we were driving home with the newest members of the family and I've never regretted a moment.

They have both retained their darling personalities; they've known nothing but love in their lives, giving it as well as getting it. Joie de vivre indeed! And they don't know a stranger. We joke that if anyone ever burglarized our home, Audrey'd bark for 5 seconds & Gracie would stare at them, then they'd welcome the burglar. They bring smiles to the faces of EVERYONE who meets them. They have been my constant companions and comforts for almost 8 years, through every up and down in life. Truly this woman's best friends!

PS: They do their business almost daily on the lawn of the neighborhood's Biden Lady, for some reason . . .


Thanks so much! - Marybeth
My, oh my. You are a brave woman. Asking your spousal unit for two puppies and then taking on two puppies at one time. So you have the patience of a saint? Congrats on finding new companions as quickly as you did. Thanks for sharing.
***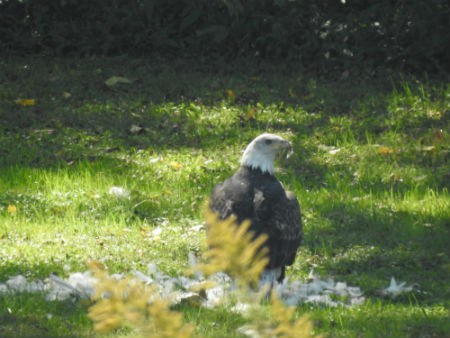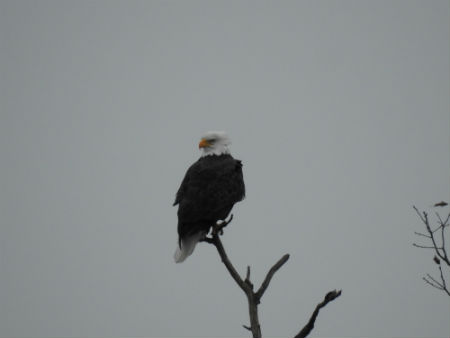 While not exactly a "pet".....

I attempted to post this picture twice today in different threads. It's on a Google drive but was inaccessible for one reason or another.

Short story...

The bald eagle you see had just landed and was in the process of having lunch. No doubt a neighbor's chicken. I was able to take this shot from our back door with a Nikon P900 digital camera at max zoom. I didn't actually leave the house as I didn't want to spook the bird. Distance is estimated at 90-100 yards.

This is the third sighting here of a bald eagle. I have one other photo (attached) from December 2017 of a bird, possibly this one, in a tree in the same general area. Nice to know they feel safe in our back yard.

Thanks for the pet thread! - Martini Farmer

No need to thank me. Granted eagles are not pets but we celebrate animals here and great photography to boot. Thanks for sharing with us today.
***
Great contribution today. Thank you everyone for their submissions today. Great animals as usual.
If you have something pet/animal related please forward to us here at petmorons at gmail dot com.
Until next Saturday, have a great week!

posted by Misanthropic Humanitarian at
03:01 PM
|
Access Comments