ę Chris Wallace is a Disgrace
And Fox News May Very Well be Threatening Staffers Who Point This Fact Out
|
Main
|
The Media Is All Pushing the Same Coordinated Attack Line -- That Trump Refused to Condemn White Supremacists At the Debate. In Fact, He Condemned the Specific Group Joe Biden Insisted He Condemn. Ľ
September 30, 2020
Without Evidence, Joe Biden Declates Kyle Rittenouse a "White Supremacist"
I blew a circuit when Chris Wallace, who fancies himself a hard news man, and not an opinion or speculation man -- even though the things he thinks are "facts" are really just his opinions -- demanded that Trump condemn "white supremacists" like the ones we'd seen "in Kenosha."
In Kenosha? There is absolutely no evidence at all that Kyle Rittenhouse is a "white supremacist."
But Christ Wallace is a red-diaper baby leftist, so in his mind, anyone who doesn't gladly lay down to be stomped to death by the Righteous Boots of Antifa and BLM must be a "white supremacist."
Chris Wallce's tag-team debating partner Joe Biden now explicitly brands Kyle Rittenhouse, a man being currently being charged for crimes, to be guilty of "white supremacism."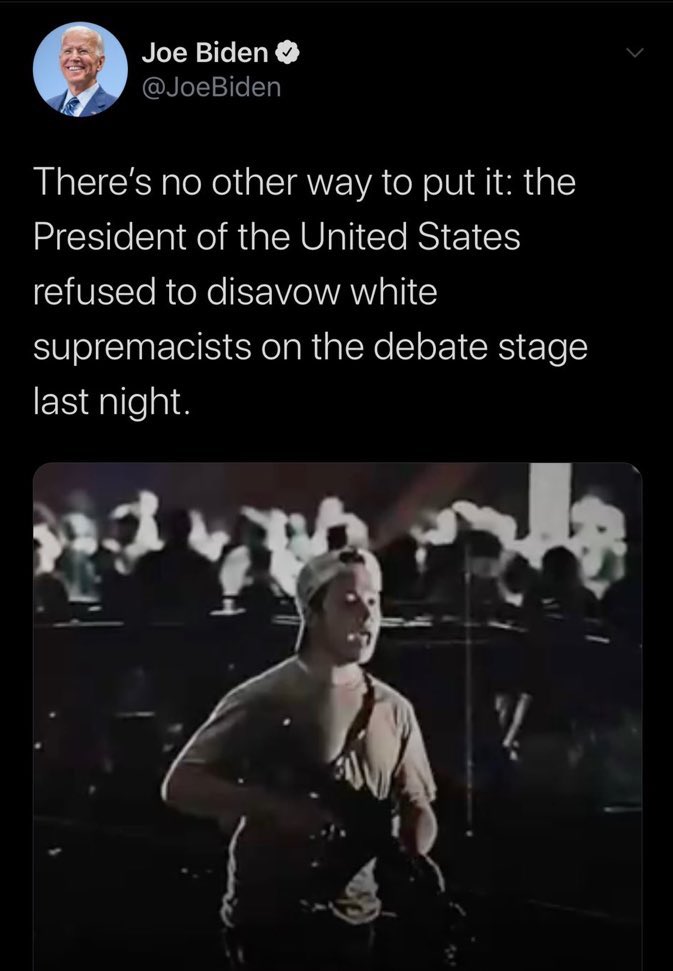 Here's the video ad. Biden puts up the image of Kyle Rittenhouse as Chris Wallace says "white supremacists in Kenosha," at about second 12 or 13.
That's obviously who Chris Wallace-- who deals in FACTS, not OPINIONS -- was defaming when he said that. Without evidence.
So Joe Biden was just dunking the ball after Chris Wallace's alley-oop pass.
Lin Wood just served Joe Biden a takedown notice -- with a threat of a defamation lawsuit to come:
Please remind Lin Wood that a retraction is needed from Chris Wallace's Lemon Party Pal Joe Biden, too.
Update:
@LLinWood

1h
Busy day! Pleased to announce that @ToddMcMurtry & @RonColeman will be joining my legal team in pursuing libel case for Kyle Rittenhouse against Joe Biden & his campaign.

No need to turn up hearing aide, Joe. You can easily hear footsteps of army for justice coming to visit you.


...

@LLinWood
∑
1h
Biden/Harris Campaign &
@JoeBiden
need to advise their donors that they are actually contributing to The Kyle Rittenhouse Scholarship Fund.

...

Yes it is.

The only thing that saves Chris Wallace is that he did not use Kyleís name or likeness. @JoeBiden & his campaign recklessly did.

Meets the "of and concerning" requirement of libel law.

Joe is going to be sued.

Successfully.
fightback.law

...


@LLinWood

2h
When I take @JoeBiden deposition on cross-examination, no wire or computer contact lenses will save him.

I will rip Joe into shreds. Ask witnesses who have had the misfortune of sitting across the table from me under oath.

You donít mess with my children, my pup, or my clients.

...

@LLinWood

2h
I enjoy conversations on Twitter. I get to be a writer.

But for 43 years, I have loved the law & being a trial lawyer.

In the latter role, I am getting ready to teach @JoeBiden a lesson he will never forget. He falsely accused a 17-year old boy & prejudiced Kyleís legal rights.

posted by Ace at
12:59 PM
|
Access Comments