« Alex the Chick: The NYT Claim that Trump Paid $750 in Taxes is a Straight-Up Lie. By Their Own Reporting, He Paid $1,000,000 in 2016 and $4,200,000 in 2017.
|
Main
|
lol, Laid-Off Media Creeps Whining About Losing Their Jobs, What a Delight »
September 28, 2020
Man Who Covered Himself Head-to-Toe in Scaly Lizard-Like Tattoos, and Who Died the Whites of His Eyeballs Jet Black, Sues School for Not Letting Him Terrify Children as a Kindergarten Teacher
No, really. He insists on his right to terrify your Kindergarteners.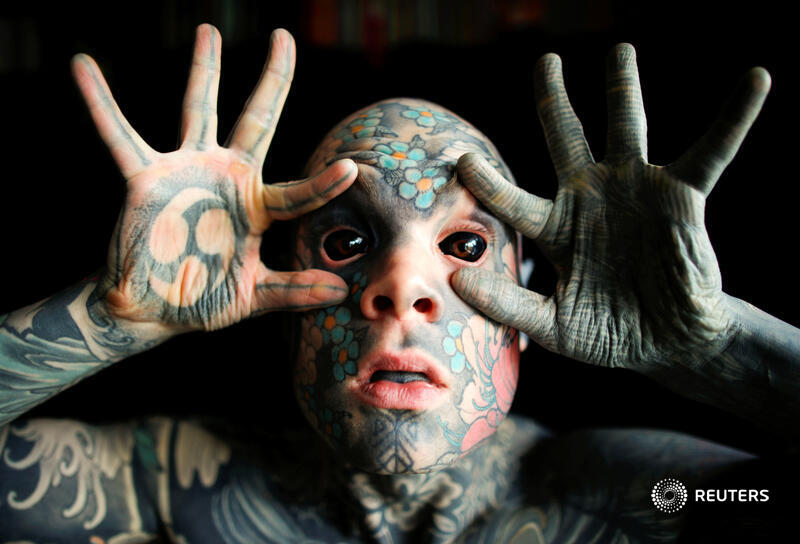 "I agree with Dwayne Johnson and Cindy McCain --
I endorse the Human Biden Puppet."
This is in France but is there any question that Hawaiian judges will be ruling in similar plaintiff's favor within the year?
- A schoolteacher whose body, face and tongue are covered in tattoos and who has had the whites of his eyes surgically turned black said he was prevented from teaching at a French kindergarten after a parent complained he scared their child.


But the teacher, Sylvain Helaine, 35, still teaches children from the age of six up, and said that, after an initial shock when they see him for the first time, his pupils see past his appearance.
His pupils see past his black-dyed pupils?
Okay he didn't dye his pupils. Still.
Video: "I'm a regular guy," says this frootloop known as (really!) "freakie hoodie" in the tattoo freak community. He's spent 460 hours "under the needle" being tattooed.
Including... in his eyes.
He would like to hang out with your five year olds now. Unsupervised.
Is that a problem, bigot?

posted by Ace at
02:37 PM
|
Access Comments