« Alyssa Milano Shrieks About Defunding the Police on Twitter, But the Moment There's a Teenager Outsider Her Property With a BB Gun, She Calls The Police
|
Main
|
Man Who Covered Himself Head-to-Toe in Scaly Lizard-Like Tattoos, and Who Died the Whites of His Eyeballs Jet Black, Sues School for Not Letting Him Terrify Children as a Kindergarten Teacher »
September 28, 2020
Alex the Chick: The NYT Claim that Trump Paid $750 in Taxes is a Straight-Up Lie. By Their Own Reporting, He Paid $1,000,000 in 2016 and $4,200,000 in 2017.
Read her thread here.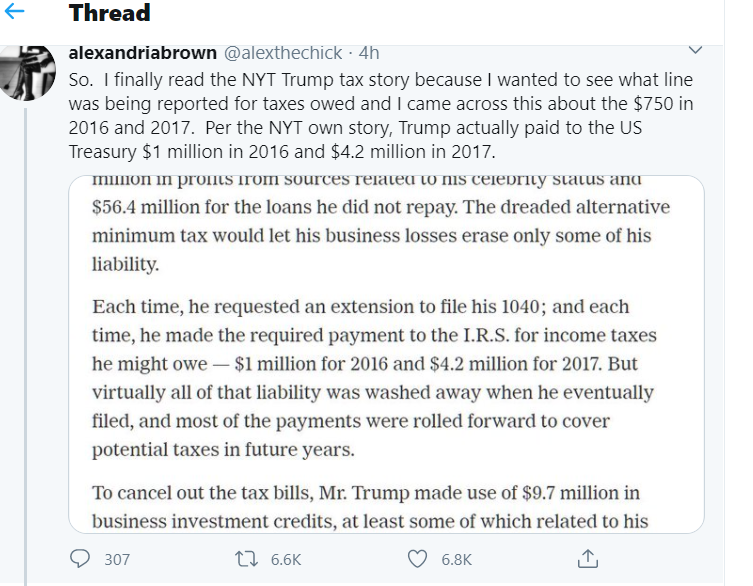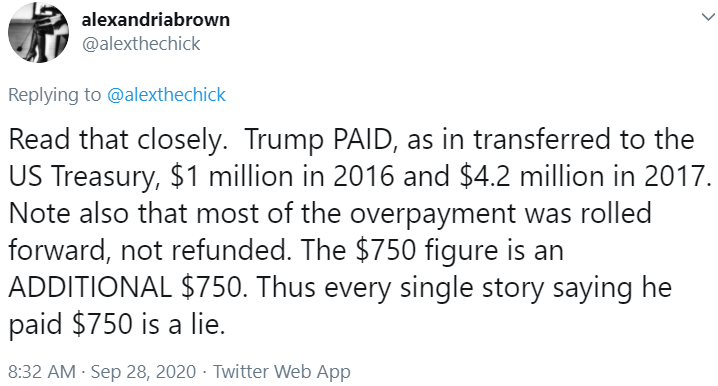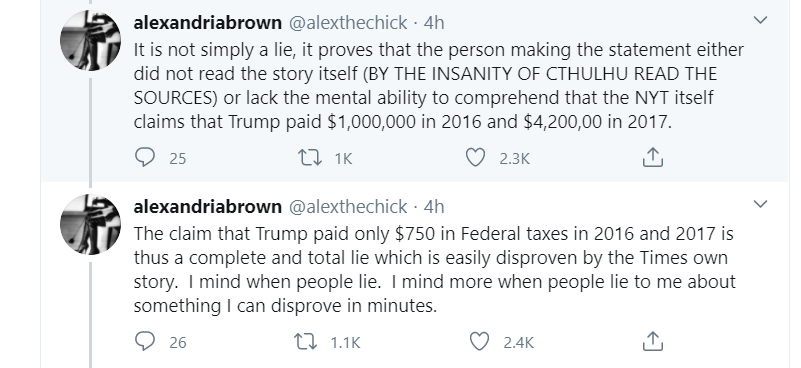 In addition, Alex the Chick found something even more worrisome than the New York Times' usual Stalinesque prevarication, or the Stasi-like illegal invasion of Trump's privacy.
Even if you think the reporters of the Times should not be arrested as coconspirators for illegally obtaining Trump's confidential IRS filings, what right do the New York Times reporters have to pour through the compensation of Trump's employees?
Because that's what they did: They illegally obtained confidential records of employee compensation, too.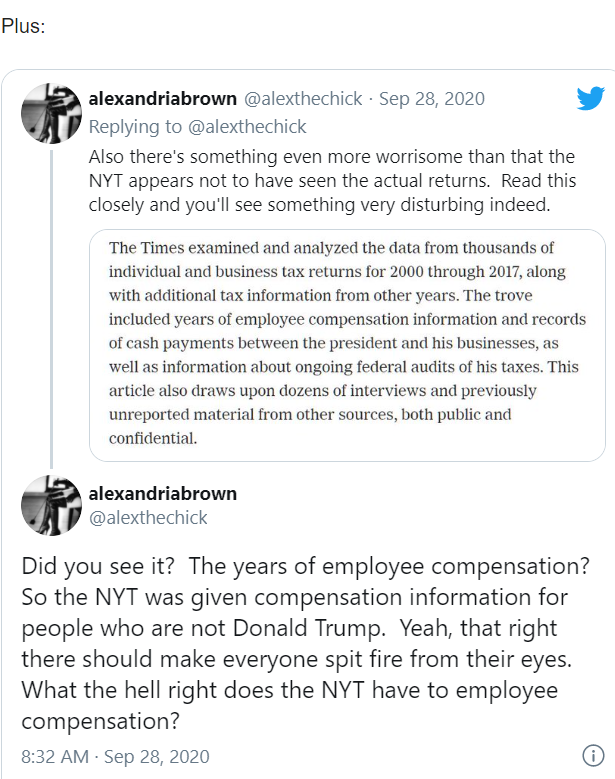 Also, via Tami:
@JamesGRickards

I have a graduate law degree in taxation, was tax counsel to world's largest bank. So, maybe I know more about taxes than the NYTimes. In real estate, gains are deferred until you sell the building. Expenses are current, (depreciation, interest, fees). So, tax losses are normal.

https://tinyurl.com/y5eyhqho
Plus: the epidemic known as Twitter-Related Instant Expertise Syndrome (TRIES) has an incubation period that is now measured in mere minutes:
@MZHemingway

Honestly just feel blessed to follow so many journalists on Twitter who are tax and loan experts. Didn't realize that they had this particular expertise before tonight as I'd never heard them discuss a word of it before, which makes it all the more impressive.

posted by Ace at
01:34 PM
|
Access Comments