« Catholics are Abandoning Trump! [TheJamesMadison]
|
Main
|
Is a Major Announcement by Durham Coming Soon? »
September 24, 2020
Is Biden Really Ahead at All?
A couple of days ago, the New York Times ran an opinion/analysis piece noting the five danger signs for Biden.
Here is what Democrat strategists are warning him about:
A Democratic strategist -- who requested anonymity because his employer does not want him publicly identified talking about the election -- analyzed the implications of the most recent voter registration trends for me.


In Michigan, Pennsylvania and Wisconsin, he said, overall registration is up by 6 points through August compared to the 2016 cycle, but net Democratic registrations are down by 38 percent. That's about 150,000 fewer additional Democrats than were added in 2016.

In addition, he continued, registration among whites without college degrees
is up by 46 percent while registration by people of color is up by only 4 percent.


...

The pattern was more pronounced in Pennsylvania and Wisconsin than it was in Michigan.

On its own, increased registration among non-college whites would have only a negligible effect on total state voting, my source pointed out, but it becomes troubling if it reflects greater interest more generally for these voters in those states. And there are good reasons to believe that if that is the case, those additionally energized voters are very underrepresented in surveys now.
I enjoy this finding greatly:
Trump says things which are true and which need public/governmental attention. Things like: "We need to capture and deport illegal alien criminals, especially gang members, so they can't harm actual Americans."
Because this is so obviously true and so motivating a point, the Democrats and the media try to discredit it by labeling it a "racial dog whistle."
How is that strategy of labeling true and important policy goals "racial dog whistles?"
Let's check the tape:
Another data point they found "even more sobering": Llpez and Gavito asked eligible voters how "convincing" they found a dog-whistle message lifted from Republican talking points. Among other elements, the message condemned "illegal immigration from places overrun with drugs and criminal gangs" and called for "fully funding the police, so our communities are not threatened by people who refuse to follow our laws."

As they expected, "almost three out of five white respondents judged that message convincing."


More disconcerting to Lopez and Gavito, both liberals, was that "exactly the same percentage of African-Americans agreed, as did an even higher percentage of Latinos.
!!!!
Wow, it's a "racial dog whistle" that appeals to literally all races.
Is that what "racial dog whistle" means? A whistle that unites all races behind a single unassailable point?
Let's look at some data points that support the suggestion that Biden is in a much weaker position than is being claimed:
Republicans have shrank the Democrats' longstanding voter registration edge in Florida to the smallest ever -- and they're still registering people, of course: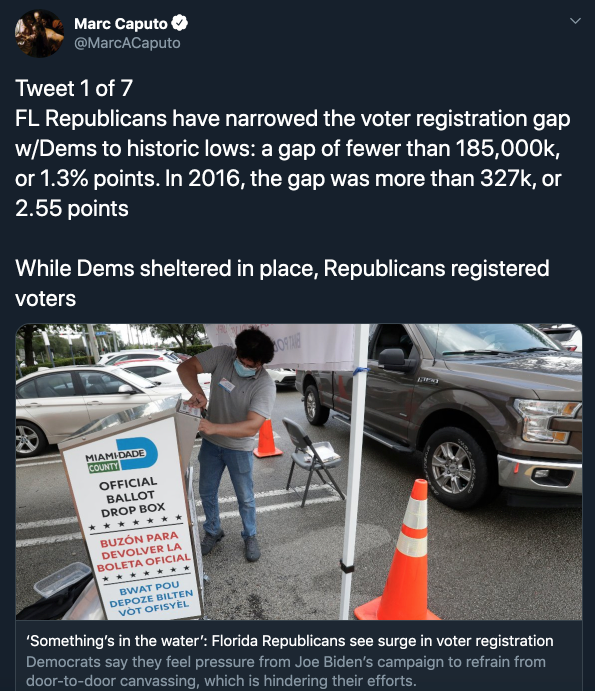 The article notes that the pace of GOP registrations is quickening:
"FL GOP had a record August, registering c 58k new voters -- 91% more than in August 2016. The # of new Rs added in Aug. is 41% more than new Ds, whose totals were 6% lower than voters they registered in Aug. 2016"

Trump is supposedly five points behind in Virginia -- which is a smaller margin than Hillary won by in actual votes in 2016.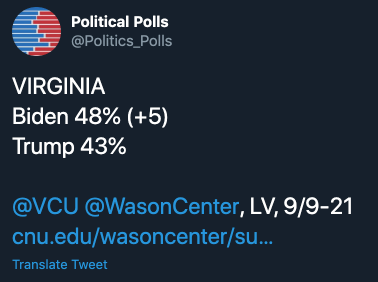 Look at the arrows, which indicate whether Biden's gaining or losing support.
All down blue arrows.

Via "Ha," the highly accurate Trafalgar Group puts Trump ahead in Michigan, albeit not even by a full point and obviously well inside the margin of error:
MI poll


Trump 46.7

Biden 46

Trafalgar Group
Yahoo ran a national poll and finds Biden up by 5-- which is basically in-line with how other pollsters claim the race now stands. (The days of 13 and 10 point national leads are well and gone, aren't they?)
But here's something interesting -- to get Biden to a 5 point lead, they had to give Democrats a 12.5 point edge in the sample. The sample was 42% Democrats, 29.5% Republicans. Not even 30%!
In 2012, Democrats had an edge of merely +6 in actual voters who went to the polls.
In 2016, Democrats had a mere +4 edge -- in a year when Trump, supposedly a racist xenophobic homophobic p#ssy-grabber had only a 1.4% chance of winning -- and of course Trump won that year.
In 2008, a Democrat wave year in which Democrats won the presidency, the House, and the Senate, the Democrat edge was... seven points. D+7.
But now it's grown to a 12.5% edge?
I don't think so.
And did I mention that that's a poll of... registered voters?
In a poll of likely voters, Trump would probably be ahead, even with the ridiculous sample of 42% Democrat 29.5% Republican 28% Independent.
A friend (who is pretty much writing this post, I don't know why he doesn't just come aboard as a coblogger) points out that for all the talk about NeverTrump, there were actually more Democrat-to-Republican defectors in 2016 than Republican-to-Democrat.
Yet not a single Democrat Trump Voter has been given a cushy writing assignment anywhere.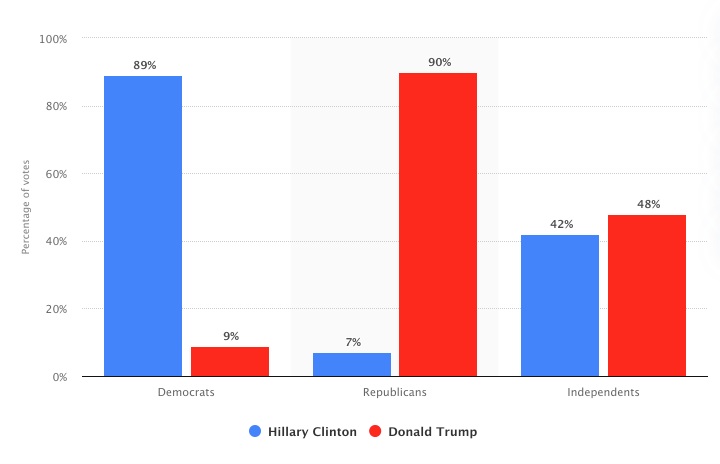 "NeverTrump" is the most relentlessly promoted, lavishly funded fringe political movement in all of human history.

posted by Ace at
02:46 PM
|
Access Comments