« EMT 09/20/20
|
Main
|
"Unconscious Bias" And "White Privilege:" Two Sides Of The Same Anti-Freedom Coin »
September 20, 2020
Sunday Morning Book Thread [naturalfake]
Welcome to the AOSHQ Book Thread!
OM will be galavanting about the country with his Missus this week. So, today the Book Thread is coming straight to you from the great state of Texas.
And since I don't convey the same austere authority as does OregonMuse, today's AOSHQ Book Thread Terms and Conditions will be delivered the Only Law West of the Zombie Pecos: Zombie Judge Roy Bean.
Judge, please.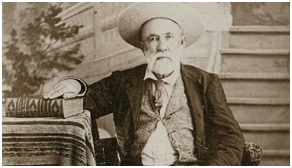 Thank you, son.
Now, this here is the Book Thread is nearly World Famous and decorum will be maintained while y'all are jawin' about books and such. Though I have never seen a more sorry collection of galoots, hornswogglers, idjits, claim jumpers, dudes, dandies, cattle rustlers, horse thieves, and New York fancy boys. Nor have I seen a more beautiful collection of Ladies anywhere, ceptin' for the heavenly Miss Lily Langtry. And thus pants are required. Not wearing pants is a hanging offense.
Even if it's these here pants: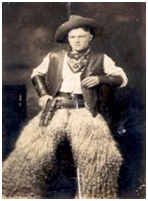 Which hurt the eyes of Justice and are twenty dollar fine.
Nor will there be any chawin', spittin', or cussin'. Chawin', spittin', and cussin' are a ten dollar fine. First offense. Second offense is a hangin'.
That should do'er. I hereby by declare by the power vested in me that the bar is open and beer is five cents a glass.
I'll be inside should y'all need any hangin'.
Drink This Book
Alcohol is a lot like the dog. Always there willing and waiting to make your life better, if you don't abuse it. Only it's been mankind's loyal companion through a much longer time span. When the first starving ape gobbled down some rotting, fermented mangoes, and discovered, "Ooh, I like this. It gets me drunk.", it was a true 2001 Monolith moment only with fewer tapir femurs smashing heads and turning into rocket ships. Our ape-ish ancestors had taken finally their first step in the long journey toward that pinnacle of evolution, Pabst Blue Ribbon Stronger Seltzer Wild Berry.
Booze in one form or another has been a significant part of almost every culture throughout history. So, where is the great novel about beer? Where is the timeless prose steeped in malty goodness? For that matter, where's the great novel about wine? Or gin? Or ouzo?
Hooch shows up in undeniably good novels like "Under the Volcano" or "The Lost Weekend", but it's more in the guise of demon alcohol tempting weak men to their doom.
It's damn rare to find an author who's prose and plot sing with the fun and conviviality that sharing a drink can bring you; as well as convey the pure loopiness of an alcohol fueled adventure: along with the downside of abuse.
Here are two that I think fit the bill:
"Moscow to the End of the Line" by Venedikt Erofeev
The story is very simple. The main character has been fired from his job and is traveling by train to meet his sweetie and child. He's an alcoholic intellectual and along with his fellow passengers proceeds to drink heavily every inch of the way as he holds forth on life, love, angels, alcohol, history. The effect is like being trapped next to a very chatty but highly amusing drunk in the seat beside you on a train. Some of the monologues are fairly erudite and some just plain loopy like the "cocktail" recipes for when you're out of vodka. An example would be, "The Spirit of Geneva", which consists of White Lilac cologne, Athlete's Foot Remedy, Zhiguli beer, and Alcohol Varnish.
As you can tell, this is a character centric book and very light on plot. However, if you can go with the flow, you'll have a great time.
"The Palm Wine Drinkard" by Amos Tutola
This is a novel from Africa. The main character spends his days drinking palm wine, until his favorite tapster is taken to the Land of the Dead. As background, Palm Wine is brewed from palm sap, so a good tapster is important. Our hero takes off to rescue the tapster from the Land of the Dead and along the way meets up with various creatures and beings from African folklore. He suffers hardships and challenges. All the while he's drinking palm wine.
The story is told in a kind of patois that gives the prose an odd rhythm. So the reading of it feels a lot like listening to a guy drunk on palm wine recounting his imaginary(?) adventures some of which proceed logically and some which leave logic far far behind.
It's a lot of fun and probably unlike anything you've ever read before.
Oh, and here's G. K. Chesterton with an appropriate quote:
"The dipsomaniac and the abstainer are not only both mistaken, but they both make the same mistake. They both regard wine as a drug and not as a drink."

Dream This Book
Everyone dreams.
But, where is the great dream novel?
Oh, okay. Fine. "Finnegan's Wake". There, we mentioned Jimbo Joyce's vast hairball of a novel and you can go place it unread on your Impress the Guests shelf next to Obama's never read tomes.
Recently I read a book by Natsume Soseki ( author of "I am a Cat" and "Botchan")
titled,
"Ten Nights' Dreams"
The book is a short collection of ten short dreams. It can easily be read in an afternoon. Some of the dream are funny, some nice, some creepy and edging into horror, some beautiful. Several begin with the phrase, "This is the dream I dreamed." The prose has the kind of lapidary precision and description that marks a well-remembered dream. Logic need not apply. It's very well done.
But, "Ten Nights' Dreams" pointed out to me just how hard it is to write an entire novel set in a dream world. A 3 or 4 page dream, fine. However, do we really want to read a 900 page opus about your dream where you're a donut and Pee Wee Herman is a hot dog that keeps leaping through your hole? I think not.
Ideally, a Dream Novel should contain a clear plot or story told in the manner of a dream. The two following are pretty good examples of that.

"Sweet Dreams" by Michael Frayn
This is an odd novel. It's not dystopian or utopian. Maybe call it a "Topian" novel. "Sweet Dreams" is the sort of novel that one of "Our Betters" might write about "Our Betters" creating their perfect world. But, also one of "Our Betters" who understands how and why they would fail.
The novel begins with a reverie by the main character driving to a new job. His new job is set in the capitol city of Heaven, which resembles a perfectly clean, well-run, and efficient London full of nice, wonderful people. The main character gets a job helping God construct our world. Our World is to be a reflection of Heaven. Not a perfect reflection but one similar enough that people can get an idea of the true nature of Heaven and the way things should be. All of the people working on this project are highly educated, polite, hard-working, filled with good intentions and wonderful ideas, and yet….and yet…
"Sweet Dreams" doesn't take the harsh path of a "1984" or "Brave New World" and could be read as a light British comedy. Yet, it contains deep philosophical and religious waters. It's time may have come, especially for the Left to quietly reflect on, as we seem to be heading into an new age of howling utopian violence.

"The Unlimited Dream Company" by J. G. Ballard
The main character steals an airplane and crashes into the Thames. From that point on we don't know if what we're seeing is the afterlife, a dying dream, a coma, or the dream of an unconscious man.
The main character is rescued and taken to the English town of Shepperton. He's never fit in anywhere before, but he seems to fit in now. He gains influence and control of aspects of the town, nature itself, and the people. Using these powers he begins to change everything around in an extravagant and ecstatic manner. The people hail him as a messiah. Is he there to end everything as we know it, end himself, or both?
The main character's name is Blake, which gives you the key to the novel. Ballard wants to create a story influenced by and told through the ecstatic and apocalyptic vision of William Blake's poetry and paintings.
"The Unlimited Dream Company" contains some astounding and truly beautiful imagery. If it sounds like the kind of thing you'd like, you probably will.

Book Drinks You
Fall begins this week on September 22, and thus the start of the season for reading about ghosts, monsters, and assorted unnatural critters.
Everyone has a favorite ghost and/or monster story. I tell you mine and perhaps you can chime in with yours.
The best ghost story of all time, as far as I'm concerned is "Oh, Whistle, and I'll Come to You, My Lad" by M.R. James. It's the only ghost story I've ever read that raised the hairs on the back of my neck. Rating: 5 Neck Hairs up.
Good luck finding this one without a picture that spoils the story by revealing the nature of the ghost. But, if you can, you're in for a great read.
Maybe not the best monster story ever written as it's rather dry, but one that I've never forgotten one little bit is "Mimic" by Donald A. Wollheim. It was used as the basis for the eh, okay monster movie, "Mimic".
The ending of this story is what really sells it. An aspect of which was completely ignored by del Toro, but which would've made a much better movie as it hints at a much wider world. Rating: 5 Reality-Overturning Hmmms.

That's it. Discuss the above or ignore it completely. As the Judge said, the bar is open and the beer is 5 cents a glass. OM will return next week.
By the way, if you like novels which contain drinking, drunkenness, dreams, a healthy splash of the eerie, sex, and much, much more, check out my picaresque novel "Wearing the Cat" by H.D. Woodard at Amazon on dead tree or the Kindle.

posted by Open Blogger at
09:00 AM
|
Access Comments